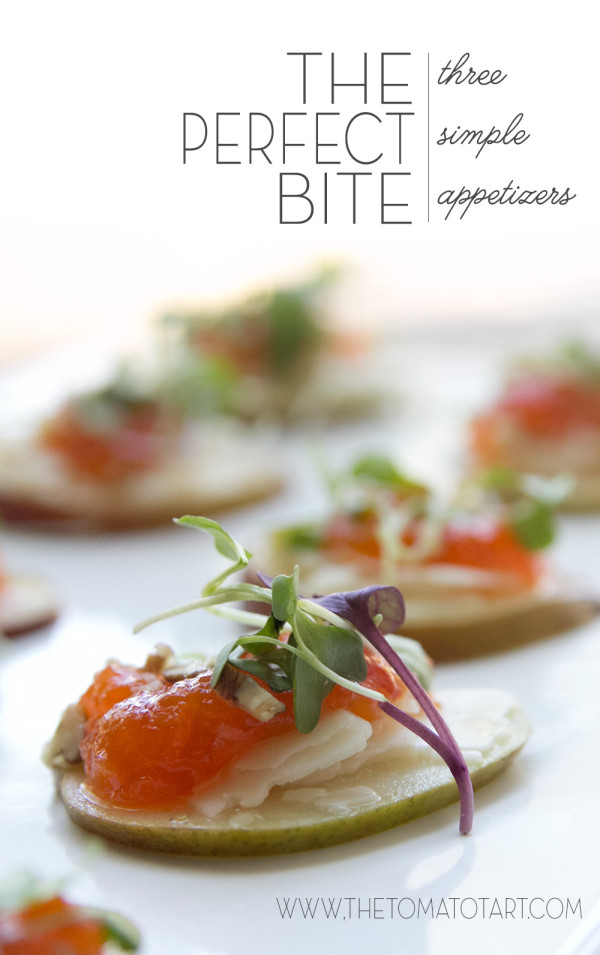 Three Simple Gluten Free Appetizers
Hors d'oeuvre, antojitos, pupus, nibbles, amuse bouches, canapés, finger foods, apertivos… No matter what you call them, the hors d'ouevre is my favorite course. The perfect hors d'oeuvre is a splendid little treasure– abundant with flavor and contrast and harmony. Above all, that perfect bite makes you reach for just one more.
When my friends at Redwood Hill Farm and Creamery and Green Valley Organics asked what my perfect bite would be, I couldn't choose just one. "How about three?" I asked.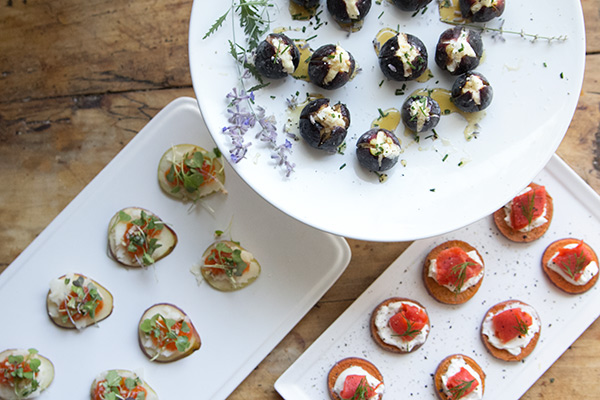 So, I set about building my perfect gluten free appetizers. The best hors d'oeuvre always contains a bit of a delight- the crunch of sea salt, a squeeze of lemon, the pop of caviar, the melting softness of fresh chèvre… Lucky for me, I had a whole host of gorgeous ingredients to choose from.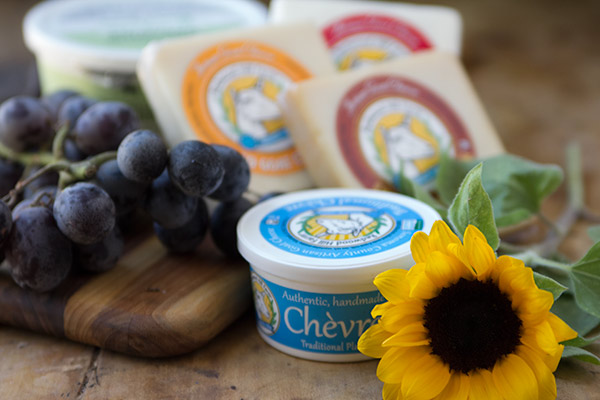 I knew one of my perfect bites would be a goat cheese stuffed fig. I make these every chance I get. Topped with fresh lavender, a drizzle of honey, and fleur du sel, they are totally dreamy.
There was no question that I had to do something with smoked fish. Smoked salmon features in some of my favorite appetizers. Every salmon season, I make my own gravlax. Salmon is tops, but smoked salmon is even better. Before I had to go gluten free, lox on rye made an appearance every time I entertained.
Now, the third bite was where I struggled– not because I had no ideas, but because I had so many. We did a taste test involving some of my favorite Redwood Hill Farm cheeses including raw goat's milk feta, smoked goat cheddar, aged goat cheddar, plain chevre and green chile chevre.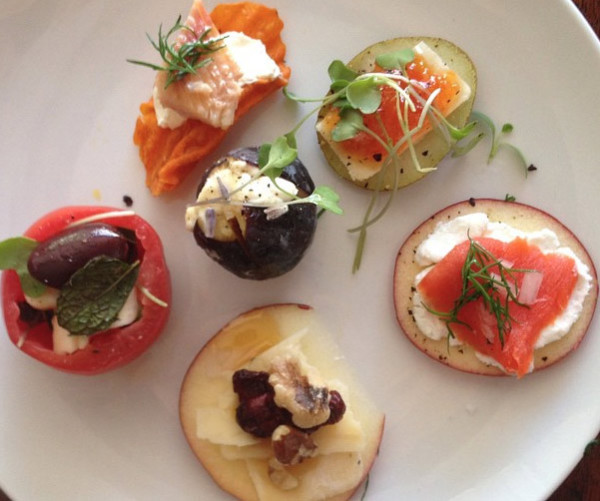 I tried stuffing early girl tomatoes with marinated goat feta and kalamata olives. Delicious, but a tad messy. I also tried the marinated feta on roasted eggplant (confession, we may have eaten the leftovers of that one for dinner). We tried apples with smoked salmon and Green Valley Organics sour cream which was really great. I also tried smoked trout and on sweet potato chips with the creme fraiche style sour cream.
The winning gluten free appetizer was a thin slice of seckel pear, topped with shaved smoked goat cheddar, a dollop of spicy mango jam, and microgreens with a sprinkle of nuts. This combination ended up being Joshua's favorite of all three. The cool crispness of the sliced pear with the smoke from the cheese and the punch from the spicy jam really does deliver a ton of flavor in a small bite.
Now that we're all settled in our new house, I am getting the itch to entertain. I'm thinking a cocktail party will be happening this fall. I know I'll be serving these three hors d'oeuvre, but the real fun will come as I experiment with more perfect bites!
Smoked Salmon on Sweet Potatoes with Sour Cream and Dill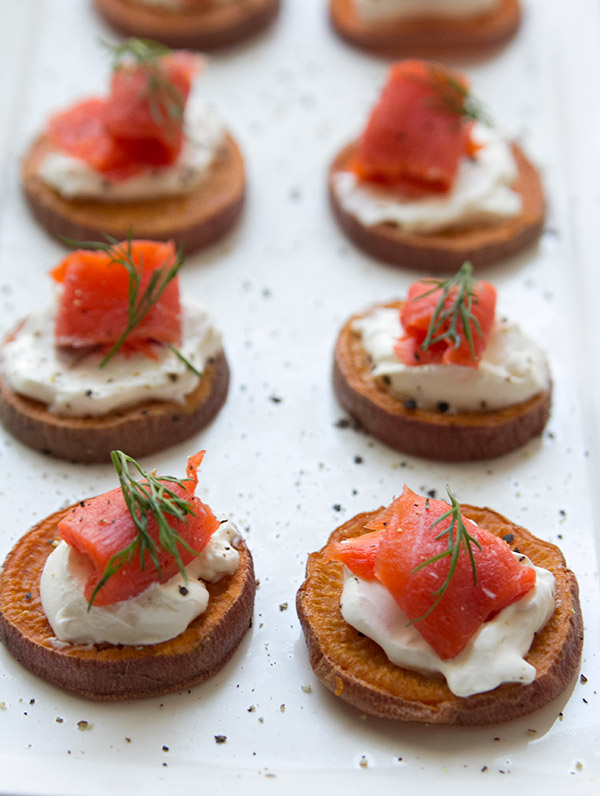 1 straight and slim sweet potato about 12 inches long, washed and sliced into ½ inch rounds
1 tablespoon olive oil
6-8 oz smoked salmon
1 tub Green Valley Organics Lactose Free Sour Cream
several springs of dill
½ teaspoon fine sea salt
fresh cracked pepper
Preheat oven to 325º and line a baking sheet with parchment paper. If you sweet potato is particularly large, you may need a second baking sheet.
Toss sweet potatoes with olive oil and sea salt and arrange on baking sheet in a single layer.
Bake for one hour, turning the slices over at the 45 minute mark. Remove from oven and allow to cool to room temperature.
Cut smoked salmon into strips- roughly ½ inch by 2 inches and roll into a pretty shape.
Top each sweet potato slice with about a teaspoon of sour cream, a piece of salmon, and a sprig of dill. Sprinkle with fresh cracked black pepper.
Stuffed Figs with Chevre and Honey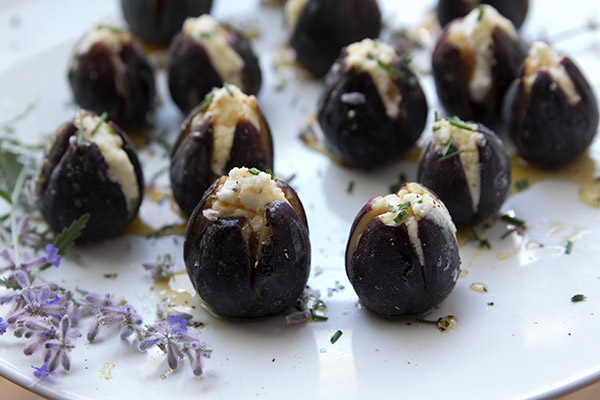 One dozen fresh figs, stems removed
1 tub Redwood Hill Farm plain chevre
3 tablespoons dark honey
fresh herbs (like lavender, rosemary, chives, or sage)
1 teaspoon flaky sea salt
1 teaspoon fresh cracked black pepper
Make a slice 2/3 of the way down the center of the fig then make another slice intersecting it. Be sure not to cut to the bottom.Gently spread the fig apart and fill with chevre. Then press the quarters back together.
Drizzle with honey, add sea salt and pepper, and top with fresh herbs.
Pears with smoked goat cheddar and spicy jam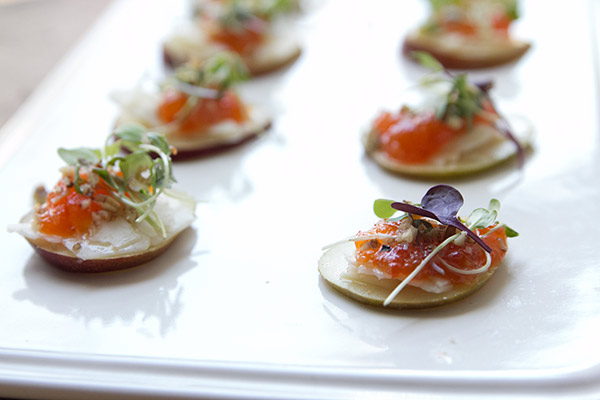 3-4 small seckel pears
2 oz smoked goat cheddar shaved into very thin slices
3 tablespoons Mango Habanero Jam
2 tablespoons very finely chopped walnuts
microgreens
Slice pears very thinly, top with shaved goat cheese, a dollop of jam, some microgreens, and garnish with walnuts
I am headed up to Seattle for the International Food Blogger Conference. I'll be hanging out with Redwood Hill Farm and Green Valley Organics in their booth on Saturday. Please come by and say hi. You can taste all of their fabulous cheeses and build your perfect bite. Can't wait to see you there!
My Favorite Appetizers and Hors D'oeuvres
Light as Air Goat Cheese Mousse
Fig and Olive Tapenade
Baked Goat Cheese with Raspberries
Grain Free Pumpkin Quiche with Blue Cheese
Best Goat Cheese Bites from the Web
Warm Goat Cheese Dip
Goat Cheese Stuffed Apricots
Goat Cheese Poppers with Honey and Bacon
Goat Cheese Lollipops
Though I have a working relationship with Redwood Hill Farm and Creamery and Green Valley Organics, this is not a paid post. I was reimbursed for food expenses. All opinions are my own and are never for sale. I was a fan of Redwood Hill Farm and Creamery and of Green Valley Organics long before we worked together. I hope you love their amazing, sustainable, humanely raised products as much as I do!