This gluten free chocolate bundt cake is fragrant with fresh rosemary. It comes together in just a few minutes- no mixer required—and stays super moist for about a week. Although, in truth, if you have the willpower to keep this cake around that long, you're pretty awesome! Jump Straight to the Recipe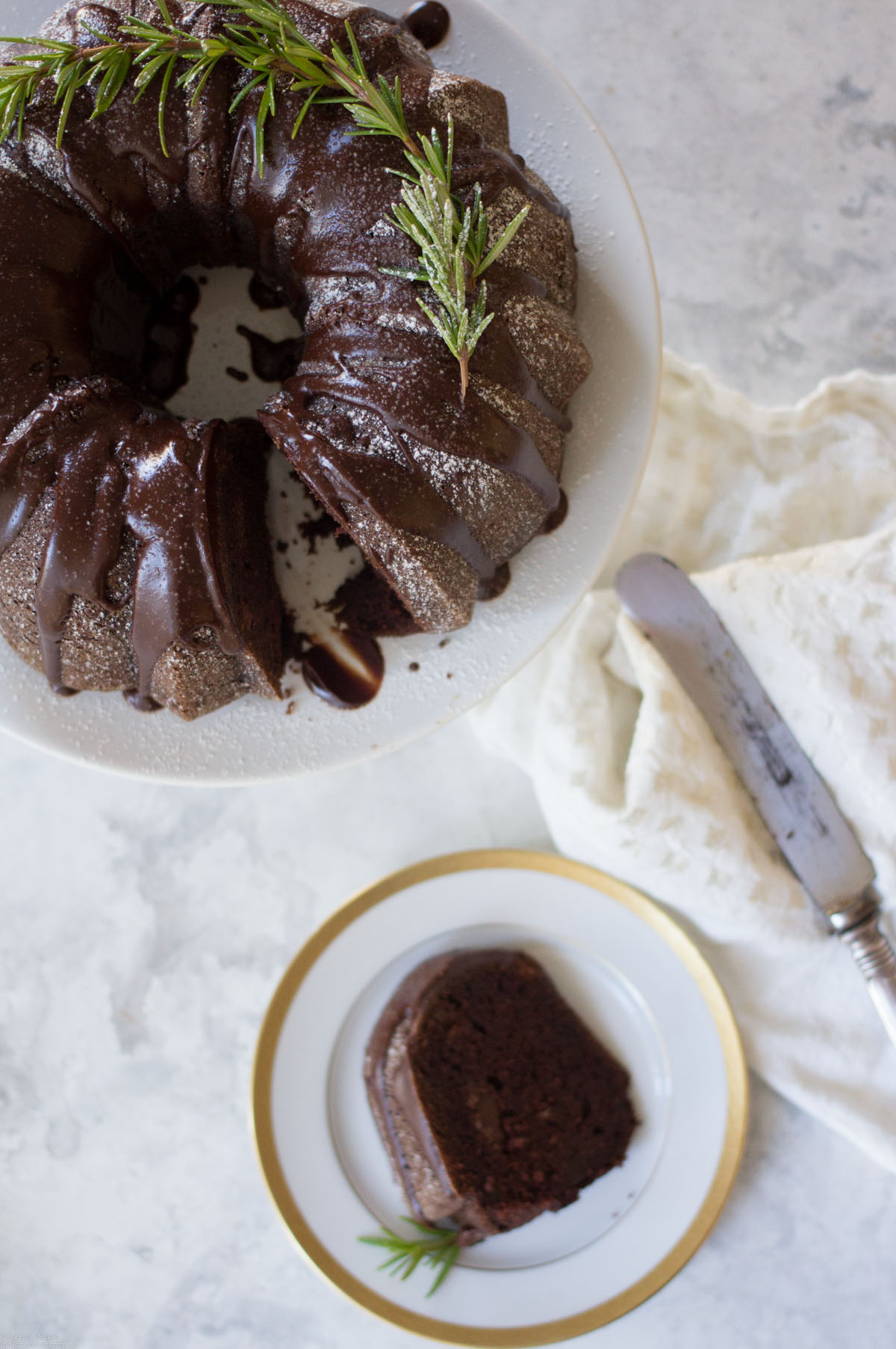 Gluten Free Chocolate Bundt Cake with Rosemary
Since my first taste of rosemary with chocolate, I've been completely enamored with the flavor—which reminds me of a more sophisticated play on mint with chocolate. If you're raising an eyebrow at the thought of having rosemary in dessert, just hear me out. Rosemary has a fresh, bright, and slightly piney flavor that elevates the bitter sweet flavor of chocolate. In this gluten free holiday cake, it shines through the richness of the dark cocoa, butter, and sour cream to create a subtle and balanced flavor.
I've had the pleasure, this year, of working with Nugget Markets. Nugget is a Sacramento Valley based and family-owned company. Since 1926 they've been a part of Sacramentan's lives. From beautiful local produce to a huge selection of gluten-free ingredients to truly unique specialty products, Nugget Markets really has everything I need for my holiday cooking and baking. I love that they carry the full line from my favorite chocolate company, Guittard- which I use for virtually every recipe that requires chocolate. And let's be honest, I'm using a LOT of chocolate this time of year. When my friends at Nugget Markets and I started brainstorming holiday recipes, we all got excited at the idea of a dark chocolate and rosemary cake paired with a pear and rosemary Bellini.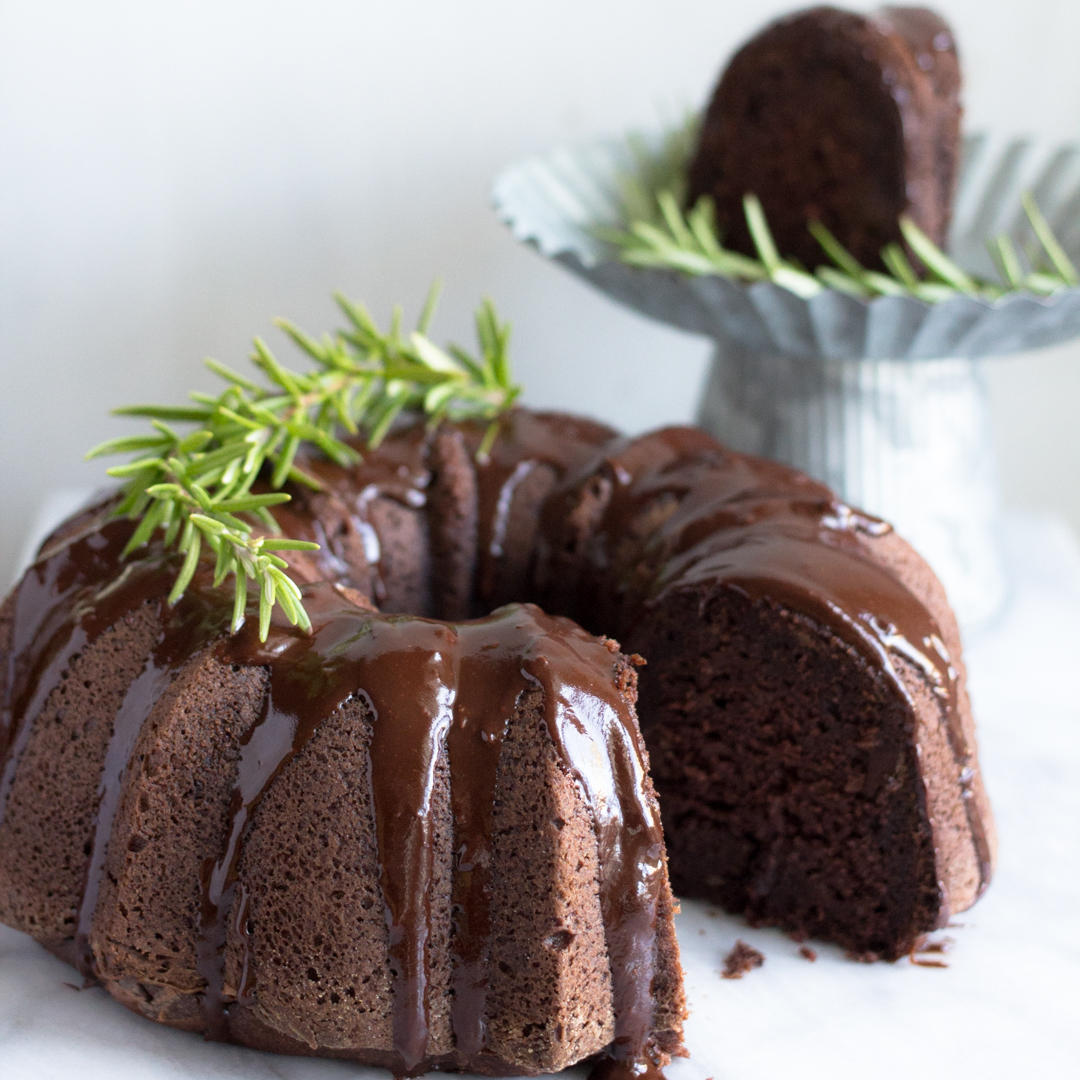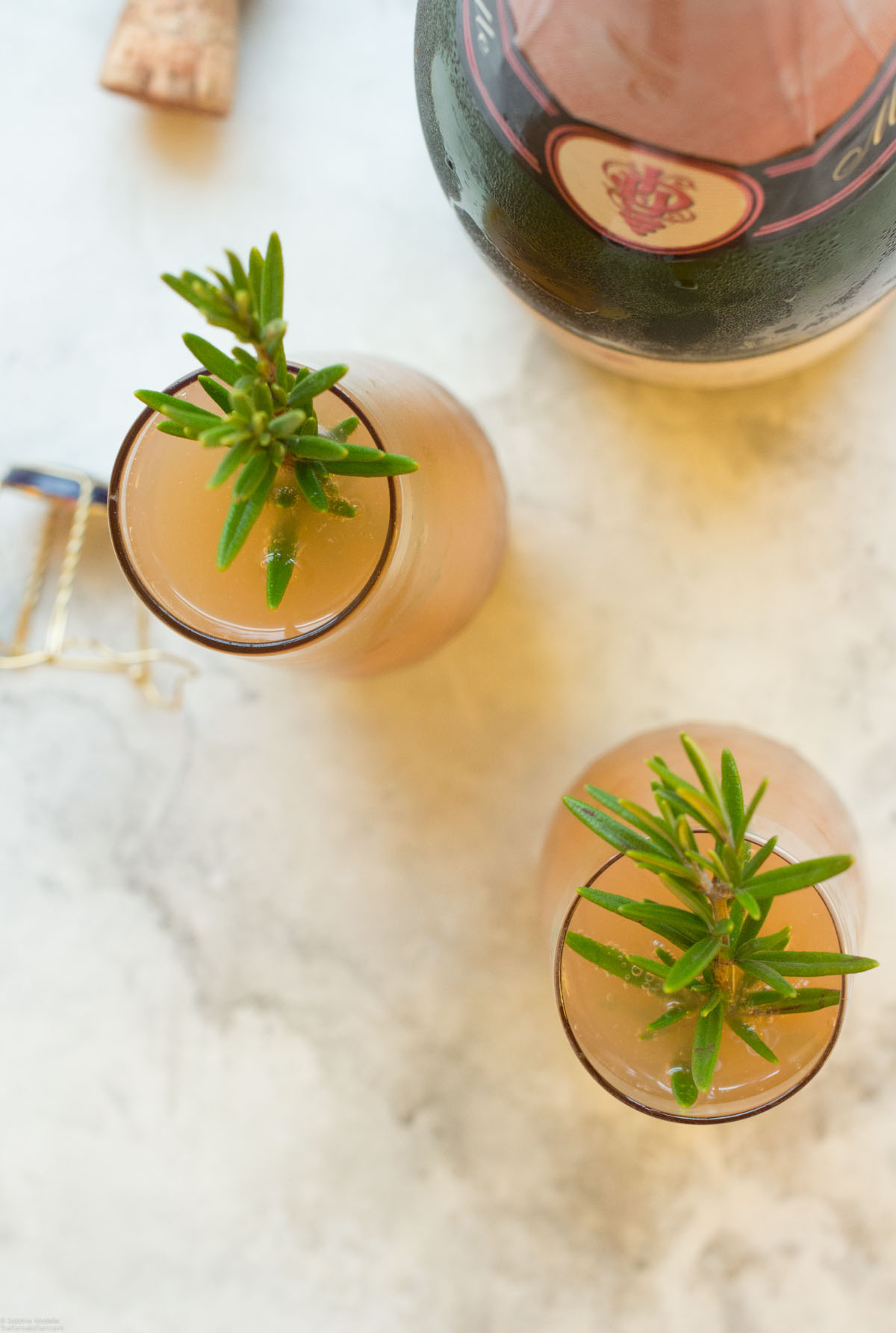 This fancy-sounding (and tasting) cake is deceptively easy- it's also great to prepare ahead and works as the showpiece dessert at the end of a holiday meal or for casual open houses, potlucks, and holiday cocktail parties. It really does stay fresh and moist for about a week!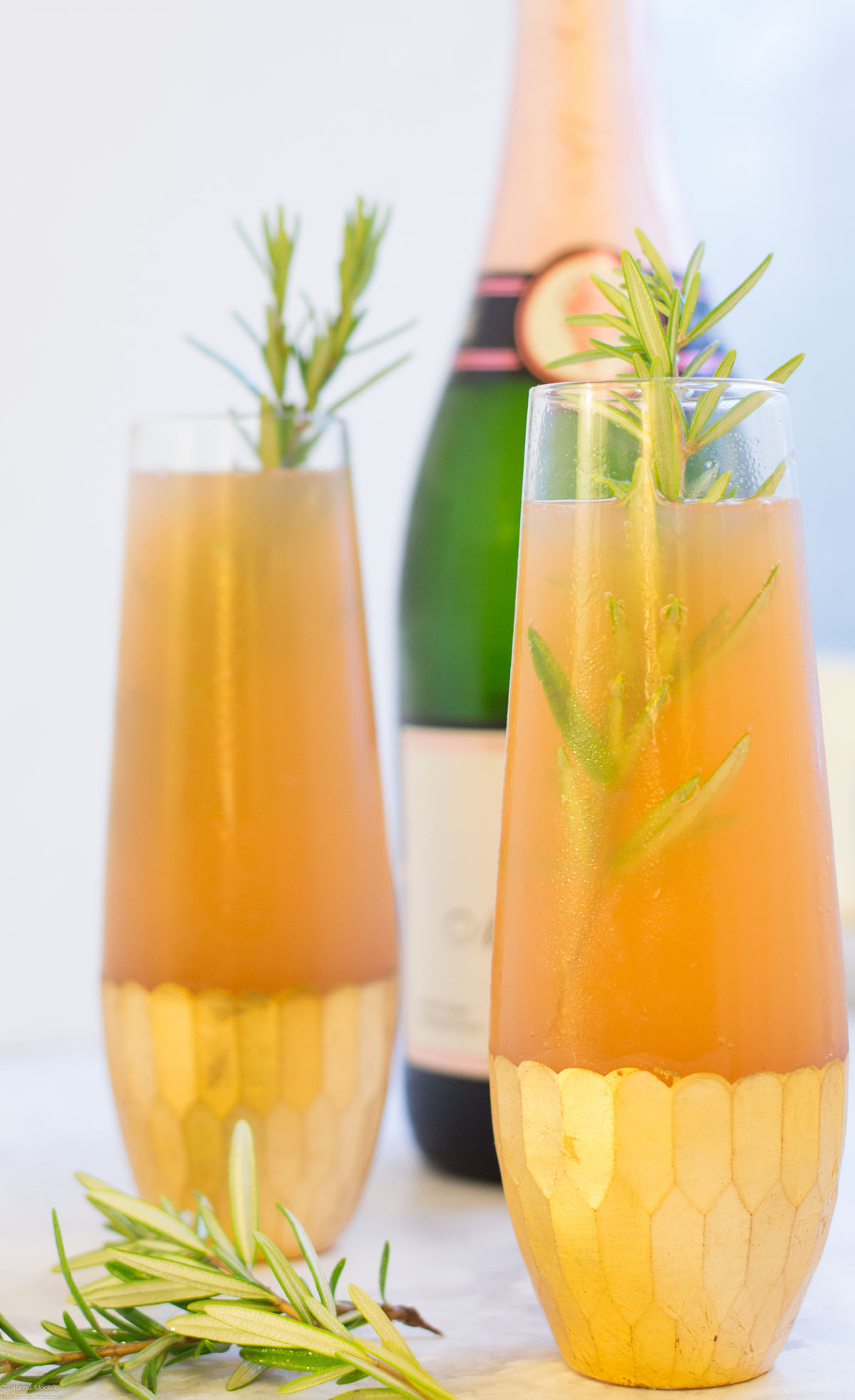 The pear and rosemary Bellini is also super simple to make with just a few ingredients. You can make the rosemary syrup up to two weeks ahead of time and store it in the fridge. If you don't drink, no problem, this works great with sparkling water in place of the sparkling rosé- just add a bit more lemon juice.
I hope you have the happiest of holidays- may they be filled with love and deliciousness.
This post has been sponsored by the amazing folks at Nugget Markets. Though I have been paid for this post, my opinions, as always, are 100% my own. Thanks for supporting the brands that make The Tomato Tart possible.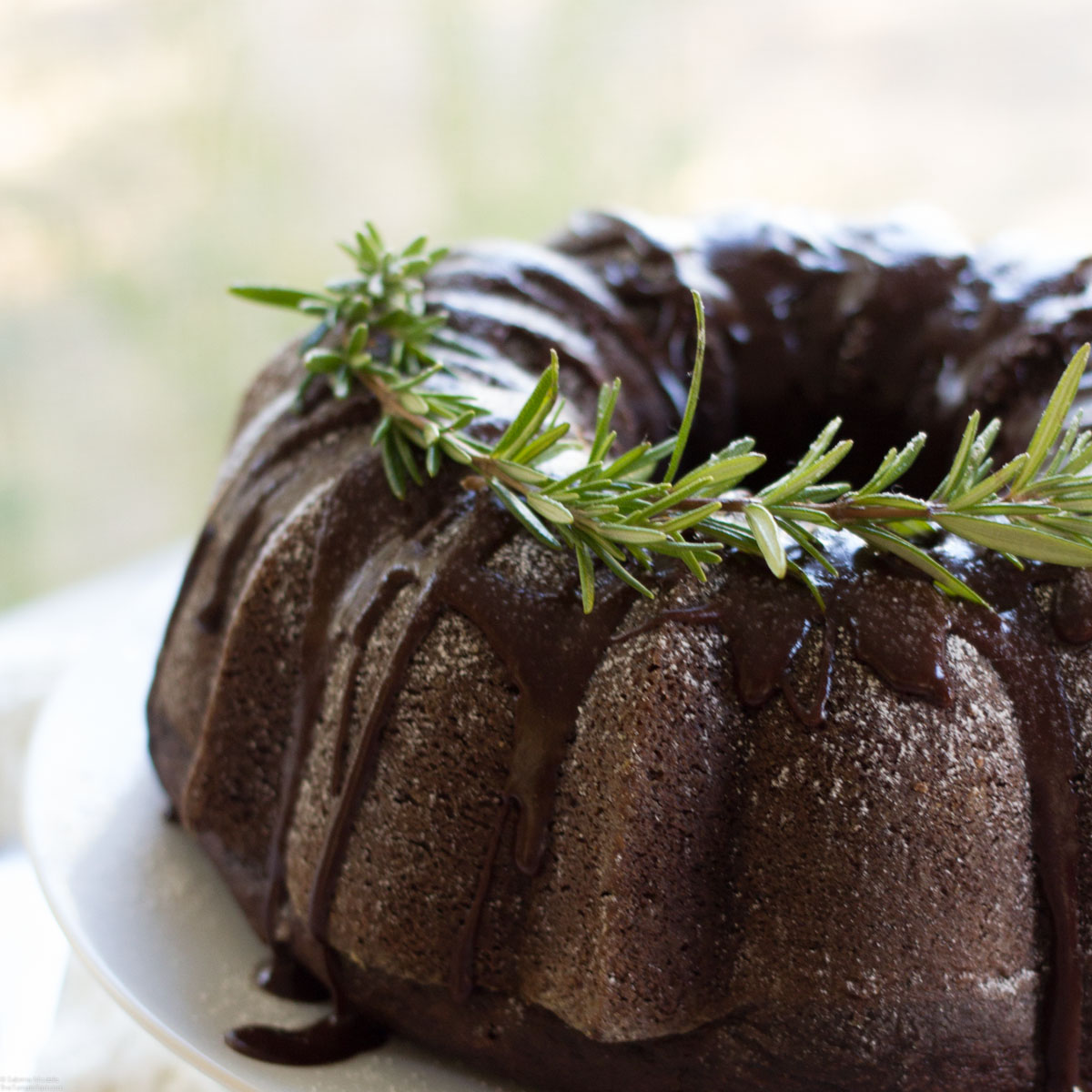 Rating 5.0 from 1 reviews
Prep time:
Cook time:
Total time: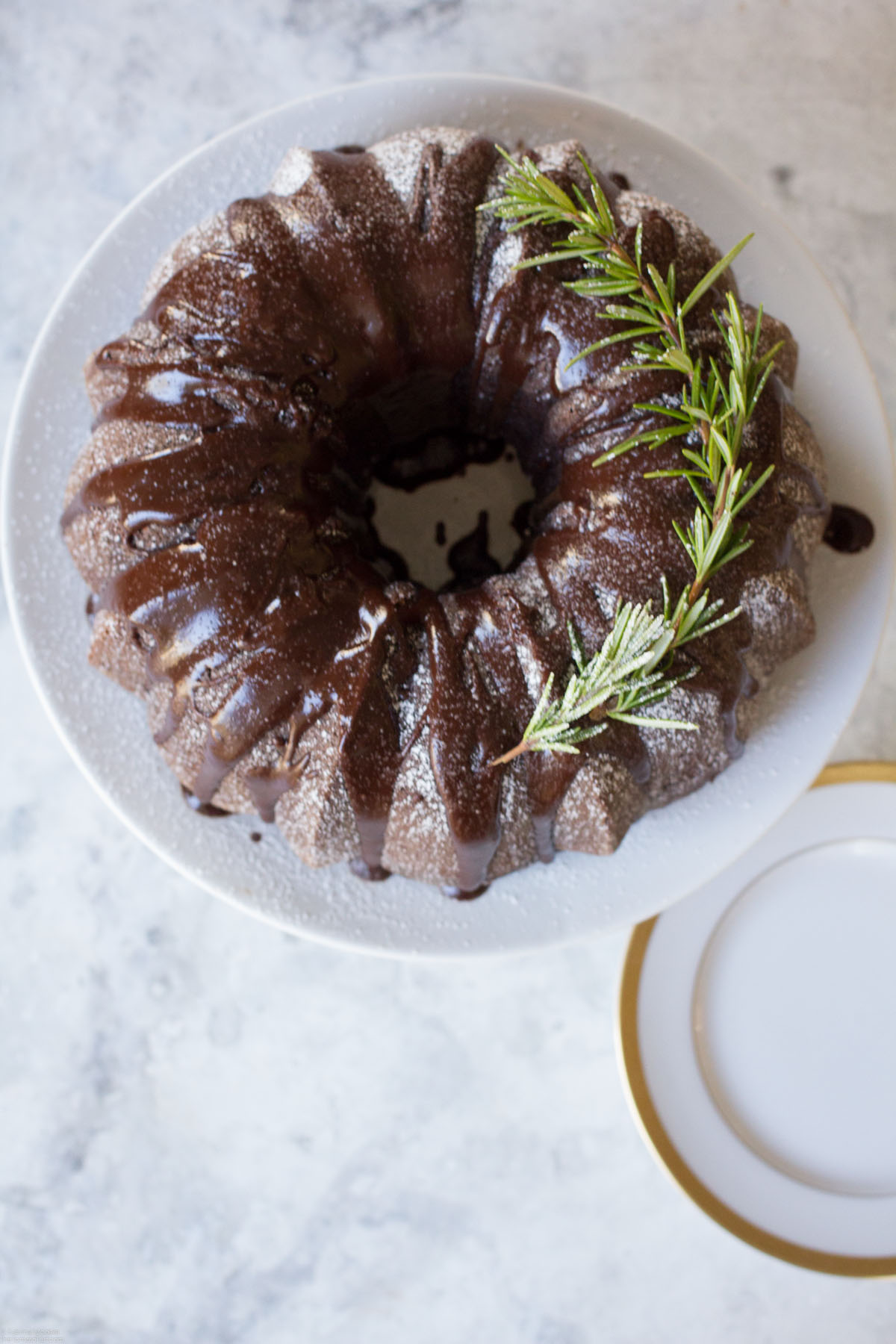 Ingredients
CAKE
1 ½ cups (12 oz) butter
2 sprigs rosemary
½ cup (1 ½ oz) unsweetened cocoa powder
1 ½ cups boiling water
1 teaspoon kosher or sea salt
1 tablespoon vanilla
2 ¼ cups (15.75 oz) granulated sugar
3 cups (12.5 oz) gluten free flour (+2 teaspoons xanthan gum if your blend doesn't contain it optional)
2 ¼ teaspoons baking soda
4 large eggs
¾ cups sour cream
6 oz rough chopped chocolate
GLAZE
⅓ cup butter
¼ teaspoon salt
1 tablespoon vanilla extract
4 oz finely chopped dark chocolate
Instructions
Preheat the oven to 350º and butter and flour a 12-15 oz bundt cake pan.
In a saucepan over medium heat, melt butter with rosemary. Remove from heat and steep for at least 10 minutes.
In a medium bowl, whisk together cocoa powder, water, salt, and vanilla. Strain rosemary butter into the bowl and mix.
In a large bowl, whisk together sugar, flour, and baking soda. Add cocoa mixture in two additions, stirring to completely combine each time. Add the eggs, one at a time, stirring until each one is fully incorporated. Stir in sour cream and chopped chocolate. Pour into the prepared pan and bake for 50-60 minutes (or until a knife inserted into the middle of the cake comes back clean).
Cool for 20 minutes before inverting onto a rack- then cool completely before glazing and serving.
Make the glaze:
Melt butter in a small saucepan on medium heat. Add vanilla and salt- whisking to combine. Remove from heat and stir in chopped chocolate—stirring constantly until the chocolate is fully melted.
Drizzle glaze over the cake and top with rosemary sprigs.
Rating 5.0 from 1 reviews
Prep time:
Cook time:
Total time: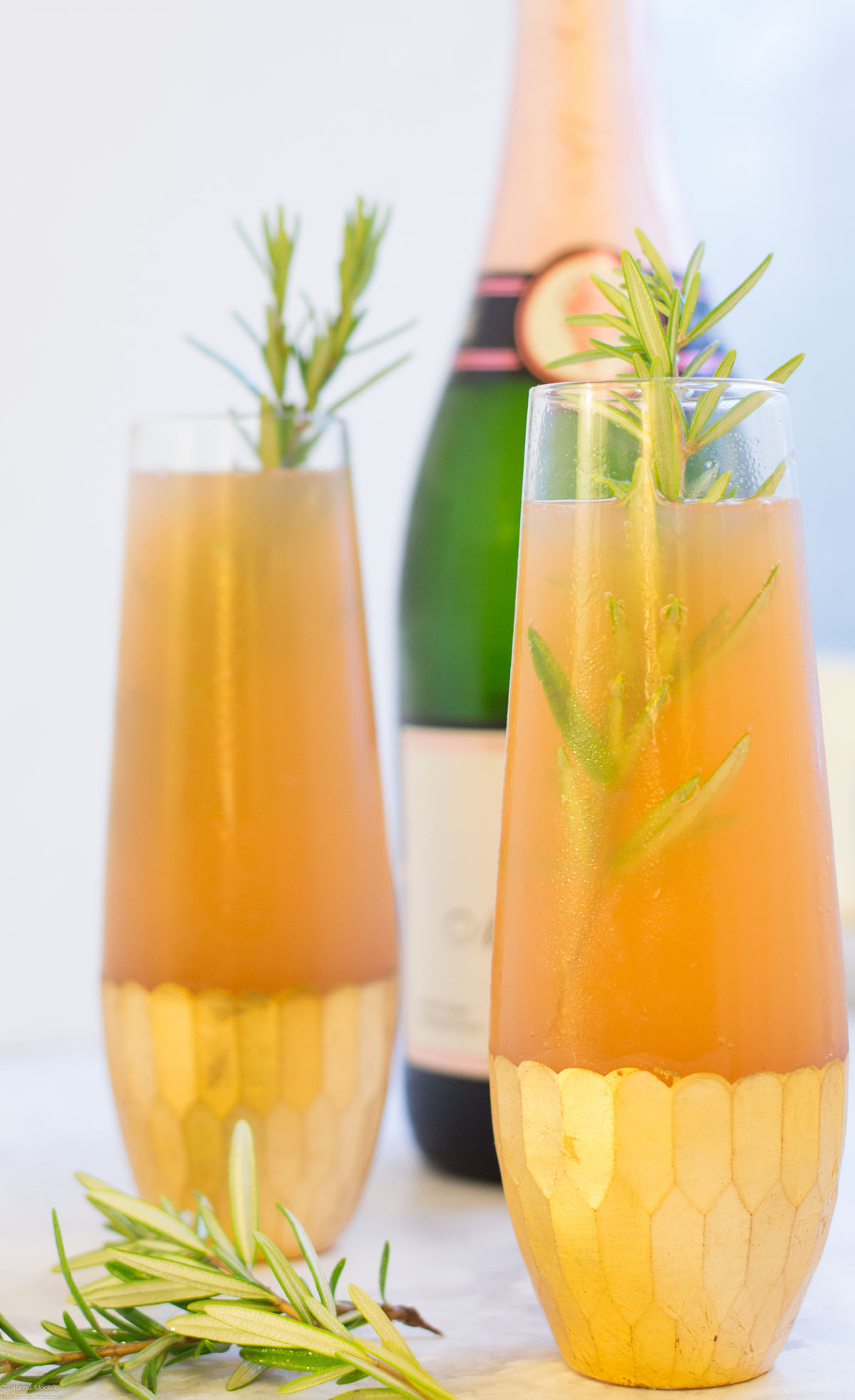 This gorgeous holiday cocktail (or mocktail) is simple yet totally festive.
Ingredients
Rosemary Syrup
½ cup sugar
½ cup water
2 sprigs rosemary
Cocktail
juice from ½ lemon
2 oz chilled rosemary syrup
6 oz chilled pear juice
16 oz chilled sparkling rosé (or 16 oz sparkling water and extra lemon juice)
Rosemary sprigs for garnish
Instructions
In a small saucepan, bring sugar, water and rosemary to a boil- stirring to combine. Cool to room temperature or colder.
Mix together, chilled rosemary syrup with lemon juice, pear juice, and sparkling rosé (or water). Garnish with rosemary sprigs