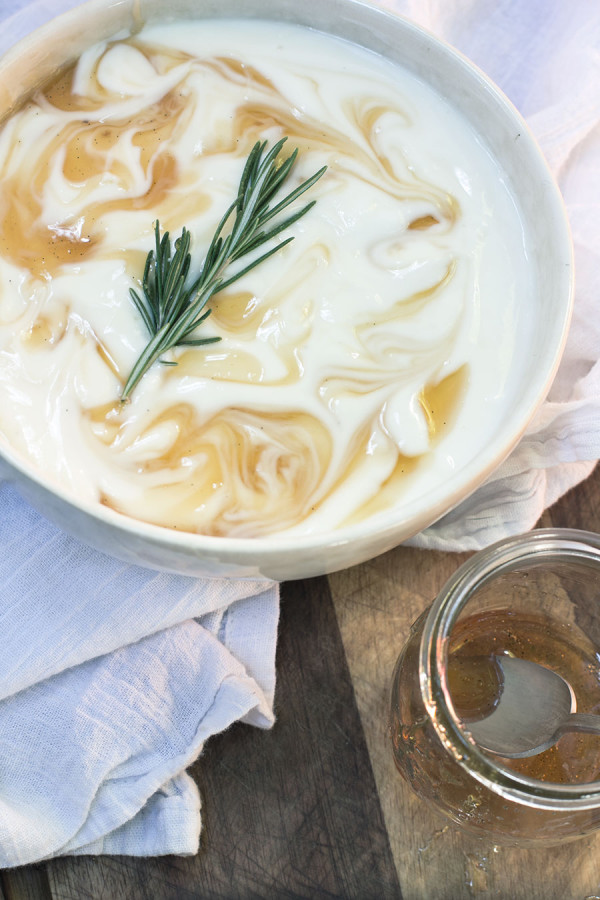 In the fat phobic 1980s, my mother was prone to buying fat free yogurt in flavors like Boston cream pie. You don't hand a kid a container of slimy coagulated milk and tell them it tastes like pie. That's just rude.
It wasn't until my mom started making her own yogurt, that my feelings about cultured milk changed. These days, I have yogurt for breakfast nearly every day, so when Green Valley Organics invited me to create my own yogurt flavor, I jumped at the chance. It took me all of 30 seconds to decide on Rosemary Honey yogurt. I've been making it for a couple of months, and I can't get enough.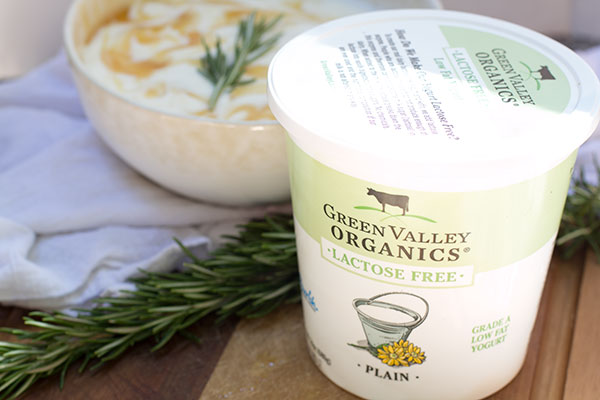 Plain yogurt is a perfect canvas to play with. I've flavored it with everything from pomegranate and rosewater to fennel pollen. Rosemary may not be the first thing that comes to mind when you think of breakfast, but the flavor is fresh and invigorating. Add to that the sweetness of honey and vanilla, and your mouth does a happy dance.
I've talked about my love of Green Valley Organics Lactose Free yogurt, in the past. I've featured it in several recipes like my gluten free hazelnut cake and my grain free yogurt parfait. I love working with Green Valley Organics and their sister company, Redwood Hill Farm and Creamery and I was a customer long before we worked together.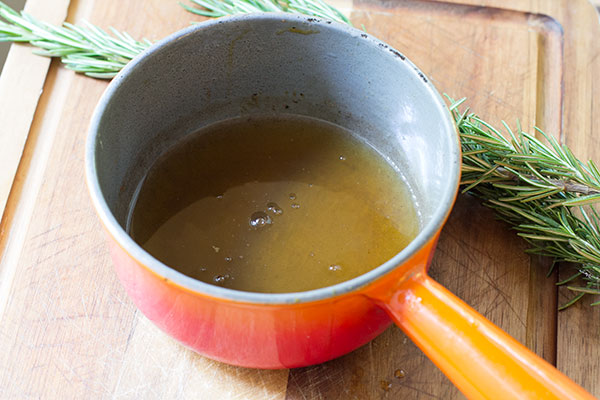 As a tree-hugging, animal-loving, foodist, I try to eat according to my ethics. We buy most of our fruits and veggies from small farms in northern California favoring outfits that treat the food and their workers equally well. I care deeply about animals, and it is important to me to buy humanely-raised and sustainably farmed meat, eggs, and dairy.  I eat my yogurt with a clean conscience because I know that the owners, the Bice family, care just as much as I do.  From their respect for animals to their commitment to solar energy to the way they compensate their employees and contributing farms, everything is kosher. Literally.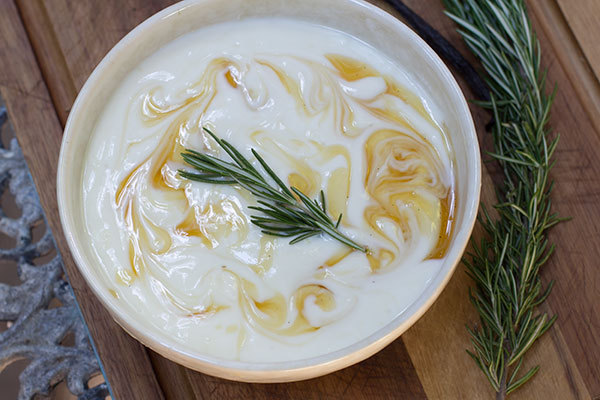 A lot is said of the benefits of live active yogurt cultures. I eat yogurt and other cultured and fermented foods because they make my belly happy. Happy mouth, plus happy belly equals a really happy day and who doesn't want one of those?
Here's to a happiness!
INGREDIENTS
¼ cup honey
1 large sprig rosemary
1 vanilla bean, scraped
tiny pinch of salt
24 oz container Green Valley Organics Lactose Free Plain Yogurt
Add honey, rosemary, vanilla bean, and salt to a small heavy saucepan and bring to a boil over medium low. Remove from heat and cool for 10 minutes.
 Place yogurt in a large heatproof bowl. Remove the rosemary sprig from the saucepan and pour 2/3 of the honey mixture over the yogurt, stirring to combine. Top each serving with a drizzle of the rest of the rosemary vanilla honey.
Serve with fresh berries or granola.
This is a "sponsored post." Redwood Hill Farm/Green Valley Organics compensated me via a cash payment to create a recipe using their products. Regardless, I only recommend products or services I use personally and believe will be good for my readers. I am disclosing this in accordance with the Federal Trade Commission's 16 CFR, Part 255: "Guides Concerning the Use of Endorsements and Testimonials in Advertising."