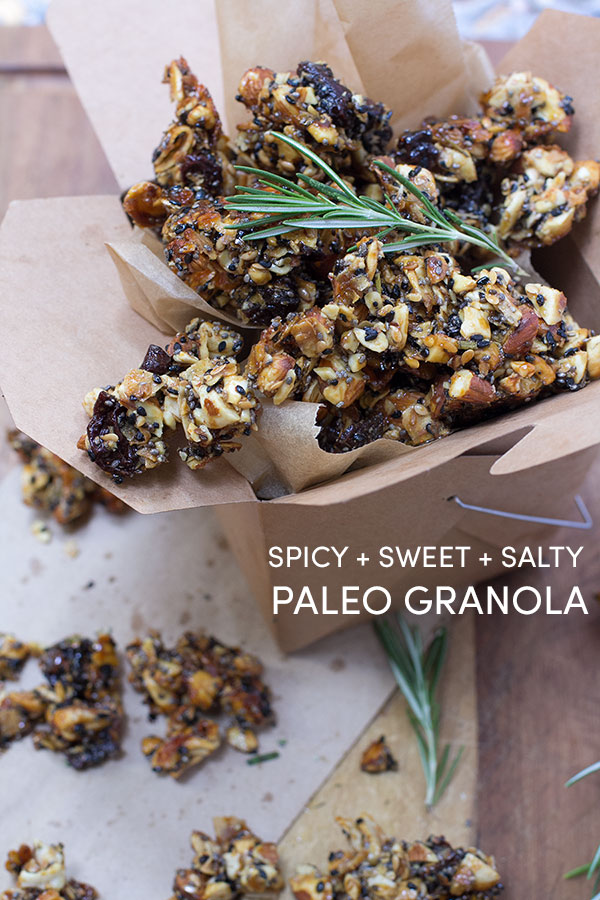 Paleo Granola: Spicy, Sweet, Salty and Addictive
Time is the ultimate trickster. It moves at alarming speeds when you are under deadline, it whirs by when carving out a moment to relax, and it chugs along ever.so.slowly. when you're waiting for news. And waiting for news, we are. We made an offer on a house, so tick tick tick, we're waiting for Wednesday to come into view.
We've been on the house hunting trail for more than six weeks. At one point we were in escrow just two weeks from closing when we got bad news about the house. I won't go into the (truly) gross details, but we had to walk away. So, we've been back on the road again looking at homes and neighborhoods and traveling a good two hours each way to do so.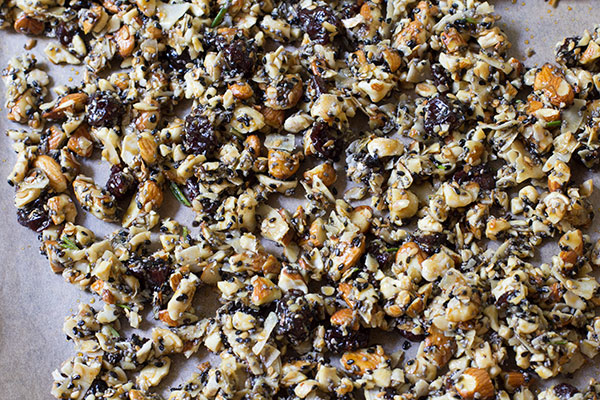 Since we don't like to eat junk food when we're on the road, a little preparation goes a long way towards a pleasant trip. We pack the cooler with lots of healthy snacks like fruit, nuts, cheese, raw coconut macaroons, yogurt, and gluten free or paleo granola.
This time, I decided to try something different with my paleo granola. I got a huge bunch of rosemary at the farmers market, and I thought I'd try a sweet and salty- spicy and savory granola.  Though I didn't quite hit the mark on the first time, tinkering with the recipe a bit paid off- big time.
This crunchy snack is a great balance of salty and sweet. Vanilla bean and coconut nectar are offset by black pepper, rosemary, olive oil and cayenne. The result is really exciting to the palate. It pairs well with yogurt and cheeses and shines atop a salad. It's vegan and (of course) gluten free.
So, perhaps the next time you hear from me, I'll have good news to share. Either we'll be packing up our place or munching on this grain-free granola as we hit the road again.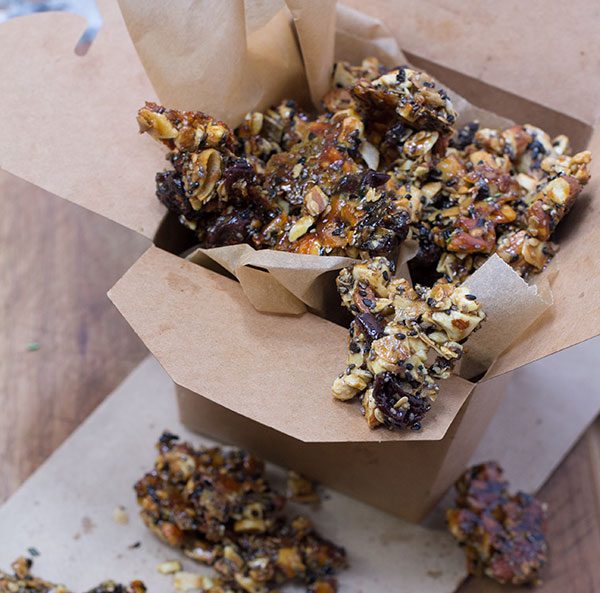 Spicy Salty Sweet Paleo Granola
You should feel free to experiment with this recipe. Don't have almonds? Try pecans. Don't like spicy foods, eliminate the cayenne. Allergic to sesame? Pepitas work great. Any dried fruit will work in this recipe too. Just make sure to keep the proportions.
INGREDIENTS FOR PALEO GRANOLA
½ cup coconut nectar
1/3 cup extra virgin olive oil
2 sprigs rosemary
1 vanilla bean- scraped or 1 tablespoon vanilla extract
1 teaspoon fine grain sea salt
¼ – ½ teaspoon cayenne
1 teaspoon coarsely ground black pepper
1 cup raw almonds
1 cup raw cashews
½ cup dried sour cherries
2 tablespoons flax seeds
¼ cup chia seeds
½ cup black sesame seeds
½ cup unsweetened flaked coconut
INSTRUCTIONS
Line a baking sheet with parchment and preheat oven to 250º F.
Add coconut nectar, olive oil, a 3-5 inch sprig of rosemary, vanilla, salt, cayenne, and black pepper to a small heavy saucepan. Bring to a boil on the lowest heat. Turn off and set aside to cool.
Chop almonds and cashews into small uneven pieces either by hand or by pulsing in a mini-food processor. Chop cherries (by hand) into similar sized pieces.
Finely mince 8 rosemary needles.
 In a bowl, mix almonds, cashews, cherries, mince rosemary, flax seeds, chia seeds, sesame seeds, and coconut.  Remove the rosemary sprig from the hot coconut nectar then drizzle the liquid over the nut mixture and stir gently to combine.
 Sample the uncooked granola and adjust seasoning to your taste. Spread the granola out onto the prepared baking sheet and bake for 40 minutes.
 Wait until completely cool to break into clusters add salt and rosemary if needed.
MORE PALEO GRANOLA RECIPES
Tropical Grain Free Granola from Nom Nom Paleo
Grain Free Almond Sesame Coconut Granola from Neo Homesteading
Grain Free Chocolate Granola from Gourmande in the  Kitchen
Apple and Pear Granola from Organic Spark
Nutty Nutty Granola from Food52