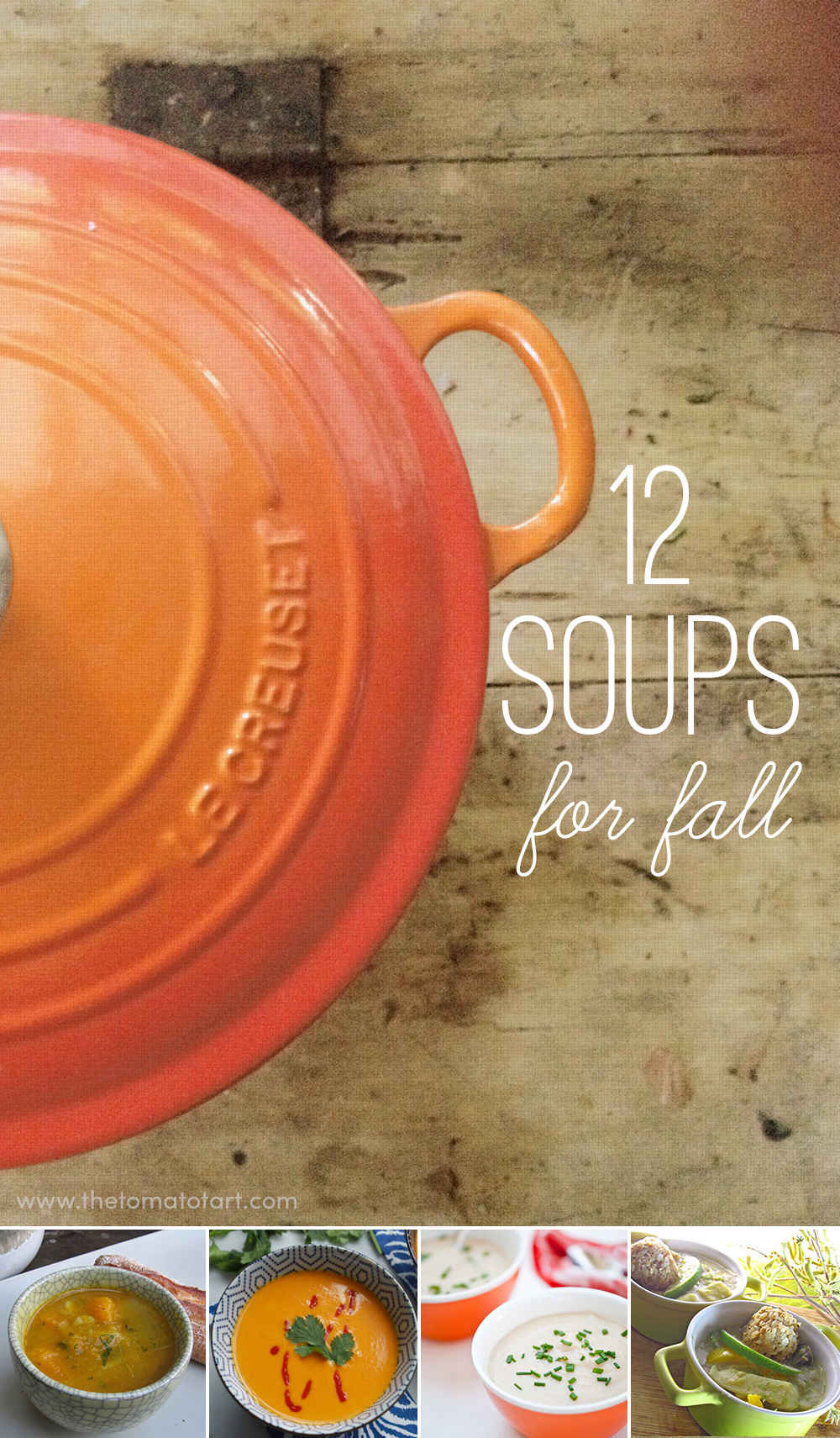 Here are 12 Gluten Free Hearty Soup Recipes for Cold Weather
One of my favorite blogs is Running with Tweezers. Aside from Tami's amazing food photography (she's a professional food stylist by trade), she is a lovely lady. Her Saturday Soup feature on her blog inspired this post. Here are six soups I'd like to eat this Saturday plus six of my favorite soups from my blog.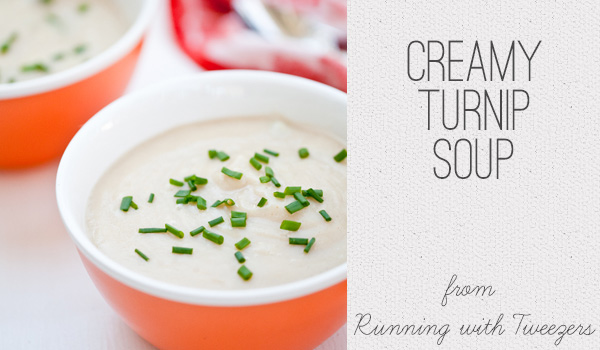 It seems only fitting that I'd start with one of Tami's soups. I am a recently converted lover of turnips. I'm not sure why the turnip was so unappealing to me. Perhaps I ate a bad one once. Or perhaps it's the fact that the turnip looks like a beet's homely cousin. As in, why settle for a turnip when you can have a beet. Whatever the poor turnip's stigma once was, it has been lifted and this creamy turnip soup looks like a bowl of perfection.
Tracy of Shutterbean is awesome. Her blog? Amazing. Her style? Fantastic. Her kid? Adorable. This soup? Yes! Ever since she posted this, carrot coconut soup last week, it's been on my list.  How can anyone resist the flavor combination of rich coconut milk, sweet carrots, and spicy chilies topped with sriracha? Not me. This is one hearty soup recipe I'll be making again and again.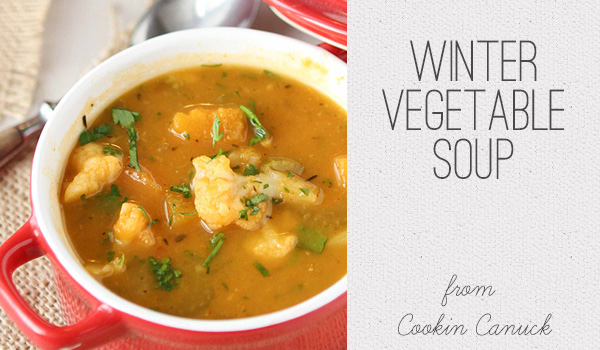 When I'm doing recipe searches- like specific flavor combinations I'm craving, there is a blog that often comes up in my searches. Cookin Canuck.  When we had the chance to spend some time together last summer, I told Dara that either she had the best search engine skills or that we had similar palates. Either way, everything I've made from her blog is fantastic. Anyone who knows me, knows that I am cuckoo for cauliflower-especially cauliflower soup. Dara's cauliflower and butternut squash soup has been on my radar for a while, and I can't wait to make it.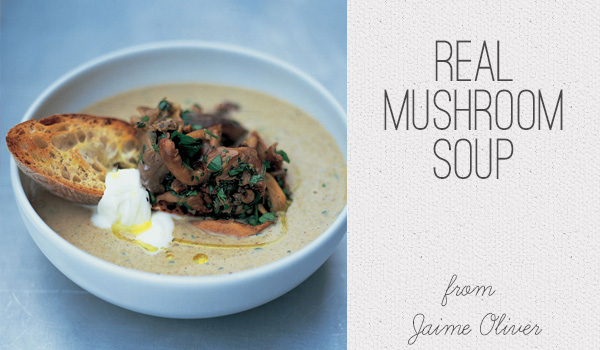 Jamie Oliver. What can I say? He's swoon-worthy, kind, passionate, and a great recipe writer. I made this soup on Thursday night. I wish I could say there were still leftovers. We ate two pounds of mushrooms in the course of two meals. I will definitely be making this soup again for Thanksgiving.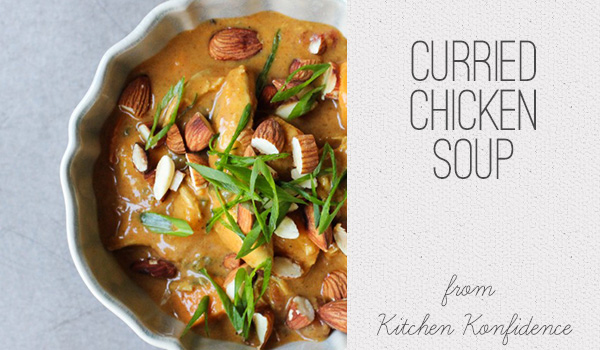 Brandon of Kitchen Konfidence makes gorgeous and exciting food. He was one of the first bloggers I followed when I started blogging. This soup is stunning, thick and rich, almost a stew. It's filled with chicken, butternut squash, sweet potatoes, and curry. I love the use of almond butter in this recipe too- reminds me of African peanut stew. This is definitely on my "to make" list.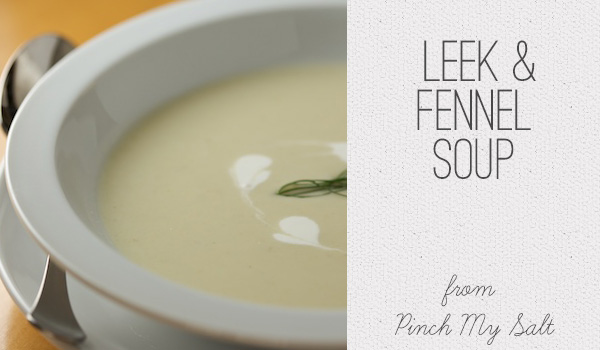 One of my favorite flavor combinations comes into play in this gorgeous soup from Nicole at Pinch My Salt. Fennel and leeks are a perfect pair. Aromatic, abundant in the winter, ready to lend elegance to any dish. This soup also satisfies my cauliflower quotient. This soup will be making an appearance on my table on Monday. Just in time for the rain.
And here are six more hearty soup recipes from my blog that I love. Each one is perfect for a cold night meal.
Daily Gratitude:
Soup
Purple Sweet Potatoes
Open Space
The River
NaBloPoMo