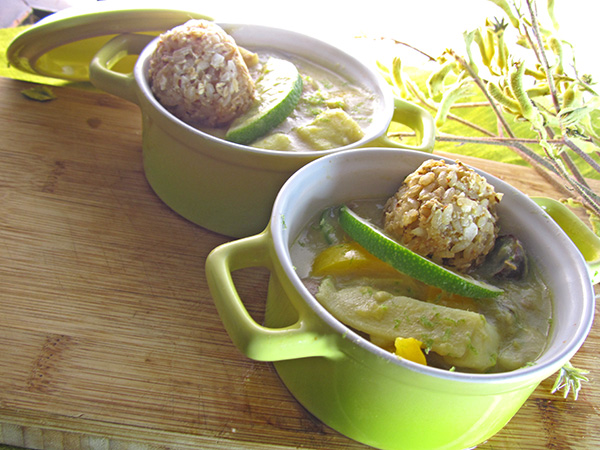 Some of you, who follow this blog, may know that I am part of a recipe exchange group. A small (but growing) group of food bloggers led by CM of Burwell General Store. In this group, we revamp vintage recipes from a combination cookbook/hymnal that CM found at a swap meet. The first recipe was a piece of cake, literally! This time, things didn't go quite so smoothly.
You see, I'm a couple of weeks into a cleanse. My diet these days is vegan and gluten free. We've been eating incredibly delicious dishes, but I have not been doing a whole lot of baking unless you included my yummy oat cookies and the dog treats I've been making for Ruby, This month's recipe? Grandma's Chicken Pie with Drop Biscuits.
So, I'm thinking, "Sure, I've got this. No problem". I settled on Southwestern veggie stew with cornmeal biscuits. The stew was divine, thick and rich with butternut squash, sweet potato, carrot, and just a little apple. It was really spicy from the roasted chiles, and that cornmeal biscuit was going to soak up the liquid beautifully. Soak, now that was funny, that corn meal biscuit was not going to do anything but crumble. Back to the kitchen for a little more gluten free alchemy. Each try was either crumbly or hard as a brick. The last try was actually crumbly AND hard as a brick. Finally, I wrote the group and said I'd be back next month.
But then, I just couldn't let it rest. Perhaps I'm not the best gluten free vegan baker. Perhaps, gluten will be the first thing added back to my diet when this cleanse is over, but damn it, I am NOT a quitter.

It was at Whole Foods that the idea for Thai Green Curry with Brown Rice Balls hit me. Excited by the sight of fresh galangal root, I thought, "Oh, I need to make something with this," it was a quick jump to green curry, and that's when I thought of using the sweet potatoes to thicken the curry and rice balls to sop up the spicy goodness.
I thought I was going so far out on a limb doing this curry dish, and even asked CM if it was too much of a stretch from grandma's chicken pie, but it turns out a couple of my fellow swappers did curry dishes too.
And speaking of my fellow swappers, don't forget to check out the incredible array of food bloggers and awesome recipes. I've listed everyone at the bottom of the page.
Ingredients Green Curry

2 Chinese eggplant cut into 1 inch pieces
1 acorn squash cut into rings
1 large sweet potato cut into 1 inch chunks
1 cup small potatoes (I used red, purple, and gold) cut into bite sized pieces
can of bamboo shoots
1 serrano chile
2 tablespoons green curry paste
thumb-sized knob of ginger finely grated
½ inch slice of fresh galangal (optional) finely grated
1 (15oz) can of coconut milk
olive oil for roasting veggies
finely ground sea salt and pepper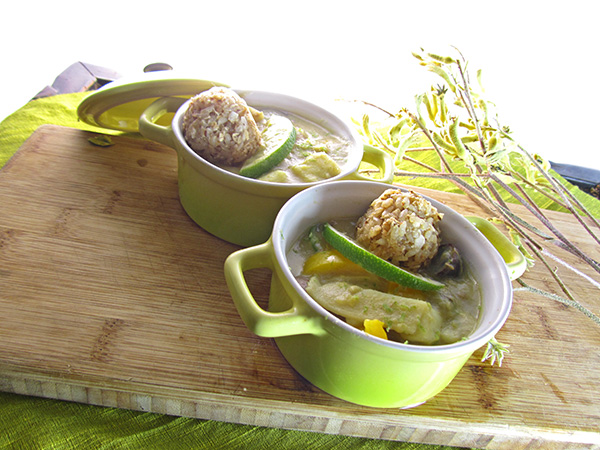 Ingredients Brown Rice Balls

1 1/2 cups sweet short grain brown rice cooked in 2 cups water, 1 cup coconut milk (cooled)
1 cup rolled oats
¾ cup unsweetened flaked coconut
½ -1 tablespoon hot chile powder of your choice, I used paper lantern chiles, habenero or cayenne would work well. (Optional)
2 tablespoons flax meal (ground flax seeds)
6 tablespoons water
coconut oil for pan-frying the balls
¼ teaspoon sea salt
Instructions for green curry

Preheat oven to 400º, line a baking sheet with parchment paper
Toss eggplant and squash with olive oil, a heavy pinch of sea salt and pepper. Roast for about 25 minutes, turning periodically so veggies brown on all sides.
Parboil potatoes and sweet potatoes. Starting from cold water, add potatoes and sweet potatoes and bring to a rolling boil. Cook only about 5-7 minutes from this point, they should be just soft on the outside, not cooked all the way through.
Bring coconut milk, chile, curry paste, ginger, and galangal to a simmer in a heavy bottomed saucepan over medium flame then add eggplant, squash, potato, and sweet potato. Simmer for about 10 minutes, sweet potatoes will start to break down and thicken the curry so it's stewlike. If it becomes too thick, you can add a bit of water.
Remove from heat, stir in the bamboo shoots and allow them to warm up before serving.
Instructions for Brown Rice Balls

Pulse oats, coconut, sea salt, and chile powder in a food processor six to eight times in one second pulses. Check consistency- it should be like breadcrumbs.
Bring water and flax seeds to a boil in a heavy bottomed saucepan over medium high flame. Lower heat and simmer for 2-3 minutes. Remove from heat and whip up like an egg. This is our egg replacer, the glue that holds the rice balls together.
Add rice, oats mixture, and flax seeds to a bowl and mix very well with your hands. This will be super sticky. That's good!
Form rice into 1 inch balls. Again, it's sticky, but it helps to keep your hands wet
Add one tablespoon virgin coconut oil to a large skillet over medium high heat. Pan fry the balls for a minute or so on each side until golden brown all over. Serve atop the steaming hot curry.