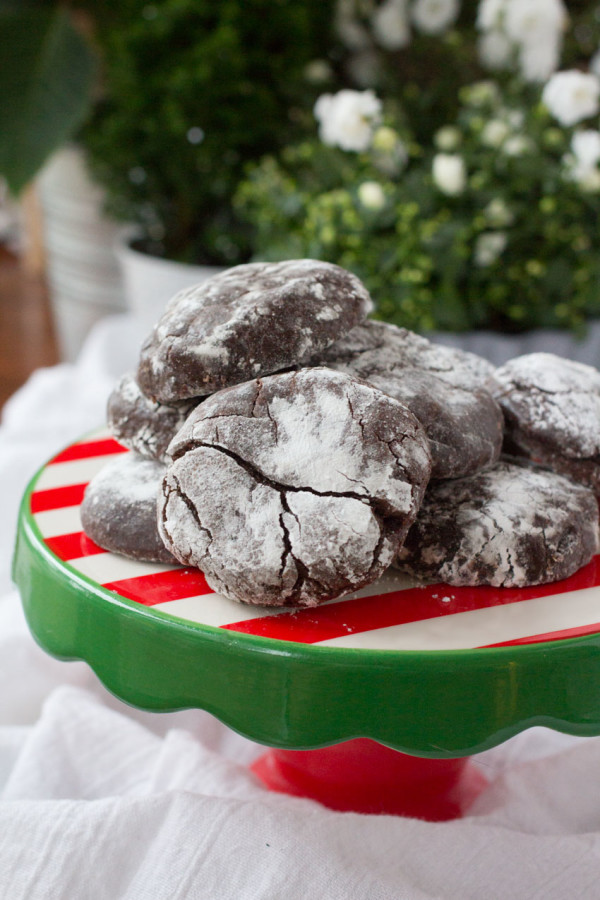 Gluten Free Chocolate Gingerbread Crinkle Cookies
These gluten free chocolate crinkle cookies get mixed up with gingerbread spice for Christmas cookie that truly delights. Crisp on the outside and delightfully fudgy and chewy on the inside, I love these crinkles with a kick. Oh, and did I mention these bad boys are dairy free too?  Jump Straight to the Recipe
---
Come December, our thoughts shift from pumpkins and turkey to cookies and well… more cookies. The holiday cookie swap is not a new thing, by any means, but it seems like cookie exchanges are more popular than ever. Every time I turn around, there's a cookie party popping up and one of the most popular Christmas cookies seems to be the chocolate crinkle cookie! So, of course, I had to make a gluten free version plus add my favorite spices like cinnamon, ginger, allspice, and a hint of cayenne.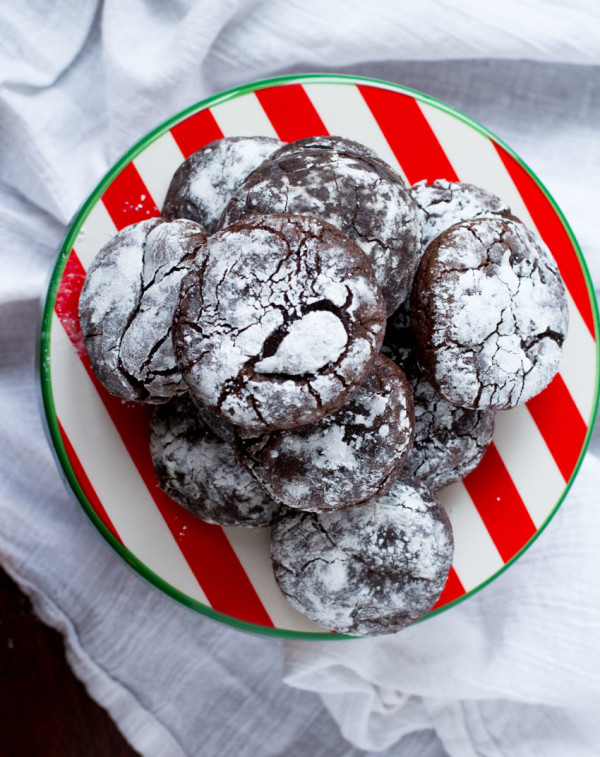 My earliest memories of Christmas cookies are confections come from our next door neighbor, Jeanette Watkins, and my mom's dear friend Mrs. Patton. Jeanette made rice crispy treats, and peanut brittle and would bring them over in a lovely tin at Christmas time. Mrs. Patton's specialy was her rich and decadent fudge. When my little brother came along, Mrs. Patton always gave us an extra tin of fudge for him because it was his absolute favorite thing in the world.
My mom was not a baker, Santa got Chips Ahoy or Oreos in our house, so I did not grow up with a tradition of baking cookies. As a matter of fact, I recently found myself wondering "When did Christmas cookies become a thing?" I thought maybe it was a more modern tradition, but no, it's got quite a long history- though it seems like its popularity may have waned in the 70s and 80s as more moms were working.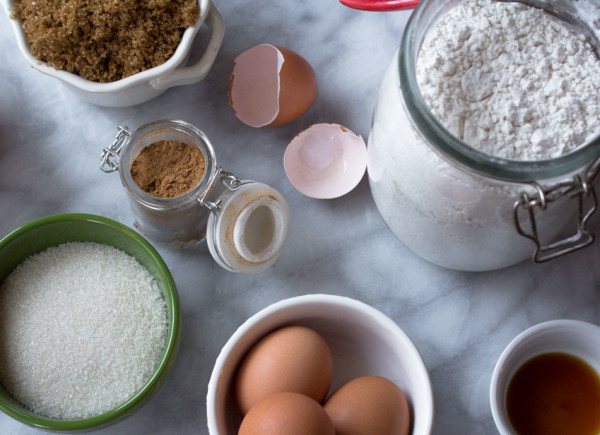 A timeline I found on FoodTimeLine.org looks at the history of the cookie exchange and it seems the tradition may have come from sororities! The first news article mentioning cookie exchanges references the Tri Kappas hosting an exchange at Montgomery Market in 1917. By 1960, The Los Angeles times was calling the cookie swap party a "rising trend". In 1963, Betty Crocker's Cooky Book suggests that women have a Christmas "Cooky" Swap Party where each woman brings a dozen cookies for each of the other women at the gathering. HOLY COW, better hope it's a small party. Who wants to bake 11 dozen cookies?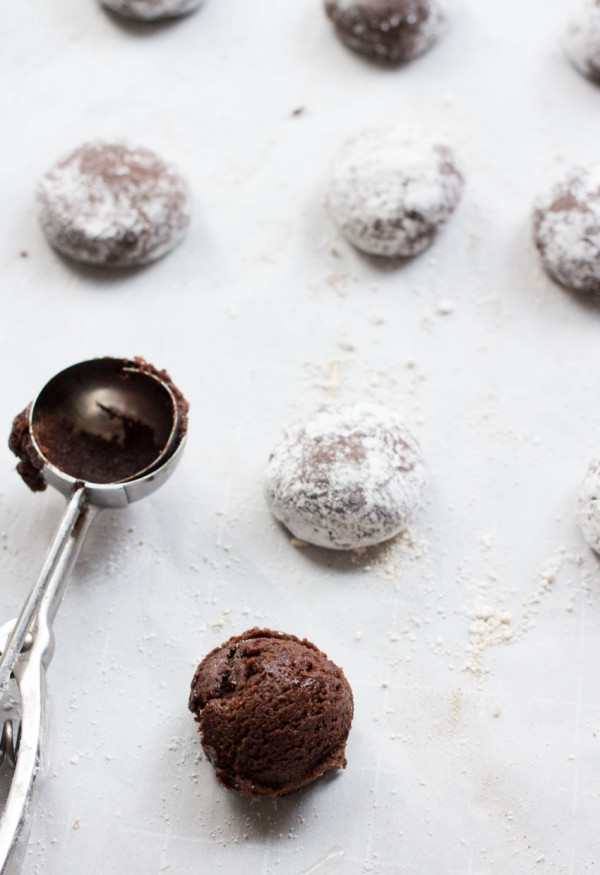 Cookie exchange or no, I hope you'll make these killer chocolate gingerbread crinkle cookies and also enter the giant Christmas week giveaway. You could win a $500 gift card to Amazon (or $250 or $50). I know that kind of extra cash could come in handy for the season. Good luck, and happy holidays. I'll be back this week with two more gingerbread-themed recipes. Be sure to come and check them out! Jump straight to the recipe
Participants for Christmas Week:
Cravings of a Lunatic • Desserts Required  • Poet in the Pantry  •  The Redhead Baker  •  Pineapple and Coconut   •   All Roads Lead to the Kitchen  •  Hezzi-D's Books and Cooks   •   Cupcakes & Kale Chips  • Cooking on the Front Burner   •   The Little Ferraro Kitchen  •   Crumb: A Food Blog   •  The Bitter Side of Sweet   •   Amee's Savory Dish  •   Comfortably Domestic  •   Food Done Light   •   Farm Fresh Feasts  •   Flour On My Face  •   Mother Would Know  •   Food Lust People Love  •   My Catholic Kitchen  •   Daily Appetite  •   Try Anything Once Culinary  •   That Skinny Chick Can Bake  •   Savory Experiments  •   Cooking In Stilettos  •   Food Babbles  •   Mind Over Batter  •   Rants From My Crazy Kitchen  •   Lauren Kelly Nutrition  •   Big Bear's Wife  •   Everyday Southwest  •   From Gate to Plate  •   Karen's Kitchen Stories  •   Savoring Italy  •   Dixie Chik Cooks  •   The Tomato Tart  •   Aloha Flavor  •   CopyKat Recipes
Recipes from Day 1 of Christmas Week! Please visit all our talented participants:
Pistachio Brittle from Cravings of a Lunatic
Coconut Lemon Raspberry Bundt Cake from Desserts Required
Peppermint Bark from Poet in the Pantry
Eggnog Pound Cake from The Redhead Baker
Quince, Cranberry and Persimmon Crisps from Pineapple and Coconut
Chocolate Fruit 'n Nut Bites from All Roads Lead to the Kitchen
Fancy Chocolate Covered Marshallows from Hezzi-D's Books and Cooks
Gluten Free Cranberry Orange Coffee Cake from Cupcakes and Kale Chips
Marzipan Fruits from The Little Ferraro Kitchen
Eggnog Truffles from Crumb: A Food Blog
Peppermint Fudge from The Bitter Side of Sweet
Dark Chocolate Peppermint Cupcakes from Amee's Savory Dish
Gingerbread Cake with Orange Cream Glaze from Comfortably Domestic
Christmas Sweets and Treats from Food Done Light
Spiked Hot Cocoa Gift Mix from Farm Fresh Feasts
Chanukah Olive Oil Cookies from Mother Would Know
Coconut Pralines from Food Lust People Love
Blueberry Overnight Sweet Rolls from My Catholic Kitchen
Chocolate Chip Shortbread Cookies from Daily Appetite
Chocolate Dipped Gingersnaps from Try Anything Once Culinary
Mini Red Velvet Cupcakes from That Skinny Chick Can Bake
Dark Chocolate Almond Cheesecake Cups from Savory Experiments
Bourbon Soaked Eggnog Cake from Cooking In Stilettos
Ginger Snap Cocktail from Food Babbles
Coquito Cinnamon Roll Bundt from Mind Over Batter
No-Bake Chocolate Peppermint Cheesecake from Rants From My Crazy Kitchen
Easy White Chocolate Peppermint Fudge from Big Bear's Wife
Easy Cream Cheese Cookies from Everyday Southwest
Gingerbread Cookie Bars from From Gate to Plate
Molasses Ginger Cookies from Karen's Kitchen Stories
Apricot Spice Biscotti from Savoring Italy
Caramel Bacon Bark from Dixie Chik Cooks
Gluten Free Chocolate Gingerbread Crinkle Cookies from The Tomato Tart
Easy Macadamia Cashew Brittle from Aloha Flavor
My gluten free chocolate crinkle cookies are a super simple cookie to make. Though some crinkles are made with butter, I thought I'd go for gluten free AND dairy free by using oil instead. There are only a few ingredients and you may even have everything in your pantry right now! These cookies are chocolatey and super chewy with a nice punch from the gingerbread spice. These are so good on their own, but I think they truly shine when you dunk them in hot chocolate or cold milk.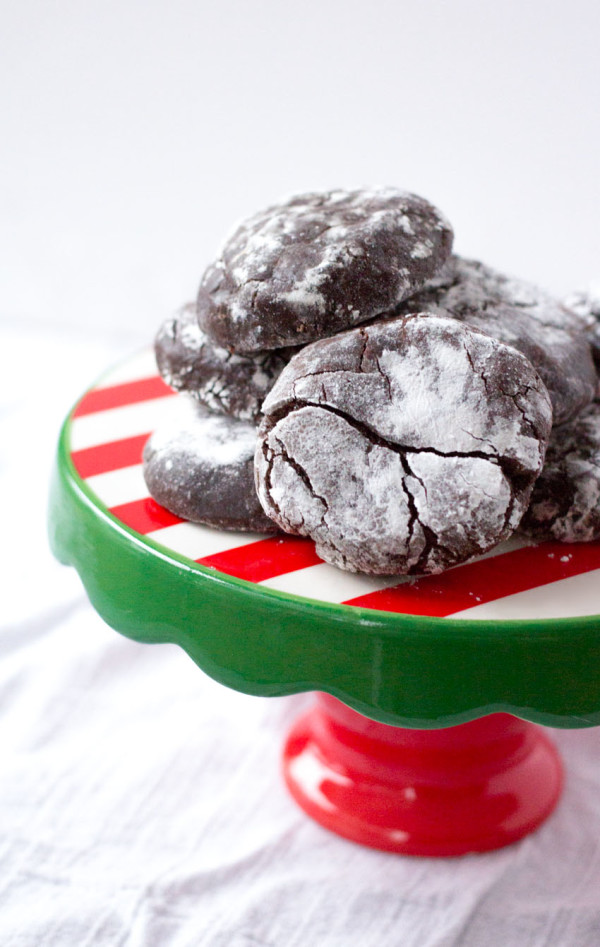 Rating 4.9 from 8 reviews
Prep time:
Cook time:
Total time: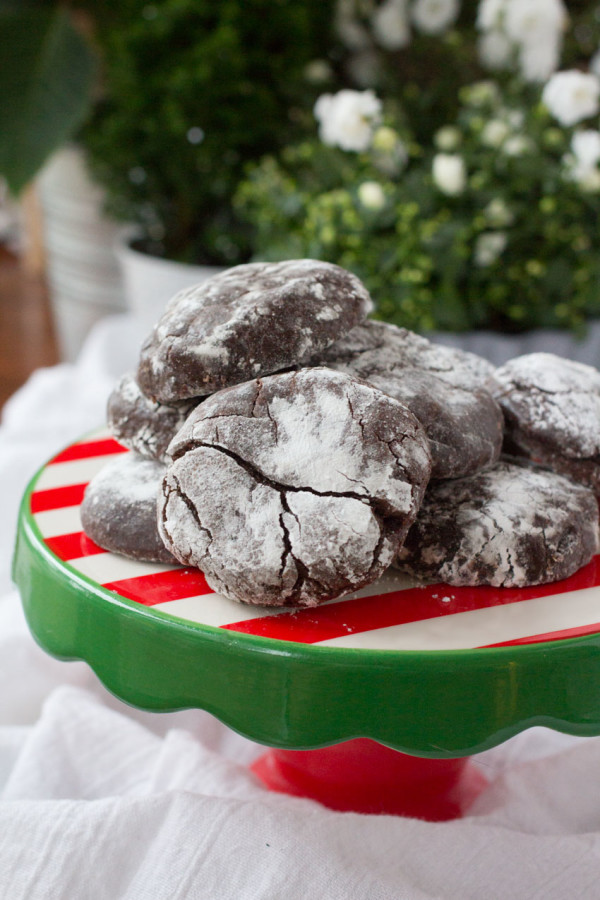 Gluten free and dairy free chocolate crinkle cookies with a kiss of gingerbread spice are knock your socks off awesome. This crisp on the outside, chewy on the inside, cookie is a holiday favorite.
Ingredients
2 cups light brown sugar
1 cups granulated sugar
4 eggs
1 cup sunflower oil
1 tablespoon vanilla extra
3 & ½ cups gluten free all purpose flour
1 cup minus 2 tablespoons Dutch process cocoa
2 tablespoons gingerbread spice
3 teaspoons baking powder
1 & ½ teaspoons salt
1 cup powdered sugar
Instructions
Using either a stand mixer or a hand mixer, mix the sugars, oil, egg and vanilla on medium-high speed for a couple of minutes until well-combined.
In a separate bowl, whisk flour, cocoa, gingerbread spice, baking powder and salt. Add this to the wet ingredients in three additions and mix until fully combined.
Press plastic wrap over the surface of the dough and refrigerate for at least four hours or up to overnight.
Once the dough is fully chilled, preheat oven to 350º and line two heavy baking sheets with parchment and place about 1 cup powdered sugar a wide shallow bowl.
Use a cookie scoop to portion dough into 1 to 1 ½ tablespoon balls. Roll each dough ball in the powdered sugar and place on the cookie sheets, a couple of inches a part. Bake for 8 minutes- they will still be very soft and you might think they're not baked, but they are! If you bake them any longer, the awesome chewiness will be gone.
Cool briefly on the baking sheets and then carefully remove them to a cooling rack to cool completely eating. Store at room temperature for up to a week.