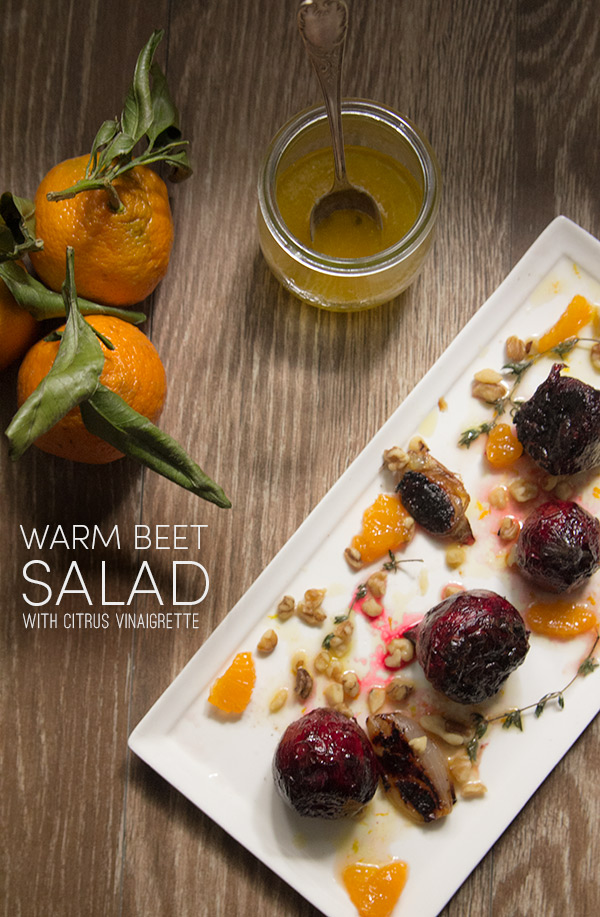 Warm Roasted Beet Salad with Citrus Vinaigrette  | Paleo  |  Vegan  | Gluten Free
Beets look like jewels, taste like sweet earth, and even turn your pee hot pink. In other words, they are the perfect food.  I'm always a little taken aback upon learning  someone hates beets. When I meet these curious creatures, I ask whether they've ever had fresh roasted beets rather than those limp crinkle cut discs from sad salad bars.
I have happily converted a few beet-ophobes into lovers and I feel like there is a magic formula for these folks.
Sweet beets + acidic vinaigrettes = love.
I will eat beets any which way: boiled, braised, raw, pickled, fried, plain, or sauced, but the king is definitely roasted beets. It is simple to do and when the beets start caramelize in the oven, the real magic happens.
I had this simple roasted beet salad for lunch… twice this week. It is vegan, gluten free, and paleo. If you omit the nuts, it's extremely allergen-friendly. You can also eat these roasted beets warm or cold which makes it a great dish for holiday entertaining. Prepare the beets and shallots up to three days before and just make the dressing and the tangerine suprèmes when you are ready to serve. So simple, elegant, and delectable, you just may convert a beet hater into a beet lover.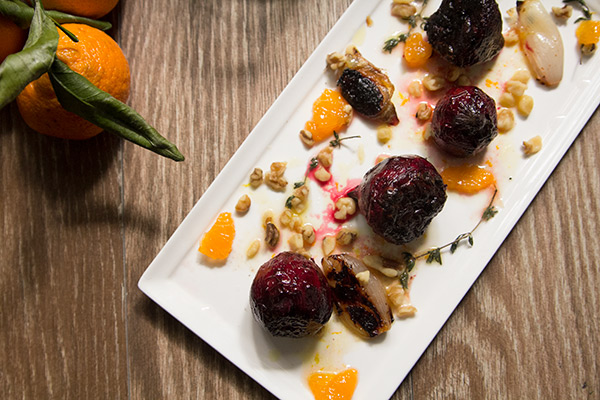 I like to use small beets for this recipe, but if you only have larger  beets, cut them into 1 inch chunks before roasting. This recipe is easily scaled up for a crowd and if you have extra, save the dressing for salads or as an amazing drizzle on fish, chicken, or roasted sweet potatoes!
INGREDIENTS ROASTED BEETS
2 lb beets, peeled and greens removed (save these for salad or stock)
2 shallots, peeled trimmed and lobes separated
4 sprigs of thyme + more for garnish (optional)
2 teaspoons extra virgin olive oil
1/8 teaspoon fine grain sea salt
suprèmes of one tangerine (method)
2 tablespoons chopped walnut
INSTRUCTIONS ROASTED BEETS
preheat oven to 425º and line a baking sheet with parchment paper
place the beets, thyme, and shallot on the prepared baking sheet. drizzle olive oil over and carefully coat beets and shallot- avoiding getting hot pink beet juice on the shallots.
roast until fork tender (45-55) minutes turning once after about 30 minutes.
cool for at least 10 minutes before dressing
INGREDIENTS CITRUS VINAIGRETTE
juice and zest from ½ meyer lemon
juice and zest from ½ tangerine
1 tablespoon dark honey (for vegan option, use maple syrup, agave, or yacon syrup)
2 tablespoons extra virgin olive oil
1 heavy pinch of sea salt
1/8 teaspoon black pepper
INGREDIENTS CITRUS VINAIGRETTE
whisk together lemon juice, tangerine juice, honey, and zests until combined, drizzle in olive oil, then add salt and pepper whisking all the while.
To serve, plate beets with shallots. Top with supremes of tangerine and sprinkle with walnuts. Drizzle with vinaigrette and place thyme sprigs (if using) around the plate.
Check out these fabulous beet recipes
Roasted Beet Salad with Peaches
Beet Tart with Caraway and Dill
Fudgy Gluten Free Chocolate Cake with Secret Beets
Roasted Beet Salad with Walnuts & Kombucha Vinaigrette
Daily Gratitude:
Cuddles with my love in the morning
The feeling I get when he walks through the door at night
Tangerines
Aretha Franklin