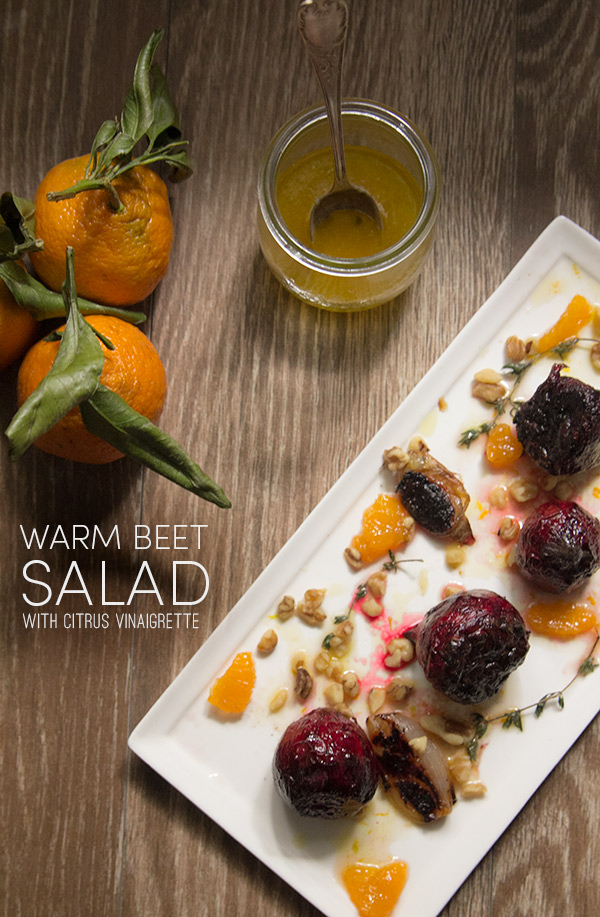 Warm Roasted Beet Salad with Citrus Vinaigrette  | Paleo  |  Vegan  | Gluten Free
Beets look like jewels, taste like sweet earth, and even turn your pee hot pink. In other words, they are the perfect food.  I'm always a little taken aback upon learning  someone hates beets. When I meet these curious creatures, I ask whether they've ever had fresh roasted beets rather than those limp crinkle cut discs from sad salad bars.
I have happily converted a few beet-ophobes into lovers and I feel like there is a magic formula for these folks.
Sweet beets + acidic vinaigrettes = love.
I will eat beets any which way: boiled, braised, raw, pickled, fried, plain, or sauced, but the king is definitely roasted beets. It is simple to do and when the beets start caramelize in the oven, the real magic happens.
I had this simple roasted beet salad for lunch… twice this week. It is vegan, gluten free, and paleo. If you omit the nuts, it's extremely allergen-friendly. You can also eat these roasted beets warm or cold which makes it a great dish for holiday entertaining. Prepare the beets and shallots up to three days before and just make the dressing and the tangerine suprèmes when you are ready to serve. So simple, elegant, and delectable, you just may convert a beet hater into a beet lover.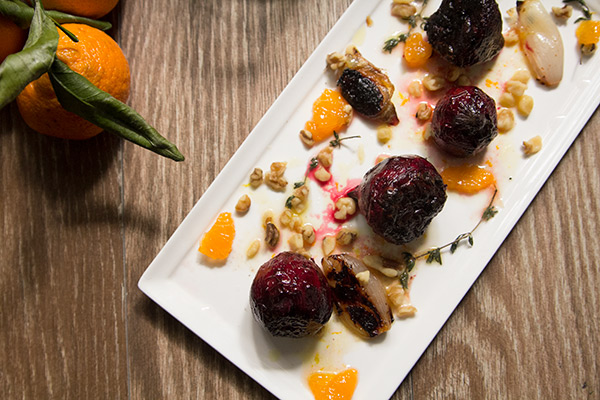 Check out these fabulous beet recipes
Roasted Beet Salad with Peaches
Beet Tart with Caraway and Dill
Fudgy Gluten Free Chocolate Cake with Secret Beets
Roasted Beet Salad with Walnuts & Kombucha Vinaigrette
Daily Gratitude:
Cuddles with my love in the morning
The feeling I get when he walks through the door at night
Tangerines
Aretha Franklin