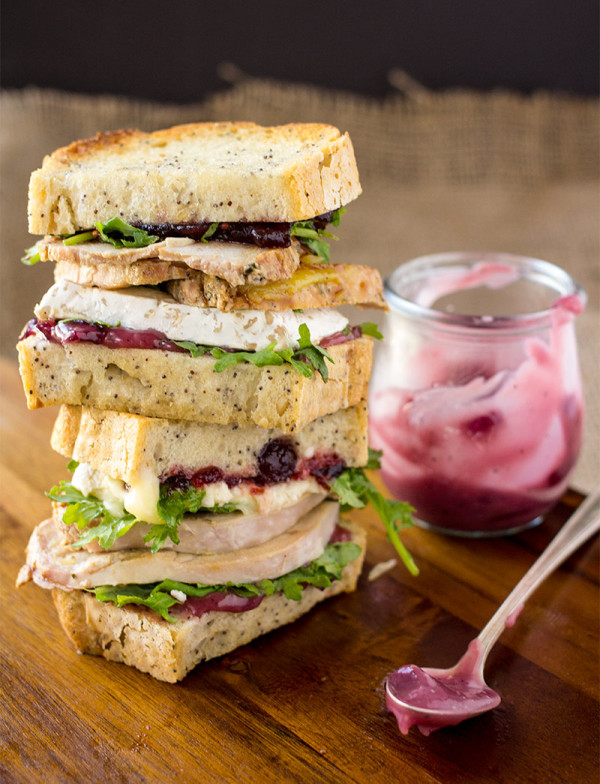 These turkey, cranberry, and brie sandwiches, are the perfect way to elevate your leftovers. Roast turkey, ripe brie, cranberry sauce, baby greens, and red wine aioli are stacked on toasted gluten free sourdough bread. It's hard to get tired of leftovers when they're this delicious. Jump Straight to the Recipe
GLUTEN FREE TURKEY SANDWICH WITH BRIE, CRANBERRIES, AND RED WINE AIOLI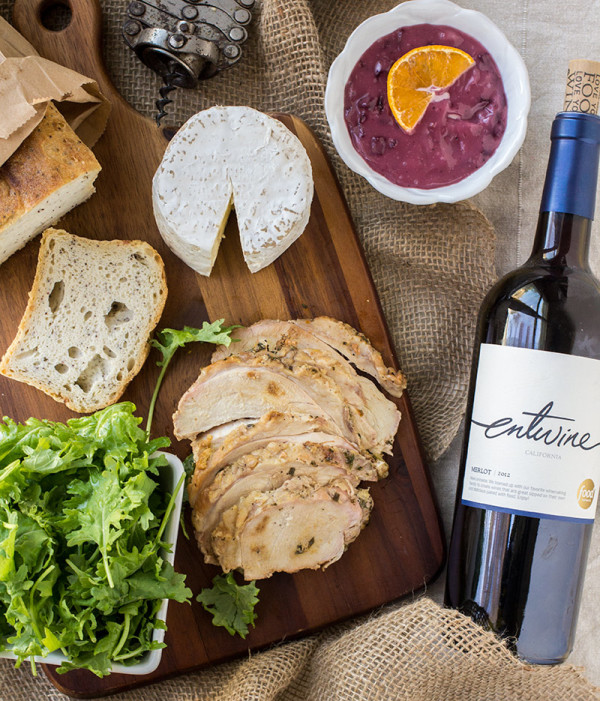 Of all the things I love about Thanksgiving (and I love ALL the things about Thanksgiving) I might love the day after Thanksgiving the best. There's something about a house that once was full, being quiet and empty. Something about listening to music while putting away the stemware and folding the linens. Something about knowing that folks are out there fighting for deals on televisions and sweaters while I'm snuggled up with the hubs and the critters. And, really, there's something about the leftovers.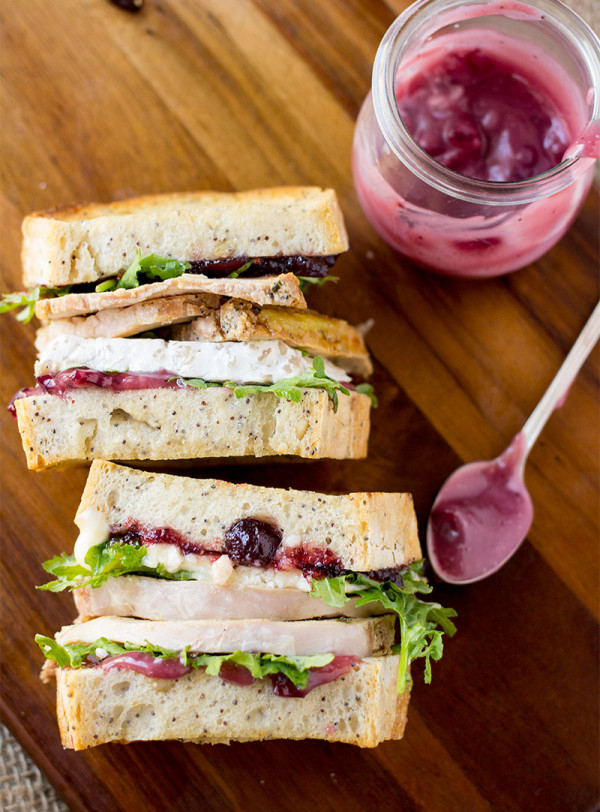 For at least 10 years, I've hosted friends and family and cooked a huge elaborate meal. This year, I had planned to go spend time with my awesome extended family in San Jose. Since I tore my ACL two weeks ago, that's just not an option. My first reaction to the change of Thanksgiving plans was sadness, but then I realized that I'm actually so excited to spend a no-pressure quiet day in the house. Mulled wine, roast turkey, lovely potatoes, brussels sprouts, and cranberry sauce are the only things I'm planning on making. As for dessert, I'm headed to my friend Lisa's house tomorrow night, and I'm hoping we'll knock awesome gluten free pies, but if they don't get made, I'm totally fine with that too.
Oh, and Friday… I've got no cleanup, no linens to wash, no set plans. My day is going to be spent with that warm mulled wine, binge watching Jessica Jones on Netflix and eating these turkey sandwiches with red wine aioli and brie. The level of chill is pretty commendable, don't you think?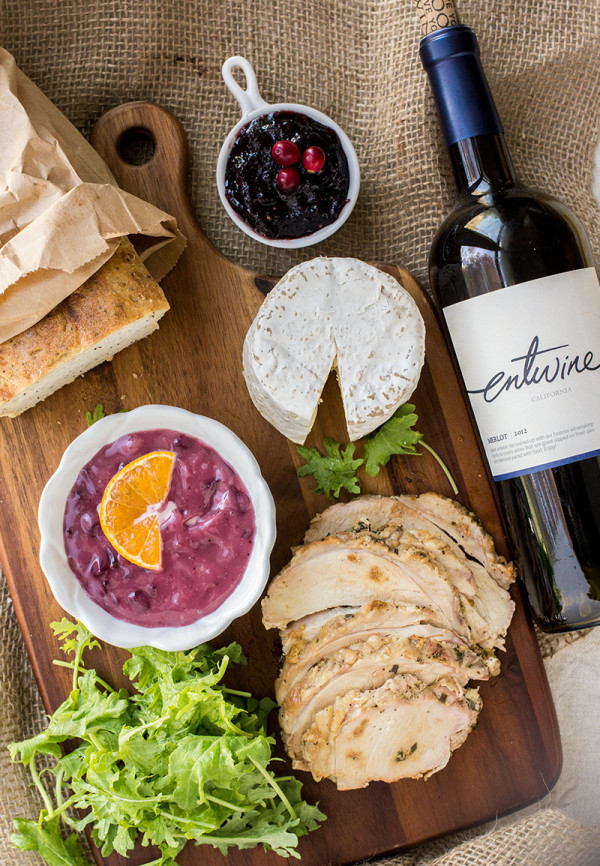 If you didn't cook, this holiday, you can still make this sandwich with deli turkey and jarred cranberry sauce, it's really all about this aioli. The red wine aioli is made with entwine Merlot. Everything about it is spectacular, from the color, to the balance of sweet, sour, and savory. It's out of this world and kind of a sandwich game-changer.
I am a pretty serious sandwich maker. I love love love sandwiches and I hate it when they're not properly made. My advice, spread the condiments fully to the edges of each piece of bread and also, via Dan Pashman of The Sporkful, ALWAYS add a layer of greens to prevent slippage. The greens help keep the good stuff from sliding out.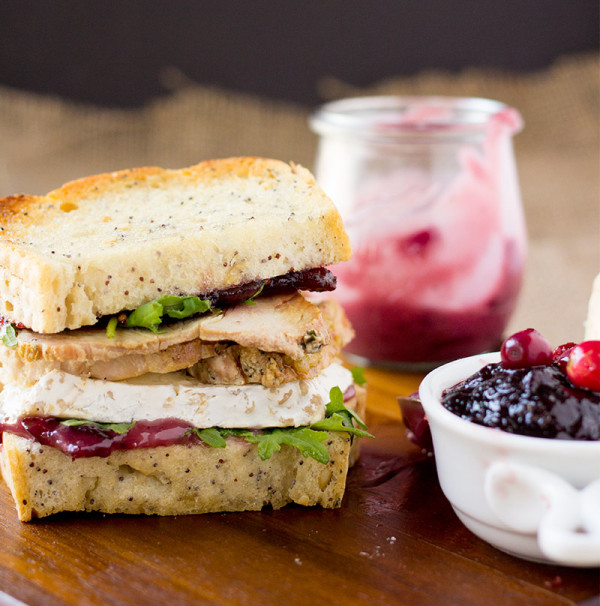 This post is sponsored by entwine wines a collaboration between Wente Vineyards and The Food Network. Though I received both product and compensation for this post, my opinions are not for sale. I only work with brands I love and feel will be useful for my readers. Thank you for supporting the brands that help make The Tomato Tart possible.

Rating 5.0 from 4 reviews
Prep time:
Cook time:
Total time: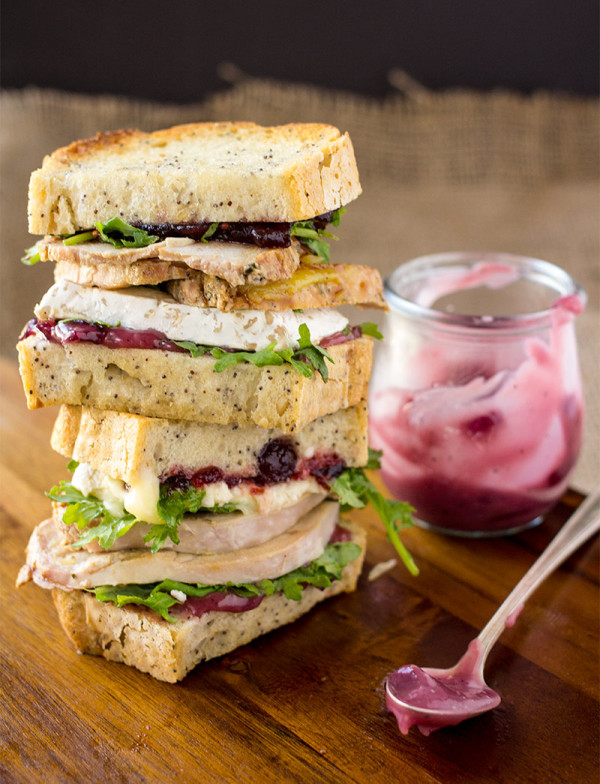 These turkey, cranberry, and brie sandwiches, are the perfect way to elevate your leftovers. Roast turkey, ripe brie, cranberry sauce, baby greens, and red wine aioli are stacked on toasted gluten free sourdough bread. It's hard to get tired of leftovers when they're this delicious.
Ingredients
Turkey sandwich with cranberries, brie, and red wine Aioli
Two slices gluten free bread, toasted (I used Bread SRSLY Sourdough)
1 ½ tablespoons cranberry sauce
½ tablespoon red wine aioli (recipe below)
3 oz Roasted Turkey
1 handful of baby greens (I used baby kale)
2 oz ripe brie at room temperature
Red Wine Aioli
¾ cup entwine merlot
¼ cup red wine vinegar
½ cup dark brown sugar
1 clove garlic, finely minced
⅓ cup finely diced red onion (about a quarter of a medium red onion)
zest from one small orange
1 bay leaf
1 cup mayo (either store bought or homemade is fine here)
heavy pinch of salt
⅛ teaspoon black pepper
Instructions
Make Red Wine Aioli
In a small saucepan over medium heat, bring entwine merlot, red wine vinegar, brown sugar, garlic, onion, orange zest, and bay leaf to a boil. Lower heat to medium low and simmer for 20 minutes or until the liquid becomes very syrupy and is reduced to about ⅓ cup and onions are almost candied. Allow liquid to cool to room temperature, then remove the bay leaf. 
Place mayo in a small bowl, stir the red wine syrup into the mayo a little bit at a time until fully incorporated. Season with salt and pepper to taste. Cover and store leftovers in the fridge for up to a week for store bought mayo or three days for homemade.
Assemble Sandwich
Spread cranberry sauce on one slice of the toasted bread and spread red wine aioli on the other side. Layer with baby greens, then turkey on one side and brie on the other. Add a few leaves of baby greens to one side of the sandwich, then put the two halves together and eat to your heart's content.
Check out these fun Thanksgiving leftovers ideas from around the web
Thanksgiving Leftovers Pizza from Tasty Yummies
Turkey Holiday Hash from Boulder Locavore
Thanksgiving Leftover Waffles from Foxes Love Lemons
Thanksgiving Leftovers Salad with Cranberry Vinaigrette from The Roasted Root
Arugula Pesto Turkey Tartine from What's Gaby Cooking