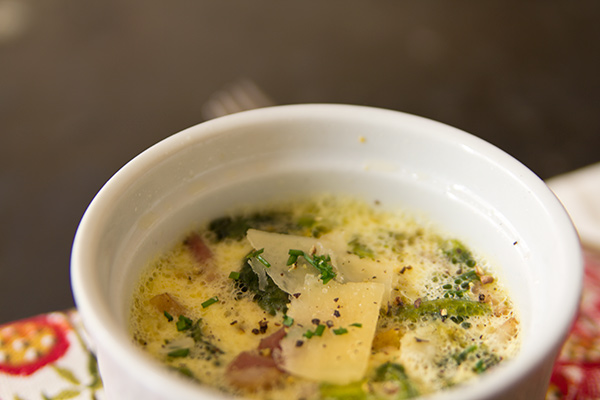 Savory Custard With Bacon and Escarole | Gluten Free | Paleo
Hot slaw? Really? This is one of those times when my lack of a traditional American upbringing had me a little stumped. As I read the recipe, I was still having a hard time imagining a hot slaw until one phrase sang out, "cook all ingredients over fire until it looks like custard".
I'll back up a little, some of you may know that I participate in a vintage recipe swap led by my friend, Christianna, who writes the blog Burwell General Store. Each month, Chris selects a recipe from a vintage cookbook/hymnal that she picked up at a junk store. So far we've tackled chicken pie & drop biscuits, lemon cake, jelly cake, taffy apples and potato doughnuts, to mention a few.
This time, it's hot slaw. While I adore all things cabbage, and I love making homemade slaw, I had never heard of this. A perfunctory search proved that "Alfred E. Brumley's All-Day Singin' and Dinner on the Ground" is not the only place hot slaw exists. As a matter of fact, it seems to be a fairly popular dish. It also appears to contain bacon in many instances. Custard, bacon, cabbage, these are ideas a girl- even a girl who didn't grow up with recipes from the heartland- can understand.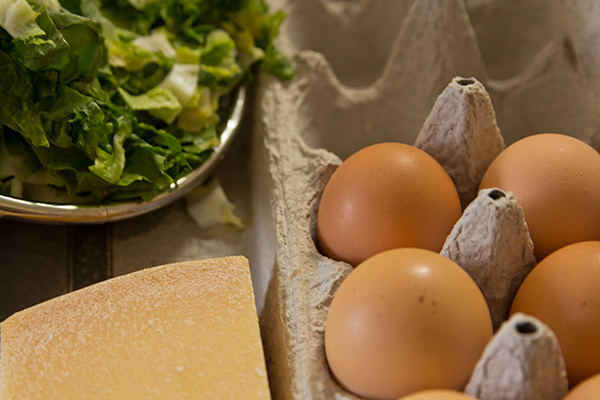 I popped down to the farmers market; apparently cabbage is not quite in season for us Californians yet, but that's alright, because escarole is. A lovely bitter green, escarole begs to be paired with bacon and eggs and balanced with a burst of sunny lemon zest and warm maple sugar. The silken texture of the custard is the perfect setting for all of these bold flavors. Do yourself a favor and trust that your custard will set, don't overcook it. I know it's a leap of faith- kind of like making a spin on a dish that you've never even heard of before- but it's a leap worth taking.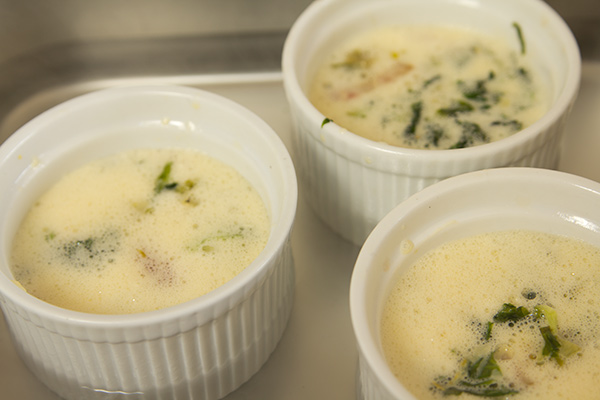 Ingredients Savory Custard With Bacon and Escarole

2 cups shredded escarole
3 slices of bacon chopped in bite sized pieces
1 teaspoon maple sugar
1 tablespoon dry mustard
zest of one lemon
1 cup of lowfat milk
½ cup of heavy cream
5 eggs
2 egg yolks
hot water from kettle (enough to fill your roasting pan)
parmesan cheese ¼ cup grated + thin shavings for top
chives
heavy pinch of salt
fresh cracked pepper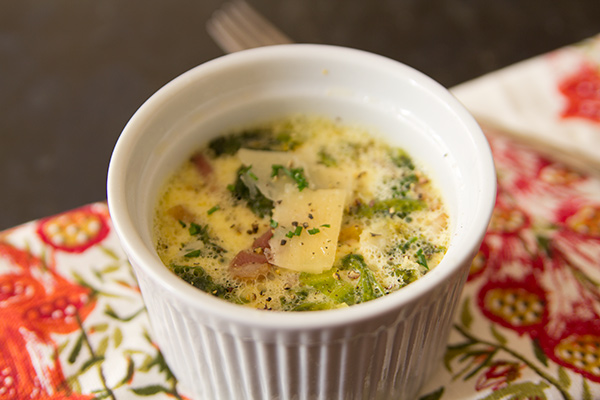 INSTRUCTIONS
Cook bacon in a heavy skillet so that some fat renders out (about 5 minutes). Poor off excess fat and add in escarole. Saute for about five minutes or until greens are tender. Add in maple sugar, mustard. and lemon zest and cook for another minute. Turn off heat.
Heat water in a kettle.
Butter four six ounce ramekins and place them in a small hotel pan or roasting pan
Heat milk and cream over medium low heat until small bubbles form around the edges of the pot. Turn off heat.
Beat eggs and egg yolks until light. Whisk in one half of milk and cream mixture. Then pour the egg mixture into the pan with the rest of the hot milk and cream- whisking all the time. Add in the grated parmesan.
Divide the escarole/bacon mixture between the four ramekins pour the custard equally on top.
Fill the roasting/hotel pan with the hot water abou an inch from the top of the ramekins.
Cover and bake for 30-35 minutes. They should be jiggly still when you pull them out to cool. You can eat them within 30 minutes if you don't mind them a bit wet, but they'll take 2-3 hours to set completely at room temp.
You can top with fresh herbs, pepper, and parmesan. I used garlic chives.