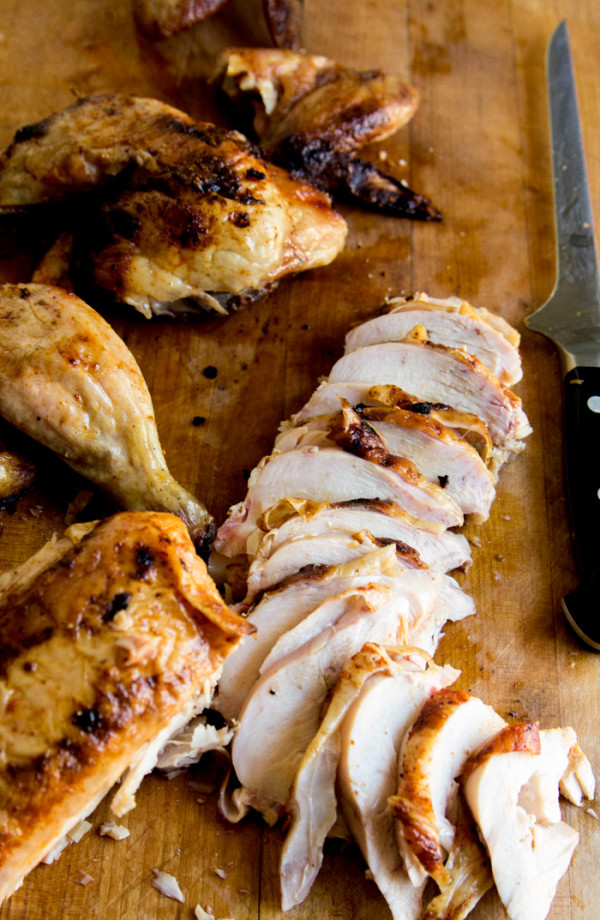 Roast chicken has been a staple in my life as long as I can remember. My grandmother roasted a chicken every week and made stock with the carcass. At least once a week, my mother made a roast chicken with stuffing, mashed potatoes, and cranberries because it was my dad's favorite meal. He loved the idea of having Thanksgiving dinner every week.
I'm so glad I married a man who loves roast chicken just as much as I do. He never gets tired of cold chicken leftovers or the hot broth that follows a day or two later. A little bubble of joy arises in me when I see my husband tuck into a chicken, and I'm not quite sure I know why. But it's a bubble of joy, and I'll take it.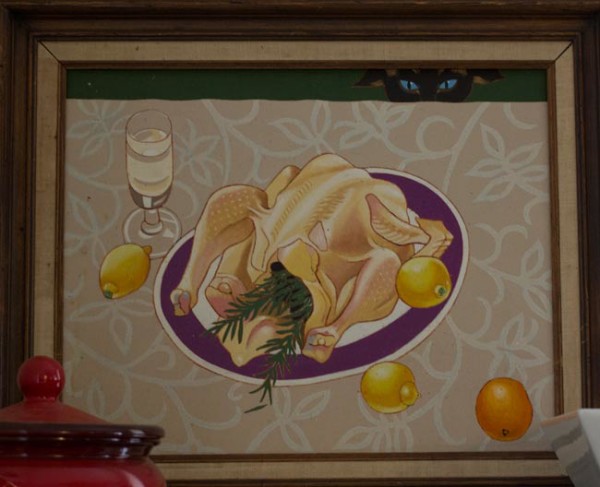 This piece was painted by my Uncle Johnny's friend, Joseph St. Amand, known as Uncle JoJo to me. Jojo painted the chicken for Johnny and it went to my mother when Johnny died of AIDS in 1990. When my mother died in 2004, there was no question that it would be mine. My favorite part of the painting is that it could have been a scene from any weeknight at any of our homes. I love the sight of the chicken stuffed with herbs, surrounded by citrus, and accompanied by a nice glass of white wine. Most of all, I love the black cat, eyes focused intently on that glorious bird.
Glorious bird, that's what my grandmother called every roast chicken or turkey that emerged from her oven. Eyes sparkling, hair flaming red, and queen's English on full display- this is how I picture my grand-maman. I proudly carry on the tradition of admiring my cookery at the same time as I'm honoring the animal it came from.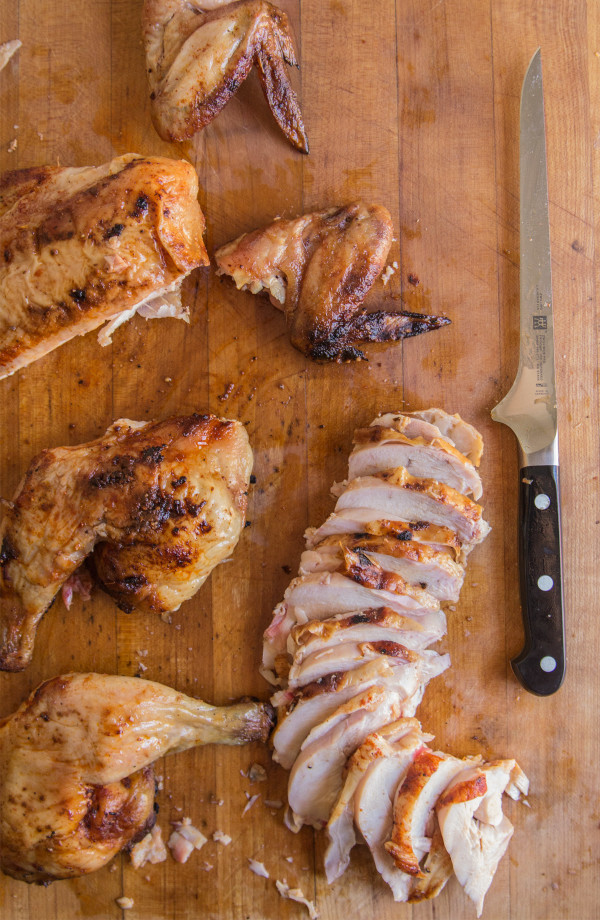 I've been working on and refining my roast chicken recipe for many many years, but I wasn't always so keen on eating the whole bird. I was a vegetarian for 10 years, and when I started eating meat again, I was not okay with anything that actually resembled the animal that it came from. The first time I cooked a game hen, I was close to 30 years old, and I cried the whole time. In the end I couldn't bring myself to eat it. Joshua sat down to a meal of two whole game hens while I enjoyed the salad and potatoes.
This roast chicken is a bit different from my usual because it's roasted on a hot grill. Sometimes I still want roast chicken even when it's 100º outside and urning on the oven in my tiny kitchen is a hard proposition. Sometimes, I just want the grill's flavor or my oven is otherwise occupied with things like roast veggies or cake! This chicken is dry brined for two days, then butterflied (or spatchcocked), and cooked on my gas grill. In just about an hour's time, that chicken is juicy and ready to go.
Food, family, and memory are so entwined. I don't know that I'll ever meet a dish that reminds me of that more than a roast chicken, and I'm okay with that.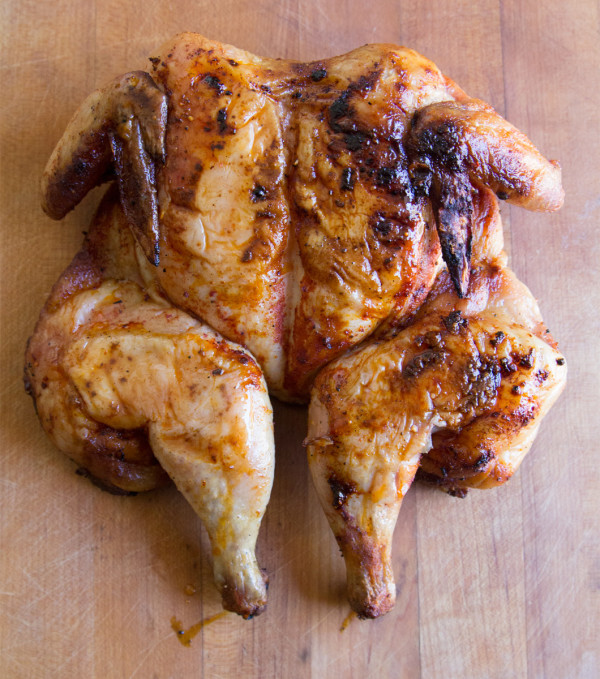 This chicken recipe evolved over time, but I was originally inspired by the truly amazing Zuni chicken recipe  and Kenji Alt-Lopez's amazing technique for grilling a whole chicken. Though it takes a bit of forethought if you want to dry brine your chicken, it is such an easy hands-off recipe for the most part. Don't let the 2-day prep time scare you off. Except for butterflying and salting your chicken and lighting the grill. This requires little to no effort and if you make two chickens at once, you can feed a whole family for the better part of a week! Save the bones to make stock. Use the leftover meat in soup, stew, or tacos! Once you get the hang of cooking a whole chicken on the grill, you'll want to do it all the time.
The knives in this recipe are provided by Zwilling J.A Henckels. This post is not sponsored, but I do receive products from Zwilling J.A Henckels each month.

Prep time:
Cook time:
Total time: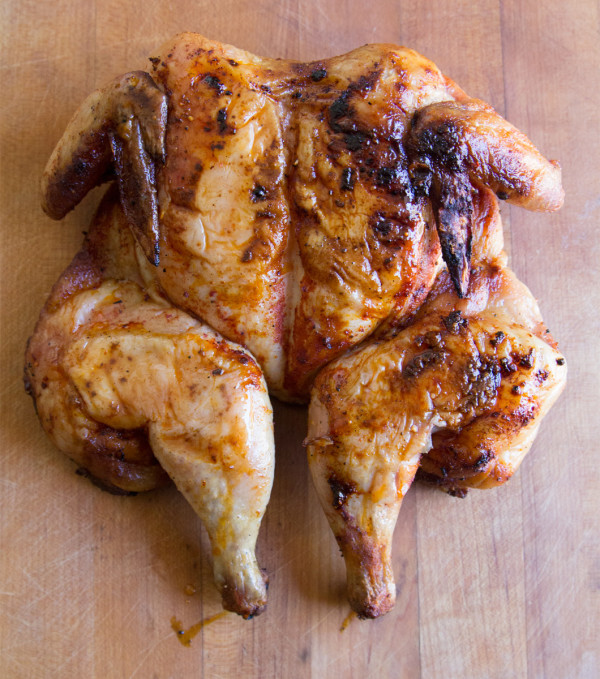 This chicken is butterflied then dry brined for two days. Instead of using the oven, this juicy and flavorful roasted chicken is done on the grill.
Ingredients
One whole chicken (preferably raised on pasture--about 3-3.5 lbs)
¾ teaspoon of sea salt per pound of chicken
½ tablespoon smoked paprika
1 teaspoon dried mustard powder
1 teaspoon granulated garlic
½ teaspoon cracked black pepper
Instructions
Remove the backbone of the chicken using a good pair of kitchen shears. Flip the bird over and use a large knife or cleaver to crack the breastbone (see photo below).
Salt the inside and outside of the chicken and place in an airtight container for 24-36 hours.
In a small bowl, mix smoked paprika, mustard powder, garlic, and black pepper. Remove chicken from the container and rub the inside and outside of the chicken with the spice mixture. Place chicken on a rack on a roasting pan and place in the refrigerator uncovered for 8-12 hours. This time is really important because it allows the skin to dry out so that it will be nice and crispy.
When you're ready to cook the chicken, prepare your grill for both direct and indirect grilling. I have a gas grill so I turn two burners to high and one to low. Place the chickens skin-side up on the cooler side of the grill. Place them so that the breast meat is away from the hot side of the grill (this cooks the legs faster and keeps the breast moist and juicy) Cook for about 40 minutes- until a thermometer inserted into the deepest part of the breast reads 100º-120º. Then flip the chicken over, skin side down, onto the hot part of the grill. If you're using a gas grill, turn the burners to medium-low. Cook for another 10-15 minutes until the the breast is 145º to 150º.
Rest on a cutting board for at least 10 minutes before carving.