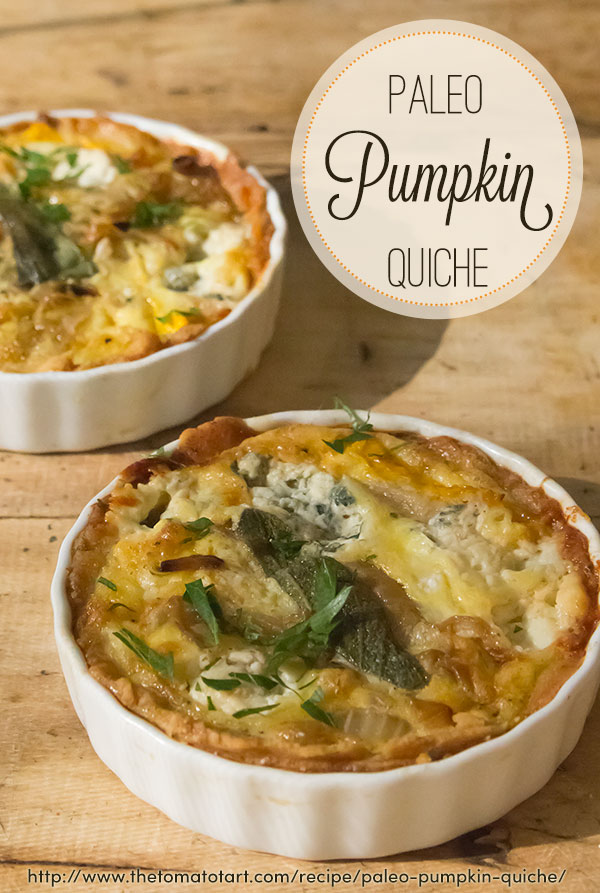 Paleo Pumpkin Quiche with Blue Cheese and Caramelized Onions
It may be hard to believe, but there was a time when quiche was all the rage. That time was the 1970's, and any hostess worth her salt had to serve quiche… quiche Lorraine. Of course, I love a quiche Lorraine, but it doesn't quite stack up to a grain-free quiche filled with roasted pumpkin, caramelized onions, and local grass-fed blue cheese.
Coming from a family of French immigrants, quiche was a regular occurrence. My grandmother made one with leeks and ham that was my absolute favorite, and my aunt's came in at a close second.
I love making quiche, tarts, frittatas, and other savory custards. My husband says he knew he liked me from the start, but he knew he loved me as soon as he ate my quiche (nope, not a euphemism).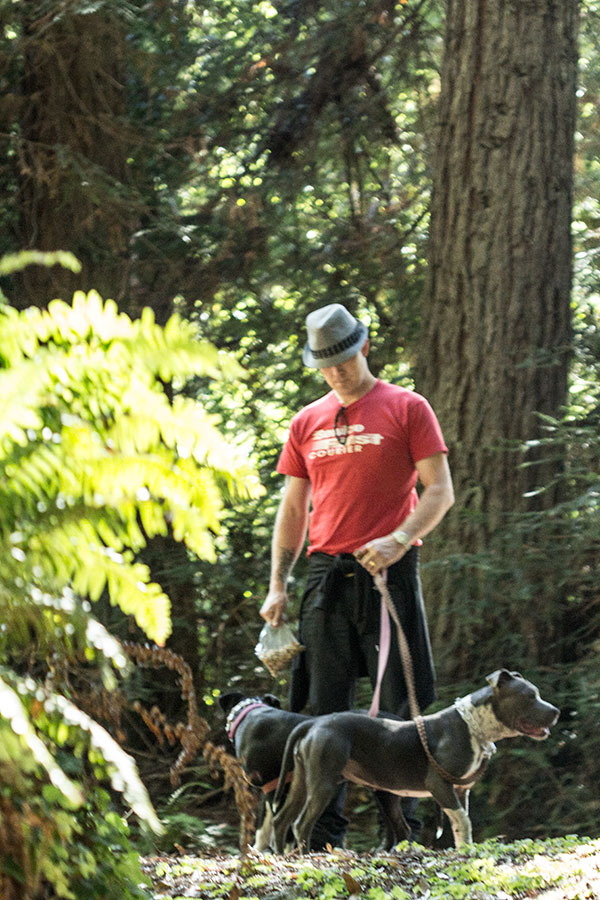 While the quiches I grew up with skewed towards the traditional, mine often feature seasonal veggies and local cheeses like this paleo pumpkin quiche. I love a roasted red pepper and feta quiche or spicy roasted tomato quiche with jalapeño and cilantro. This grain free quiche is packed with caramelized onion, roasted pumpkin, blue cheese, and sage and it smacks of fall in the best possible way.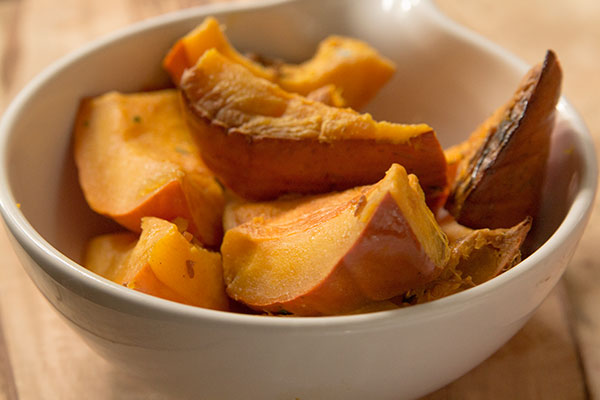 When I had to stop eating gluten, tart dough was the first recipe I worked on at great length. My gluten"full" pastry crust was truly outstanding, and I worked hard to figure out the right blend and techniques for gluten free dough. Last Christmas, I even made gluten free puff pastry!
These days, I'm staying away from grain and sugar, so I set to work creating a grain free, primal pie crust (with paleo option). After working with cashews for a while, it turned out I couldn't grind my nuts finely enough, so I switched to almond flour which I'm buying from Honeyville and Wellbee- both are nice and fine and make a fantastic crust. Thanks to Elana's pantry for both the basis of the recipe and the suggestion of flour brands.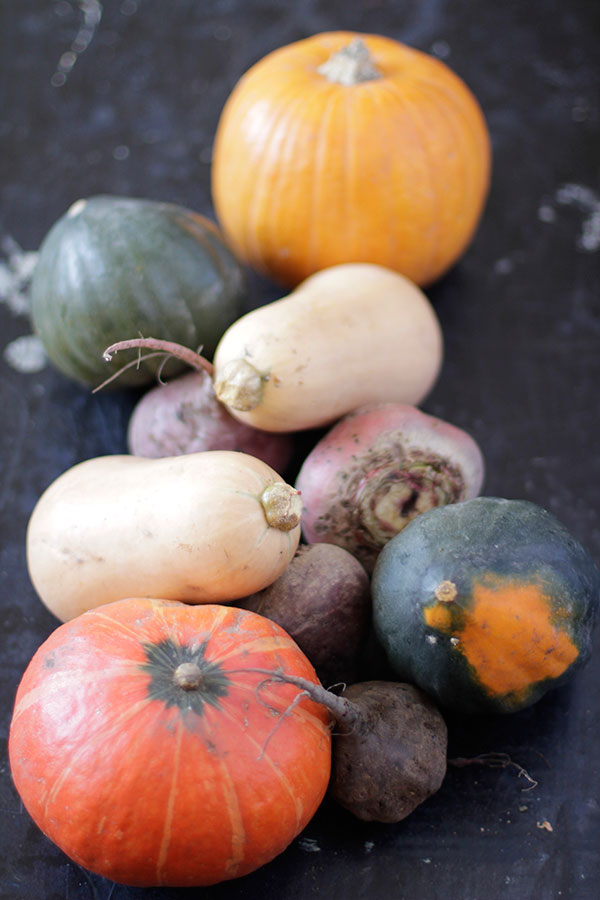 One of the things I love about quiche is that it's simple to put together once your crust is taken care of and with nut crust, the crust itself is simple. You can go from zero to a par-baked crust in about 20 minutes. Another great benefit of quiche is that it lends itself perfectly to seasonal ingredients.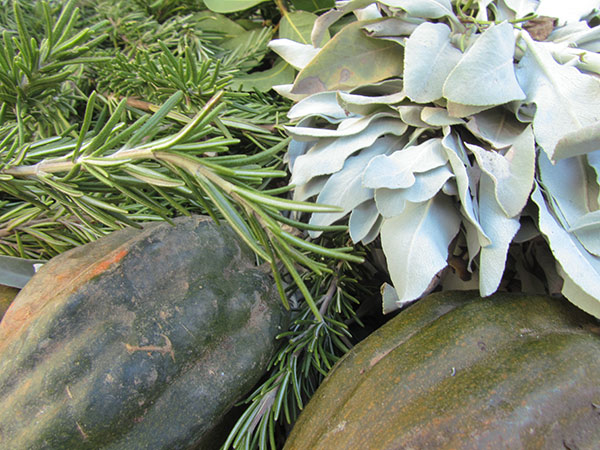 Last week my friends Annie and Marrissa were over for dinner, and because I already had some roasted pumpkin and caramelized onions on hand, dinner was exceedingly easy.  I served the quiche with a simple salad topped with roasted root veggies and pomegranate. My easy dinner looked as good as it tasted.
Joshua, for his part, ate three servings- proving once and for all that real men, do in fact, eat quiche.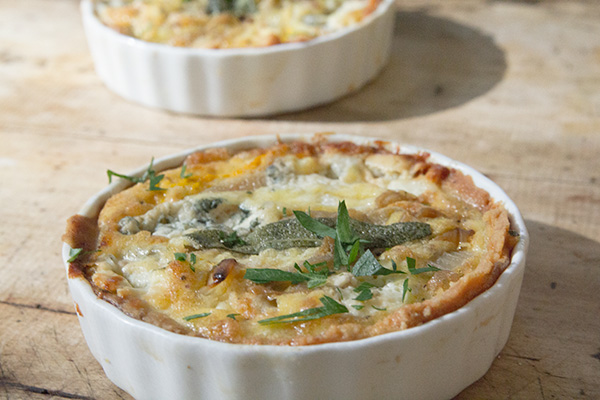 Ingredients for Paleo Quiche Crust

*Adapted from Elana's Pantry
2 cups finely ground almond flour (8oz/225g)
1/8 teaspoon fine grain sea salt
2 leaves of fresh sage, roughly chopped
2 tablespoons grass fed butter (for Paleo, use refined virgin coconut oil)
1 large egg
Instructions for Paleo Quiche Crust

 Preheat oven to 325º. Prepare either a 9 inch fluted tart pan or four miniature tart tins by greasing very well with butter.
Pulse almond flour, sea salt, and sage in the bowl of a food processor. Add butter and egg and pulse until a ball forms.
 Evenly, press dough into the prepared tart pans with your fingers. If using mini tart pans, be sure to split the dough into four even pieces before you start pressing it into the dishes.
Bake in preheated oven for 12 minutes or until the edges are a light golden brown.
Allow to cool for at least 15 minutes before filling and baking.
Ingredients for Paleo Pumpkin Quiche Filling

8 eggs
½ cup heavy cream (for Paleo/dairy free, use coconut milk)
1/8 teaspoon fresh cracked pepper
1/8 teaspoon finely ground sea salt
16 slices roasted pumpkin, cut ½ inch thick by 4 inches long*
¼ – ½ cup caramelized onions depending on your taste **
4 oz blue cheese (omit for Paleo/dairy free)
4 sage leaves
Instructions for Filling and Baking Quiche

Preheat oven to 375º
Whisk eggs, cream, pepper and sea salt until thoroughly combined and a little fluffy.
Dip the sage leaves into the egg mixture, and set aside
Pour egg mixture into the crusts and add caramelized onions in dollops all around the quiche.
Arrange the pumpkin slices in an attractive pattern then add small dollops of blue cheese in a random pattern.
Place the egg-coated sage leaves on top.
Bake for 35 minutes or until eggs are puffed up and mostly set. Allow to cool for 10 minutes. Serve hot, cold, or at room temperature.
*follow these instructions for how to roast a pumpkin, and since you'll have leftover pumpkin, you can even make this soup.
**you'll need at least one large onion to get a half cup of caramelized onions. I recommend doing a bunch of onions at once, though, since it's time consuming. Instructions for how to make caramelized onions are here.
Check out these other fall recipes:
Grain Free Pumpkin Bars
Plum Caprese
Marinated Roasted Beets
Rainbow Carrot Gratin