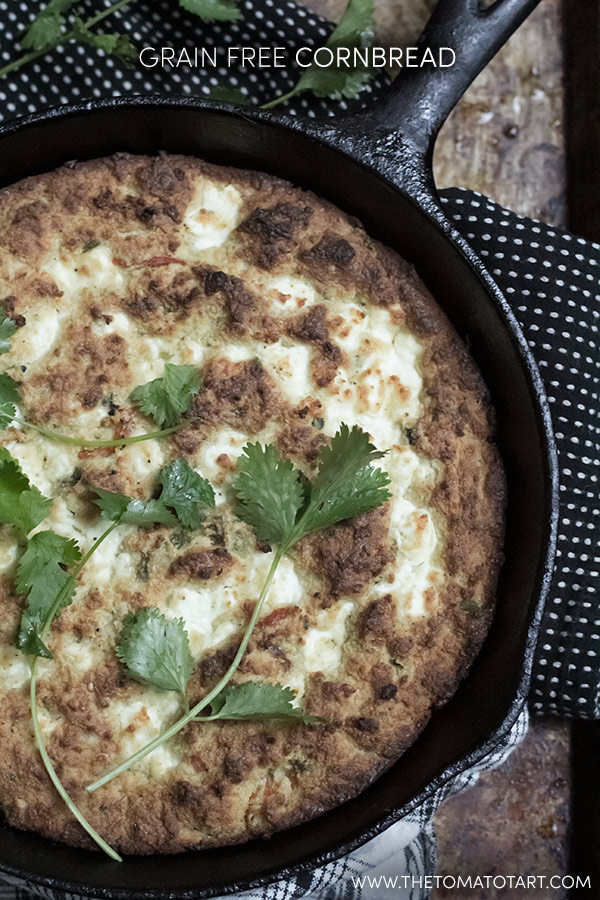 Grain Free, Primal, & Paleo Cornbread with Roasted Chilies and Goat's Cheese
We lived just a few minutes away from The Rib Shack. If my dad was in charge of dinner, there was a good chance we'd be chowin' down on a full rack with smoky sauce, potato salad, and corn muffins. The Rib Shack was my window into the world of serious barbecue. They smoked their ribs for 24 hours, made all of their sauces from scratch, and put a piece of pineapple in the center of each corn muffin.
When I was a kid, the owner told me that there was only one piece of pineapple in each batch of muffins and that I was lucky if I was the one who found it.  For years, I thought I had the best luck, exclaiming, "I got it! I got the pineapple!" each and every time.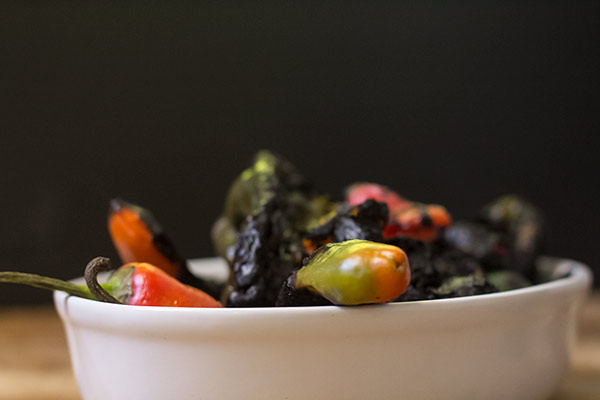 As with many immigrant families, we took up an American tradition, in this case, barbecuing. But, the Frenchness lingered in the air like cheap perfume. My mother served our burgers on baguette, the potato salad was made with vinaigrette rather than mayonnaise, and instead of coleslaw, you might see beets flecked with parsley and red onion or Polish cucumbers. As for cornbread, I was pretty sure The Rib Shack invented it.
Somewhere along the way, my little brother developed quite a palate for soul food and barbecue. Naturally, I dipped my toes in the water. There was a disaster with fried chicken where I learned that deep frying in flip flops is a bad idea, there were several rounds of dry cornbread, and an incident with baked beans that I'd rather not go into. Eventually, though, I really got the hang of things. My brother and I created a fabulous barbecue sauce. The recipe is on my fridge- notes scribbled in his and my handwriting. I think it should always live there.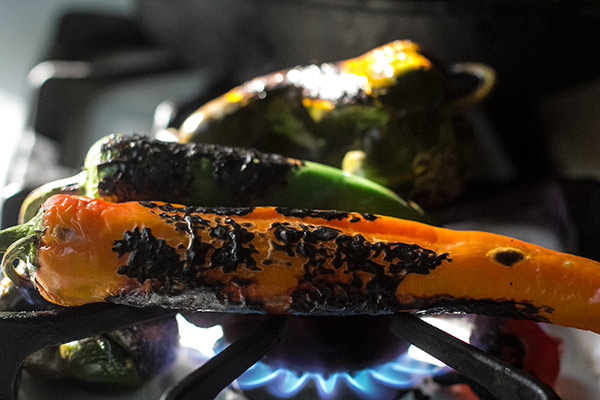 When I took a break from grain, in late August, I never thought I'd be able to create a skillet bread that reminded me of cornbread. Cornbread, by its very nature, requires corn. After several rounds of trying different recipes and different flour ratios, I have finally come up with a paleo cornbread recipe that will stand up to pulled pork, chili, even a killer rack of ribs.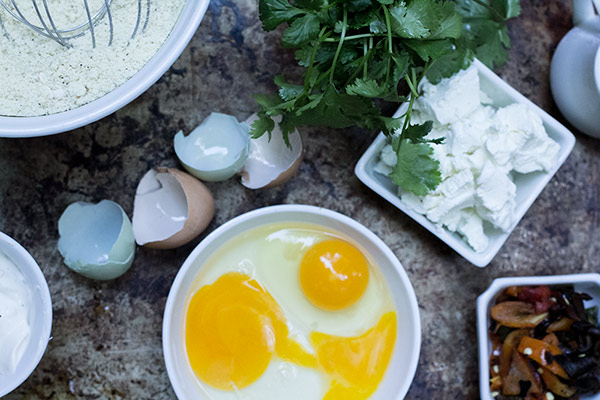 Who knew that grain free/ paleo cornbread could really seem like cornbread?  With chunks of roasted chilies, and melted goat cheese, this is a gorgeous and grown up treat. Next, perhaps I'll make a batch with a piece of pineapple, just one.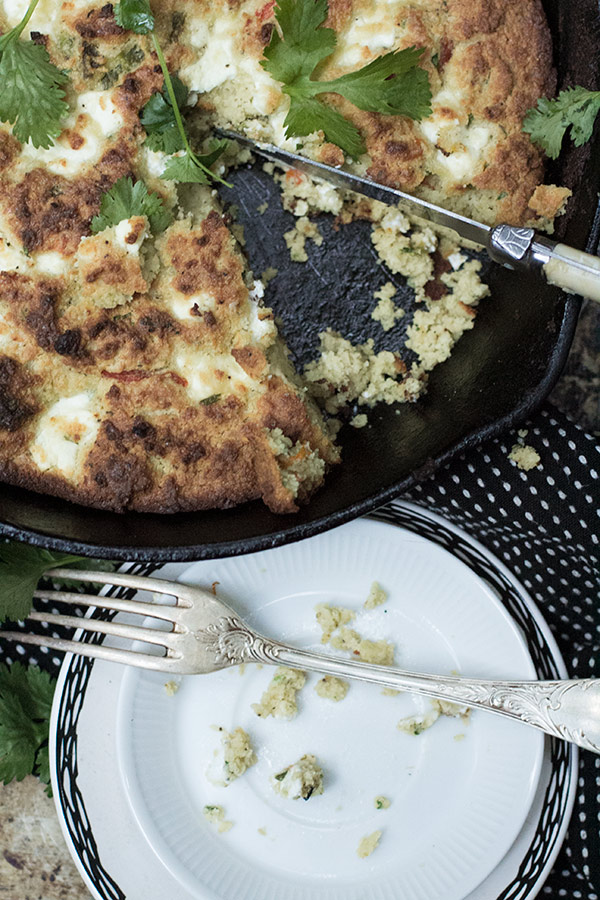 Grain Free/Primal /Paleo Corn Bread with Goat Cheese and Roasted Chilies
Adapted from Deliciously Organic

This base of this grain-free cornbread can be used for almost any flavor profile. Bacon and maple? Sage and cranberry? Cherry and chipotle? I'm looking forward to making all of these and more. Be sure to use a fine grain almond flour like 
Honeyville Blanched Almond Flour
. Also, don't skip the 20 minute wait before putting your skillet in the oven.
INGREDIENTS
240 grams almond flour (2 cups)
30 grams coconut flour (3 tablespoons)
3 teaspoons baking powder
1/2 teaspoon baking soda
1 teaspoon coarse sea salt
½ teaspoon black pepper
2 large eggs, lightly beaten
1 tablespoon of honey
5 tablespoons unsalted butter or ghee, melted (for paleo, use coconut oil)
1 cup sour cream, crème fraiche, or greek yogurt (for paleo, used strained coconut yogurt)
½ cup milk (I used whole raw milk, but coconut or almond milk would work here too)
½ cup roasted peppers- seeded and peeled (optional) I used poblano, gypsy peppers, and jalapeños
1 tablespoon finely chopped cilantro
4 oz of fresh goat cheese, crumbled (omit for paleo)
INSTRUCTIONS
Grease a 7"-9" cast iron skillet and preheat your oven to 425º
In a large bowl, mix almond flour, coconut flour, baking powder, baking soda, salt and pepper. Whisk well, to combine.
In a second bowl, combine eggs, honey, melted butter, sour cream, and milk. Whisk well to combine.
Gently fold one half of the liquid mixture into the flour mix. Once well-combined, fold in the other half of the liquid. Add the peppers and cilantro if using and mix until just combined. Let rest for 20 minutes– this allows the coconut flour to pick up some of the moisture and prevents bread from being grainy.
Pour batter into greased cast iron skillet and sprinkle goat cheese over the top.
 Bake for 30 minutes or until a knife, inserted into the center, comes out clean.
Allow to cool for at least 15 minutes before serving.
You might enjoy these Paleo & Primal Bread Recipes
Paleo Sandwich Bread from Elana's Pantry 
White Sandwich Loaf from Against All Grain
Cloud Bread from Momables
Butternut Flatbread
More Paleo and Primal Recipes from The Tomato Tart
Texas-Style Chili
Pork with Raspberry Gastrique
Warm Beet Salad with Citrus Vinaigrette
Strawberry Cashew Milk Shake
Maple Bacon Savory Custard