"Cure sometimes, treat often, comfort always."
–Hippocrates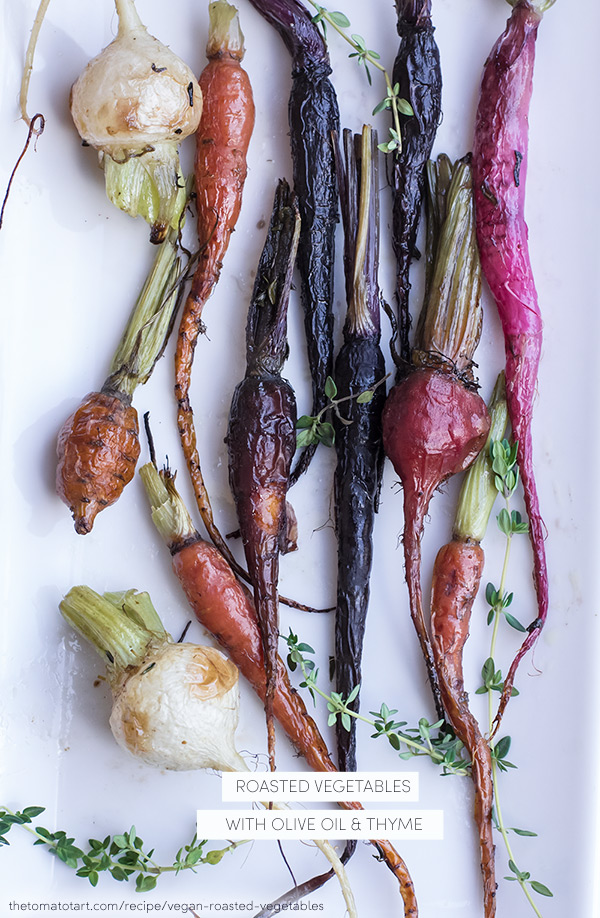 Roasted Vegetables with Olive Oil and Thyme
I had a phone call two weeks ago from my late grandfather's wife. I was happy to see her number pop up on my cell- I hadn't been able to reach her for at least a week.
"Sabrina, j'ai un accident avec le voiture."
Sabrina, I had an accident in the car, she said. On November 20, Irène fainted while driving and ran into a big truck. Her Lincoln was smashed and she was in the hospital for a week.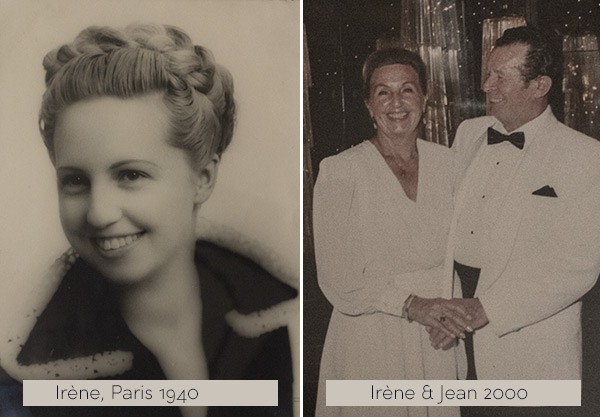 So, I am here, in Palm Springs, CA visiting with Irène. Physically, she is in good shape. She had an infection, which the doctors treated and cured. She had some bruising and pain, which is getting better each day. It is apparent, though, that there are some changes happening for Irène that we cannot cure. I am here to help her straighten out her finances, to organize her files and, to take her to various appointments. But mostly I am here for comfort in the form of good company and good food.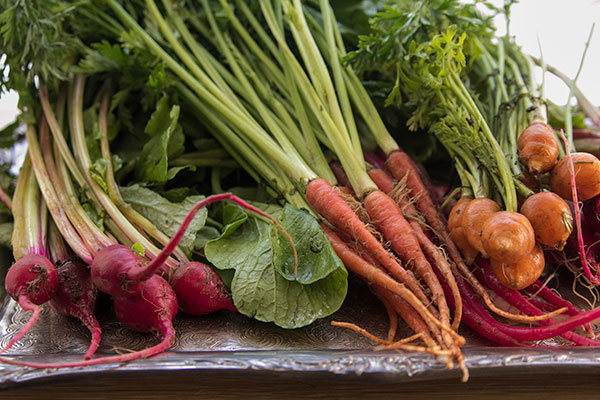 When I arrived, the first meal I made was a simple roasted chicken and these roasted root vegetables. These are my ultimate comfort foods, and upon arriving, I knew I needed it as much as she did. Our meal was made even more special because of the gorgeous olive oil from Jovial foods.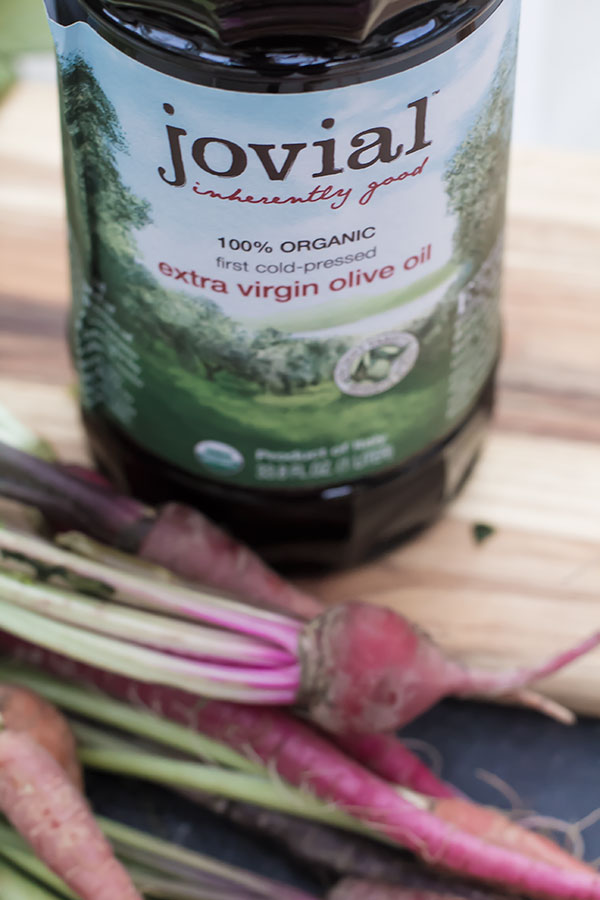 This was my first time trying a blended extra virgin olive oil made from the ancient olive varietals of Favarol, Grignano and Nostrano because Jovial is the only company producing the blend for US distribution. The color is a sunny and warm gold. The oil's taste is fruity, smooth, and has a slight salinity. The common pepper and grassy flavors that often come with Italian oils are absent- instead this oil has a buttery finish.
Irène was so surprised that I used only a few ingredients on the vegetables because they tasted so spectacular. She asked if I used butter with the oil. Because she is becoming forgetful, she asked the question several times throughout the meal. Each time she asked about how I prepared the vegetables, she told me how fantastic the food was. That first meal together was bittersweet as I realized how much things are changing for her.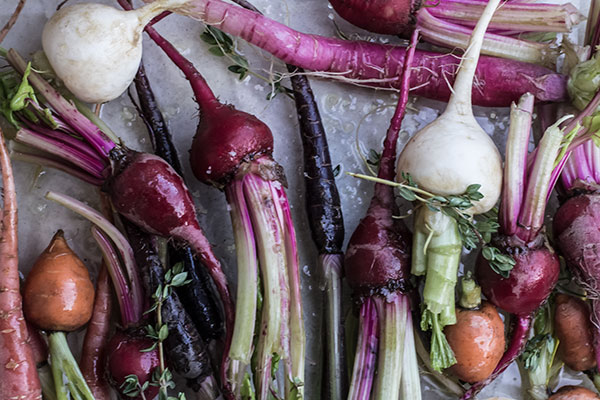 Today, I've been here nine days. I am accustomed to her memory lapses and am allowing myself to simply enjoy each day, each meal, each moment. I am happy to be here offering companionship, comfort, and good food. In the end, what more can we ask for?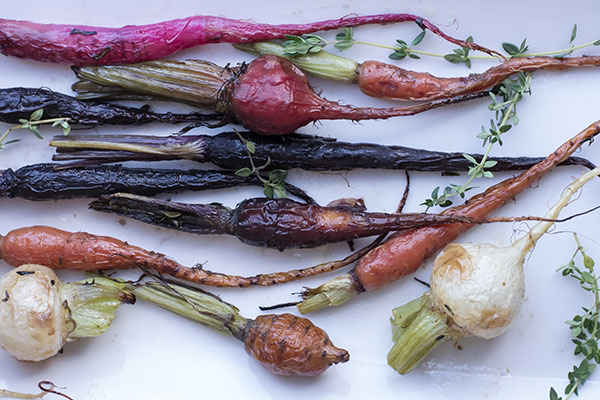 This post has been sponsored by Jovial Foods, but my opinions are entirely my own. I have been eating Jovial pastas and their jarred tomatoes for quite some time- long before I worked with them. If you are gluten free and you do not know this brand, you really must try their line of gluten free goods (especially the tagliatelle). I am thrilled to be giving away a bottle of Jovial Extra Virgin Olive Oil and a box of their gluten free tagliattle.
CONGRATULATIONS TO ANNA FAY!!!
Extra virgin olive oil was the perfect compliment to the sweet baby vegetables I picked up at the market- turnips, carrots, chiogga (candy cane) beets, and radishes. I tossed the pretty roots with the oil, sea salt, and lemon thyme. Almost any fresh herb would work in this dish as would a bit of citrus zest added after cooking. If you can't find baby roots, you can always cut your vegetables into quarters or eighths. I did not peel my veggies because I like the texture. If you also decide not to peel yours, be sure to scrub them very well as a bit of grit can ruin the dish.
INGREDIENTS
3 lbs root veggies, cleaned
2 tablespoons extra virgin olive oil (I used Jovial)
½ teaspoon sea salt
6 sprigs of lemon thyme (plus more for garnish)
black pepper
INSTRUCTIONS
Preheat oven to 425º and line two baking sheets with parchment paper.
Toss vegetables with olive oil and sea salt. Place lemon thyme on the parchment, top with vegetables and cook for 25 minutes. Turn the veggies over and cook for another 15-25 minutes depending on their size.
To serve, season to taste with salt and pepper and garnish with lemon thyme.