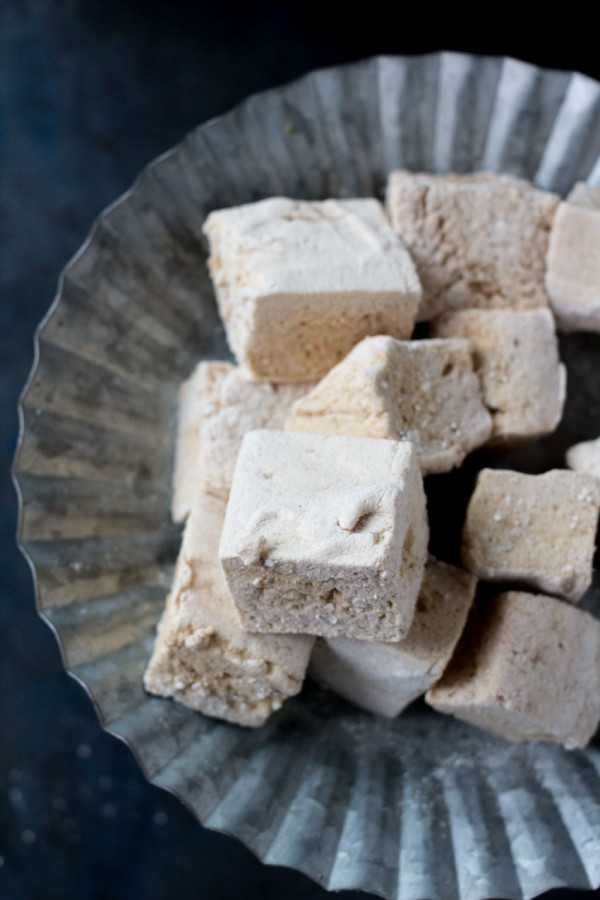 These gingerbread spice marshmallows are sweetened with pure maple syrup instead of corn syrup. Fluffy and pillowy, these homemade marshmallows are a real treat on their own, in a gluten free s'more, or on top of your hot chocolate! Jump Straight to The Recipe
---
Welcome to Day 3 of Christmas Week. This annual event was started in 2012, and is hosted by Kim of
Cravings of a Lunatic
. This year we have over 35 bloggers sharing festive sweet recipes for the event. Plus we all chipped in for a huge Amazon Gift Card Giveaway so be sure to enter! 
HOMEMADE MAPLE SWEETENED MARSHMALLOWS WITH GINGERBREAD SPICE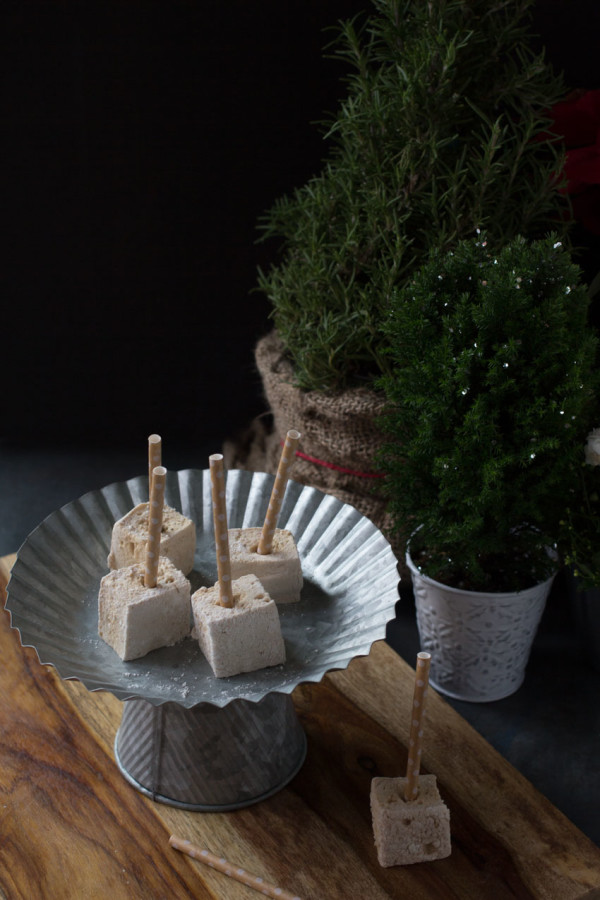 The first time I saw marshmallow tea for sale, I'm gonna admit, I was pretty freaking excited! I mean, tea… that tastes like marshmallow? Only, the tea didn't taste like marshmallows. Instead it was made of marshmallow root. I guess I should have known considering I bought it at local grocery called Earth Beam Market. I always kind of wondered what the connection was, but marshmallow research never really made it to the top of my to-do list. That is, until recently.
I dug into the history of marshmallows and learned the the original marshmallow candy was a medicinal concoction used to sooth a sort throat. It was actually made with marshmallow root which has mucilaginous properties when boiled, so confectioners went through the long and laborious process of boiling and refining the marshmallow root to create a sort of gel. Think of the gel from chia or flax as an example of a mucilaginous liquid. And yeah, I realize medicinal and mucilaginous are not words we usually want to think of in conjunction with our candy!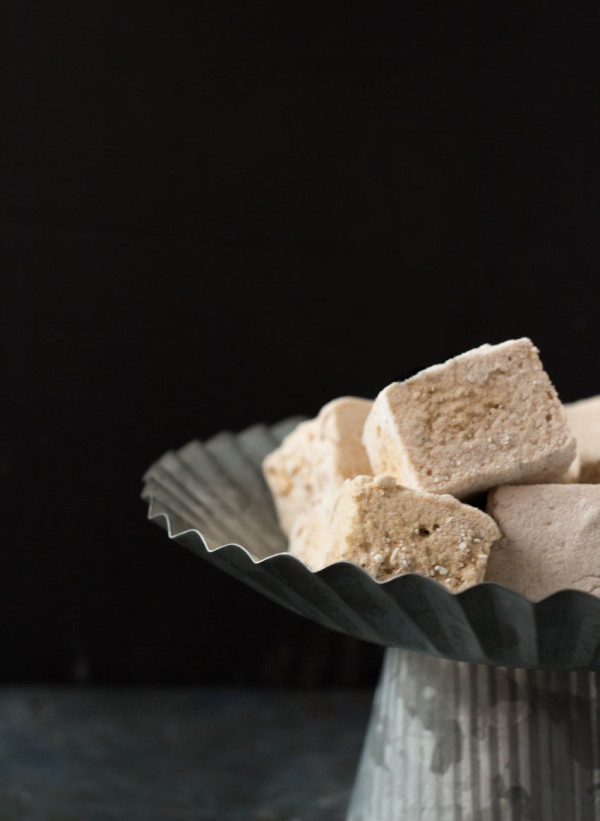 Anyway, I knew I wanted to make a marshmallow recipe for the holidays. It's been a while since I've shared a marshmallow recipe, and I love homemade marshmallows in my hot cocoa, and it is the holiday season. Since Gingerbread has pretty much been a complete obsession for me as of late, Gingerbread Marshmallows kind of had to happen! I knew I wanted it to be grain free and corn free so I set about figuring out how to make a marshmallow without some of the main ingredients!
The Challenges of Making a Totally Delicious and Totally Fluffy Grain Free, Corn Free, Marshmallow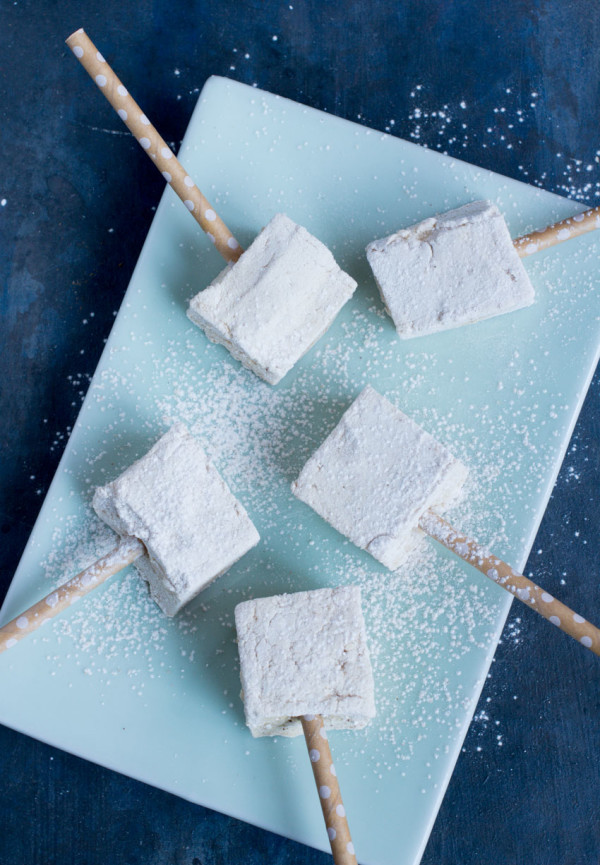 Challenge #1 Corn Syrup:
Sadly, corn is a migraine trigger for me and no sweet treat is worth that kind of pain. Corn syrup is one of the main ingredients in most marshmallow recipes, but I knew had to use a liquid sweetener other than corn syrup. I considered using honey or coconut nectar, but in the end, I chose maple syrup because the flavor compliments gingerbread so well.
Challenge #2 Powdered Sugar:
The second place corn usually shows up in marshmallows is in the powdered sugar. Did you know that powdered sugar is usually filled with corn starch to prevent caking? Even if you don't have a problem with corn, consider buying organic powdered sugar so you can avoid GMO corn. Wholesome Sweeteners  makes an amazing ultra fine powdered sugar which replaces the corn starch with tapioca, so that challenge was solved for me!
Challenge #3 The Coating:
I feel like a broken record with all this corn talk, but… Most recipes call for coating the marshmallows in a mix of corn starch and powdered sugar. Potato starch steps in here for the corn starch. It's flavorless and behaves in the same way as corn starch.
Challenge #4 The Egg Question:
To egg white or not to egg white? The traditional American marshmallow is free of eggs. The are dense and chewy with a firm texture. The French marshmallow (pâte de guimauve or guimauve for short) always contains egg whites. They are soft and fluffy and almost melt in your mouth. There is really no wrong answer for egg whites in marshmallows or no eggwhites in marshmallows, it's simply a matter of preference. I lean towards the luxurious pillowy softness of the egg white version and so I usually go for those and this time was no exception.
Challenge #5 The Gelatin:

Though I was a vegetarian for more than 10 years, I have been mostly omnivore for the past 16 years. My meat consumption has shifted and I try very hard to only eat sustainably and humanely raised meat. About a year ago, I decided I no longer wanted to eat pork or goat because I've spent lots of time with pigs and goats and have too close of a connection to them to feel comfortable eating them. The gelatin we find in the supermarket is often made with pork and also makes to effort to source humanely raised animals. A couple of years ago, I discovered Great Lakes Gelatin, which is grass fed and all beef. Another problem addressed!
Challenge #6 The Sugar
I seriously considered making this recipe cane sugar free. After a couple of tests, I had some promising results, but when I tasted the version with organic cane sugar, it won on both texture and flavor. I'm still working on a cane sugar free marshmallow, and I promise I'll share it when I come up with one I love. For now, I'm okay with the sugar. It is a marshmallow after all, and not exactly health food (Or medicine, for that matter).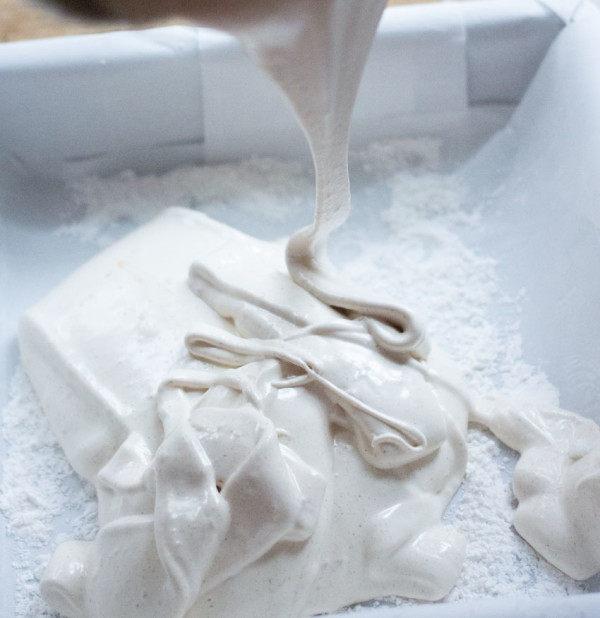 Making Marshmallows at Home:
It's actually pretty easy to make marshmallows. If you can whip some egg whites and use a thermometer, you're most of the way there.Yes, this recipe calls for a candy thermometer, but before your eyes glaze over, hear me out. A candy thermometer is a great thing to have in your arsenal and comes in handy for frying as well. Don't let the equipment intimidate you; you got this! A stand mixer also comes in handy here, but you can probably use a hand mixer. You might even be able to do it with your bare hands if you're a total badass. I've never tried, but if you do it, please snap chat that cause I'm gonna need to see it!
---
This recipe is adapted from Shauna Sever's
Marshmallow Madness
.
Shauna
literally wrote the book on marshmallows and she's my go to gal for recipes for the sweet treat!
Rating 4.5 from 2 reviews
Prep time:
Cook time:
Total time: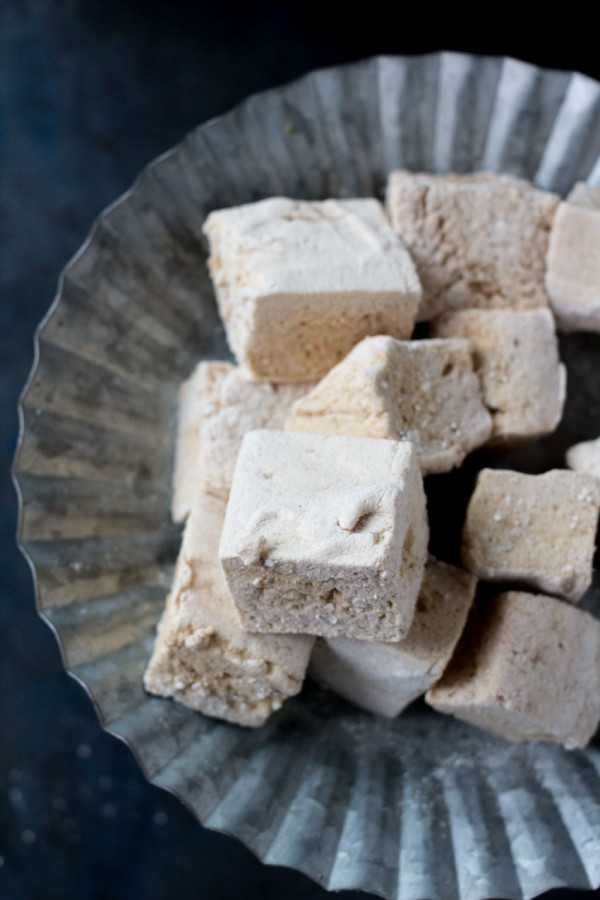 These gingerbread spice marshmallows are sweetened with pure maple syrup instead of corn syrup. Fluffy and pillowy, these homemade marshmallows are a real treat on their own, in a gluten free s'more, or on top of your hot chocolate!
Ingredients
4  ½ teaspoons unflavored gelatin
½ cup + 2 tablespoons cold water (divided)
2 large egg whites at room temperature
1 cup organic cane sugar
½ cup dark maple syrup
⅛ teaspoon sea salt
2 tablespoons gingerbread spice (divided)
½ cup powdered sugar
3 tablespoons potato starch
Instructions
In a small bowl, whisk together gelatin and ¼ cup of cold water. Leave for about five minutes so gelatin has a chance to fully "bloom".
In the bowl of a stand mixer, beat egg whites until soft peaks form.
In a small saucepan over medium heat, combine sugar, maple syrup, 2 tablespoons cold water, and sea salt. Bring to a boil then add gingerbread spice and cook until syrup reaches 240º F then quickly whisk the bloomed gelatin into the syrup until completely combined.
While syrup is heating, mix together powdered sugar, potato starch, and remaining gingerbread spice. Prepare an 8x8 pan by lining it with parchment paper that overlaps all of the pan's edges.Sprinkle the parchment with a little of the potato starch powdered sugar mix.
As soon as the syrup reaches 240º, turn mixer onto medium high speed and add a couple of tablespoons of the syrup- drizzling it down the side of the mixing bowl to avoid scrambling the egg whites. Add a couple more tablespoons, drizzling down the side, and then a couple more. Now that the eggs are tempered, you can slowly pour the syrup in a a steady stream into the meringue. Beat for about 7 minutes until marshmallow is quite stiff and glossy. Finally turn mixer to high and beat for 5 minutes until the marshmallow has tripled in size.
Using a flexible heat proof spatula, coax the marshmallow into the prepared 8x8 pan and push it into the corners (an offset spatula works well here). Sprinkle some of the remaining powdered sugar blend on the top and shake the pan back and forth to ensure coverage. Allow the marshmallows to set for 6 hours, uncovered, at room temperature before cutting. Once you cut them, roll them in the remaining powdered sugar to avoid crazy stickiness!
Recipes from Day 3 of Christmas Week! Please visit all our talented participants:
Nutella Ganache  from Cravings of a Lunatic
Dark Chocolate Turtle Cups   from Try Anything Once Culinary
Holiday Marshmallow Oreo Santa's Hats from Desserts Required
Cranberry Gin Fizz from Poet in the Pantry
Peppermint Mocha Fudge from The Redhead Baker
Petit Pains au Chocolat aux Amandes (Petite Chocolate Almond Croissants) from Pineapple and Coconut
Salted Cashew Caramels from All Roads Lead to the Kitchen
Hazelnut Crescents from Amee's Savory Dish
Bacon Butter Toffee from Comfortably Domestic
Grandma's Scottish Shortbread from Farm Fresh Feasts
OREO Snowball Cookies from Flour On My Face
Holiday Triple Chocolate Bark from Mother Would Know
Classic Chocolate Crinkles from Daily Appetite
Orange Cardamom Slice and Bake Cookies from Savory Experiments
Homemade Maple Candy from Cooking In Stilettos
Cranberry Cherry Spice Cake Trifle from Food Babbles
Chocolate Walnut Cranberry Pie from Rants From My Crazy Kitchen
No Bake Peppermint Oreo Cheesecake from Big Bear's Wife
Cream Puffs with Cranberry Orange Sauce from Everyday Southwest
Mini No Bake Eggnog Cheesecake from From Gate to Plate
Chewy Sugar Cookies from Karen's Kitchen Stories
Pignolata-Italian Honey Balls from Savoring Italy
Caramel Chocolate Cups with Peppermint Chips from Dixie Chik Cooks
Maple Gingerbread Marshmallows from The Tomato Tart
Check out these talented bloggers who are also participating in #ChristmasWeek
Cravings of a Lunatic • Desserts Required  • Poet in the Pantry  •  The Redhead Baker  •  Pineapple and Coconut   •   All Roads Lead to the Kitchen  •  Hezzi-D's Books and Cooks   •   Cupcakes & Kale Chips  • Cooking on the Front Burner   •   The Little Ferraro Kitchen  •   Crumb: A Food Blog   •  The Bitter Side of Sweet   •   Amee's Savory Dish  •   Comfortably Domestic  •   Food Done Light   •   Farm Fresh Feasts  •   Flour On My Face  •   Mother Would Know  •   Food Lust People Love  •   My Catholic Kitchen  •   Daily Appetite  •   Try Anything Once Culinary  •   That Skinny Chick Can Bake  •   Savory Experiments  •   Cooking In Stilettos  •   Food Babbles  •   Mind Over Batter  •   Rants From My Crazy Kitchen  •   Lauren Kelly Nutrition  •   Big Bear's Wife  •   Everyday Southwest  •   From Gate to Plate  •   Karen's Kitchen Stories  •   Savoring Italy  •   Dixie Chik Cooks  •   The Tomato Tart  •   Aloha Flavor  •   CopyKat Recipes