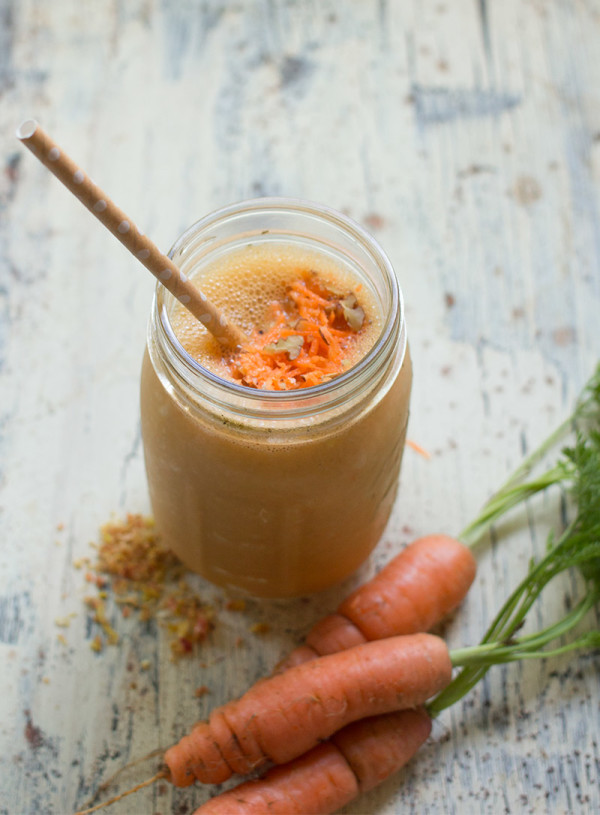 This healthy vegan carrot cake smoothie is an awesome departure from the norm. Full of vitamins, fiber, and heart-healthy fats, this smoothie has no added sugar and is completely paleo. If you have five minutes in the morning, a healthy breakfast is at your fingertips. Jump Straight to the Recipe.
Healthy Vegan Carrot Cake Smoothie (GF, Paleo)
When I Googled the word,  "smoothie" today, I was met with an array of wild smoothie news. Did you know that was a thing?
Here's what I mean:
Moby, the musician and DJ,  drinks a daily vegan green smoothie. He credits it with saving his life during his former cocaine-fueled days.
In a story that I'm pretty sure is the literal opposite of Moby's, this lady, used a smoothie to kill her husband.
But the weirdest smoothie story I ready today was about a medicinal smoothie that's very popular in Bolivia and Peru (nope, this isn't Moby's old cocaine smoothie recipe). This smoothie's magic ingredient is the endangered Titicaca frog. Oh no! People, please don't eat endangered animals in your smoothie. There are better ways to get your daily dose of vitamins!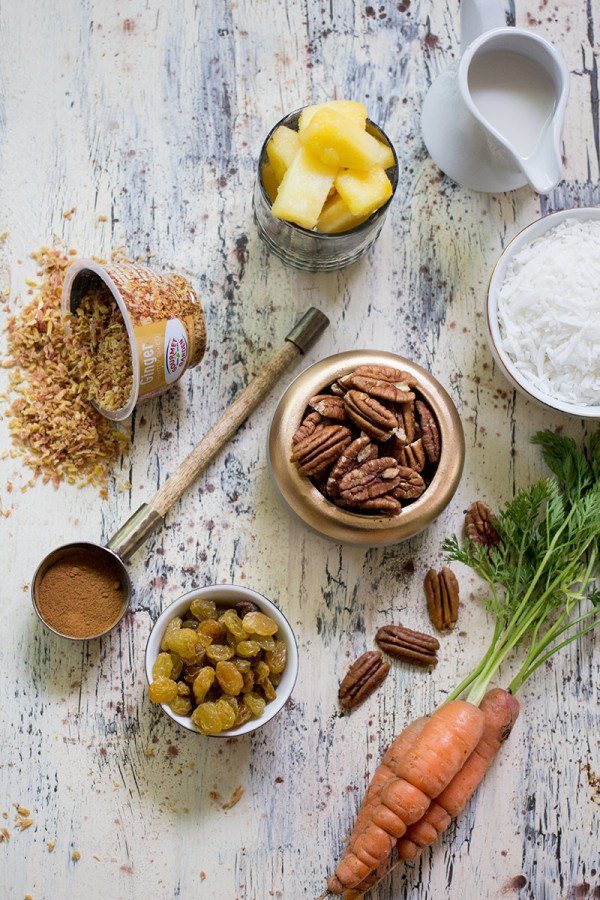 I heart smoothies, but…
Healthy smoothies are more popular than ever. People go wild with beautiful layers and fabulous toppings. As much as I love looking at those stunning creations, In the real world, my real world, mornings don't really allow for pretty layers or intricate toppings, but that doesn't mean my breakfasts are dull.
Recently I was thinking of upping my smoothie game and the idea of a carrot cake smoothie came to mind. Now, I don't mean I take a carrot cake and blend it up and drink it because… well gross. (Although not as gross as a Titicaca frog smoothie) Instead of actual carrot cake, I'm embracing the flavors of carrot cake. Turns out, those flavors are great for a smoothie. Carrots, ginger, cinnamon, coconut, peacan, raisin, & pineapple? YUM!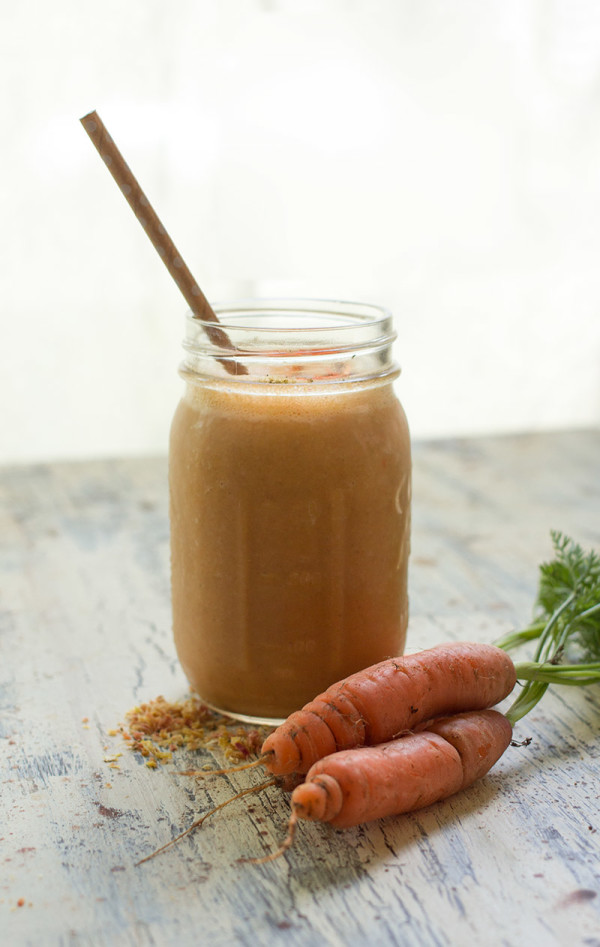 I teamed up with Gourmet Garden to create this vegan carrot cake smoothie and oh my goodness, am I in love. I used lots of Lightly Dried Ginger in mine because I like it spicy. The raisins and pineapple add the perfect hint of sweetness. The almond milk and coconut make this a creamy carrot cake dream, but if you wanted to make it even creamier, you could use coconut milk. It's vegan, gluten free, paleo, and of course, totally natural- I have to wonder if Moby would like it. I'm going to go ahead and say yeah, Moby would totally dig it.
BTW, Moby has a new memoir out, called Porcelain. I heard him talking about it on NPR yesterday and he was lovely. I'm going to pick up a copy of it for some summer reading.
This post is sponsored by Gourmet Garden. I have received both product and monetary compensation for this post. My opinions are 100% my own and I only work with brands I love and that I feel will be useful for my readers. Thank you for supporting the brands that help make The Tomato Tart possible.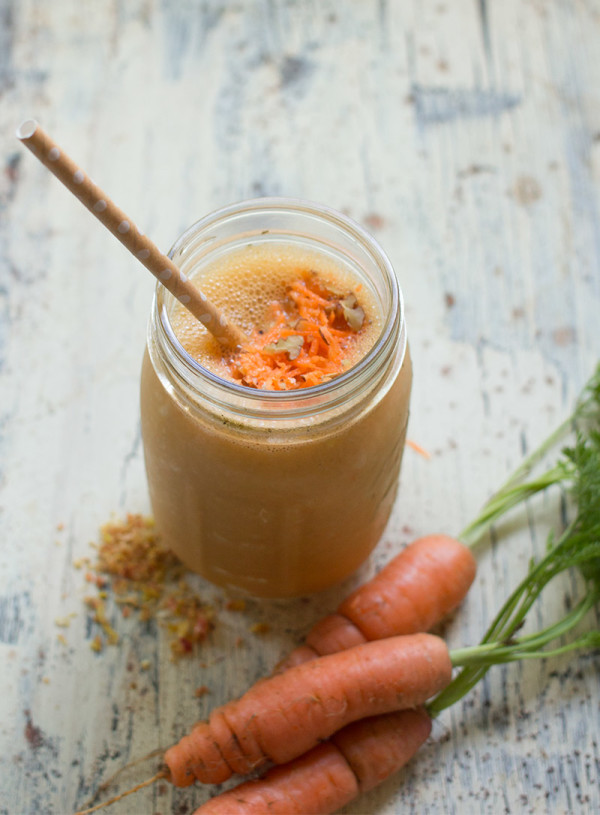 The flavors of carrot cake morph into a healthy vegan smoothie. Carrots, ginger, coconut, cinnamon, and pineapple all come together to make a fast and delicious breakfast.
Ingredients
1 medium carrot, peeled and thinly silced
1.5 cups frozen pineapple
1 cup unsweetened almond milk
2 tablespoons golden raisins
2 tablespoons unsweetened shredded coconut
8 pecan halves (about 2 tablespoons if used chopped)
1 Teaspoon cinnamon
1 Tablespoon Gourmet Garden Lightly Dried Ginger
Instructions
Place all ingredients in a high speed blender and blend until smooth.
I garnished this one with some shredded carrots and a bit of chopped pecan.
Check out these awesome gluten free & vegan recipes featuring carrots!
Carrot Cake Waffles from The Crunchy Chronicles
Roasted Carrot Dip (Paleo, Vegan, Whole30) from The Tomato Tart
Caramelized Onion and Carrot Soup from The Tomato Tart
Thai Carrot Salad from Minimalist Baker
Gluten Free Vegan Carrot Cake from Give Me Some Oven