Whatever your name for it, be it a Dutch Baby, a German Baby, a German Pancake, or a puffy pancake, these things are delicious. My gluten free Dutch Baby is made with lots of eggs, crème fraîche, and topped with roasted strawberries. Serve this at your next brunch or have a fancy pants breakfast for dinner, tonight! Jump straight to the recipe.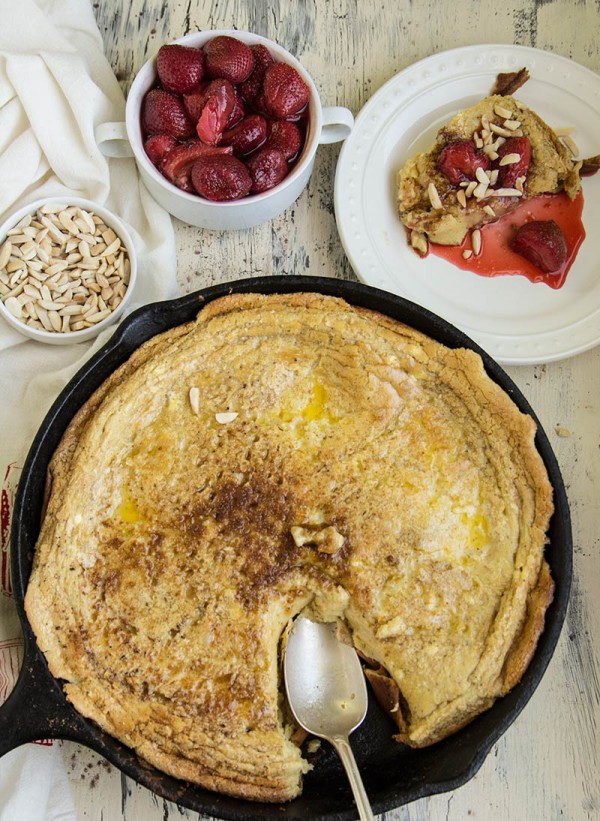 This post is sponsored by Pamela's. Though I received monetary compensation, my opinions are entirely my own. I only work with brands I love and I feel will be useful to my readers. Thank you for supporting the brands that keep The Tomato Tart up and running!
gluten free dutch baby with roasted strawberries
I wake up and make my way out to the garden before the sleep has even worked its way out of my eyeballs. Sitting amidst the rows of herbs and fruits and vegetables pushing up through dirt, I slowly come fully awake. Pulling stray blades of grass from the beds doesn't require much brain power and so I that's what I do as I gently and quietly meet the day.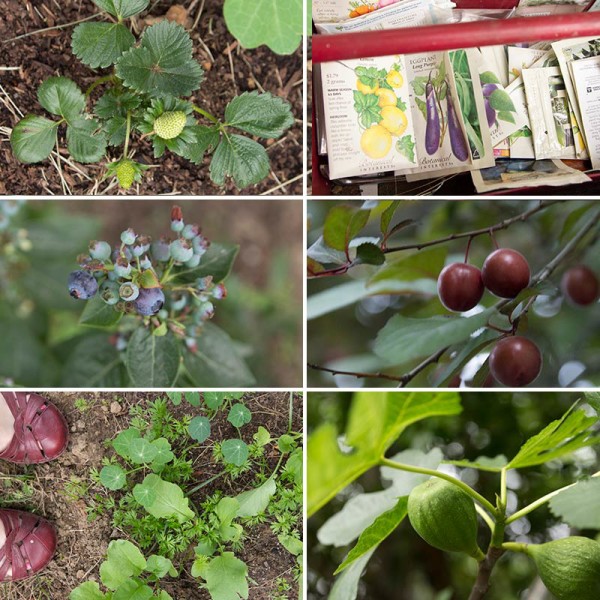 As I awaken just a bit more, I walk the rows and check under leaves for pests or diseases. I give a quick watering and head inside while wondering to myself when the first summer harvest will come.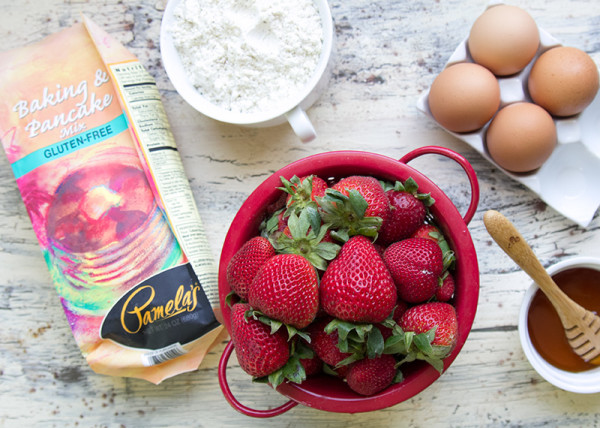 It's early yet, and today will be hot, so I get straight to work. I turn the oven on, rinse the strawberries, remove the greens, squeeze a lemon, coax a bit of peel, drizzle some honey and set the timer for two hours. The movements are natural and familiar enough to execute before I even pour my morning coffee.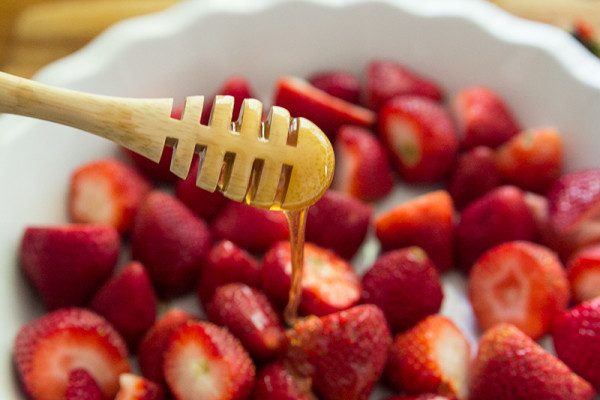 With coffee in hand, I lean against the stove and check my notes. I pour the milk and set out eight eggs to come to room temperature. And then I wait. At first, the waiting is easy. I've got dishes to do and a counter to clean. I set up a board near my only north-facing window and choose my plates and linens for today's work. I sit with my coffee and my book. Feed the dogs; feed the cat. Wait some more.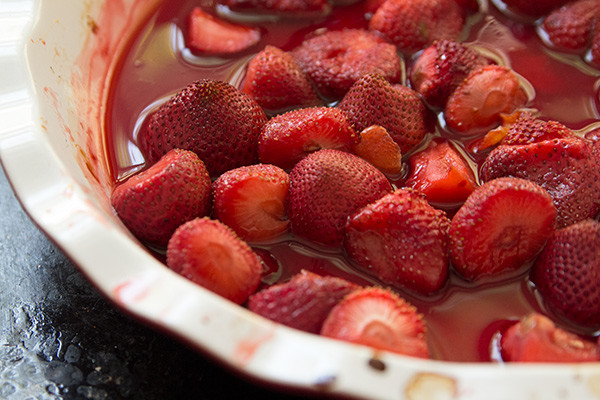 The strawberries have been slow roasting for an hour. Now, the waiting becomes… not so easy. I am fully awake and fully ready for a beautiful breakfast. Still, there is waiting.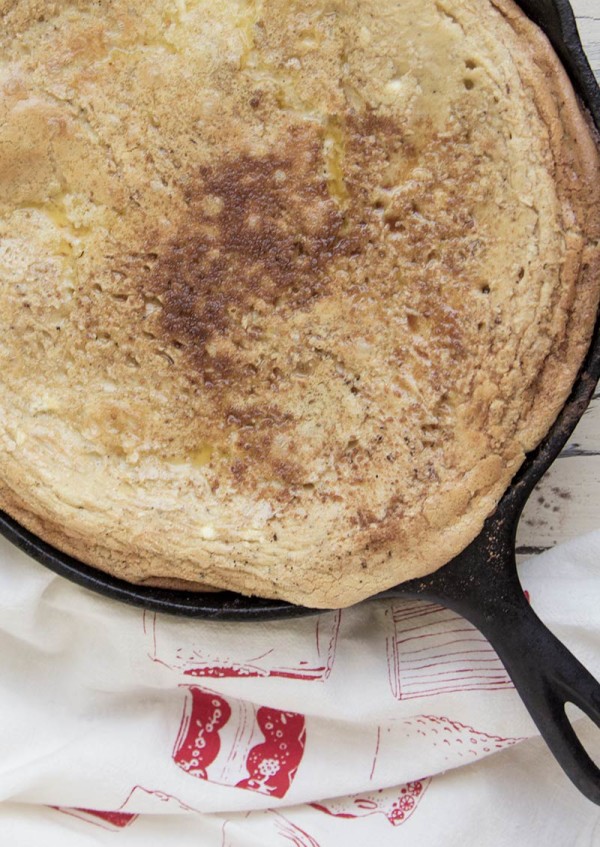 I'm excited to have this Dutch Baby with Roasted Strawberries. This is a dish that reminds me of my dad. On Saturdays, my mom worked and I had my dad all to myself. Our favorite breakfast joint served these amazing German Pancakes. They weren't like regular pancakes at all. They were custardy and more like my grandmother's Yorkshire Pudding or her clafoutis than like a hotcake. When it was my dad's turn to choose, we always had cinnamon apple while I usually ordered the lemon with powdered sugar. Eventually that little cafe was sold and we started hitting Moe Greenburg's deli for lox and kasha knishes on Saturday mornings. Time passed and eventually I forgot all about the puffy pancakes.
Fast forward nearly 30 years and I'm chatting with a friend about pancakes. She says "I only like Dutch Babies" and it all comes flooding back. I go on a serious Dutch Baby bender making all kinds of Dutch Babies from simple and sweet to extravagant and savory. A couple of months later, I sit across from a doctor as she explains that I need to live my life without gluten. Again, the Dutch Baby vanishes from my life.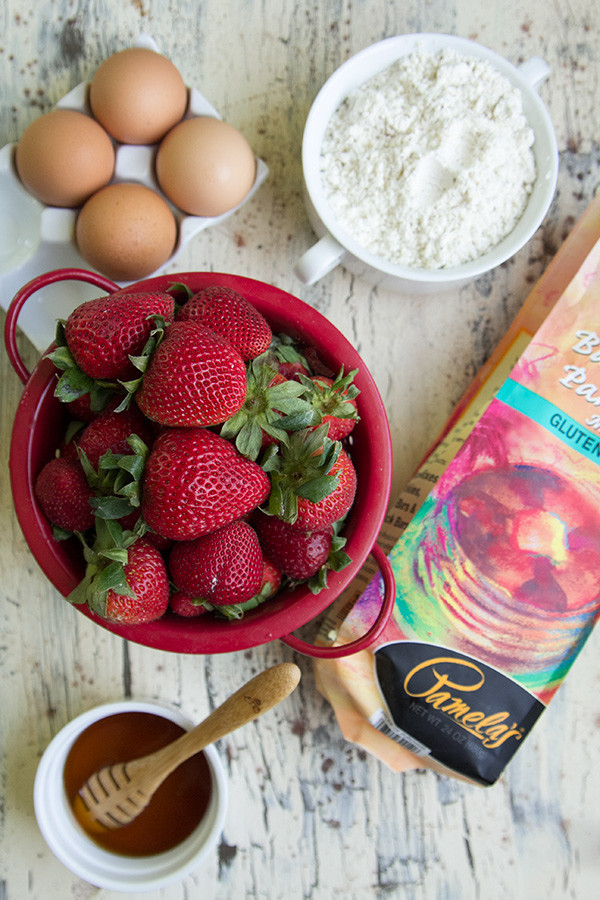 That was about three years ago, and though the Dutch Baby hasn't been on the menu, it wasn't far from my thoughts. When Pamela's Gluten Free wrote and asked if I would be open to creating a California-inspired pancake for them, I immediately asked if they would be okay with a baked pancake. Thus, the Dutch Baby was reborn in my kitchen. What could be more California than fresh strawberries and toasted almonds with local eggs and grass fed dairy? So there you have it, some of my very favorite California-y things all rolled up into one spectacular dish which is made with flour from Pamela's- a California-based company.
As I sit down to this gorgeous meal, I am grateful for the memories it inspired. Mostly, I am grateful for delicious pancakes.
GLUTEN FREE DUTCH BABY WITH ROASTED STRAWBERRIES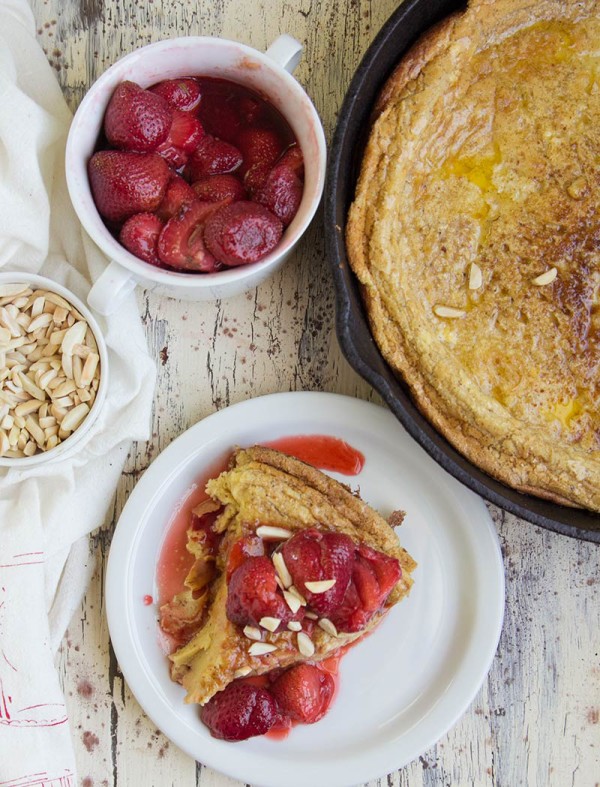 This gluten free Dutch baby is accented with almond extract and vanilla bean then topped with slow-roasted strawberries. It should be baked in a large (10-12 inch) cast iron skillet. If you'd like, you can halve the recipe and cook in an 8 or 9 inch skillet, but you may have to adjust the cooking time accordingly. The strawberries can be made up to a day ahead and stored in the refrigerator. Just reheat them slowly while the Dutch baby is cooking.
Cooking time 2hrs 30 minutes
Prep time 15 minutes
Total time 2 hrs 45 minutes
For the strawberries
2 lbs fresh strawberries, stems removed
½ lemon both juice and zest
¼ cup honey
pinch of salt
Remove stems from the strawberries and cut any particularly large ones into halves or quarters. Place in an oven safe dish and drizzle with honey and lemon juice. Sprinkle lemon zest and salt on top and gently stir to coat. Bake at 250º for 2 hours.
For the Dutch Baby
adapted from this recipe from Dash and Bella
¼ cup (½ stick) butter (divided)
2 cups whole milk at room temperature
¼ cup coconut sugar +2 tablespoons for finishing (optional)
8 eggs at room temperature
½ cup creme fraiche or sour cream
1½ cups Pamela's Baking and Pancake Mix
1 vanilla bean, scraped or 1 tablespoon vanilla extract
1 teaspoon almond extract
½ cup slivered almonds, toasted
Turn oven to 425º and place a large cast iron skillet inside to heat. In the meantime, melt 2 tablespoons of butter in a small saucepan over low heat. Once melted, add the milk and sugar and whisk to combine.
Crack the eggs and add them to the bowl of a food processor, add creme fraiche, warm milk mixture, pancake mix, vanilla and almond extract and process until everything is well-combined and the mixture appears frothy.
Remove cast iron pan from oven and quickly close the oven door. Careful, the pan is very hot. Add the remaining butter and swirl it around the pan. Pour the mixture from the food processor into the hot pan and return it to the oven.
Bake for about 25 minutes. The sides will puff up over the top of the skillet's edges, but the middle will still be a bit squidgy. Sprinkle the remaining two tablespoons of sugar over the center of the Dutch Baby and cook for a couple more minutes.
Serve immediately with the roasted strawberries and toasted almonds.