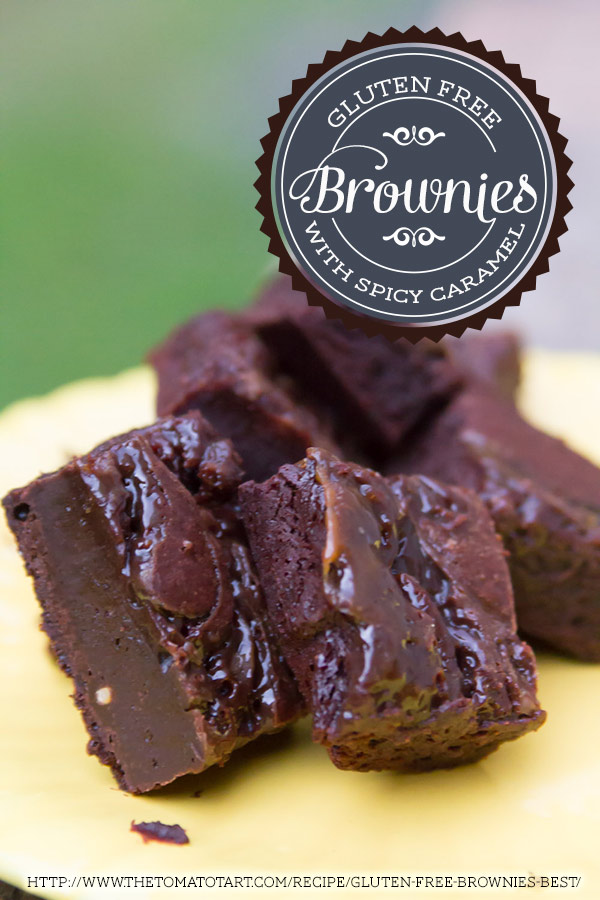 Gluten Free Brownies with Spicy Mexican Caramel
What do you get when you cross fudgy, gluten free brownies with Mexican hot chocolate and then mix the whole thing with caramel? The perfect dish to bring to a gathering of food lovers, that's what.
Last year, TSA confiscated my beautiful grain salad as I was en route to The Big Summer Potluck. My salad was packed with whole grains, plums, pistachios and ripe cherries. I wonder if they thought I was a health food terrorist with plans to spread my message of clean eating via a barley-fueled salad bomb. There are many mysteries in the inner world of the TSA– things we are never meant to understand.

This time, I was not taking any chances.
In order to get my dish to Pennsylvania safely from San Francisco, there were some non-negotiables
It had to travel well
It would need to stay delicious from Monday night until Friday Night
There should be no liquid- not a drop (see grain salad above)
It had to taste amazing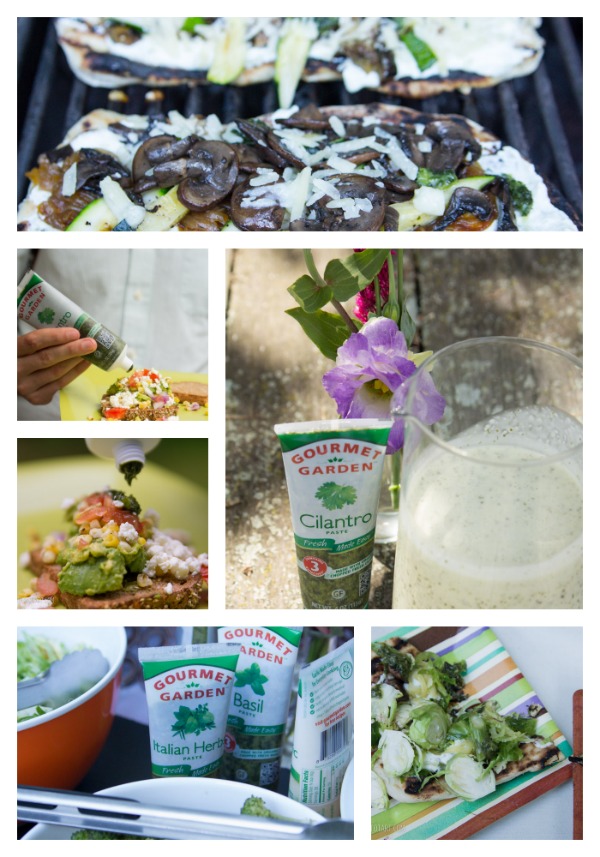 What to make?
Gourmet Garden had sent me loads and loads of herbs to play with, and I considered making everything from Thai bbq sauce to triple ginger cake, but brownies…. who doesn't love brownies?  I love incorporating savory flavors into sweets– so it was a no brainer. Hot and spicy caramel spiked gluten free brownies brownies based on this brownie recipe from David Leibovitz (which is the best brownie recipe in the world with or without gluten).
I made the brownies three separate times just to make sure they were perfect. After all, I'd be  serving them to a group of food bloggers. The final time I made them, it was Monday night.  I was exhausted and getting ready for my trip. Somehow, I made a mistake in measuring and 8 tablespoons of butter became 12. I didn't realize it until I was cleaning up and the brownies were in the oven. I was terrified that the brownies wouldn't set. I had no more chocolate and I had to get the brownies into the freezer so that they'd be well-frozen before I left for PA the next day.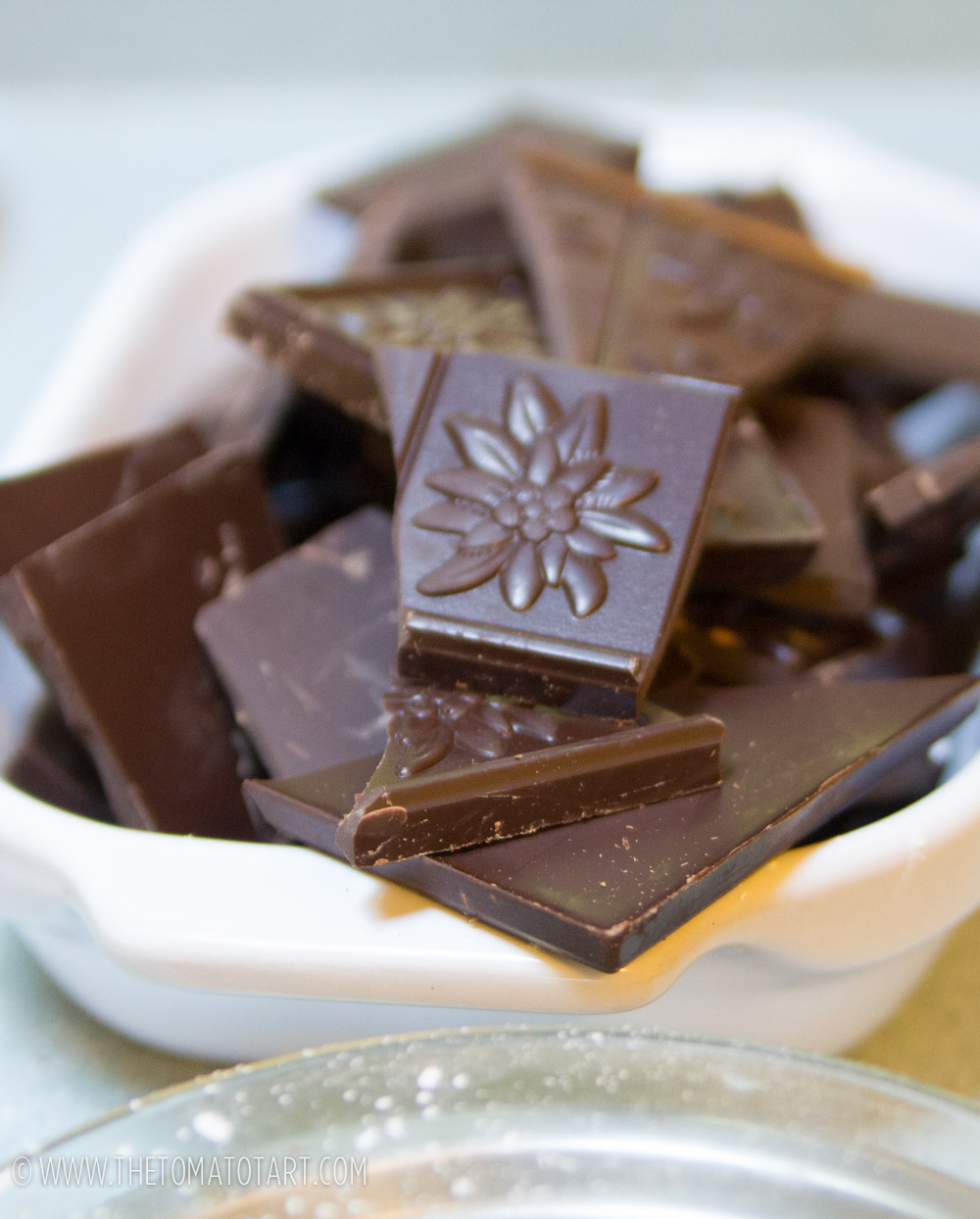 My worries were not only unfounded, those brownies were amazing- sitting somewhere between a brownie and a piece of fudge. Success.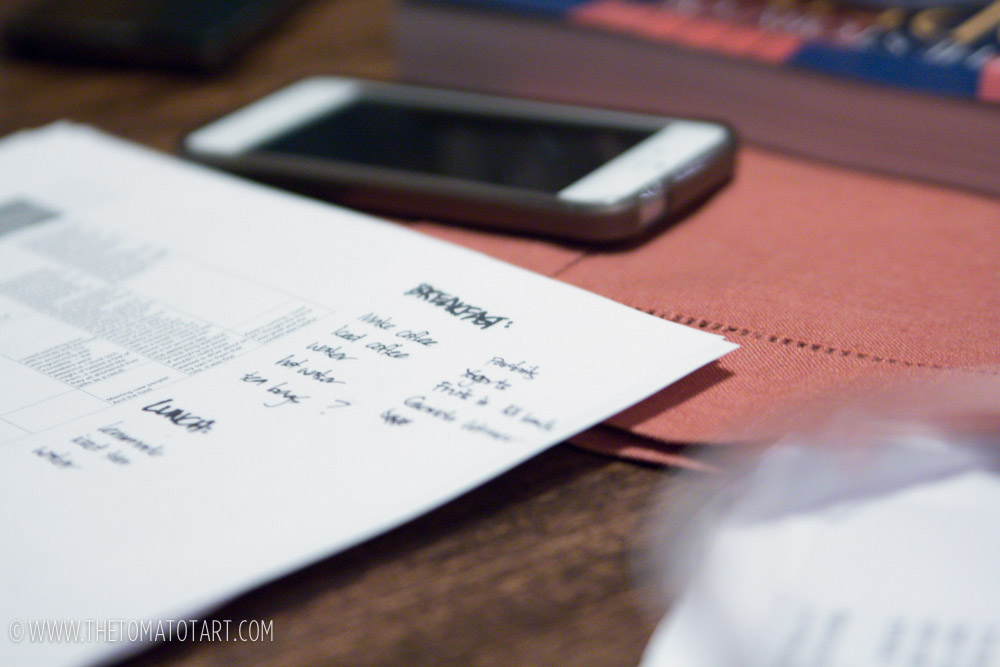 When I finally got to PA, the fun (and hard work) began. Shannon (from Gourmet Garden) and I arrived early to help. This will be my third time helping out with The Big Potluck. It's like going home for a family reunion. I can't imagine a better time than being in the kitchen and preparing for a big event with people I love very very much. People like Maggy and Pam from Three Many Cooks, Erika of Ivory Hut, Deb and Rod from Smith Bites, Chris and Karen from The Peche, Brian from A Thought for Food, and the newest addition to the helper pack, Shannon.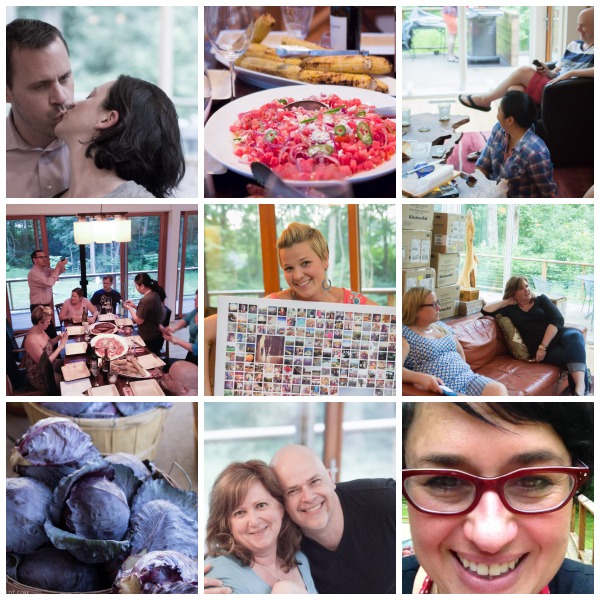 It's almost hard to imagine that the amazing times we have in preparation for the event are simply a warm up for that moment when people arrive with tasty dishes and big warm hearts. To hug and love on people I haven't seen for a year, to introduce myself to folks I've only known online, and to see the first timers faces- this is really bliss.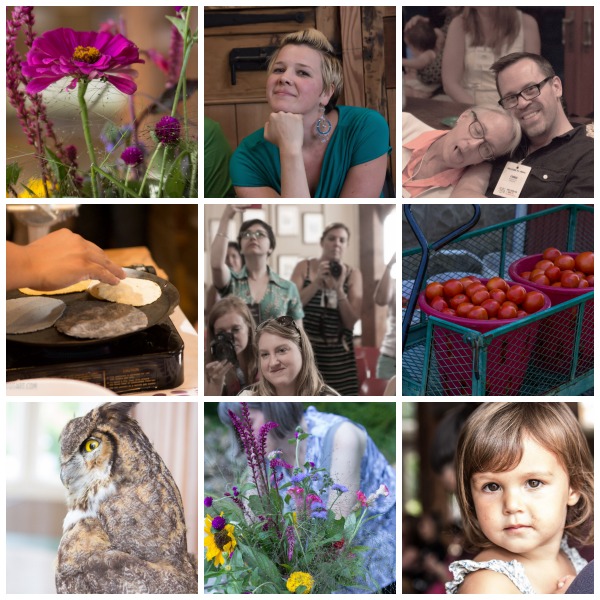 Big Summer Potluck is about love, kindness, learning, prizes, and food- and more food. This year we had grilled pizzas, pulled pork, salads, grilled sausages and sweet corn, kimchi deviled eggs

, Kerrygold cheese, Hotbread Kitchen tortillas, lemongrass lemonade, avocado toast, strawberry lavender yogurt parfaits—and that was only a mere smattering of the food that was provided by the event. In addition, bloggers brought tons of food for the potluck: homemade pickles, barbecued pork, brownies, cookies, cakes, cornbread, shrubs, and so much more. Did I mention BSP is about the food?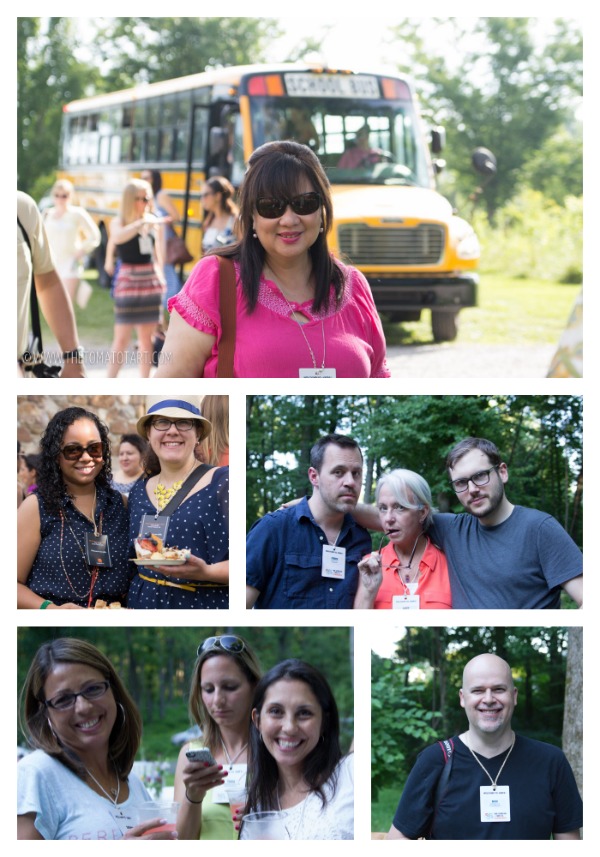 And the love…
And the hugs…
And the kindness…
And the learning…
And the laughing…
And the food….
Caramel Ingredients
1 cup organic sugar
¼ cup water
1 cup heavy cream
1 tablespoon vanilla extract
2 cinnamon sticks
1 tablespoon Gourmet Garden hot chili paste (or one tablespoon chopped spicy pepper plus a heavy pinch of salt.
4 tablespoons butter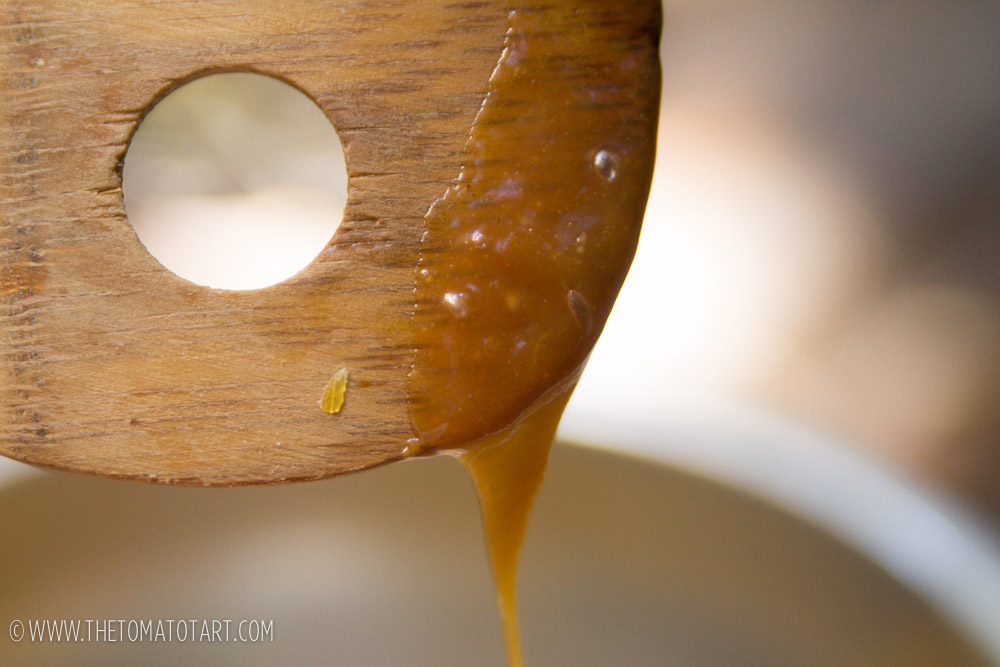 Caramel Instructions
In a heavy saucepan, heat cream with chili paste, vanilla, and cinnamon sticks to a bare simmer. Remove from heat and allow to infuse for at for about 10 minutes-
Meanwhile, add sugar and water to a heavy saucepan (at least four quarts) and heat over medium- low. You must use a silicone or wooden spoon to stir caramel- but don't stir too much. Caramel requires only two things sugar + patience. Once the sugar is melted, you will want to keep an eye on it as it begins to change color. It will smell toasty and start to darken. I like my caramel on the darker side- a rich amber color. Don't let it go too far as sugar burns very easily. If it burns, you'll need to start over. There's no rescuing burnt sugar.
When the sugar starts to smell toasty, reheat cream until small bubbles form at the edge of the pan.
Remove the sugar from the heat, and pour cream (through a strainer) into the sugar mixture. It will bubble ferociously for a bit. Once it stops bubbling, return the pot to medium low heat and add the butter, one tablespoon at a time. Whisk to incorporate each pat of butter fully before adding the next one.
Cook on medium-low for about 5 minutes until caramel reaches a thick consistency.
Allow to cool for at least 10 minutes before pouring over the brownie batter.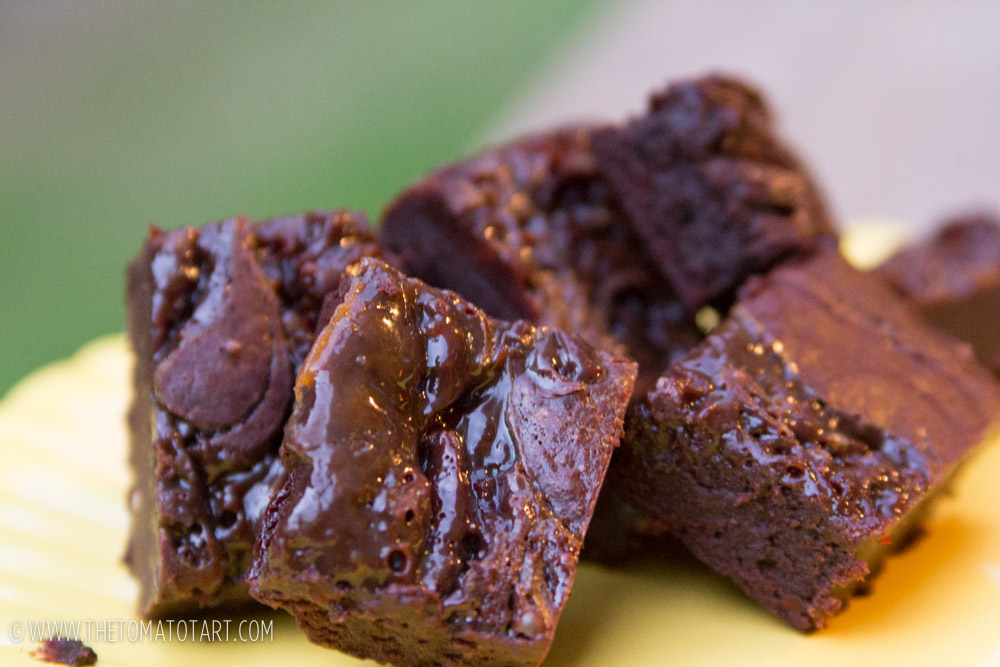 Spicy Gluten Free Brownie Ingredients
12 tablespoons butter (1.5 sticks/ 6 oz/ 70g)
455 g dark chocolate (1 lb) I used 72%
4 large eggs
2 tablespoons cocoa powder (2.25 oz/ 65g)
85g tapioca (1/2 cup/ 3 oz)
½ tablespoon cinnamon
1 tablespoon finely ground coffee
1 tablespoon Gourmet Garden hot chili paste (or 1 small red chili very finely diced + a heavy pinch of salt)
300g organic sugar (1.5 cup/10.5 oz)
Spicy Gluten Free Brownie Instructions
Line the inside of an 9×13 baking dish with foil- so the entire dish is covered. Grease the foil with butter and preheat your oven to 350º (180ºC).
Melt the butter in a double boiler, then add the chocolate. Stirring frequently until completely incorporated and totally melted.
Remove from heat and stir in the sugar. Next, add eggs one at a time- making sure each egg is fully incorporated before adding the next.
Sift together the cocoa powder , tapioca, cinnamon and coffee in a mixing bowl. Add 1/3 of the chocolate mixtures, and beat the batter vigorously for at least one minute, add 1/3 more of the chocolate mixture and repeat, then add the last of it plus the chili paste and beat again for at least another minute. You want the mixture to be totally smooth and a bit sticky. I used a stand mixer set to medium for this. If you do it by hand, you'll get a good workout and you'll definitely want to up the mixing time.
Pour into the prepared baking dish and use a spatula to get the brownie batter nice and even.
Top with the (slightly cooled) caramel sauce. Drag a silicone spatula through the caramel, cutting about half way into the brownie batter. Go back and forth to create a good swirl pattern.
Bake for 35-40 minutes, or until the brownies feel just set in the center. Resist the urge to overbake. Remove from oven and let cool completely before removing from the pan and slicing.
I'd like to thank Gourmet Garden for sponsoring my trip to Big Summer Potluck. I was compensated with cash and product for my time during the event. I was not required to create a recipe or to write a post- though I happily volunteered to do so. My opinions are 100% my own and are not for sale.  Which means, I only work with brands I like and I think would be useful for my readers.