This carrot and ginger dressing is based on the Japanese salad dressing from teppanyaki restaurants, like Benihana. So simple and healthy, you won't believe how easy it is to make. Jump straight to the recipe.

Carrot and Ginger Gluten Free, Vegan, Japanese Salad Dressing
Somewhere between celebrating my birthday at Farrell's Ice Cream Parlour and celebrating in a night club, there was a magical period where birthdays only meant one thing…. Japanese food at Benihana. From the ages of 11 to 17, my birthday dinner with family always meant going to the famous Japanese-influenced steakhouse. There, we watched chefs throw their sharp knives in the air, ate food that had been cooked right in front of us, and posed for cheesy polaroids with men in tall toques long before the era of the celebrity chef. At the end of the night, I often left with a container of my favorite thing: the carrot and ginger Japanese salad dressing.
I haven't been to a Benihana or any other teppanyaki place for many years, but sometimes when we're out to sushi, I'll have a salad topped with that beautiful, bright orange, Japanese salad dressing.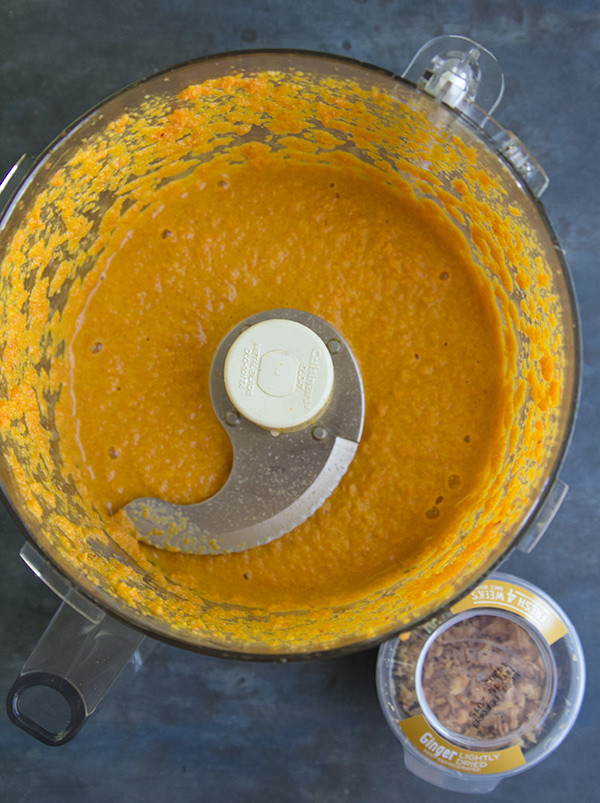 After picking up a ton of carrots at the local farmers market, I decided I would match a batch (or three) of this carrot ginger dressing for myself. The results are too good not to share. The dressing is gluten free, vegan, and I've included paleo options too. Try this dressing on a fresh green salad or drizzled on top of cooked fish, veggies or meat.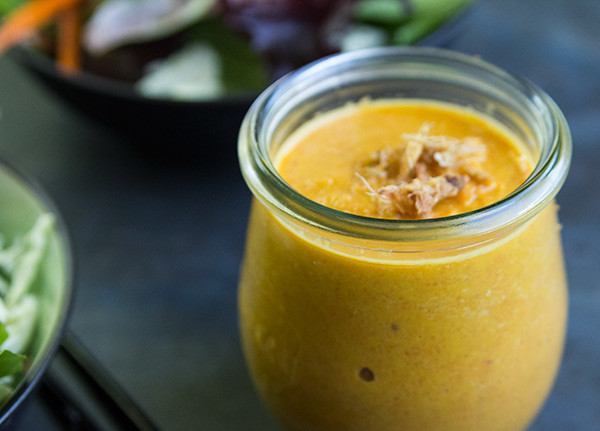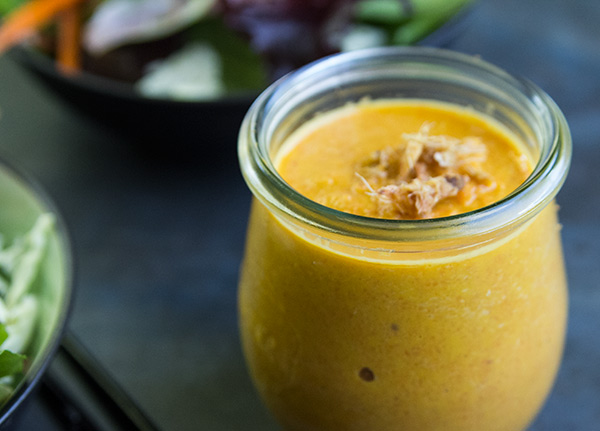 Rating 5.0 from 4 reviews
Prep time:
Total time:

Ginger and carrot dressing just like the one you get at a Japanese Steakhouse. It's so easy and healthy- you won't believe how delicious it is!
Ingredients
½ lb carrots, tops removed and peeled
¼ of a small red onion
2 tablespoons freshly gated ginger
1 clove garlic (optional)
¼ cup rice vinegar (coconut vinegar for paleo)
2 tablespoons tamari/gluten free soy sauce (use coconut aminos for paleo)
1 tablespoon toasted sesame oil
½ cup neutral flavored oil like avocado or expeller pressed grape seed
salt and pepper to taste.
Instructions
Add carrots, onion, ginger, garlic, vinegar, soy sauce, and oils to a blender or food processor and blend until mostly smooth. Small bits of carrot and ginger are good and add to the texture. Taste and add salt and pepper if needed.
CHECK OUT THESE CARROT AND GINGER RECIPES!
Carrot Ginger Soup from Simply Recipes
Gluten Free Carrot Ginger Muffins
Ginger and Tamarind Glazed Carrots
Linguine with tofu, carrots, and ginger