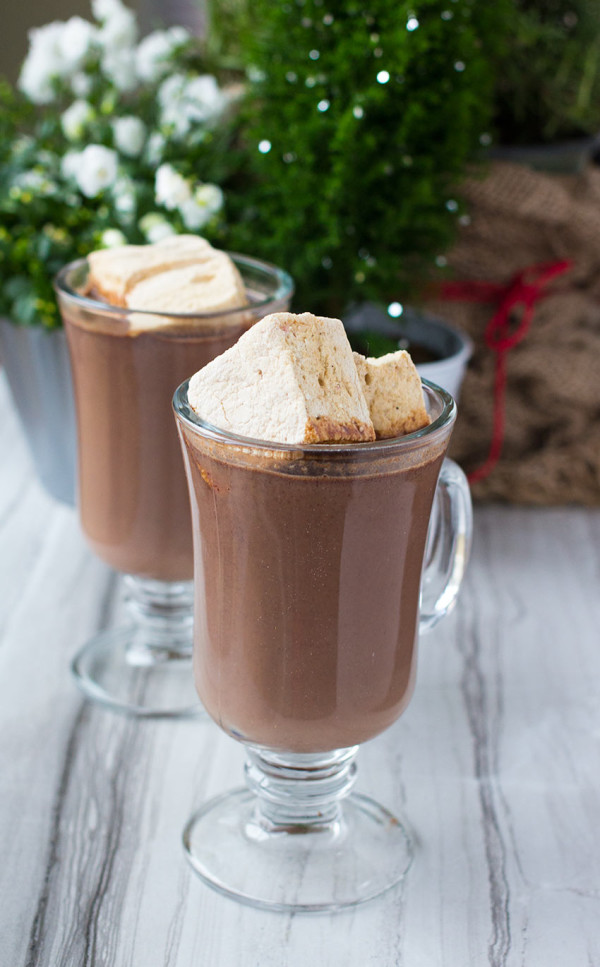 What's better than hot chocolate? Okay, that is sort of a trick question because nothing is really better than hot chocolate. But I've taken my recipe for the very best hot chocolate in the world and added gingerbread spice and spiced rum. So yeah, I think gingerbread hot chocolate is even better than the original, but I'll let you be the judge of that! Jump Straight to the Recipe
---
Nothing says holidays more than hot chocolate. When I was growing up, we made an evening out of wrapping Christmas presents. We'd listen to holiday music, light a fire, and my mom would make hot cocoa. It always seems like such a special treat when she'd make cocoa with milk and chocolate syrup- topping it with mini marshmallows or whipped cream.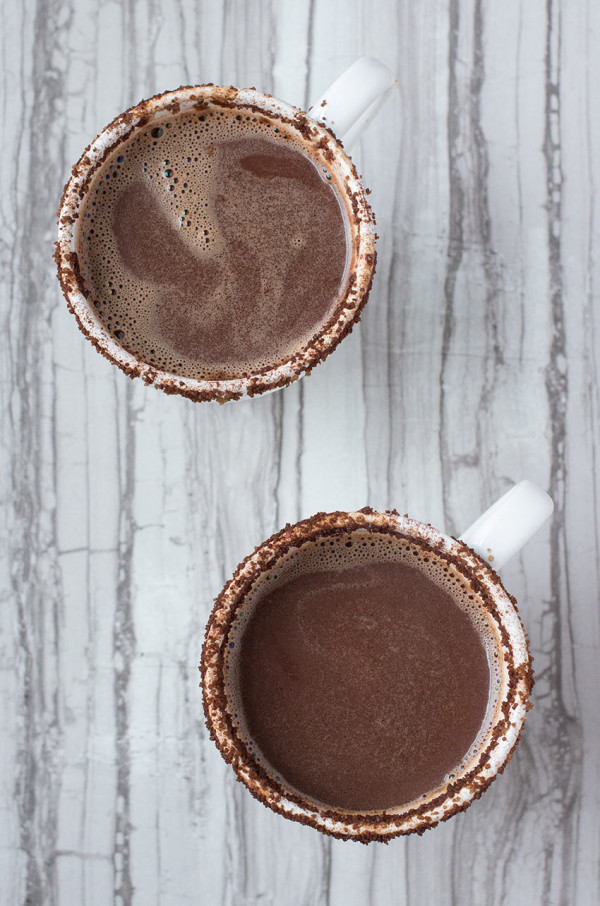 One of the best things about being a grown up is that I can drink hot chocolate whenever I want. And when I want hot chocolate, it's a lot more serious than the kind with store bought syrup! It starts with a bit of melted butter, brown sugar. Sometimes I add spicees, like this gingerbread spice, vanilla, or cinnamon. I add chocolate in the form of a chocolate bar, baking discs, or chocolate chips! Add to that some cocoa powder and espresso powder and you've got a completely luscious hot cocoa. This time I'm adding some spiced rum, gingerbread marshmallows, and hand-whipped cream- because… well, why not?!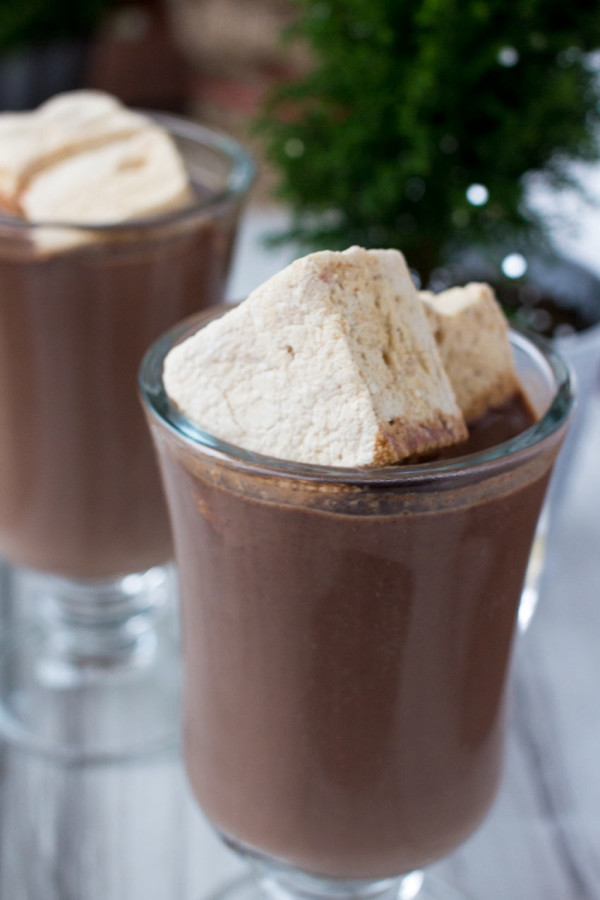 What's your favorite holiday treat? Leave me a comment and let me know.
Happy Holidays to you and yours!
Sabrina
Rating 4.5 from 2 reviews
Prep time:
Cook time:
Total time: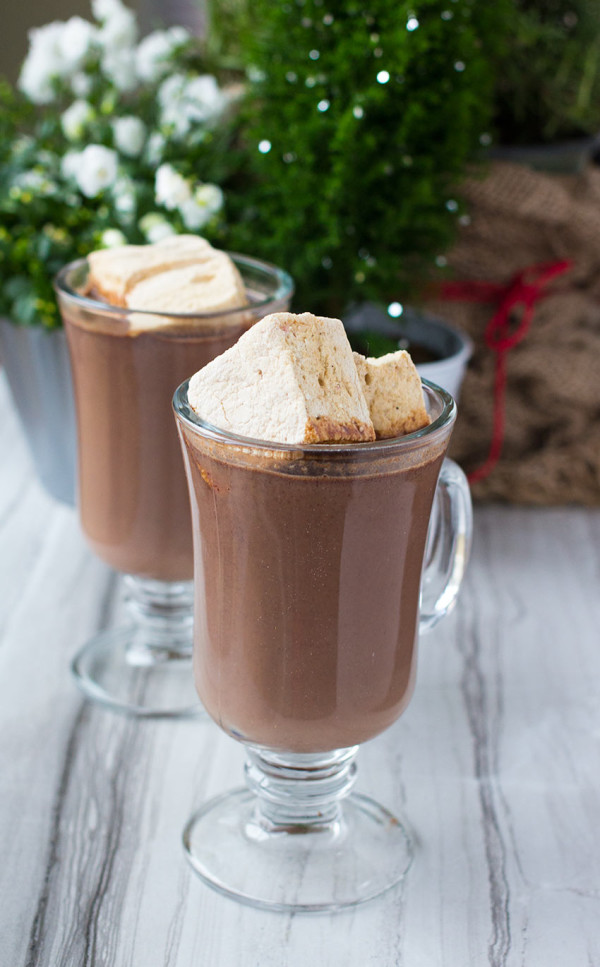 Gingerbread spiced hot chocolate is so good with spiced rum and gingerbread marshmallows. It's the ultimate holiday treat!
Ingredients
2 ½ cups whole milk
1 tablespoon butter
½ cup brown sugar
1 tablespoon water
½ cup dark chocolate (either chopped chocolate bar, baking discs, or chocolate chips)
¼ cup cocoa powder
2 teaspoons espresso powder (optional)
2 teaspoons gingerbread spice (optional)
½ cup heavy cream
4 oz spiced rum (optional)
Optional Toppings:
homemade whipped cream
homemade marshmallows
Instructions
In a small heavy bottom sauce pan over medium low heat, heat milk. Do not boil.
In a large heavy bottom sauce pan on medium heat, melt butter. Add brown sugar and water and stir until well-combined and smooth. Stir in chocolate, cocoa powder, gingerbread spice, and espresso powder. Keep stirring until chocolate is melted and dry ingredients are totally incorporated.
Pour one cup of the warm milk into the chocolate mixture and stir to combine. Once that cup is fully combined, stir in the rest of the milk and keep stirring until the the cocoa is completely smooth. Then slowly whisk in the heavy cream.
To serve, pour one ounce spiced rum (if using) into a cup and add hot cocoa, stirring with a long spoon. Top with homemade whipped cream and marshmallows if you're feeling decadent!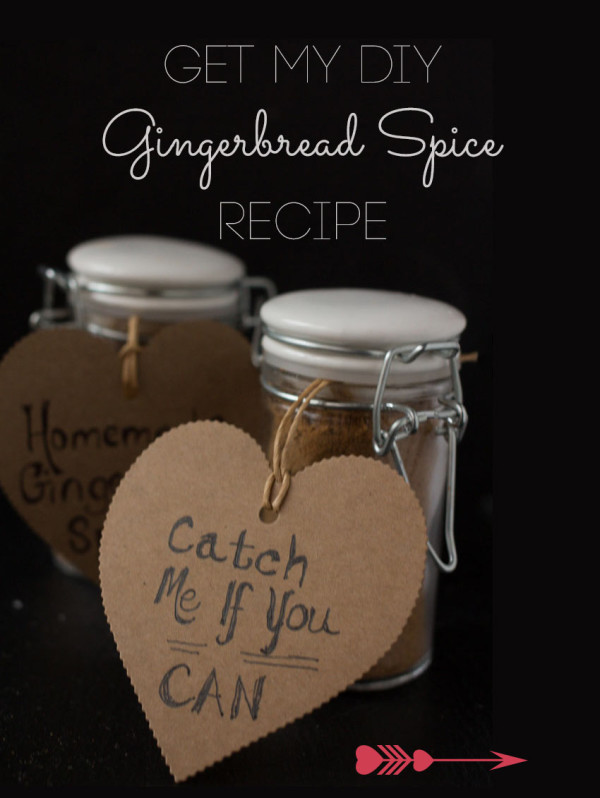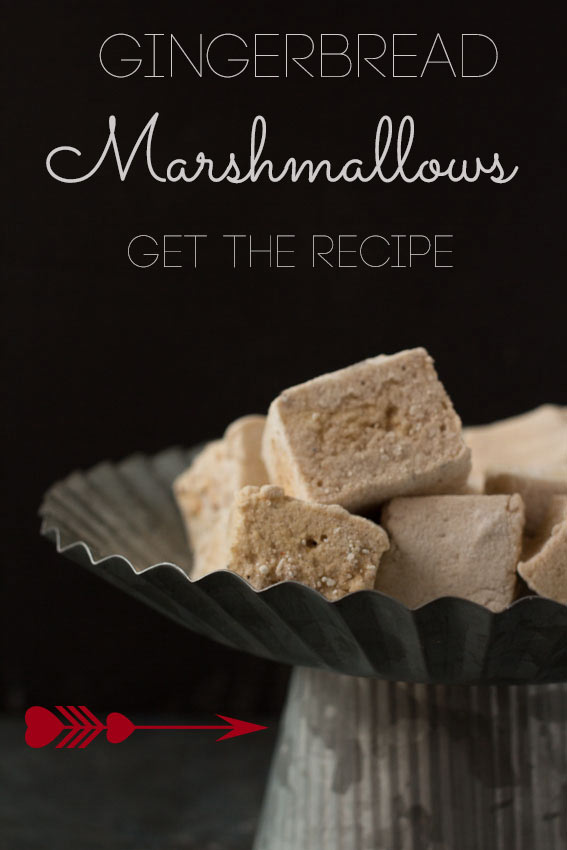 Recipes from Day 6 of Christmas Week! Please visit all our talented participants:
Holiday Fudge from Cravings of a Lunatic
Christmas Wreath Cupcakes from The Redhead Baker
Gingerbread Sugared Almonds from Crumb: A Food Blog
Fresh Cranberry Mini Scones from Farm Fresh Feasts
Praline Pretzels from Food Lust People Love
Cranberry Tangerine Mojito from Mind Over Batter
Peppermint Mocha Hot Chocolate from Rants From My Crazy Kitchen
Gingerbread Cookie Bars from From Gate to Plate
Stained Glass Cookies from Karen's Kitchen Stories