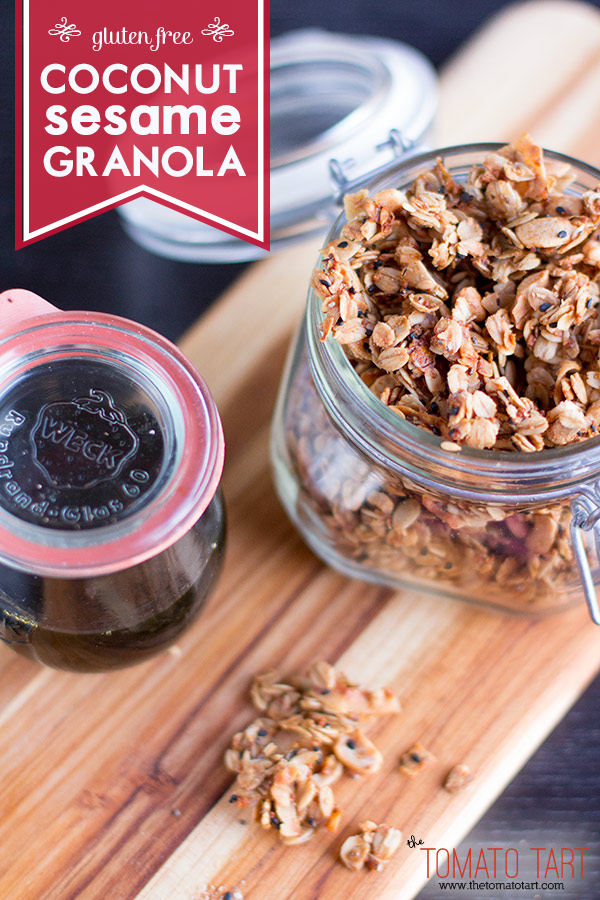 HOMEMADE GLUTEN FREE GRANOLA RECIPE
I am not above waxing poetic about my love of breakfast. At least ¼ of my instagrams feature breakfast as the subject. I wasn't always this way. Until I was in my 20's, I wasn't crazy about eating the morning. When I did eat breakfast, it was almost always savory; I remember eating spinach for Saturday morning breakfasts when I was five or six. Soup was another favorite.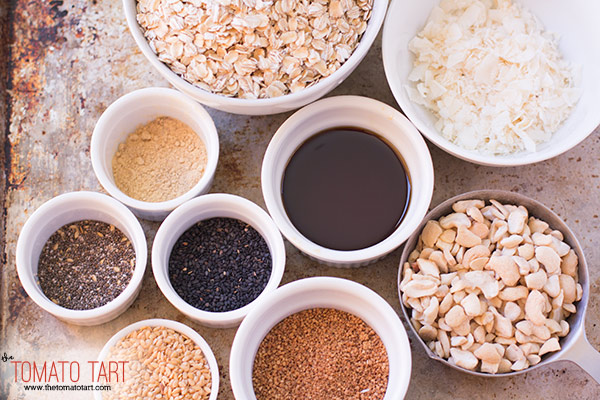 And then, I met Joshua. When we were first dating, I cooked a lot of breakfasts for my man. (Take that as you will). It went that way for five whole weeks, and then, I took a job in LA and said goodbye to my handsome San Francisco "fling".  When I got to Southern California, I realized two things.
Angelenos LOVE breakfast. It seemed there was an "Omelette Haven" or an "Egg Hamlet" or a "Nice Yolks" on every corner.
I was head over heels for the guy who liked his eggs over medium, his cereal bowl overflowing, and his oatmeal served nice and hot.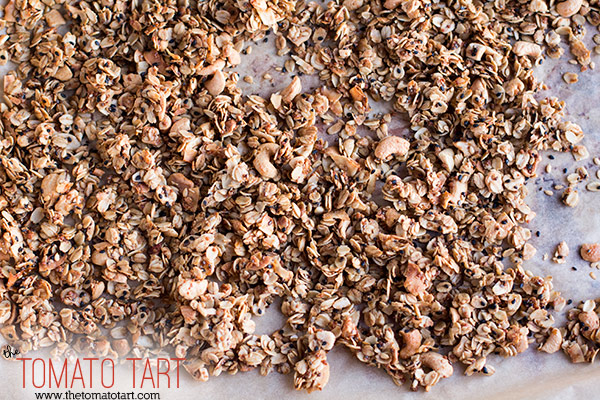 Living in a hotel near work while I searched for an apartment, I ate at a lot of those egg-centric diners (ha ha). I switched from my usual scrambled to fried, just to feel nearer to my guy. Each time I dipped my toast in yolk, I thought of how Joshua eats his eggs: He carefully eats the whites, getting as close to the yolk as possible. Then, he scoops the yolk up with his fork and eats it in one bite.
I was lovesick. Eggs, oatmeal, and hash browns became a proxy for my love.  Our separation didn't last long- within a couple of weeks we were shacked up in that inn on Sepulveda looking for an apartment together.
We moved to a little place in Venice Beach, and as soon as the moving truck arrived, I set about cooking breakfast each and every day.  That's when my breakfast habit was formed. Now, I can't go a day without it.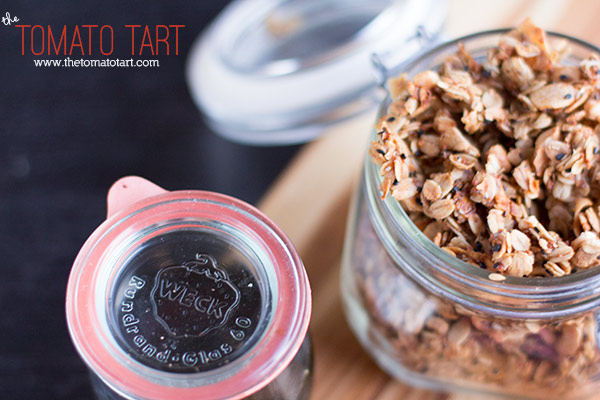 14 years later, our days of beach-side living are long-gone, and lazy weekday mornings are few and far between. The frittatas, baked eggs, breakfast tacos, and pancakes are reserved for weekends. Most days, I eat breakfast at the office, but I make sure that it's always fulfilling.
My favorite office breakfast is plain Greek yogurt, dressed up with anything from fresh kiwis to chia and sesame seeds.  And sometimes, I whip up a batch of homemade granola just to make things extra interesting.
Of course, homemade granola isn't just for yogurt.  I keep a mason jar on my desk and one in my car (emergency gluten free traffic snacks!).  A bowl of homemade granola with raw milk is truly a treat. I've added granola to salads, ice cream, and muffins and even given it as a hostess gift. Because if I can give the gift of breakfast, I've done a good deed for the day.
This Granola recipe is gorgeously coconutty, the ginger and cardamom are present, buy totally as supporting players. I also love the role the seeds play. Chia and flax seeds are so good and rich in Omega-3 Fatty acids, fiber, and may even lower blood pressure. Sesame seeds are a nutritional powerhouse too, high in zinc, calcium, and magnesium! This homemade gluten free granola recipe is also totally maleable. Don't like coconut? Try adding some walnuts and switching to grapeseed oil. No chia or flax on hand? Just add extra sesame.If you try this, I'd love to hear what you come up with.
Ingredients Gluten Free Granola with Coconut & Ginger

3 cups rolled oats (certified gluten free if you have a sensitivity)
1 cup unsweetened flaked coconut
1 cup raw cashews
¼ cup chia seeds
¼ cup flax seeds
¼ cup black sesame seeds
¼ cup coconut palm sugar
1 tablespoons dried ginger
1/2 teaspoon cardamom
1/8 teaspoon finely ground sea salt
¼ cup maple syrup
1/3 cup melted coconut oil
Instructions Gluten Free Granola with Coconut & Ginger

Preheat oven to 250º and line two baking sheets with parchment paper
In a large bowl, mix all dry ingredients together (everything but the coconut oil and the maple syrup), stirring or whisking until they all well-combined. Add the maple syrup and melted coconut oil and stir again.
Spread the granola out over the two baking sheets, and cook for an hour and fifteen minutes switching the position of the baking sheets half way through.
Cool completely before storing, but feel free to sneak a bite or two after about ten minutes.
Check out these gluten free granola recipes 
Sweet and Salty Grain Free Paleo Granola
Peanut Butter Chocolate Chunk Granola
A Formula for Granola
Blueberry Pistachio Granola
Autumn Granola
Maple Pecan Granola