This lightened up version of a Thai noodle salad with BBQ Shrimp is spectacular. Healthy low-carb cucumber noodles taste even better than the original. They're tossed with a gingery peanut vinaigrette, julienned carrots, and lemongrass grilled shrimp. Oh, and there's a Paleo option too! Jump straight to the recipe.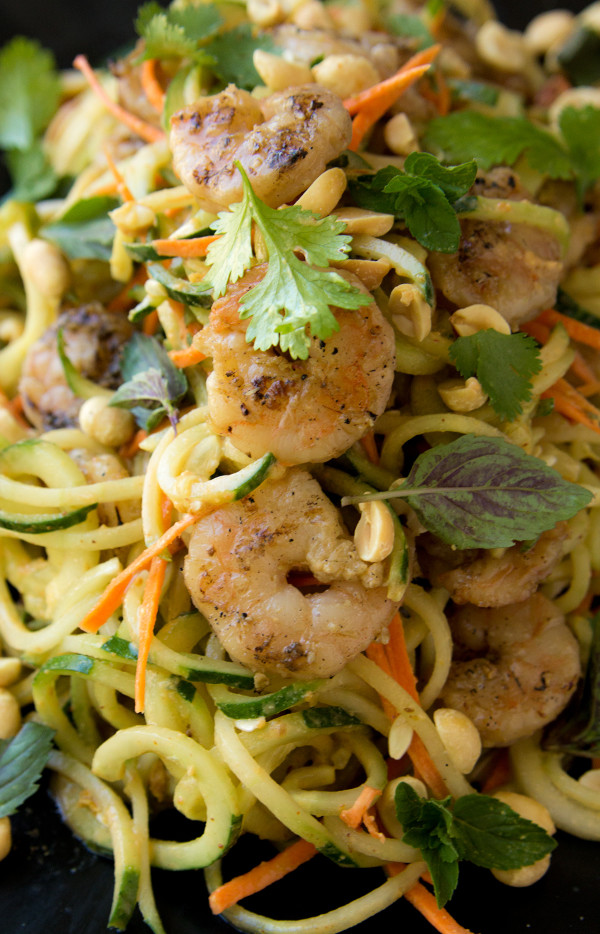 This post is sponsored by Gourmet Garden. I have received compensation and product for creating this recipe. All opinions are my own, and I only work with brands I love and feel will be useful for my readers.
Thai Cucumber Salad with BBQ Shrimp and Peanut Dressing
It's probably been close to ten years since we started thinking about eating seasonally, and for the past six or seven years, we've been pretty serious about it. There is no greater taste than that of a ripe fruit at the peak of its season. One that hasn't traveled half way round the globe to land on my plate.
Eating seasonally is a joy in Northern California, and I'll admit, it's pretty easy. On Sunday, I popped by the farmers market for fresh eggs, and my weekly bouquet of flowers. When I stopped at my favorite lettuce vendor, I noticed cucumbers. Long, slender, and curvy with pronounced stripes, they were just gorgeous! Though I've been cheering them on with good vibes and ample cow poop, the cukes in my garden are no bigger than my little finger right now. Deciding I couldn't wait for my tiny gherkins to grow, I added three cucumbers to the farmer's scale.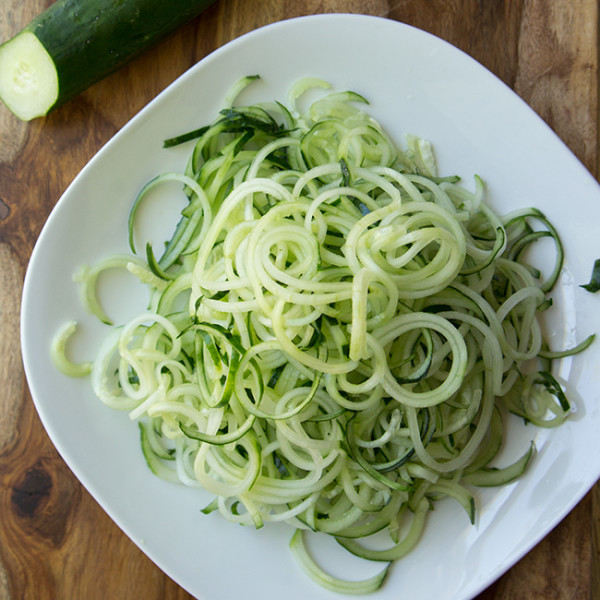 When I got them home, I immediately cut into one and ate the whole thing— just sprinkled with a little sea salt. For the other two, I had plans, a cucumber "noodle" salad. I first had a coodle(?) salad years ago at Flytrap in San Francisco. From the moment I tasted spiralized cucumbers, I knew they'd forever be a part of my culinary repertoire, and so they have been. I can't remember another dish from that meal, but I'll never forget the cucumber noodles tossed in a sesame vinaigrette.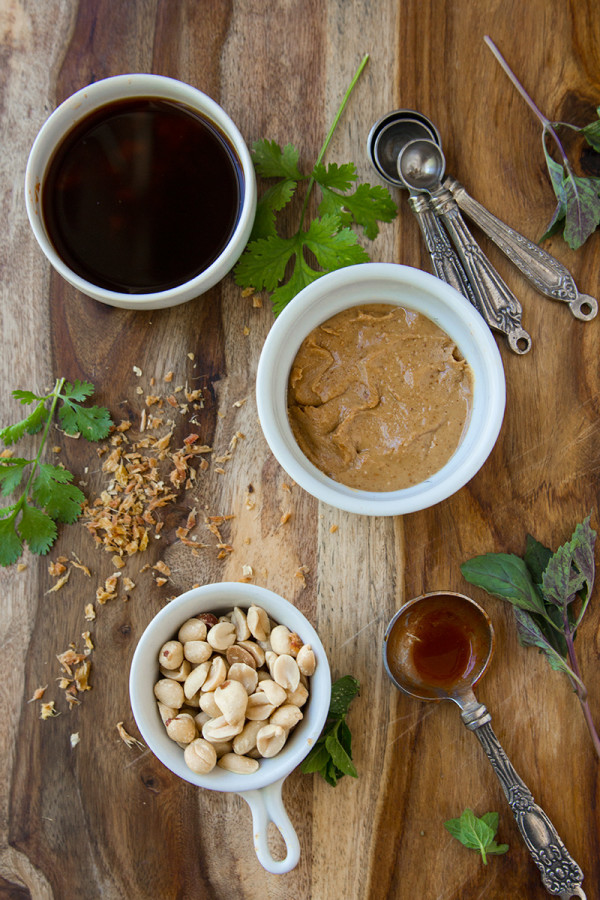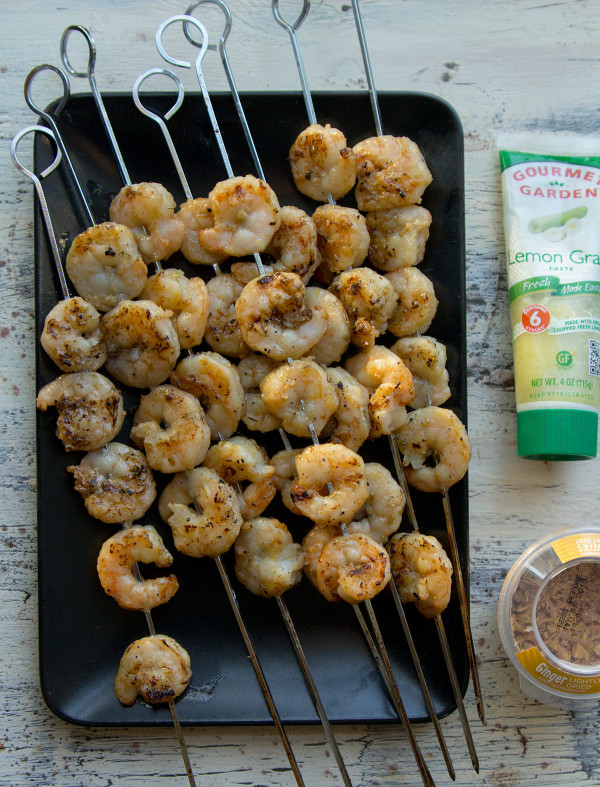 Cucumbers, fragrant and floral, pair especially well with seafood. I love this combination of Thai style BBQ shrimp, cucumber, lemongrass, and ginger. Cold and refreshing, this dish is perfect for the heat of summer. Head outside, pop a bottle of Sauvingnon Blanc, and enjoy this Thai Style Cucumber Noodle Salad with BBQ Shrimp.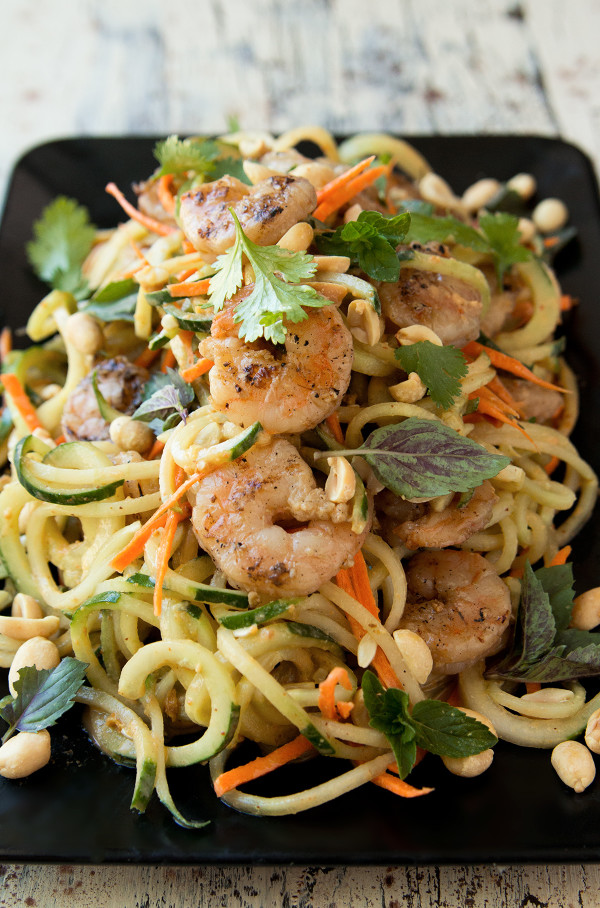 Prep time:
Cook time:
Total time: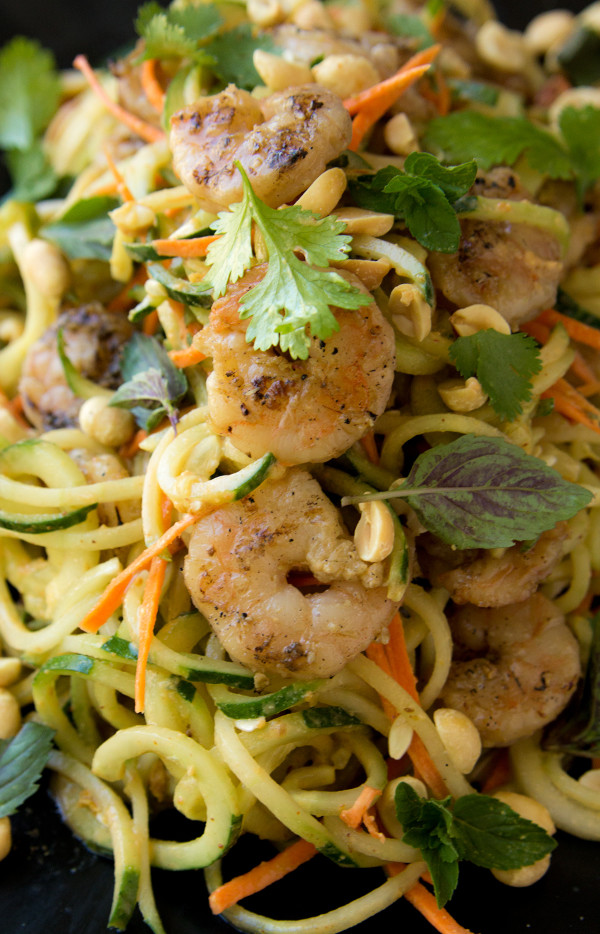 This grain free recipe is quite adaptable. For a paleo version, replace the tamari with coconut aminos, replace the peanuts and peanut butter with almonds and almond butter, or go tropical with toasted coconut and coconut butter (not coconut oil). Though many Paleo experts say that rice vinegar is fine on the Paleo diet (even Whole30), you can feel free to use champagne vinegar or coconut vinegar.
Ingredients
THAI STYLE BBQ SHRIMP
3 tablespoons fish sauce
1 tablespoon rice vinegar
1 tablespoon tamari
1 tablespoon Sriracha
½ cup warm water
1 tablespoon honey
3 tablespoons Gourmet Garden lemongrass
1 tablespoon Gourmet Garden lightly dried ginger
1 lb shrimp, peeled and deveined
1 tablespoon high heat oil
CUCUMBER NOODLE SALAD
2 large cucumbers, spiralized or julienned
1 medium carrot, peeled and julienned
¼ cup smooth peanut butter
¼ cup rice vinegar
2 tablespoons Sriracha
1 tablespoon tamari or coconut aminos
1 tablespoon Gourmet Garden lightly dried ginger
¼ cup roasted, unsalted peanuts
A handful of fresh herbs like mint, cilantro, and basil (optional)
Instructions
BBQ SHRIMP
In a medium bowl, whisk together, fish sauce, rice vinegar, tamari, Sriracha, water, honey, lemongrass, and ginger. Add shrimp, and marinate at room temperature for 20 minutes.
Prepare a grill for indirect grilling. On a gas grill, turn all burners to high, except one which should be set to low. 
Remove shrimp from marinade and pat dry. Place shrimp on skewers, but be careful not to crowd them. Brush both sides of the shrimp with oil and grill on the cool side of the grill for 2-3 minutes on each side.
CUCUMBER NOODLE SALAD
In a large bowl, whisk together nut butter, vinegar, sriracha, tamari, and ginger until smooth. Toss with cucumber noodles, carrots, and cooked shrimp, garnish with peanuts and fresh herbs. Serve immediately.
You may also love these recipes from The Tomato Tart
Vegan Thai Green Curry with Brown Rice Balls
Spicy Thai Shrimp with Mango Dipping Sauce
Easy Sautéed Shrimp with Smokey Tomato Sauce
Spicy Thai Salad with Coconut Chicken
Check out these awesome recipes featuring BBQ Shrimp
Grilled Shrimp with Smokey BBQ Rub
Zucchini Noodles with Grilled Shrimp