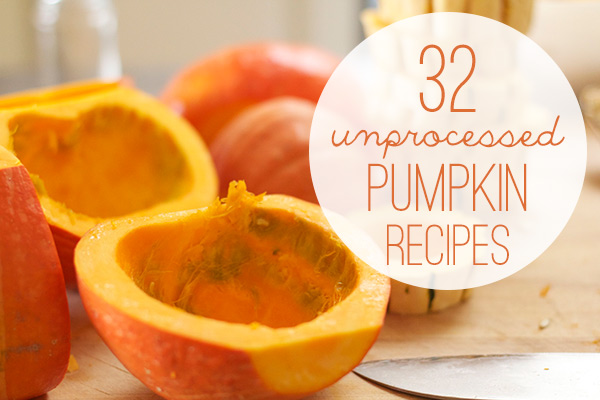 32 Totally Fantastic Healthy Pumpkin Recipes for Fall
Halloween is over, and it's not Thanksgiving yet, but that does not mean you should forsake the lovely pumpkin! I've just completed October Unprocessed. I went pretty hardcore this time- choosing to live a month Grain-Free and Sugar Free. It was awesome, but also hard to see all of those amazing pumpkin dishes that I just couldn't eat. All over pinterest, twitter, foodgawker. ACK, they were killing me. So I decided to round up 32 of the best unprocessed healthy pumpkin recipes on the web and share them with you.
Healthy Pumkin Recipes for Breakfast
Pumpkin Spice Waffles– these are even gluten free and vegan! Yay!
Simple Bites strikes again with this fabulous Pumpkin Spice Granola
Mmm this just sounds perfect on a cold morning Apple Cinnamon Pumpkin Oatmeal
Healthy Pumpkin Appetizers & Snacks
Roasted pumpkin seed spread from Gluten Free Girl- this s not your mama's hummus. (V, GF, GR F)
Jerry James Stone's Goat Cheese and Pumpkin Fondue is the ooey gooey stuff that makes a girl go crazy.
Pumpkin Chips deep fried and gorgeously golden. These chips come from Southern Living Magazine.
Baked Butternut Squash Chips I know these aren't pumpkin, but I am not the biggest fan of frying, and butternut squash is close enough! Love this idea from Running to the Kitchen!
Fat Free Vegan offers up this awesome looking Pumpkin and Black Bean Casserole plus it has nutritional yeast and tahini- two of my favorite flavors! (GF, V)
Pumpkin and Feta Muffins  Note, I made these with WH pastry flour + Spelt Flour and they turned out amazing. I have also veganized them which was a pretty easy switch. Great great muffins!
Oh yes, Domestic Fits Pumpkin Hummus sounds kind of fun.
Savory Healthy Pumpkin Recipes
One of my favorite dishes on my blog ever is the lamb meatloaf in mini pumpkins based on the Afghani dish Khado Bourani. If you are going for unprocessed, use whole wheat breadcrumbs and muscavado sugar.
I have never had Pumpkin Koftas but if Kathy from the Colors of Indian Cooking is recommending, I'm trying. Even better if she's cooking!
Squash soup with pancetta and green garlic this is another recipe from me. It uses a type of pumpkin called the Blue Hubbard, there's a funny story behind that, but you'll just have to read on…
This Pumpkin Coconut Curry Chicken comes from The Wicked Noodle, and it's on my list of things to eat. Like now.
If you haven't had a Roasted Pumpkin Salad, you may want to start with this one from Recipe Girl. If the pumpkin doesn't get you, the maple will!
I came up with this Spicy Carrot soup with pepita butter a couple of years ago, and now use the pepita (or raw green pumpkin seed) butter as a topping for everything from soup to potatoes to steaks. Yum.
Closet Cooking's Festive Roasted Pumpkin Salad looks amazing as well with a maple balsamic vinaigrette.
Dishes like Pumpkin and Roasted Onion Salad are the things that made me fall in love with 101 Cookbooks. Healthy, gorgeous, and full of flavor.
Pumpkin and Yucca Tacos? Are you kidding me, Confessions of a recipe Junkie? I need these now!
This Whole Wheat Pumpkin Parmesean Pasta from Bake Your Day just seems like the perfect comfort food!
I am seriously in love with the flavors of this dish Pumpkin quiche with blue cheese and thyme– make sure to use whole wheat crust, if you're going unprocessed.
Roasted pumpkin soup with parmesan sage whipped cream has all of the flavors of ravioli with sage brown butter, but it's grain free and a little bit healthier (GF)
Tracy from Shutterbean speaks my language, like when she says Pumpkin Hazelnut Grilled Cheese uh yeah. Please be sure to use whole wheat bread if you're unprocessed.
Healthy Pumpkin Dessert Recipes
Pumpkin Custard from Nourished Kitchen. Like pumpkin pie, but without the crust. Yum. (grain free)
Pumpkin Oatmeal Squares. Lisa from With Style and Grace has gluten free goodies down!
Another fun treat from With Style and Grace, chocolate pumpkin peanut butter. It's grain free too!
I really love pumpkin bread, and this Gluten Free Pumpkin Bread from Family Spice looks amazing!
Pumpkin Chocolate Chip Muffins These muffins from Winnie at Healthy Green Kitchen are seriously drool worthy- Grain Free (gluten free) and too gorgeous for words. Go see!
Aimee from Simple Bites makes a gorgeous Unprocessed Pumpkin Pie. One of the many reasons she's so awesome.
One more pie- a deep golden maple spice pumpkin pie from my partner-in-crime Irvin, of Eat the Love
Vegan Healthy Pumpkin Desserts
The Chic Life has managed to make healthy Pumpkin Pie Muffins. I like her for this.
I love vegan desserts and this Vegan Savory Pumpkin Pie *GF from Vegan Visitor looks pretty amazing.
Raw Vegan Pumpkin Cheesecake is on my list of things to make. Skeptics should believe me when I say, that vegan cheesecakes are some of the best things you'll ever eat.