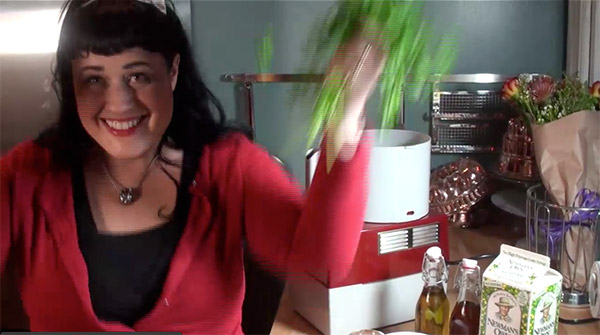 So, I guess, I am officially a star, now! It's what I aspired to as a child and I've finally made it. Thanks to Foodbuzz and Newman's Own, I finally bit the bullet and made a cooking video- I did miss the Oscars to film this, little sucker, so what do you think, am I on my way to winning one?
A few weeks back, I received an email from Foodbuzz offering me the opportunity to get a free Flip HD video camera from Newman's Own if  I could come up with an enticing recipe using one or more of their products. No problem. Turns out, I grew up loving Paul Newman. A New Kind of Love is one of my favorite movies and one of my dad's favorite movie's was The Hustler. I'll never forget the first time we saw Newman's Own Virgin Lemonade; we had to have it. The fact that it tastes like real lemonade kept us coming back for more. As an adult, I've always loved Newman's Own because of their philanthropic side. They've donated over $300 million to charity- that's every penny of their profits!
The recipe I originally pitched to Newman's Own and Foodbuzz was a chicken cutlet breaded, Milanese style, with their Honey Flax Flakes Cereal and topped with a Newman's Own Virgin Lemonade Beurre Blanc Sauce (made with their own Pinot Gris). Well, I was thrilled when the box arrived filled with an awesome camera from Flip HD as well as Newman's Own sauces and salad dressings. Super cool. One little snag… I went to a couple of stores trying to find the cereal and the wine- no dice. Turns out neither is available in San Francisco. So, back to the drawing board- I was on a deadline.
I love that lemonade so much, I knew I could create an awesome meal with it alone. So, here you have it. Pork tenderloin- sear roasted with a lemonade chimmichurri sauce and a strawberry lemonade fizz. What you don't see in the video (had to keep things under 5 minutes) is a salad bright with strawberries and crunchy pepitas topped with a tarragon, lemonade vinaigrette. This is one super simple meal- 22 minutes from start to finish, you'll never break a sweat because most of your work is away from the stove. This is the perfect way to welcome spring.
Big thanks to Newman's Own, Foodbuzz, my fabulous friend Bill Schaeffer for the use of his GORGEOUS kitchen (right?), my incredibly handsome and intelligent husband for directing, filming, and learning to edit a film in two weeks I adore you, oh, and thanks Jack Spade for your help as well!
Ingredients Pork Tenderloin

1 Pork Tenderloin
Finely Ground Sea Salt
Coarsely Ground Pepper
Grapeseed oil
Ingredients Lemonade Chimmichurri

Handful of cilantro
Handful of flat parsley
2 tablespoons Newman's Own Virgin Lemonade
2 tablespoons White Wine Vinegar
3 cloves garlic
1 jalepeno (seeded)
sea salt
½ cup olive oil
Strawberry Lemonade Fizz

About a cup of hulled strawberries
2 cups Newman's Own Virgin Lemonade
Splash of Fuzzy Water
Instructions Pork Tenderloin

Bring meat to room temp (30 minutes to 1 hour)
Season meat with salt and pepper
Preheat oven to 350º
Get an oven safe pan nice and hot and add grapeseed oil sear on all sides so a nice crust forms (about 1-3 minutes on all four sides)
Pop in the oven for about 12-15 minutes- until internal temp reaches 140º
Remove from the oven and tent with foil for 10 minutes- this will bring the temp to 145º and allow the juices to rest
Instructions Strawberry Lemonade Fizz

Add strawberries and lemonade to a food processor or blender and processes until completely smooth
Strain through a fine mesh sieve into a bowl or pitcher
Pour into glasses with ice about ¾ full add soda water and enjoy
Instructions Lemonade Chimmichurri Sauce

Add Cilantro, Parsley, Garlic, Vinegar, Lemonade & Jalapeño to food processor and pulse a few times.
Pour into bowl and add half cup of olive oil
Check seasonings and serve over pork