Gluten Free Chocolate Bundt Cake with Rosemary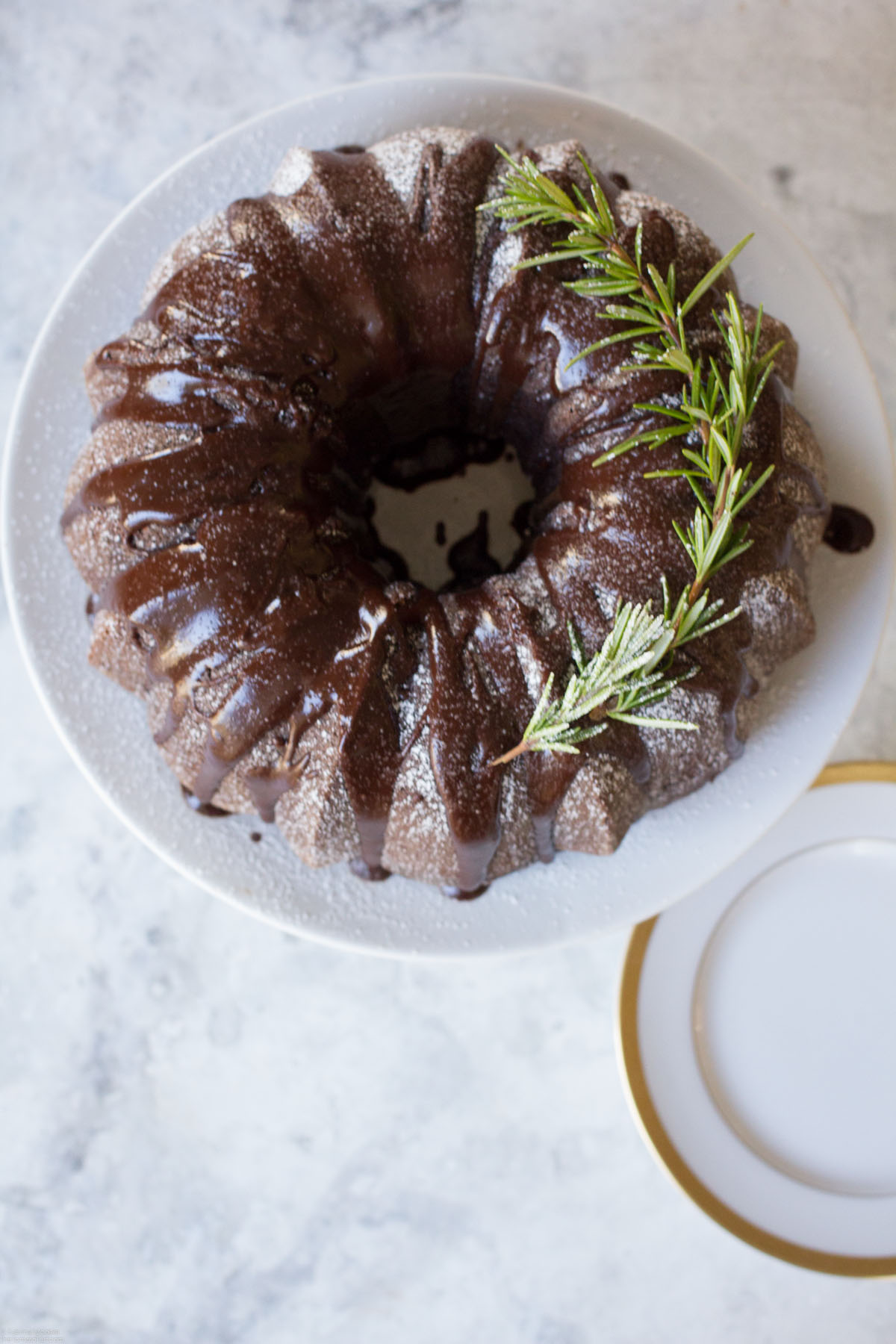 Author:
Sabrina Modelle, The Tomato Tart
1 ½ cups (12 oz) butter
2 sprigs rosemary
½ cup (1 ½ oz) unsweetened cocoa powder
1 ½ cups boiling water
1 teaspoon kosher or sea salt
1 tablespoon vanilla
2 ¼ cups (15.75 oz) granulated sugar
3 cups (12.5 oz) gluten free flour (+2 teaspoons xanthan gum if your blend doesn't contain it optional)
2 ¼ teaspoons baking soda
4 large eggs
¾ cups sour cream
6 oz rough chopped chocolate
⅓ cup butter
¼ teaspoon salt
1 tablespoon vanilla extract
4 oz finely chopped dark chocolate
Preheat the oven to 350º and butter and flour a 12-15 oz bundt cake pan.
In a saucepan over medium heat, melt butter with rosemary. Remove from heat and steep for at least 10 minutes.
In a medium bowl, whisk together cocoa powder, water, salt, and vanilla. Strain rosemary butter into the bowl and mix.
In a large bowl, whisk together sugar, flour, and baking soda. Add cocoa mixture in two additions, stirring to completely combine each time. Add the eggs, one at a time, stirring until each one is fully incorporated. Stir in sour cream and chopped chocolate. Pour into the prepared pan and bake for 50-60 minutes (or until a knife inserted into the middle of the cake comes back clean).
Cool for 20 minutes before inverting onto a rack- then cool completely before glazing and serving.
Melt butter in a small saucepan on medium heat. Add vanilla and salt- whisking to combine. Remove from heat and stir in chopped chocolate—stirring constantly until the chocolate is fully melted.
Drizzle glaze over the cake and top with rosemary sprigs.
Recipe by
The Tomato Tart
at https://www.thetomatotart.com/recipe/gluten-free-chocolate-bundt-cake-rosemary/