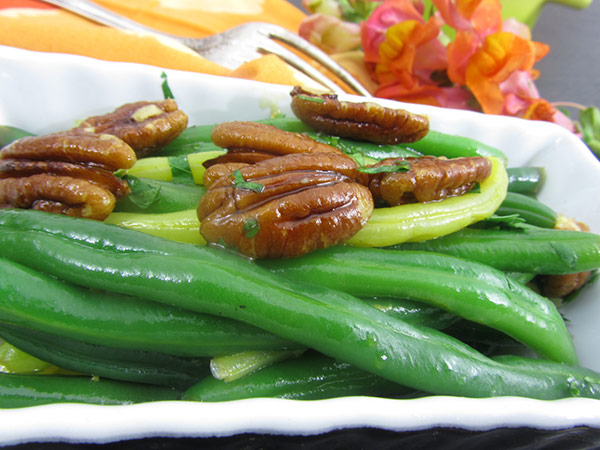 There is always so much food on Thanksgiving and much of it can be heavy, rich, and just downright hard to consume. I've had several requests to create vegetarian and vegan dishes for the holidays for friends and readers.
These green beans are a great alternative to a goopy green bean casserole. Fresh, light and lemony with a sweet, tart, olive oil glaze, they satisfy with a crisp green bean and a crunchy pecan. We had these with steak and potatoes, but they'll be fantastic added to your vegetarian Thanksgiving, a vegan Thanksgiving, or a traditional Thanksgiving feast alike.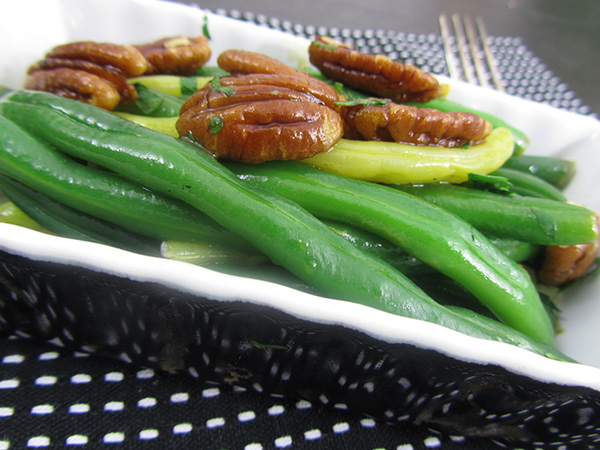 INGREDIENTS
1 lb green beans (or mixed green and wax beans) trimmed
1 cup pecans
juice of 1 lemon
zest of 1 lemon
¼ cup olive oil
½ cup packed dark brown sugar
1/8 tsp salt
1/8 tsp cayenne (optional)
salt and pepper to taste
INSTRUCTIONS
Preheat oven to 375º and toast pecans for about 5 minutes on baking sheet lined with parchment watch carefully so they do not burn
Boil 3 cups water in a saucepan over high heat, add 1 teaspoon salt and 1 tablespoon lemon juice or white wine vinegar
Whisk brown sugar and lemon juice over medium heat until sugar dissolves.
Add olive oil, salt, and cayenne and whisk until smooth and slightly thickened
When pecans are done transfer to a bowl then drizzle half of glaze over the top and toss with half of the zest.  Then toss very well. Sprinkle the pecans out on a cool surface lined with parchment.
Boil green beans for about 3-5 minutes, strain, then plunge into ice water
Place drained green beans serving dish then toss with remaining glaze and finish with olive oil, lemon zest, salt, pepper, and top with pecans.