Labor Day weekend has passed, and finally, I feel the stillness that accompanies a true summer day. Ever hopeful, I cross my fingers that the last of the dreadfully cold San Francisco "summer" is gone. It's true that our city is not known for it's exceptional second-season weather, but this year is the worst I can remember since the year I graduated high school.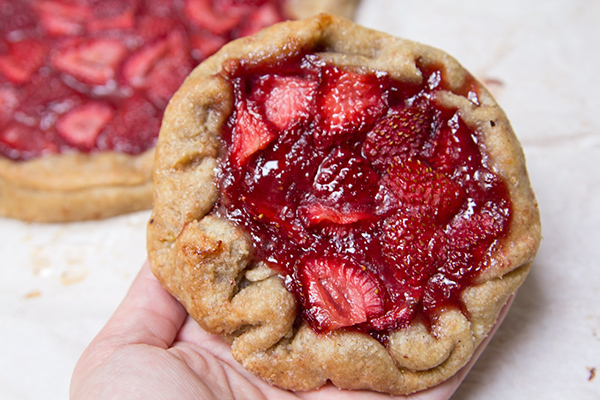 Two days after high school ended I began an intensive theater program. Every day, I left my house at 7am and drove through thick fog to Daly City, where I parked my car and hopped on BART. I got off at Powell St. Station and walked the few blocks to 450 Geary Street where A.C.T was at that time. It's hard to believe that was 20 years ago. Next month, I'll have my 20 year high school reunion.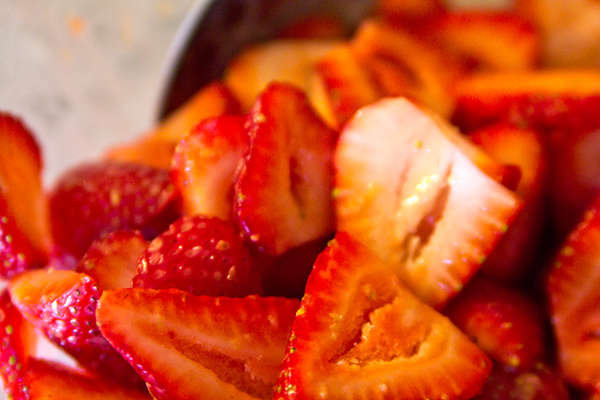 In those days, I was a passionate vegetarian. At 16, I read Diet for a Small Planet at my friend Katie's behest and never looked back. I remember sharing her mom's 15 bean lasagna and being inspired to cook vegetarian meals for myself.  Today, I eat a little bit of everything, but many of our meals are plant-based. I love eating clean, and healthy foods, and whenever I can incorporate vegan meals into our diet, I do.
I'd been fooling with the idea of vegan tarts for a while, and had made several with this dough, but I wanted something made only from real food- nothing processed. I was so excited when I came across this recipe from La Tartine Gourmande. I messed around with it just a little. It is one of the tastiest tarts- and so hard to resist eating the dough before it's cooked!
One note, if you can find truly fresh stone ground wheat flour, I highly recommend it. I buy mine at The Ferry Plaza Farmer's Market from Eat Well Farm. I use the Bolero or Sonora which are soft winter wheat flours with high proteins and low gluten.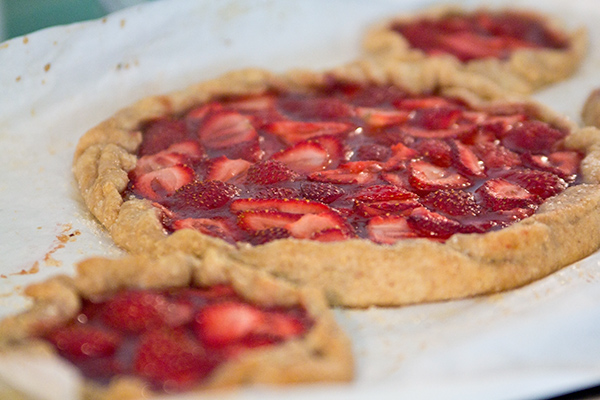 INGREDIENTS
1 ½ cups organic white pastry flour
½  cup soft stone ground whole wheat flour
½ cup hazelnut meal
¼ cup olive oil
¼ cup hazelnut oil
1/8 teaspoon salt
½ cup cold water (perhaps a couple of tablespoons more if needed)
1 ¼  cup of sugar (separated)
4 cups of strawberries, hulled and sliced thinly,
2 teaspoons of cornstarch
1 cup strawberry jam
zest of 1 lemon
1 tablespoon soymilk
1 tablespoon neutral flavored oil (like grapeseed)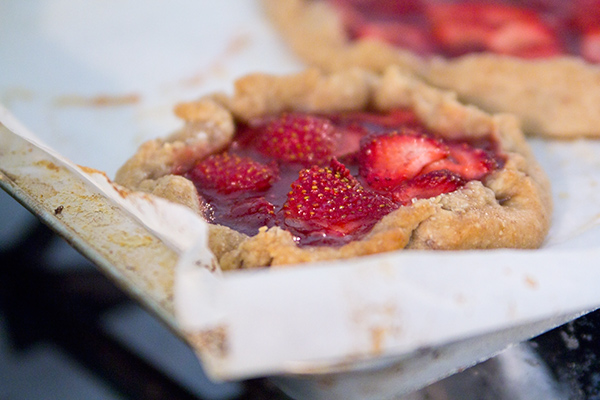 INSTRUCTIONS
In a large bowl, mix pastry flour, wheat flour, hazelnut meal, salt, and 2/3 cup of the sugar until fully combined
Mix in oils with a fork or pastry cutter until clumpy and mealy
Add in water of half of the water at a time, slowly drizzling over the flour and fat mixture.
Mix with your hand, gently, incorporating the water into the dough, add the rest of the water as needed working gently- working the dough as little as possible until the dough takes form and sticks together as a slightly tacky ball.
Split into two parts and leave to sit in bowl at room temperature for at least one hour.
Mix strawberries with corn starch, lemon zest, and 1/3 cup of sugar until cornstarch is no longer visible and allow to rest at room temperature for at least 30 minutes, then drain excess liquid through strainer.
After at least one hour has  split each dough ball into two (for miniature tarts) or leave whole for larger tarts. Roll out on a lightly floured piece of parchment paper- this makes it easy to transfer to your baking sheet. You can roll it out very thinly or leave it a bit thicker and enjoy its hazelnut cookie like flavor.
 Once you have your dough rolled out, spoon the jam out equally, leaving a border around the edges of the tart. For a full sized tart, leave a 1 ½ -2 inch border for tartelettes, leave a ½ – ¾ inch border. I like to trim the rough edges with a paring knife, but it is not necessary.
Place a pile of strawberries in the center of the tart and then fuss with them until they look pretty—or you can be organized and line them up in a beautiful and orderly fashion. Alas I guess I'm not that kind of girl, because every time I do that, I end up feeling like it's just not me and messing it up on purpose in the end!
Finally, fold the edges up and crimp into place. Repeat with each piece of dough.
Preheat oven to 350º (for at least 20 minutes) and place the tarts in the freezer to set up while your oven is preheating.
Beat the soy milk and grapeseed oil and brush edges of tart dough. This is your vegan "egg wash"
Sprinkle your tarts, including the edges with remaining sugar and bake for 30 minutes, brushing the edges again with your "egg wash" in the last five minutes of baking.
Make sure the crust is done and nice and golden, otherwise continue baking.
Allow to cool for at least 30 minutes before serving.
Enjoy with a crisp cool glass of Italian Rose.