It's official; we're firmly planted in the middle of the holiday season. The irony of the most wonderful time of the year is that we're so busy, few of us have time to truly enjoy it. Instead of feeling calm & bright many of us feel stress and pressure.  Whether it's the need to create a magazine-ready holiday home or to find the ever-elusive Perfect Gift, it's easy to get wrapped up (pardon the pun) in things that are less than important.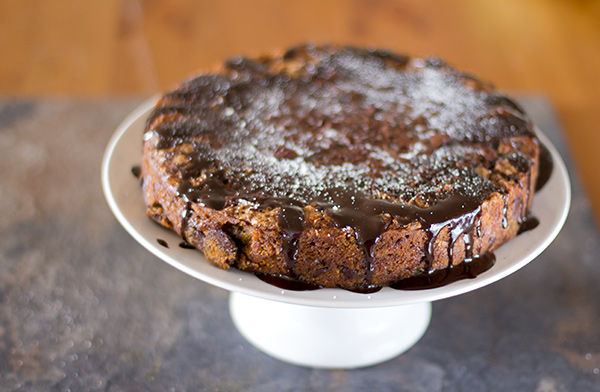 For those of us in the US, especially, the focus on the holiday season has thrust on Black Friday & the hottest deals of the moment rather than the thought behind the gift.   I love to shop, don't get me wrong, but for the past few years now I have changed my holiday perspective. No wild crowds in the mall, no extravagant presents. I buy something small and meaningful for those very close and for the kids in my life, from a local merchant or perhaps from Etsy. Then I make the rest of my gifts. Last year, I made chutney and two kinds of sugar (lavender and vanilla bean).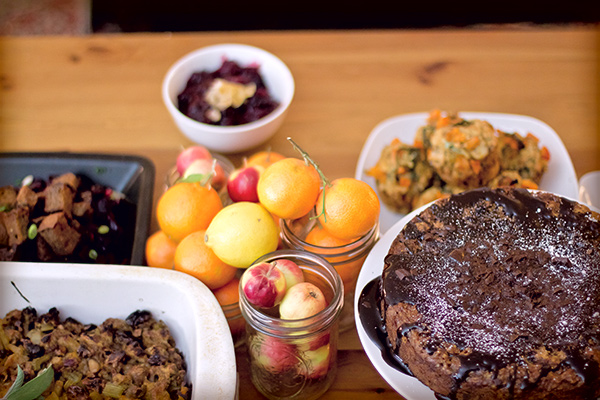 I have time to spend reflecting on the end of the year, and what comes next. I also have time for long walks, connecting with the people I care about, and cooking. I like the holidays this way. I spent many years, going wild in the mall, these days, for me, simple is good.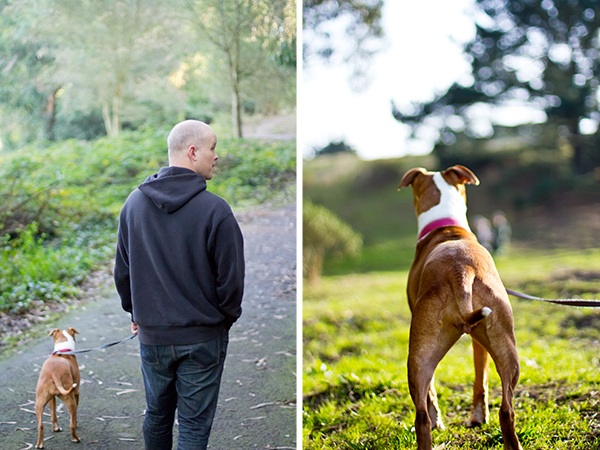 Speaking of the holidays, Thanksgiving has just passed- and it was very low-key. I ended up catching a bug and having to cancel Thanksgiving #2 with all my company, so Thanksgiving itself was just my brother and I with a beautiful vegan dinner.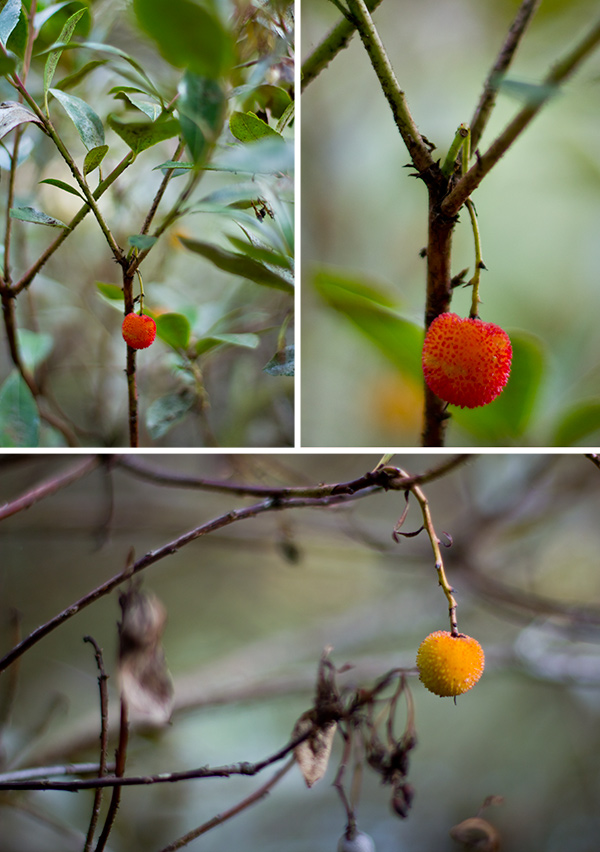 Our Menu looked a little something like this:
Beet salad with caraway vinaigrette & rye croutons
Savory Butternut Squash Muffins
Wild rice with pumpkin, mushrooms, & shallots
Stuffing with apples, celery, and walnuts,
Port-Spiked Cranberries with Ginger
Pumpkin & Chocolate Cake with chocolate molasses glaze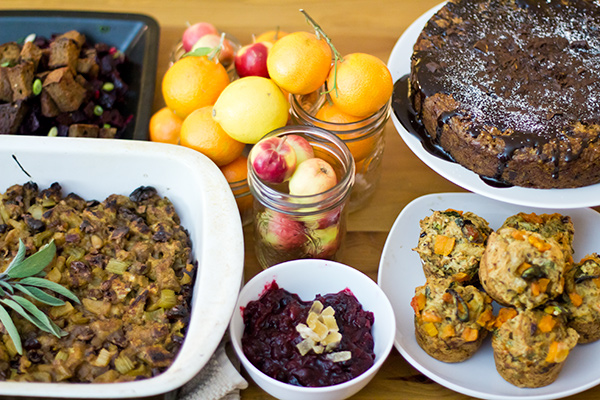 Of those dishes, I will say, the beet salad was the best beet salad I've ever made & I eat beets all the time. Also, my brother called the pumpkin cake the best cake he's ever eaten. He said not to tell anyone it was vegan. He also said I should sell it. I really loved the cake too, which is why it's the first thing I'm posting from our meal. A funny anecdote about this "best cake ever". It is adapted from this cake. I completely misread the recipe- a key ingredient in fact, I was ¾ cup short on flour, but I supposed, sometimes mistakes turn out exceedingly well.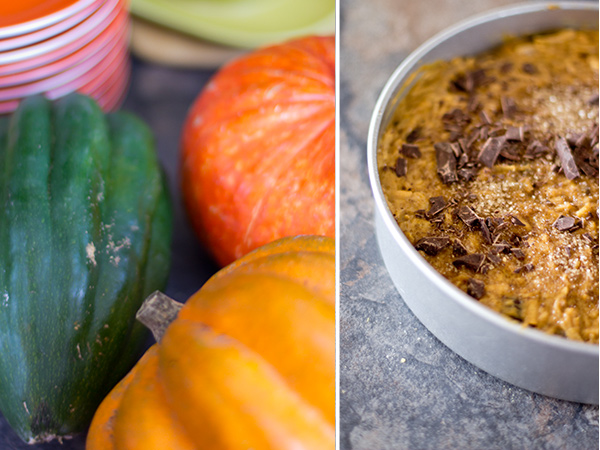 INGREDIENTS: VEGAN PUMPKIN CHOCOLATE CHUNK CAKE

Nonstick spray for baking
2 ¼  unbleached organic pastry flour +2 tablespoons for sprinkling on chocolate
¾ cups organic sugar
1 cup packed muscavado sugar
2 teaspoons cinnamon
2 teaspoons ground ginger
1/8 teaspoon fresh ground black pepper
1/8 teaspoon cloves
¼ teaspoon freshly grated nutmeg
1 tablespoon baking powder
1 1/2 teaspoons baking soda
1/2 teaspoon salt
8 ounces bittersweet or semisweet baking chocolate, chopped into chunks (1 1/2 cups) I used 72%
½ cup finely ground flaxseeds
1 cup boiling water
1  1 1/2 pound sugar pie pumpkin, shredded*
3/4 cup grapeseed oil
2 tablespoons raw sugar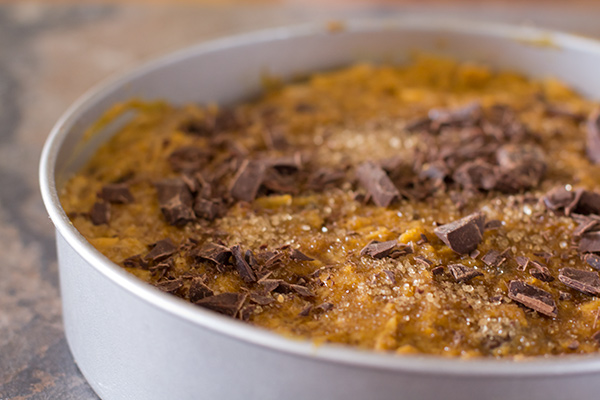 INSTRUCTIONS

Preheat oven to 350 degrees F.  Grease a 9" round cake pan with either grapeseed oil or nonstick cooking spray.
In a small bowl, mix all but one ounce of the chocolate with two tablespoons of flour and toss to coat.
In a large bowl combine remaining flour, organic sugar, brown sugar, spices, baking powder, baking soda, and salt.
Mix flax seed meal with boiling water and allow to sit for 3-4 minutes then beat with a whisk- the mixture will appear thick and somewhat slimy. This is our egg substitute.
In another bowl combine pumpkin, grapeseed oil, and flax seed mixture. Add pumpkin mixture to flour mixture; stir until combined. Add chocolate mixture. Stir until combined. Pour batter into cake pan.
Top with last of the chopped chocolate and sprinkle with raw sugar
Bake for 60 to 70 minutes or until a wooden toothpick inserted near the center comes out clean. Turn broiler on low for just a couple of minutes- WATCH CAREFULLY! You are looking to get a little crunch on top of the cake, this can go from crisp and golden to burnt in a few seconds.
Cool on a rack for 15 to 20 minutes, then remove cake from pan (I used the inverted plates method**). Cool cake for another 30 minutes before glazing.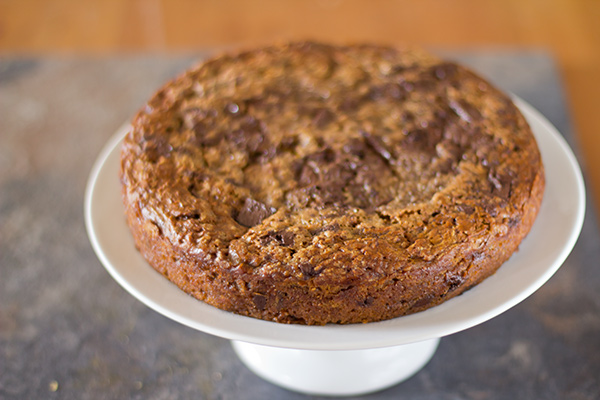 INGREDIENTS CHOCOLATE MOLASSES GLAZE

1/4 grapeseed oil
1/3 cup packed brown sugar
1/4 cup light corn syrup
2 tablespoons blackstrap molasses
4  oz dark chocolate (chopped into very small pieces)
¼- ½  cup simmering water
INSTRUCTIONS

In a double boiler, or a bowl set over a sauce pan of simmering water, whisk together oil, brown sugar, corn syrup, chocolate, and molasses, until chocolate is completely melted.
Add in simmering water one tablespoon at a time whisking well in between additions until brown sugar is dissolved, chocolate is smooth, and glaze has reached a thick, but still-drippy consistency.
To Serve: Sprinkle cake with a bit of powdered sugar, spoon some of the glaze over the top, and shave a bit of dark chocolate on top of that. Enjoy!
* For shredded pumpkin: you can also use 1 lb of fresh shredded pumpkin and 1/2 lb of roasted pureed pumpkin which is what I did on Thanksgiving since I had some pumpkin already roasted.
**To remove cake from pan using the inverted plates method, just place one plate on top of the cake pan, and hold firmly in place. Flip both over and gently ease the cake out of the pan. Next, place another plate atop the cake and flip over to reveal the top side of the cake. Note, the cake should be well-cooked to perform this maneuver.