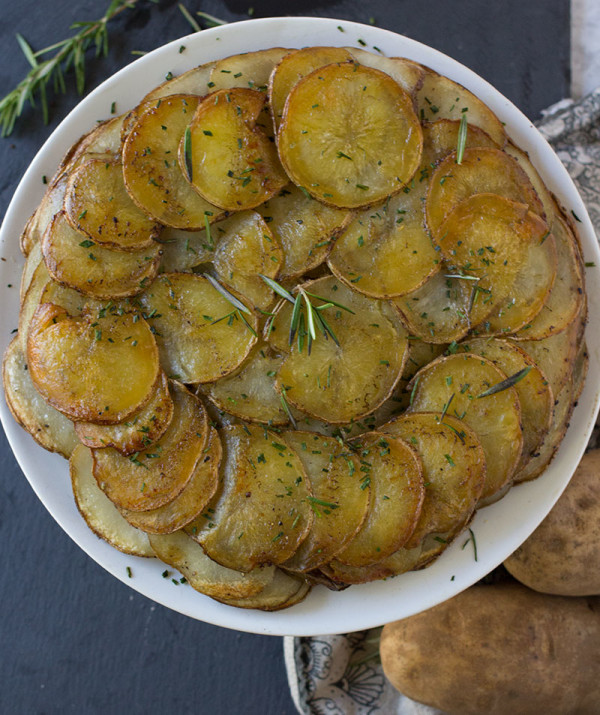 A potato galette is a classic French dish that looks fancy, but couldn't be simpler to make. This one has only three ingredients (five if you count salt + pepper) and is vegan, gluten free, paleo, and Whole30 approved. Potato galettes are fantastic as a side dish or even served with a lovely salad for lunch. They reheat beautifully and are beautiful on a brunch table as well. Jump Straight to the Recipe
Three Ingredient Recipe: The Potato Galette
I did what I always do when I'm stuck, I turned to Google. Today, I typed out the phrase "writing about potatoes". That's when I learned that there is a guy who will write a message on a potato and send it to someone for you. This guy, apparently, is making ten grand a month writing on potatoes. So, I guess the moral of this story is to never underestimate the power of a potato– a message which perfectly underscores the theme of this entire post.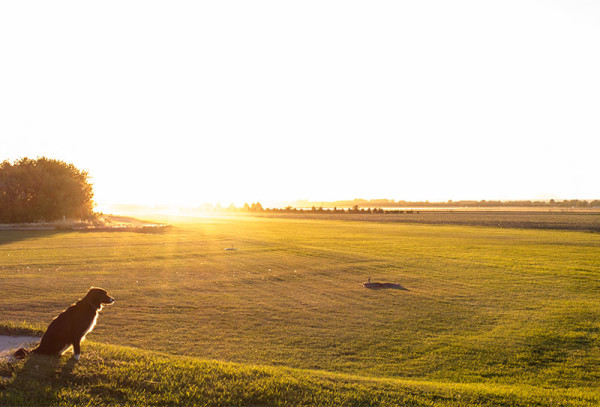 In late September, I hopped on a plane to hang out with a bunch of bloggers, chefs, and editors for four days courtesy of Idaho Potatoes. During my time in Idaho, I met some awesome folks, saw some old friends, and rediscovered my love for the russet potato.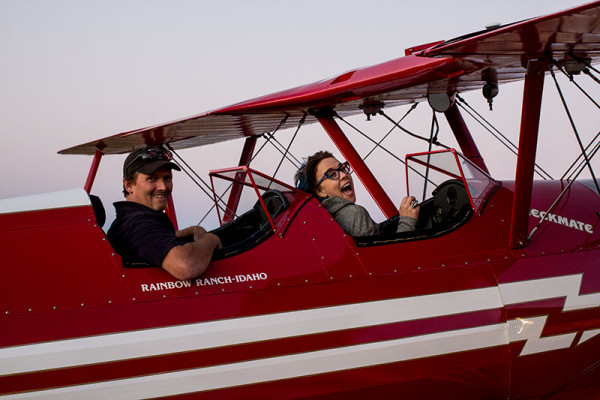 We visited Hoff Farms where the (completely awesome) Hoff family hosted us for dinner and fourth generation potato farmer, James, showed off his killer flying skills with Retro Rad Chef, Emily Ellyn, in tow. He even did a loopty loop!
We got to dig spuds at Tiede Farms and see what hundreds of thousands of potatoes look like when they're all stacked up in a storage shed. Holy cow, that's a lot of potatoes.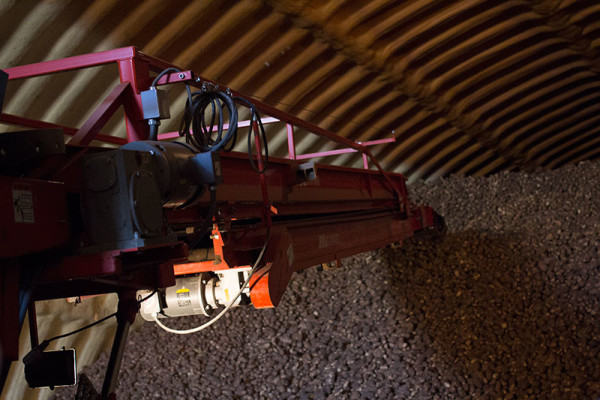 We also checked out a fry plant, a dehydrated potato plant, and a fresh packing outfit called Wada Farms where I learned a bunch about how potatoes get from the field to your plate. I was lucky enough to spend an hour with Brian Wada whose grandfather, Frank, fled Southern California to avoid being forced into a Japanese internment camp. Frank and his wife settled in Pinigree, Idaho and began farming on 160 rented acres. Now, they're growing 30,000 acres of farmland.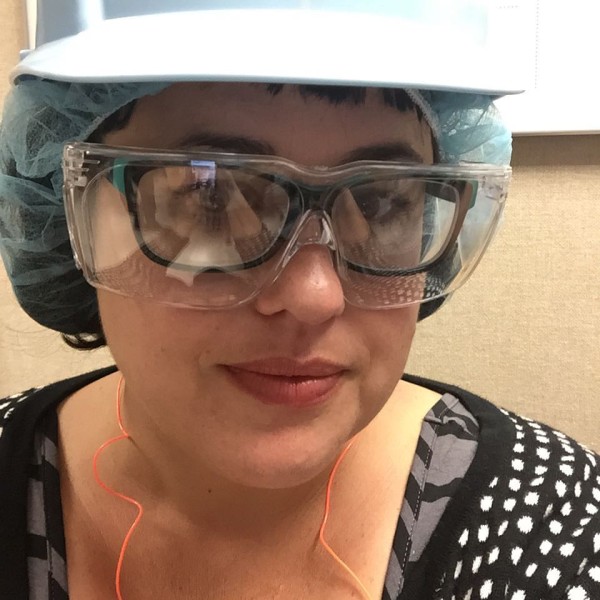 We ended our stay in the totally gorgeous Sun Valley, Idaho where we stayed in the Sun Valley Lodge. I felt like a princess in my spacious hotel suite. I swear, the bed was one of the best I've ever slept in. I've got to get back to the Sun Valley Lodge for a longer stay.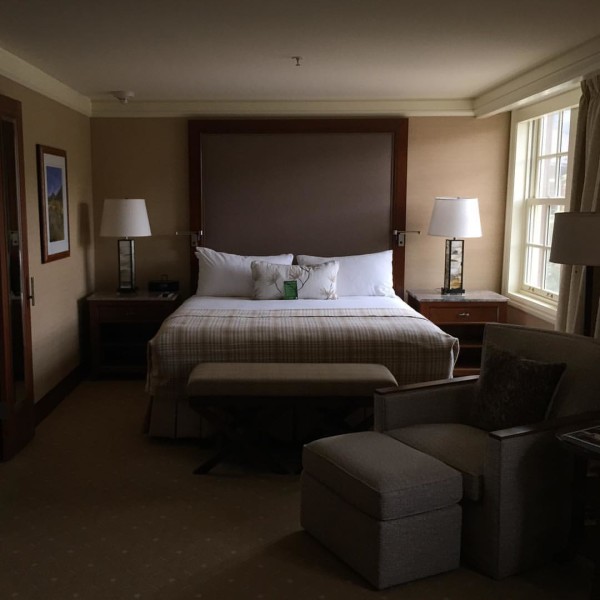 When I got home, I started brainstorming potato ideas. I thought of sharing gluten free samosas, or my favorite mashed potato recipe, and even considered potato donuts. But, when case of Idaho Potatoes landed on my doorstep about a week ago and I knew potatoes this fresh needed to be showcased in a simple dish.When I mentioned the idea of a russet potato galette, my husband's eyes lit right up, so a potato galette it was.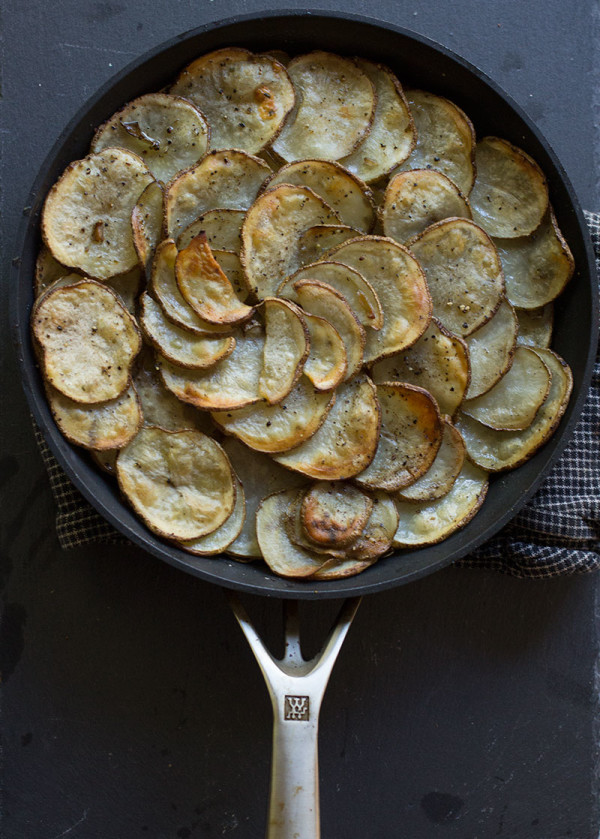 This gluten free and vegan potato galette is basically a savory cake made from thinly sliced potatoes. This very simple version only includes potatoes, olive oil, salt, pepper, and fresh herbs.
For the potatoes, it can be very helpful to use a mandoline or the slicer blade on you food processor. If you don't have those, you may use a knife and cut as thinly as possible.
Once you know the technique, you can dress up a potato galette with a variety of things. Try it with butter instead of olive oil and shredded cheese between each layer of potatoes for a decadent treat. It's also fantastic as base for proteins. I think this way is my favorite- served with a lovely green salad it makes a beautiful and simple lunch.

Prep time:
Cook time:
Total time: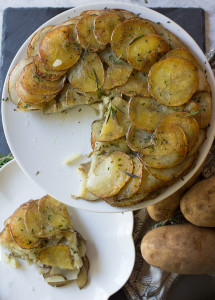 This simple Potato Galette has only a few ingredients, yet the dish is beautiful and impressive. Serve it at your next dinner party or enjoy it with a salad for lunch or on your brunch table
Ingredients
4 lbs russet potatoes, scrubbed, and sliced in ⅛ inch rounds
¼ cup olive oil
1-2 tablespoons of chopped herbs like parsley, rosemary, chives, and thyme
salt and pepper
Instructions
Preheat the oven to 400º
Rinse sliced potatoes with cold water and then pat dry to remove any excess moisture. Sprinkle the potatoes with ¼ teaspoon salt and ½ teaspoon pepper.
Brush a nonstick 9-10 inch skillet thoroughly with bit of olive oil and begin layering potatoes in a spiral shape. In between each layer, brush olive oil and sprinkle with salt, pepper, and herbs. Reserving some herbs for after the galette comes out of the oven.
Bake uncovered for 45-55 minutes. The top should be crisp and brown and the insides should be soft and almost creamy.
You can either serve it straight from the pan or invert it onto a plate. With either method, sprinkle the top of the galette with remaining herbs and serve piping hot.
Daily Gratitude
A warm cozy bed on a wet chilly night
Heating pads and advil
Melatonin
My sweet snoring husband
Earplugs
Check out these awesome potato dishes from some of my Idaho potato loving-friends:
Chicken Pot Pie Baked Potato from Carla at Chocolate Moosey 
Turmeric, Zucchini, and Potato Fritters from Lisa at Healthy Nibbles and Bits
Loaded Cheesy Potato Casserole from Faith at An Edible Mosaic
Travel was provided by Idaho Potatoes and the nonstick skillet comes from my friends at Zwilling J.A. Henckels. I received no monetary compensation for this post, and was not required to write about either my travel or my skillet. As usual, all opinions are my own. Thank you for supporting the brands I work with.
NaBlPoMo Blogger of the Day
Sean Timberlake who writes the blog, Hedonia and also runs Punk Domestics and the preserving channel on About.com. Sean and I met for the first time in 2011. He's a great friend, editor, and all around fabulous food resource. Be sure to pop over and visit Sean's sites today.