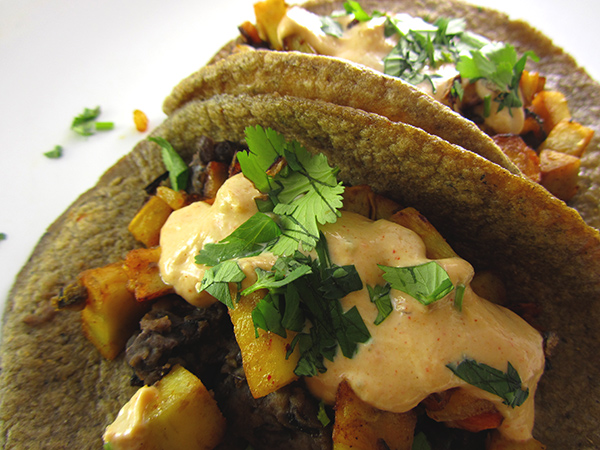 I live in San Francisco, so someone is always going on a cleanse. I hear of people drinking nothing but lemonade for ten to 40 days. Juice cleanses are super popular and admittedly delicious. I even watched a video of a woman who did three back to back 40-day water fasts. Well, she called it a cleanse, I call it starvation. Poor thing looked like she was about to die at the end.
Everyone has their own reasons for doing a cleanse. Some people site health, fitness goals, or the hope of relieving a particular ailment.  My story is a little different. A couple of months ago, I was browsing through some photos on my computer, and a picture came up from when I was on tour with my band. I noticed that my skin looked fabulous. Now, mind you, I'd been in an RV with four boys and two pit bulls for a number of days. I'd been staying up late and doing my share of drinking. The only difference was that I'd been eating incredibly healthy foods and had cut out meat entirely. I thought to myself, "It's time for another little bout of veggie time." The very next day, Groupon had a great deal on a vegan cleanse with a nutritionist at the helm, and I bit.
Now, some people may be content to eat plain lentils and quinoa with steamed kale, but not this tart. I can cleanse and still enjoy it. If I'm cutting out meat, eggs, dairy, gluten, alcohol, caffeine, refined sugar (uh, yes lard and butter and anything from Marin Sun Farms are included in that group) my food is going to be amazing. So far, even my red-blooded husband has been truly satisfied. (Well, we won't talk about the gluten-free vegan mac-n-cheese I tried to concoct when he was craving comfort food)
This is one of the first meals I made when I started the cleanse. These tacos are hearty- even a meat lover won't leave the table feeling hungry or wanting.   The recipe is easily doubled for a crowd, and it's just plain easy to make. The real key to success is patience while you're cooking the sweet potatoes and carrots- this is how you'll get that sweet caramelized flavor and satisfying crispy exterior. Be patient, and you're golden. Literally!
Just as a note: I recommend always using organic non GMO (genetically modified organisms) soy products and corn. Organic veggies are a plus too.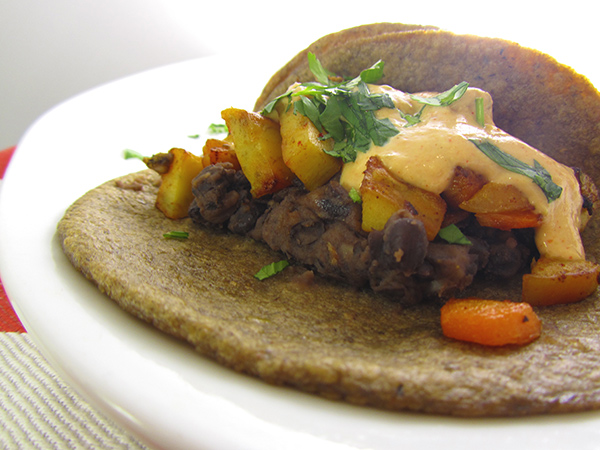 INGREDIENTS FOR VEGGIE TACOS
4 Corn Tortillas
1 large sweet potato peeled and cut into 1/4 inch cubes
2 carrots peeled and cut into 1/4 inch cubes
1 can of black beans (drained and rinsed)
1 yellow onion peeled and cut into ½ inch pieces
2 cloves of garlic chopped very finely
2 tablespoons grapeseed oil + small amount for coating tortillas
4 tablespoons coarsely chopped cilantro
1 tbsp vegan butter
1 teaspoon smoked paprika
1teaspoon ground cumin
salt and pepper to taste
small bowl filled with water
INGREDIENTS FOR SPICY TOFU CREAM SAUCE
1 serrano Chile
1 cup silken tofu
1 tablespoon smoked paprika
1 teaspoon cumin seed
3 tablespoons unsweetened rice milk (soy will work here too)
salt and pepper to taste
small amount of oil to coat Serrano chile
INSTRUCTIONS
Before chopping your veggies, rub serrano chile with grapeseed oil and place on a piece of tinfoil under the broiler. When the skin bubbles and gets black, turn the chile one quarter turn, until all sides are roasted.
Remove from the oven, place in a paper lunch bag and allow to steam for about 10 minutes so it will be easier to peel.
In the mean time, heat a large skillet on medium high flame. You'll know the pan is hot enough when you can drop a droplet of water into the pan and it skitters like a little ball moving across the pan before evaporating. If the droplet pools before evaporating, the pan is not hot enough.
Once your pan is hot, add the two tablespoons of grapeseed oil and tilt your pan from side to make sure the oil is evenly covering the whole pan.
Add the carrots, sweet potato, onions, and garlic to the hot skillet- do not disturb for about 3-5 minutes. Now, gently, lift a couple of pieces of the veggies to see if they come up easily and have a nice golden brown color. If so, they are ready to turn. If not, let them cook on that side a minute longer before checking again- this time in a couple of different spots in the pan.
Once golden, turn all of the veggies over gently, and repeat the process until cooked through- resisting the urge to turn them too often BUT… keeping a watchful eye so they don't burn. You'll do this on all sides (process takes about 15-20 minutes)
Preheat oven to 350º
In another small pot set to medium flame, melt vegan butter. Once melted, add black beans and smoked paprika and ground cumin. Mash about 2/3 of the beans with a potato masher, a fork, or a wooden spoon. Give them a try then add salt and pepper to taste. Once beans are heated through, turn the flame to very low and cover.
Quickly dunk corn tortillas in the bowl of water then rub with a little grapeseed oil. Put each one directly onto the oven rack and cook for 30 seconds to one minute or until tortilla is soft and heated through. The timing will depend on the thickness of your tortilla.
Build tacos with tortillas on bottom, top with some beans, then some veggies, then some tofu cream sauce, and sprinkle with cilantro
INSTRUCTIONS FOR THE SPICY TOFU CREAM SAUCE
Peel and seed the roasted serrano chile (if you like a lot of heat, you can leave some of the seeds in, if you like less heat, add only a little of the chile, You can always add more if you like.)
Add silken tofu, serrano chile, smoked paprika, cumin seed, and unsweetened rice milk to the bowl of a food processor or to a blender and process until smooth and delightfully creamy.
Season to your taste with salt and pepper.
Makes 4 tacos