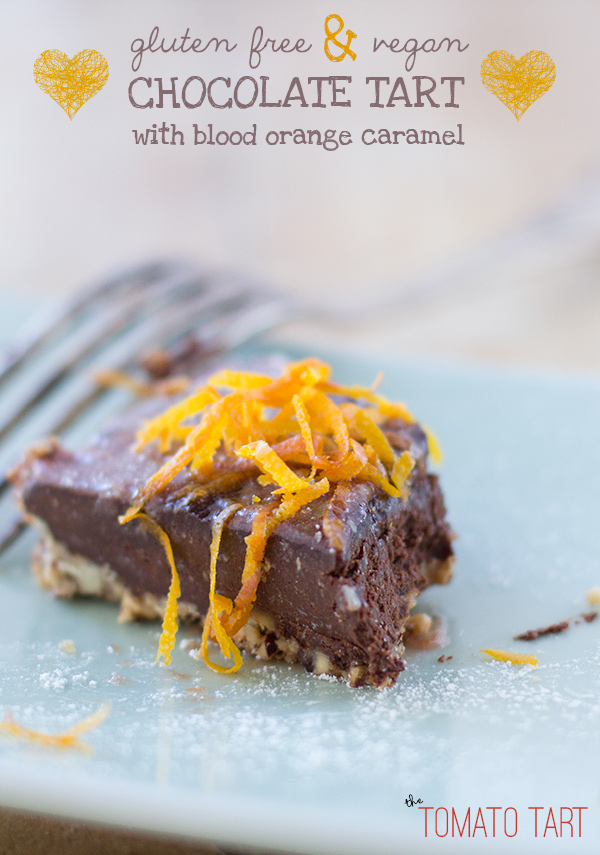 Gluten Free Chocolate Tart with Hazelnut Crust and Blood Orange Caramel
When I was about six, I worked it out in my head that if August 4th was my birthday, February 2nd must be my half birthday. While I wasn't exactly right about that, you've got to love the logic behind it. Fast forward 20 years to August 28th, 1999- that was the day I met my future husband. So, by my six year old logic, February 14th is our "halfiversary" and we celebrate it accordingly.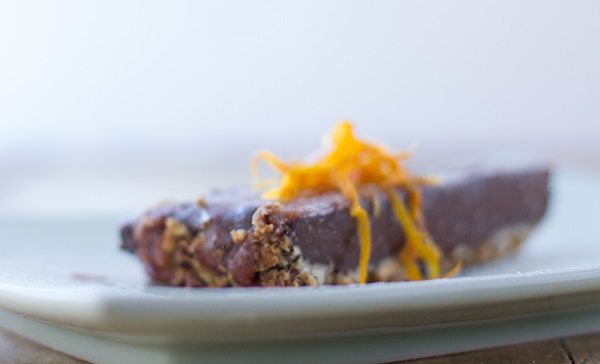 I am one of those people that adores Valentine's Day- not the stuffed teddy bears with "I Love You" t-shirts and not the cheesy Hallmark cards. Honestly, it's not even the excessive amounts of chocolate we're allowed to consume. I love Valentine's Day because it's one day, set aside each year, to celebrate love in all its many forms.
Sharing homemade foods is one of my favorite ways to express my love for friends, family, and my man. I feel such joy when I get to see someone I care for savoring a bite of something I've made for them.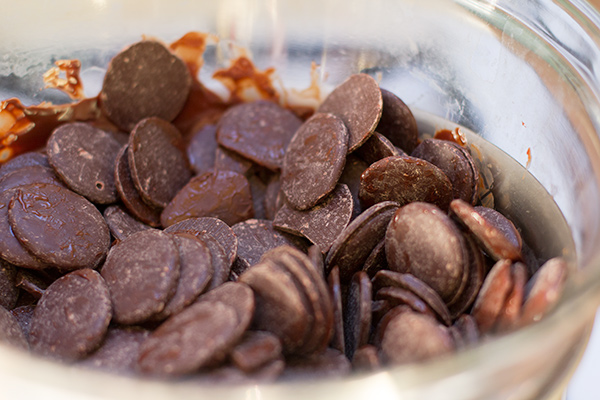 Two years ago, Joshua and I celebrated Valentine's Day with heart-themed dinner (quite literally). Last year, I surprised him with vegan strawberry cashew smoothies and champagne and roses caramel. This year, I've created an amazing gluten free chocolate tart, a decidedly decadent one. You see, Joshua loves chocolate—when I say "love" I mean it. When he was a boy, he could sniff out the chocolate bars his dad tried to hide in a hidden jacket pocket. When we were first living together, I watched him devour most of dark chocolate mousse cake and then bounce off the walls until he nearly threw up (just like an overgrown six year old). The man loves chocolate.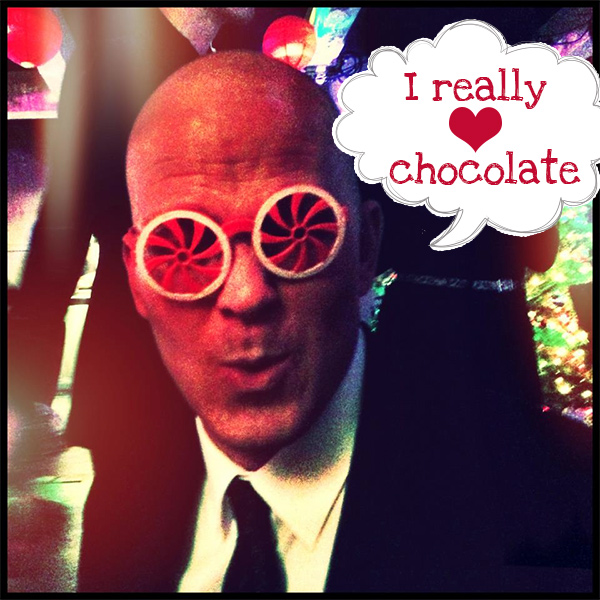 This dark chocolate tart is a perfect fit for us- dark chocolate for him and a blood orange caramel for me all wrapped up in a crunchy nutty crust. This tart is also beyond simple to make. The only baking you do is 10 minutes for the tasty and simple gluten-free crust. So instead of spending your whole afternoon slaving over dessert, you can sneak in a little makeout session or paint your toenails or call your bestie or iron your sheets (or well, you get the picture). The rest is just a bit of stirring and a bit of chilling (while you chill).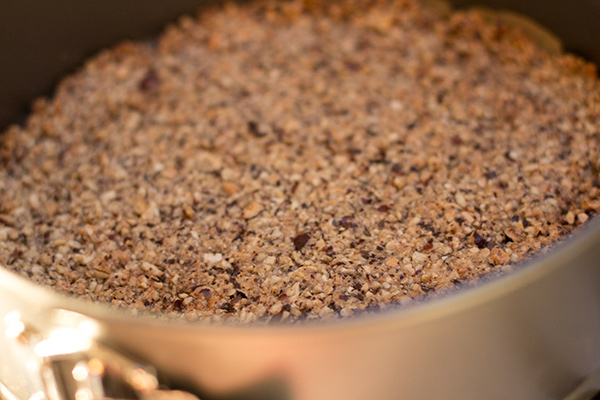 The key to this tart is to use the very best ingredients you can get your hands on. I used Tcho 66% baking disks, local blood oranges, and gorgeous raw cashews and hazelnuts. If you'd prefer to use almonds or pecans, they would also be amazing. For the blood orange caramel, you might experiment with other varieties of citrus like grapefruit, lemon, or even yuzu. Go wild with this one, after all, it's Valentine's Day.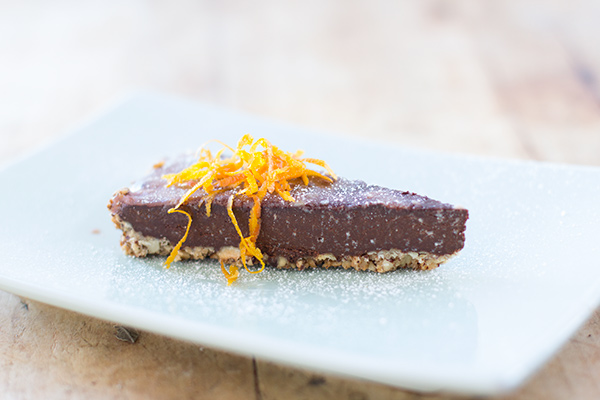 Love + Tarts = a Really Good Day
Happy Valentine's Day, friends
X
Sabrina
Gluten Free Crust Ingredients
1 cup hazlenuts
½ cup cashews
1 tablespoon vanilla extract
2 tablespoons coconut sugar
3 Tablespoons melted coconut oil
Crust Instructions
Set a rack in the center of the oven and to 375º
Line a well-greased springform pan with a parchment paper circle that's cut about two inches larger than the bottom of the pan so that the parchment comes about 1.5 inches up the sides.
In a food processor, pulse together hazelnuts, cashews, vanilla, sugar, and melted coconut oil. The mixture should be crumbly with no large pieces of nuts.
Press nut mixture into springform pan. It should be about ¼ to ½ inch thick and come up the sides of the pan only about ½ inch.
Bake for 10 minutes- the nuts should be golden and fragrant.
Vegan Chocolate Ganache Ingredients
1 pound (450 grams) of excellent quality dark chocolate- either baking disks or coarsely chopped.
1 cup of coconut milk
1Tablespoon of vanilla extract
3 tablespoons coconut oil
Vegan Chocolate Ganache Instructions
In a double boiler or in a heat safe bowl set over a pan of boiling water, melt the chocolate- using a wooden spoon (no metal!) to stir.
In a separate pan, bring the coconut milk and vanilla to a rol
ng boil.
Vegan Blood Orange Caramel Ingredients
1 cup fresh squeezed blood orange zest *
The peel from one blood orange with as much as possible of the bitter white pith removed,
1 cup organic coconut sugar
1 cup coconut milk
1 tablespoon vanilla extract
¼ cup coconut oil
Vegan Blood Orange Caramel Instructions
In a heavy saucepan over high heat, bring juice and sugar to a boil- stirring with a wooden spoon.
Meanwhile, in a separate pan, heat coconut milk and vanilla extract to a low boil.
Lower heat of the orange juice mixture to medium-high and add peel. Stir occasionally with a wooden spoon until temperature reaches 285º.
Remove from heat and add the shortening, 1/3 at a time. Stirring gently with the wooden spoon to incorporate. Add the hot coconut milk in a slow stream and stir.
Return caramel sauce to stove and cook for another 10 minutes, stirring frequently.
To assemble tart: pour ganache into cooled shell and refrigerate for at least one hour.
Top with blood orange caramel sauce and refrigerate for 2 hours or overnight.
To serve: dust with cocoa powder and orange zest or top with orange vanilla bean whipped cream
*pro tip
Whenever you're juicing citrus, be sure to zest it, first. You can lay the zest flat on a baking sheet in the freezer. Once it's nice and frozen (a couple of hours) put the zest in a baggie and keep it in the freezer for whenever you need citrus zest.
Some amazing vegan chocolate treats for your enjoyment
Chocolate Dipped Strawberry Bouquet
Vegan Chocolate Truffles (3 Flavors)