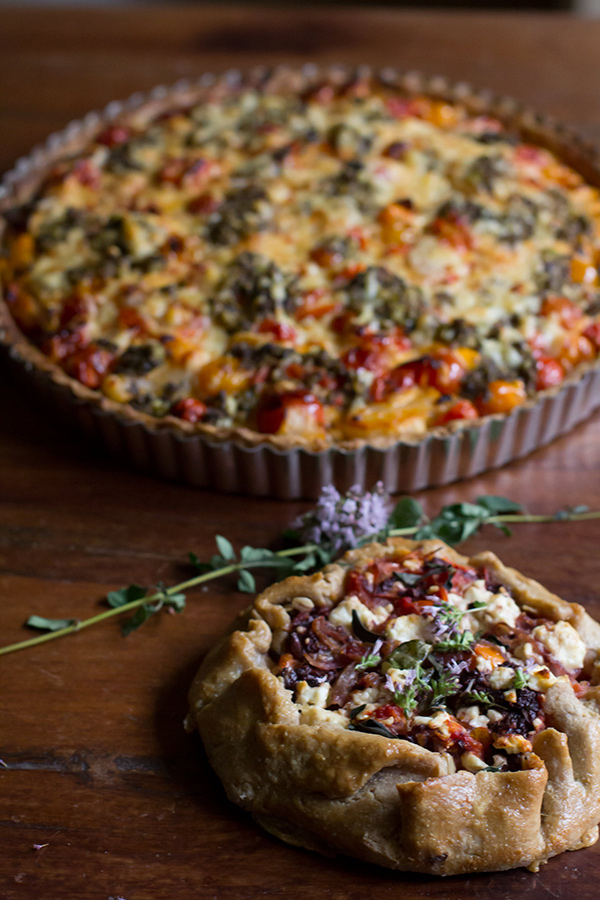 Mediterranean Gluten Free Tomato Tart with Whole Grain Gluten Free Crust
Maggy and I are both getting a little sweaty in the heat of Becky's Salt Lake City Kitchen.  The tomatoes are roasting, the olives have been pulsed into garlicky, briny, tapenades, and Becky is snapping away as Maggy and I work the dough for our two tomato tarts.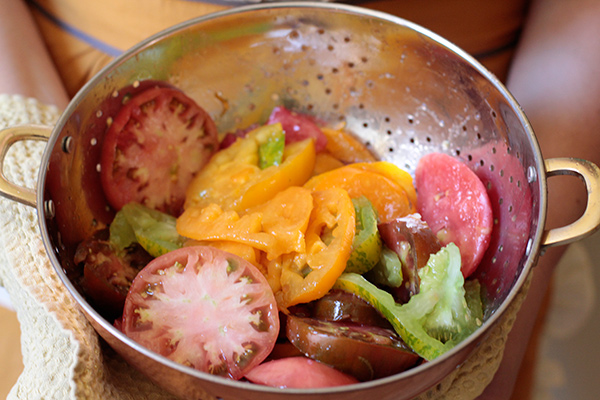 It started as an idea to highlight summer's best seasonal ingredient (the tomato, duh!), a way for a few food-blogging girl friends to make lunch together, and then Becky (of The Vintage Mixer fame) had to go suggesting we turn this thing into a competition. Friends/Judges were called, lines were drawn in the sand, and the tomato tart-off was invented.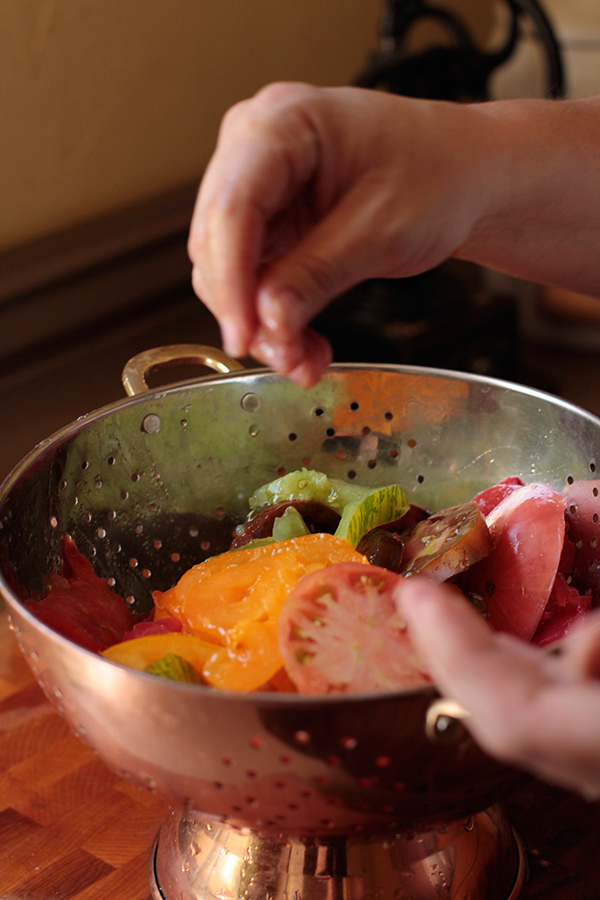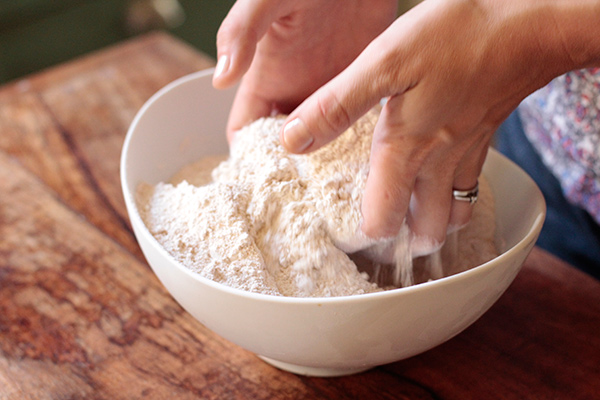 With the competition heating up, Maggy and I worked feverishly, tasting each component of our tomato tarts. A little salt here, a smidge more vinegar there. I kept my eye on her making sure she wasn't bribing the judge when I turned my back. I mean, I wouldn't put anything past her.  She may be adorable, but that girl is one fierce competitor. Luckily Becky was monitoring both of us- who can say whether I may have winked once or twice at our friendly judge, Mike, if she hadn't been keeping tabs.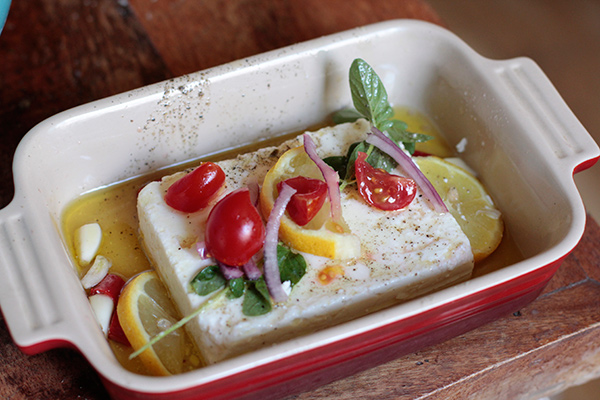 Maggy's tart crust was blind baking and the butter wafted its golden scent from the oven. Sealing the empty shell with an egg wash prevented the dreaded soggy bottom and readied the crust for a glorious creamy chèvre interior. When I snuck a taste of the muffaletta tapenade Maggy created for the base of her tart, I started to get a little nervous. Big and flavorful, it was salty, crunchy, lemony, and bursting with garlicky goodness, I just wanted to stick my face in the bowl and eat it.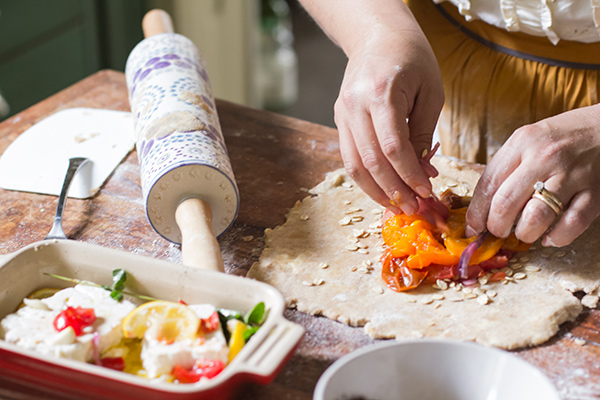 My tapenade, was totally different- a bit spicy from Becky's home grown cayenne peppers, briny with rich black kalamata olives and just a hint of garlic- the lemon zest shining through at the finish.  I took a moment to revel in the way similar ingredients can taste so wildly divergent in the hands of different cooks.  My tomatoes, cut thick, and roasted on a bed of red onions were sweet as any summer fruit. In my gluten free tomat tart (or galette if you will) the cheese would not take center stage, but would merely festoon the top. I chose French feta made from sheep's milk. I marinated it in fresh spicy cayenne, red wine vinegar, fresh oregano, lemon zest, and garlic.  Marinating cheese is one of my favorite tricks in the kitchen, and I was happy to pass it on to my girls.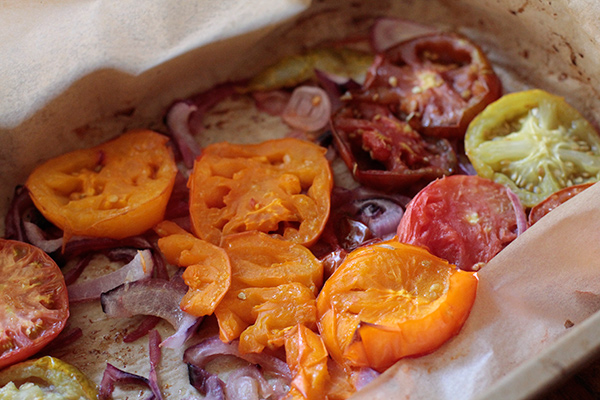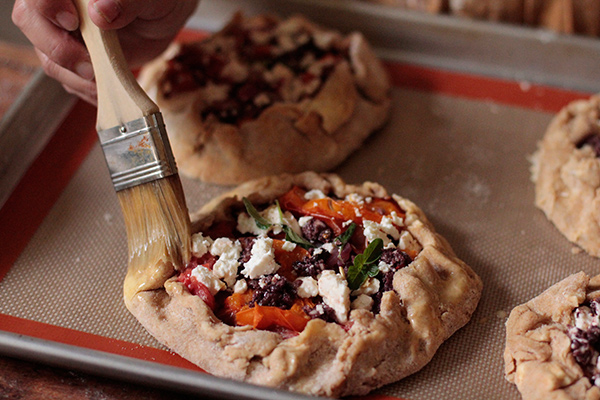 With the tomato tarts baked, there was only one thing left to do… eat. No that's a lie. We're food bloggers! Before we ate, there were photos. Lots and lots of photos- and how about the food styling? Check out the oregano flowers from Becky's garden and speaking of oregano, isn't my moustache spectacular?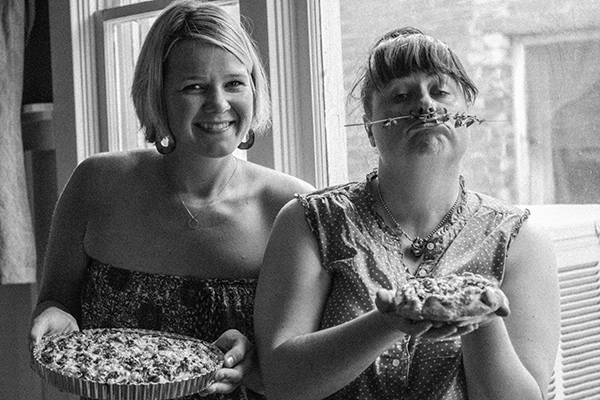 When we sat down to eat, I bit into Maggy's creamy cheesy tart then tasted my light and easy tomato galette. They couldn't be more different. Our judge had his work cut out for him. Becky stayed mum on her favorite while Mike hemmed and hawed. He called Maggy's the tart he'd like to eat every day and mine the tomatotier tomato tart. Too nice to declare a winner, Mike asked for more criteria. Finally Becky's husband Josh stepped in. Since he didn't know who made which tart, he had no problem choosing the goat cheese and tomato tart a winner.  Crushed!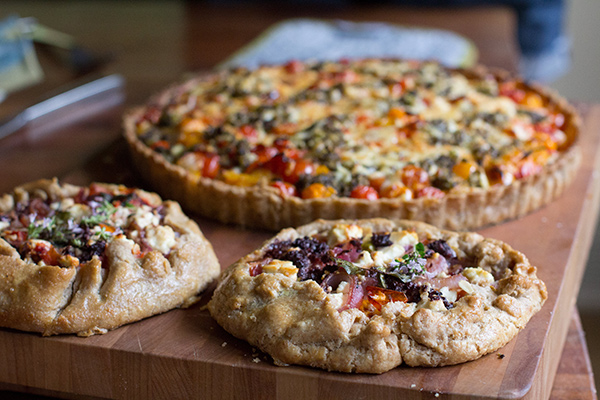 So of course, Maggy Anderson Keet, I'm demanding a rematch. Any time, any kitchen, a panel of judges, and lots of vino. I must be a glutton for punishment or at least for Maggy time.
All photo credits on this page belong to Becky Rosenthal and I. Thanks Becky for the use of your amazing kitchen, your awesome friends, and your husband's discerning palate. Check out the recipe for Maggy's tart here.