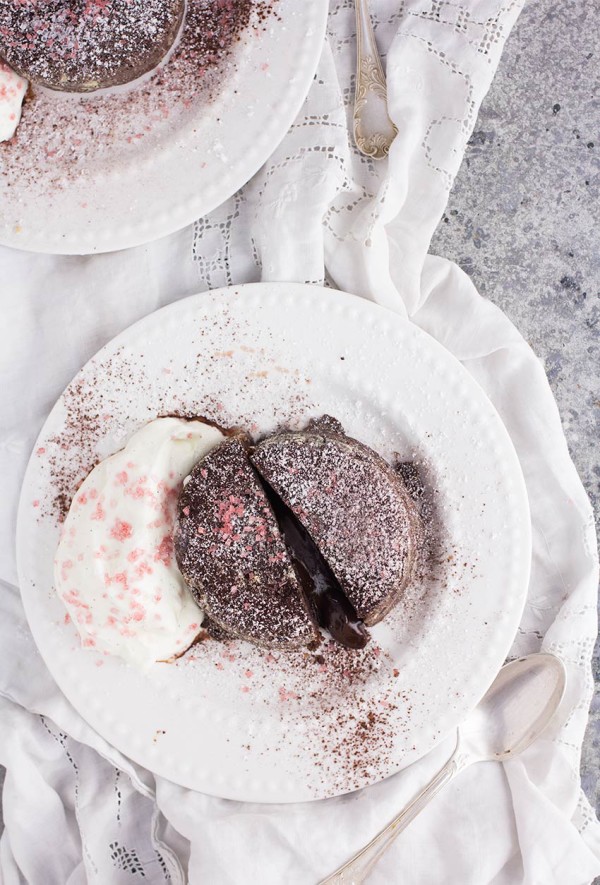 It all started at the Peppermill where my mother would purchase a box a box of glamorous chocolate covered peppermint sticks at the end of our meal. I was allowed to eat one in the back seat of our Dodge Dart on the way home. I held the long dark chocolate stick between my index and middle fingers and emulated my grandmother who smoked Mores, the long dark brown cigarettes so fashionable in the 1970s and 80s.
I really became hooked, though, after trying the ever-so-elegant After Eights mints that the adults in my family seemed to stash out of reach of little hands. The bracing mint interior and the dark chocolate were almost too grown up for my tastes, but in a way that made me want to try just one more bite.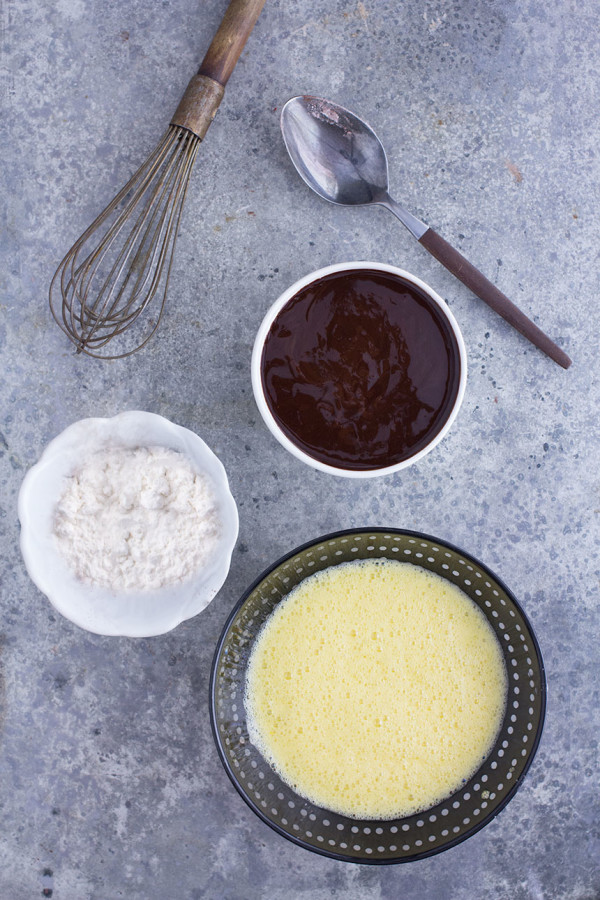 No matter the catalyst, chocolate and mint have long been a favorite. In ice cream, mint chocolate chip is my go-to favorite. I believe hot chocolate is one million percent better with a few drops of peppermint oil and one of the first cocktails I ever invented was a boozy minty hot chocolate that became a holiday tradition in my family. There's something about rich chocolate and fresh mint that says holidays to me!
So, when my friends at Pamela's Products reached out to me to create a gluten free holiday recipe with Pamela's All Purpose Gluten Free Flour Blend, I immediately thought chocolate and peppermint. When brainstorming ideas with my husband, I said "Oh, what about gluten free chocolate lava cakes" His face lit up and I knew I'd found my recipe.
If you've never had a lava cake, (wait, has anyone not had a chocolate lava cake) it is a small warm chocolate cake that has a crispy brownie like exterior, but the magic happens when you cut into it. A chocolate lava cake is true to its name in that it has a molten chocolate center that flows out onto your plate.
I remember the first chocolate lava cake I ever ate, it was at a restaurant called Wildfire. My friend Two Moons was a sous chef there, and he sent out this wonder of a dessert at the end of our meal. My mind was blown as I stuck my fork into the plain looking chocolate cake and then a gorgeous flow of chocolate burst free. I was hooked. Since then, I've had my share of lava cakes, some of them sublime, some just okay. But guess what, even the most meh lava cake is pretty darned awesome. Kind of like pizza or Bradley Cooper movies.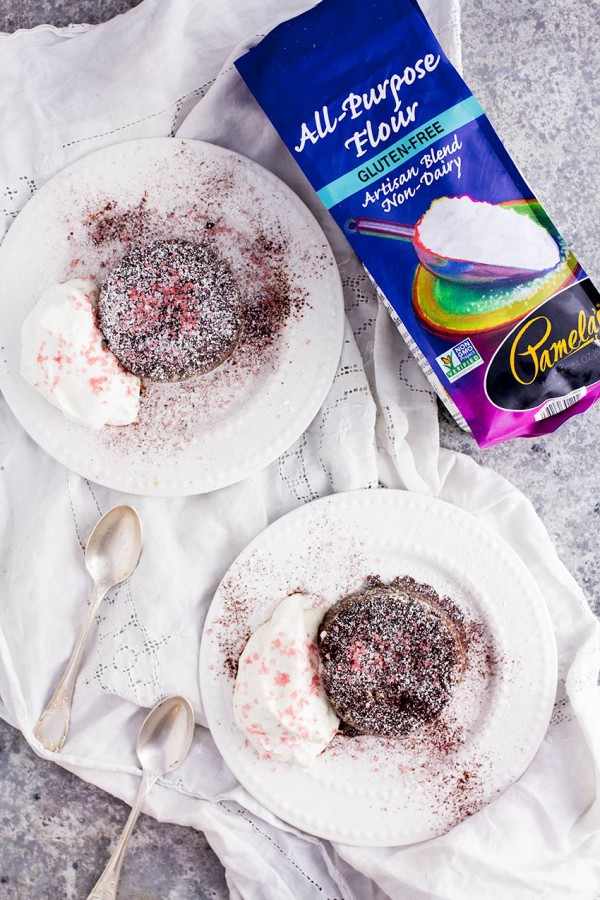 You may have thought my lava cake-eating days ended in 2012 when I had to say goodbye to gluten, but it turns out, the gluten free chocolate lava cake is a simple feat! With only a few ingredients, and a couple of simple techniques, the only tricky thing about gluten free molten lava cakes is the timing. I recommend having an oven thermometer on hand and also doing a test batch before making this one for a special occasion.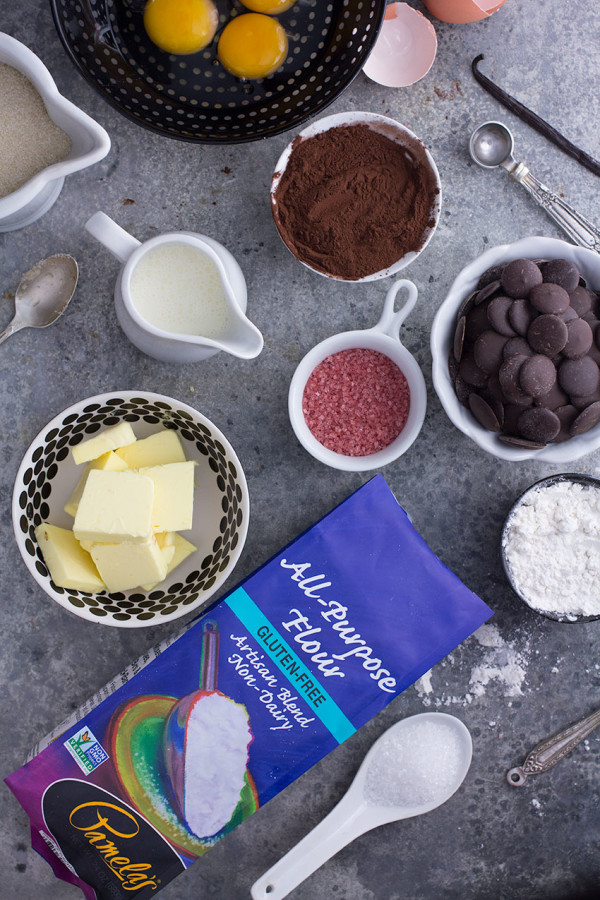 This gluten free chocolate lava cake with peppermint vanilla whipped cream reminds me of a chocolate dipped candy cane. The peppermint is subtle and the vanilla rounds out the mint flavor. Start with the small amount, and then you can up the peppermint to to your taste. Once you've made this holiday peppermint version of the gluten free molten lava cake, get creative. You can omit the peppermint, and instead make it with almond extract or pure orange oil. Of course it's perfect without any additional flavoring at all. You can serve this with the candy cane whipped cream or with ice cream for a hot/cold temperature sensation!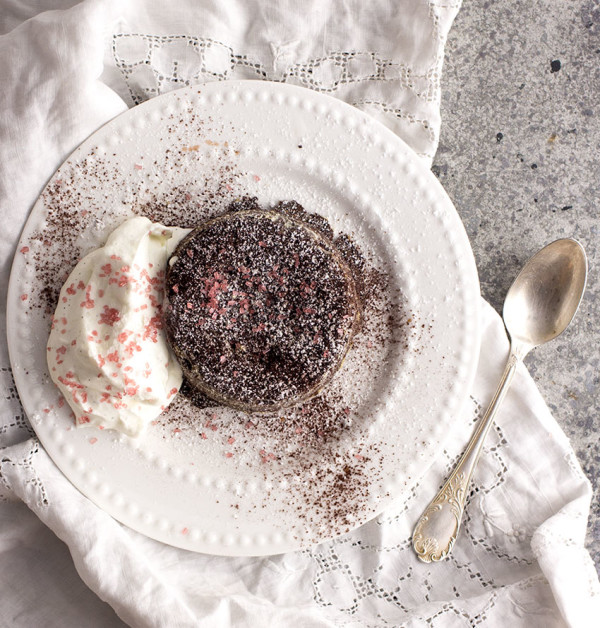 This peppermint spiked gluten free chocolate lava cake is based on a recipe from Jean Georges Vongerichten, who is said to have popularized the chocolate lava cake in the United States at his famous Jean Georges restaurant. If you're gluten free, it's unlikely you'll ever try one made by Jean Georges himself, but this is a direct interpretation of his recipe- adapted for the home kitchen. Since the ingredients are so few and so simple, the quality really matters, I used good grassfed butter and cream, 64-72% cocoa chocolate, a fresh plump vanilla bean, pure peppermint oil, and Pamela's Gluten Free Flour Blend.
This post is sponsored by Pamela's Products. While I received both product and compensation in exchange for this post, my opinions are entirely my own and are not for sale. I only work with brands I love and I hope will be useful for you, my reader. Thanks for supporting the brands that help make this site possible,

Rating 5.0 from 2 reviews
Prep time:
Cook time:
Total time: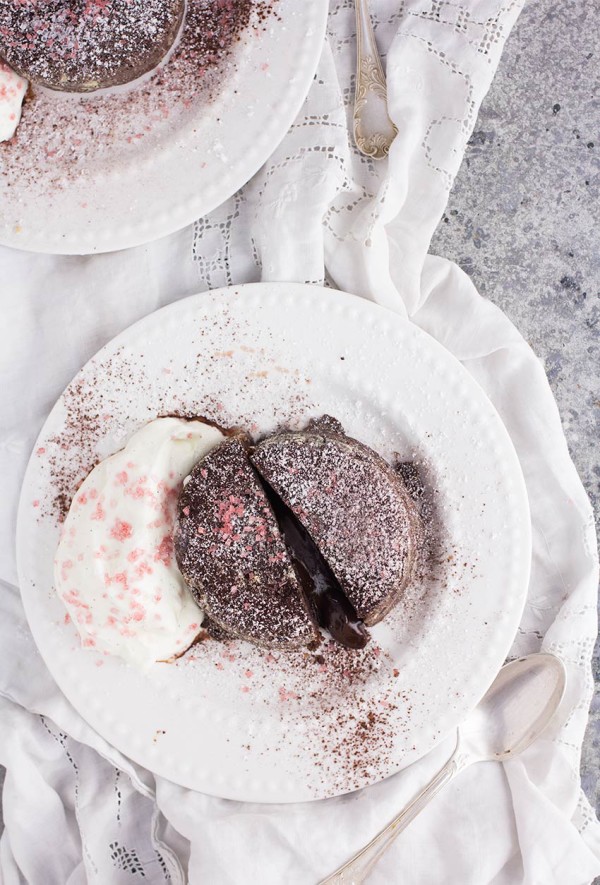 This gluten free chocolate lava cake is flavored with peppermint and topped with candy cane flavored whipped cream. This cake is all about timing and good simple ingredients. You can prepare the batter and refrigerate up to 24 hours before baking. If you refrigerate the batter, allow it to come to room temperature before baking.
Ingredients
Gluten Free Chocolate Lava Cakes
1 stick (4oz) grassfed unsalted butter (plus more for greasing ramekins)
4 drops peppermint oil
6 oz dark chocolate, either chopped into small pieces or baking discs
2 eggs and 2 egg yolks
⅓ cup organic sugar
pinch of salt
2 tablespoons Pamela's Gluten Free Flour Blend (plus more for coating ramekins)
Candy Cane Whipped Cream
1 cup heavy cream
3 tablespoons powdered sugar
1 vanilla bean, scraped
2-4 drops peppermint oil
For Garnish (all optional)
Cocoa powder
Powdered sugar
Pink and white decorating sugars
Instructions
For The Cake
Preheat the oven to 450º and grease and flour four ramekins very thoroughly.
In a small saucepan over low heat, melt butter then add chocolate and peppermint oil to the pan. Stir often to incorporate chocolate as it melts. Be patient and avoid the temptation to turn the heat up and remove from the heat as soon as everything is melted. Once everything is melted, taste and adjust peppermint oil as needed
In a medium sized bowl, whisk together eggs, egg yolks, sugar and salt until the mix becomes light yellow, fluffy, and thick. Add in the chocolate in a slow steady stream, mixing as you pour. Finally sprinkle the flour on top and stir in until just incorporated.
Place the ramekins on a baking sheet lined with a silicone mat (this helps prevent sliding). Bake for 11 minutes (until outside is set, but inside is still well) then remove from oven immediately. Leave the ramekins on the counter for 1-2 minutes then place a dessert plate over each ramekin and flip. Once the plate and ramekin are flipped, rest for 10 seconds then lift the ramekin. Voila! The cake should be unmolded and hold its shape. Serve dusted with cocoa powder, powdered sugar, and decorative sugar
Candy Cane Whipped Cream
While cake is baking, pour cream into a glass bowl and place it in the freezer along with a whisk. Leave in the freezer for 10-15 minutes.
Add powdered sugar, vanilla bean seeds, and peppermint oil and whisk until soft peaks form. Serve sprinkled with pink sugar for a candy cane effect.