These gluten free apple hand pies are not the deep fried, sickly sweet, frosted things you grew up with. These hand pies have a sophisticated tang and warm oak flavor from the chardonnay spiked apples and caramel. Just sweet enough, these hand pies are fantastic on a dessert table or just enjoyed with a glass of wine. Jump Straight to The Recipe
GLUTEN FREE APPLE HAND PIES WITH CHARDONNAY CARAMEL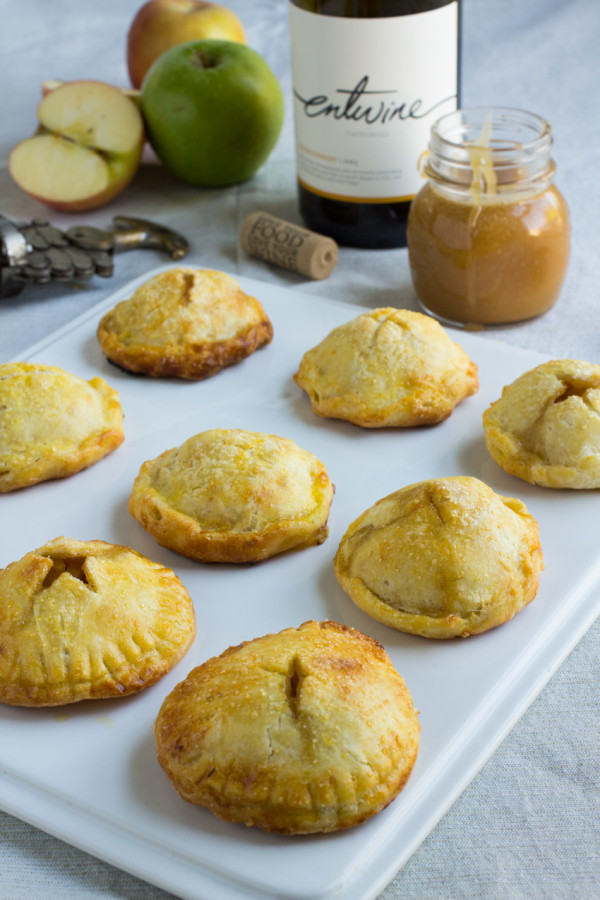 This post is sponsored by
 Entwine
by Wente Vineyards. Though I have received compensation and product for this post, my opinions are entirely my own. I only work with brands I love and feel will be useful for my readers. I am happy to drink and cook with this certified sustainable, family-owned wine!
There are certain things you just don't say no to. For example:

A date with Clooney
Breakfast in bed
Paris
A date with Clooney that involves breakfast in bed in Paris
And hand pies.
When someone offers you a hand pie, the answer is always yes, yes, and more yes!
While sitting on a plane to Idaho, I decided to make the most of my "downtime" by brainstorming some ideas for recipes for my friends at Wente Vineyards who, with the folks from Food Network, make the fabulous Entwine. I came up with 30 or so ideas- from the classic (Dover sole with chardonnay beurre blanc) to the kitschy (homemade fish sticks with white wine tartar sauce). But the very first item on the list, with three stars next to it, was apple hand pies with chardonnay caramel. And what do you know, when I ran the ideas past the folks at Entwine, they couldn't say no to apple hand pies either.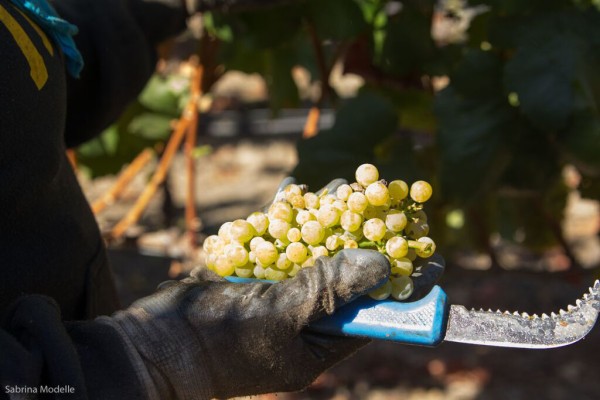 About a month ago, I had the chance to hang out at Wente Vineyards during harvest. I followed workers in the fields at 5am for hand picking, ran after a harvester— amazed at how beautifully resilient grapevines are, and walked through the barrel room with Chefs Rupa Bhattacharya and Robert Bleifer of The Food Network. We tasted every step of the way— from the vine to the bottle. The education I received in just one day of "behind the scenes" was extraordinary. At the end of the very long day, we ate and laughed and ate some more.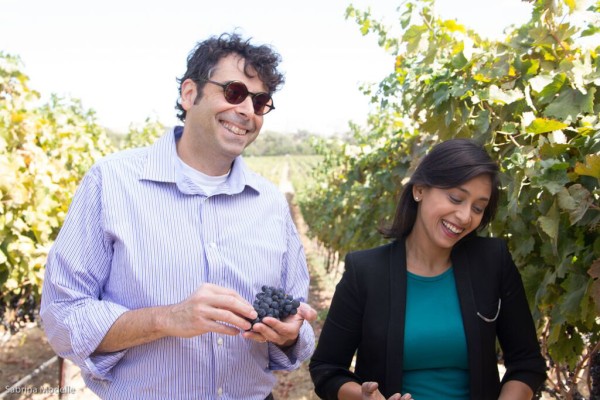 I work hard- with a full time job, a freelance career, and this blog, there is not a whole lot of downtime in my life. That being said, I am so lucky that I really love my work. I have some of the nicest clients on the planet. And my work… well for work I get to travel to beautiful places, drink wine, and make hand pies. Not bad— not bad at all.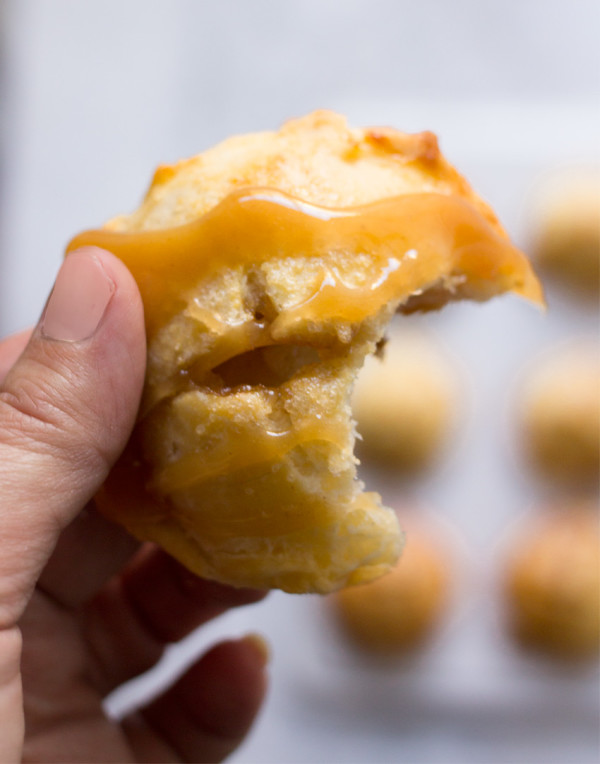 These gluten free apple hand pies are not the deep fried, sickly sweet, frosted things you grew up with. These hand pies have a sophisticated tang and warm oak flavor from the chardonnay spiked apples and caramel. Just sweet enough, these hand pies are fantastic on a dessert table or just enjoyed with a glass of wine.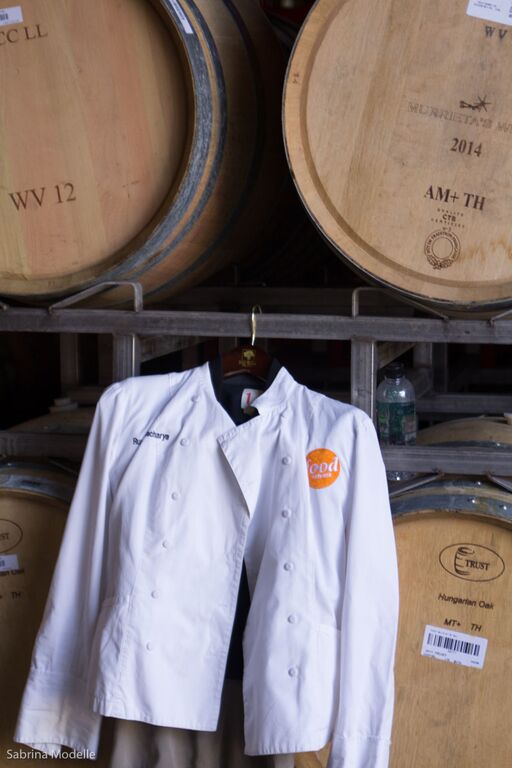 The pastry crust for hand pies should be flaky, light, and buttery with a texture that compliments the filling. I have good news, these gluten free hand pies are hands down (pardon the pun) the very very VERY best I've ever made. The gluten free pastry is layered and flaky, it's also so easy to work with. I was able to beat it up some- re-rolling pie dough scraps several times. You can either do turns on the pastry or use it straight from the fridge. Both work really well. If you choose to do turns, the pastry will be flakier and a bit closer to turnover dough or puff pastry. It's still amazing without the turns. I tested it both ways and both are scrumptious.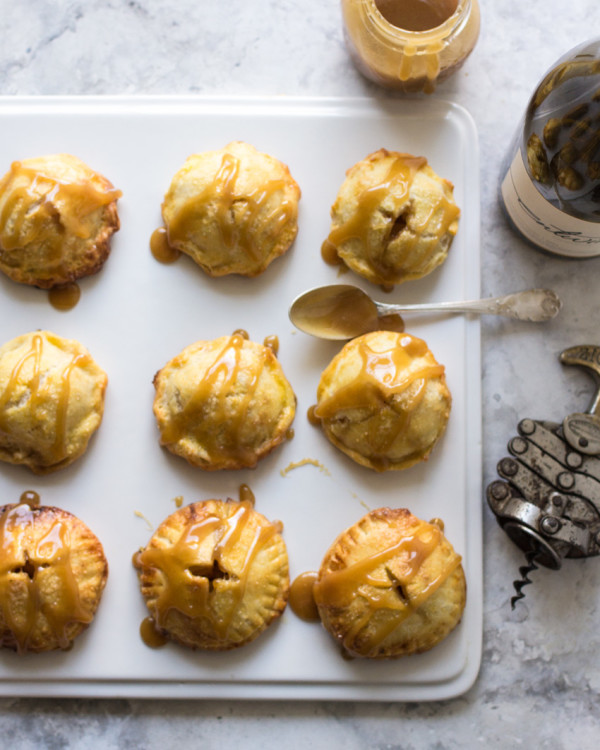 Rating 5.0 from 1 reviews
Prep time:
Cook time:
Total time: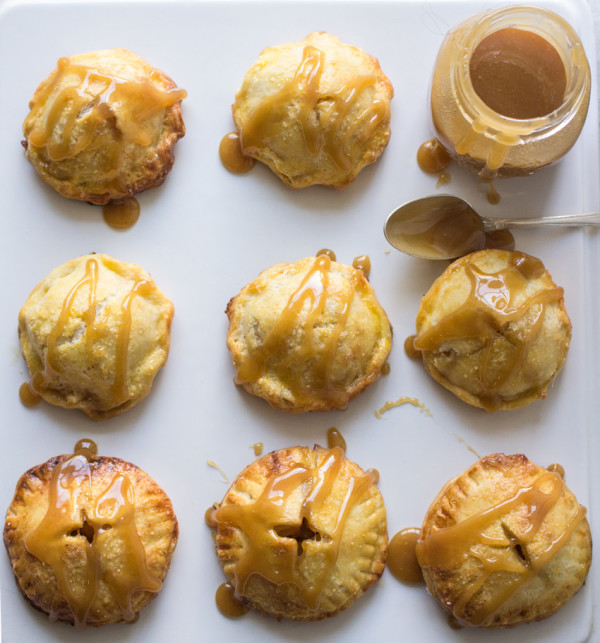 These gluten free apple hand pies are all grown up! With beautiful California Chardonnay in the filling and the caramel, these are that sexy version of the pies you grew up with.
Ingredients
Hand Pie Crust
12oz Gluten Free Flour Blend (with xanthan gum) I used Cup4Cup straight from the freezer.
3 teaspoons sugar
a pinch of salt
8 oz unsalted butter, cut into small chunks and frozen for at least 20 minutes
2 egg yolks divided
2 tablespoons sour cream
1 tablespoon apple cider vinegar
2-6 tablespoons ice water
1 egg yolk lightly beaten with water
sugar for sprinkling
Apple Filling
Four apples (I used Granny Smith, Jonagold, and Honey Crisp) peeled, cored, and cut into ½ inch dice.
¼ cup sugar
1 teaspoon cinnamon
1 pinch salt
2 tablespoons Entwine Chardonnay
Chardonnay Caramel
1 cup Entwine Chardonnay
1 cup sugar
1 tablespoon lemon juice
¼ cup water
1 pinch of salt
¾ cup heavy cream
1 tablespoon vanilla extract
3 tablespoons butter
Instructions
Make Pie Dough
Whisk together flour, sugar, and salt then dump the flour mix onto a cold work surface and sprinkle the butter over the top. Use your rolling pin to roll the flour into the butter.
You'll need to put your back into it, pressing, and rolling, and pressing and rolling- stopping every few rolls, to gather your flour and butter back into the center of your work surface. Keep a this until you see fine sheets of butter and flour and all of the butter is evenly covered in flour.
Using a bench scraper, gather up the dough into a pile at the center of your work surface and create a well in the center. In a bowl, whisk egg yolk, sour cream, apple cider vinegar, and 2 tablespoons of the ice water then dump the mixture into the center of the well- using your bench scraper, scoop the sides of the flour into the center. You'll need to work quickly, as the water will want to escape, but you'll get the hang of it; it's actually a fun little race! Continue incorporating the liquids into the flour and butter, adding a tablespoon of water at a time until your dough looks shaggy and feels a bit sticky.
Gather your pie crust up into two equal sized balls and press into little disks, then roll out to about a one inch thickness and do a quick three-fold just like you'd fold a letter. This first fold will start giving you really flaky layers. Wrap your dough tightly in plastic wrap and refrigerate for at least one hour before doing another turn or you can use your chilled dough to make pies right away.
Make Filling:
Melt butter in a large skillet over medium heat, add apples and stir to incorporate. Sauté for 3 minutes before adding sugar, cinnamon, and salt. Cook for another 2 minutes then add Chardonnay and finish cooking for another 5 minutes until apples are soft and liquid has thickened. Cool completely before adding to rolled out pie dough.
Assemble and bake the handpies
Roll pie dough into a rectangle, about ¼ inch thick. Use a 3 inch ring mold, a glass, or the lid of a small mouth canning jar to cut circles from your dough. You should get 24 three inch circles.
Fill circles with a heaping tablespoon of cooled apple pie filling leaving a border around the edges. Dot the edges of the crust with cold water and press an unfilled circle on top. Cut a small X in the center of the top of the pie and use the tines of your fork to crimp and seal the edges. Freeze handpies for at least 20 minutes before baking.
Preheat oven to 375º and line a baking sheet with parchment. Brush tops of hand pies with egg wash and sprinkle with sugar. Bake 18-20 minutes until golden brown. Serve drizzled with Chardonnay caramel.
Make Caramel:
While pies are baking, in a small saucepan over medium heat, reduce Chardonnay to about a half a cup. Add cream and vanilla and keep warm but prevent the mixture from getting hotter than a bare simmer.
In a separate larger saucepan with tall sides, add sugar, lemon juice, and water and cook over medium heat until all of the sugar is dissolved. Gently swirl the pan rather than using a spoon to stir. Once it comes to a boil, keep swirling to avoid burning, and cook for about five minute until the color starts to darken.
Remove the caramelized sugar from the heat and add in the warmed cream and wine. The caramel will boil and bubble. Once the bubbling subsides, cook over medium heat, stirring with a wooden spoon. Add one tablespoon of butter at a time, fully incorporating each tablespoon before adding the next. Once butter is stirred in, remove caramel from heat.