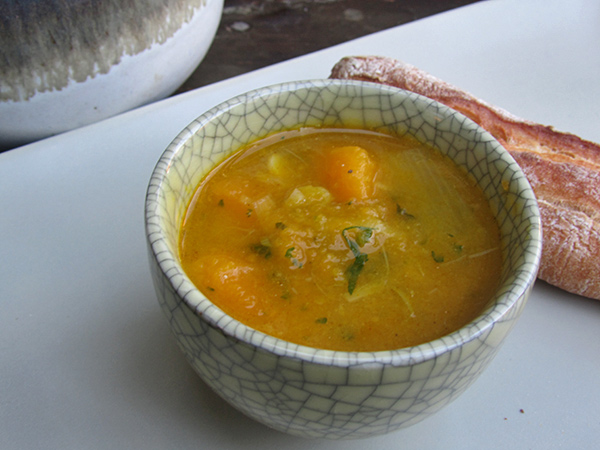 At last week's market, I was found myself drawn to a ghostly, bluish, pod-shaped squash at Miramonte Farm's stand. I lovingly shot photographs of it. I smiled as I admired it, and made sure that it was situated next to an orange and green acorn squash to accentuate it's decidedly Victorian pallor as it patiently sat for photographs.
Upon my return home, I placed the pale, blue-tinged gourd upon my vintage French butcher's table next to a golden-hued butternut squash. Having recently had a fantastic soup at Bar Jules with pumpkin, faro, and pancetta, I fancied a version of my own using my new blue squash, leeks, green garlic, and some of the Italiany bacony stuff.
In researching the blue "harbour" squash, the first thing I learned is that it is actually called a blue hubbard squash.  Evidently, I'd misheard. I also re-learned that beauty truly is in the eye of the beholder. Everything I read, described this squash that I had been making eyes at, as beastly, ugly, warty (well that part was true), and altogether unattractive on the outside.  People were much kinder when extolling the virtues of the tasty orange insides, and I knew the blue hubbard and I were just perfect for one another.
A side note, most people bake these and use them in heartier dishes. I rather liked the starchiness of this squash in a broth-based soup. You could substitute any winter squash here, butternut squash, pumpkin, or acorn squash soup are all fantastic! Also, feel free to sub regular garlic!
Have you had a blue hubbard squash before? before? What's the best way you've eaten it?
INGREDIENTS
1 small blue hubbard squash (2-3 lbs), peeled, cored, cut into ½ inch cubes. You can sub any winter squash here.
½ inch thick slice of pancetta chopped into small bits
2 cups of water
3 stalks of green garlic white parts only, minced (or sub 3 cloves regular garlic)
3 small leeks white parts only, sliced length wise into 2 inch slivers
1 tbsp olive oil
hand full parsley chopped
salt and pepper
INSTRUCTIONS
Sautee pancetta with leeks and green garlic over medium high flame for about 5-7 minutes until some of the fat has rendered off and the pancetta begins to crisp. Remove the pancetta and set aside
Puree one cup of squash with one cup of water and olive oil until it is perfectly smooth.
Add one cup of water and the remaining squash to the leek and garlic mixture along with the squash puree and cook on high until squash is tender about 25-30 minutes, add cooked pancetta back to the soup then salt and pepper to taste. Garnish with chopped parsley and serve.