Chocolate, it's been used as a currency, an aphrodisiac, and a medicine. The ancient Mayans held it so dear, they took it to their tombs with them. Today, Americans consume 2.8 billion pounds of chocolate each year.  We are eating more and more dark chocolate especially because of its health benefits like high anti-oxidants and the possibility that it could lower blood pressure. Oh, and it tastes so freaking amazing.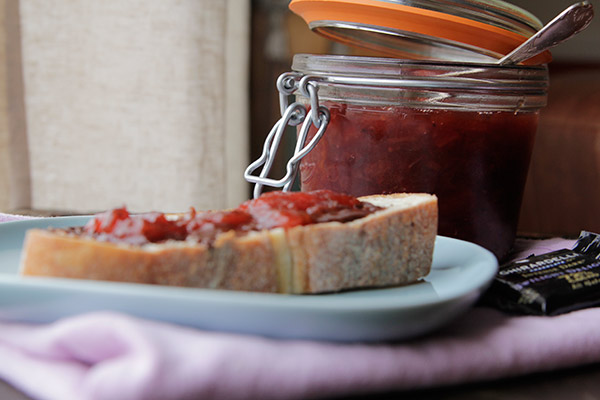 I am thrilled to be working with Ghirardelli Chocolate Company in their Be an Intense Supporter Program. During the month of October, Breast Cancer Awareness Month, Ghiradelli will donate $50,000 plus one dollar from each specially marked package of Intense Dark Chocolate to the National Breast Cancer Fund- up to $100,000! Like many of you, cancer has affected the lives of many of the women I love. Some, like my best friend, have beaten it, others like my mother and her dear friend Linda have lost their battles. When Ghiradelli approached me with the opportunity to help raise awareness, and do it though chocolate and wine, I knew there was no better way to celebrate these women!
This Saturday, I will host a chocolate pairing party featuring four of my favorite Ghirardelli Intense Dark Chocolates, some amazing wines, cocktails, and some outstanding parings both sweet and savory. You can also join in the fun with your own pairing party. Wine expert Leslie Sbroco, of Thirsty Girl and host of Bay Area Check Please, has come up with some suggestions- one of my favorites being the Midnight Reverie 82% with Malbec and some salty parmesan. Check out more of Leslie's pairings in this fantastic video series and join our Twitter tasting and chat on October 5th.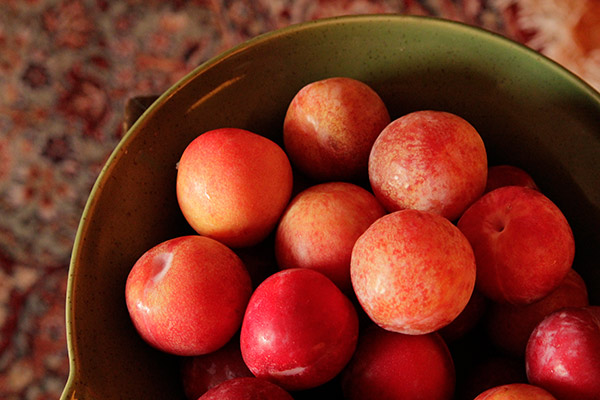 Last night, I made a spiced plum and red wine jam to pair with the Twilight Delight 72% Dark. One of my first memories of chocolate is a snack my French grandmother used to prepare for me. It was simply a slice of toasted baguette with melted dark chocolate. I must say, this chocolate melted beautifully on my artisan ciabatta and was complimented by the warm spice notes of my plum and wine jam.
 INGREDIENTS
5 lbs organic plums & pluots (halved and chopped)
1 cup red wine, rich in spice and jam notes
3 cups organic sugar
2 tablespoons fresh ground Sichuan peppercorns
1 teaspoon fresh ground pepper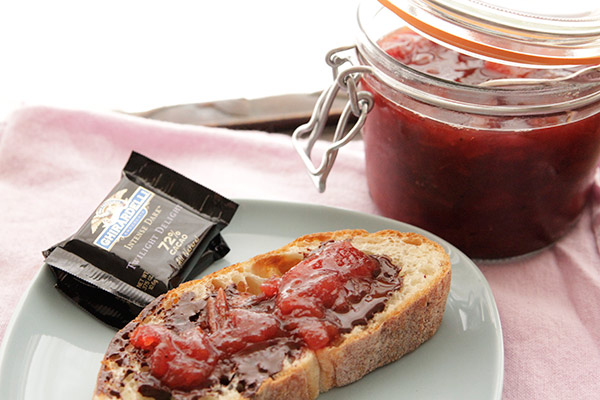 INSTRUCTIONS
Add all ingredients to large heavy bottom saucepan and cook over medium heat until sugar dissolves, and the liquid reaches a boil. Stir often and watch for burning.
Boil for 15 minutes. Strain fruit out, set aside, and return liquid to the pot.
Boil the liquid until it is reduced to 1/3 its original volume then return the fruit to the pot and cook together with the liquid for another 10 minutes.
Drop a spoonful onto a cool plate to make sure it has gelled to your desired consistency.
If so, process according to National Center for Home Food Preservation guidelines or cool over ice bath and save in refrigerator for up to two weeks.

the prizes:
pairing kits from Ghirardelli Chocolate Company + one homemade pairing from The Tomato Tart. Possibilities include plum jam, fig and bacon jam, or savory madeleines and more.
the rules:
winner (US only) will be chosen from the comments below on September 23, 2011.
The Winner Was… Kimmie Schiffle of Full Circle Adventures, she'll get some lovely chocolate from Ghirardelli and some homemade boozy marshmallows from yours truly.
how to enter:
Be a follower of The Tomato Tart, the follow buttons are at the top of the page. Both new and current followers "count"
one entry: follow me on facebook and or twitter, then leave a comment letting me know that you're following. New & current followers both welcome.
one entry: share this post, then leave a comment letting me know you've shared this post on Facebook or Twitter. Sharing buttons are at the bottom of this post.
one entry: leave a comment letting me know you're following Ghirardelli on Facebook
Good Luck!
sponsored post: this has been a sponsored post. Ghirardelli Chocolate Company has provided cash compensation. My policy is to only accept compensation from companies whose products/services I enjoy. The monies received have had no influence on the opinions expressed in the article above.