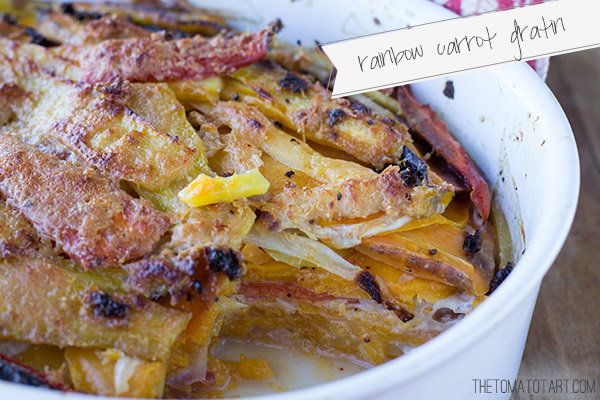 Grain Free Carrot Gratin with Gouda and Chipotle
"There." said my mother, pointing to a small white flower in the overgrown garden of a neighbor. I inhaled deeply, marveling at the scent.
"It smells like onions!", I exclaimed.
"Taste," she said, as she plucked off the flower and a bit of the long hollow stem.
"It tastes like onions!"
She bent to pull another from its root to reveal a tiny white onion, dirty, and redolent with the scent of earth.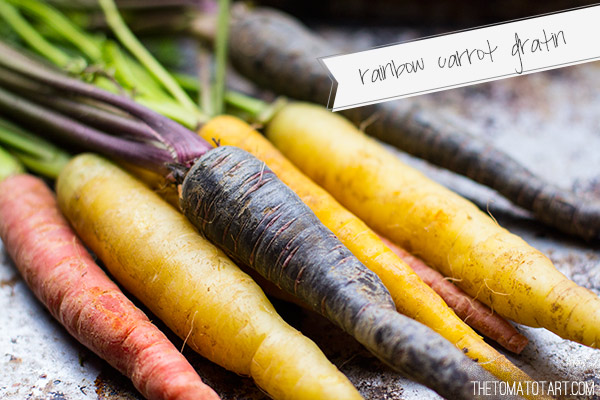 Maybe I was four, maybe five. My early years with my mother were full of moments like these. In our suburban 1970s neighborhood, just outside of San Francisco, I learned to find edible flowers, which plants we could take cuttings from to grown in our own garden, the difference between sweet peas and shelling peas, and how to identify vegetables – just by their foliage.  My favorite? The carrots.
Though my mother made a few attempts at vegetable gardens throughout the years, the best carrots were creek-side at my aunt's house in Napa.  The children gleefully headed  from the house and garden up  top to the area "down below"-  foraging carrots, wild radishes and berries. I was oh-so-careful to determine that the lacy green leaves did, in fact, lead to plump juicy roots and were not that of the deadly hemlock that looked so similar.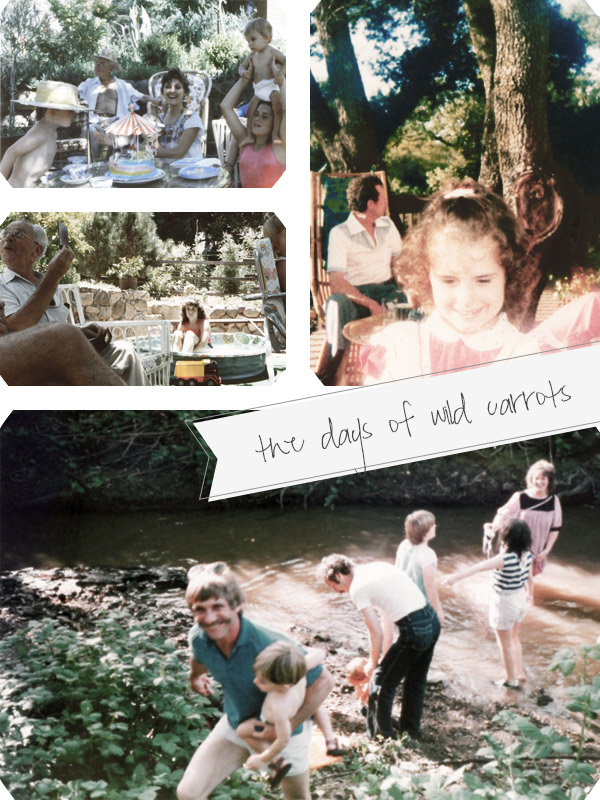 Fresh from the earth, these carrots were shorter, and stubbier than those from the grocer. Dunk, dunk, dunk right in the ice cold creek. Eating the skin, the flecks of dirt that clung even after their plunge in the stream, seemed like a small act of culinary rebellion.  These carrots were a million miles from the perfectly peeled, evenly sliced, flawlessly cooked, buttered ones we would be called to eat when the bell rang. These were our carrots, no forks, no "serviettes",  no manners to mind, not a grown up in sight, the wildest carrots in the world.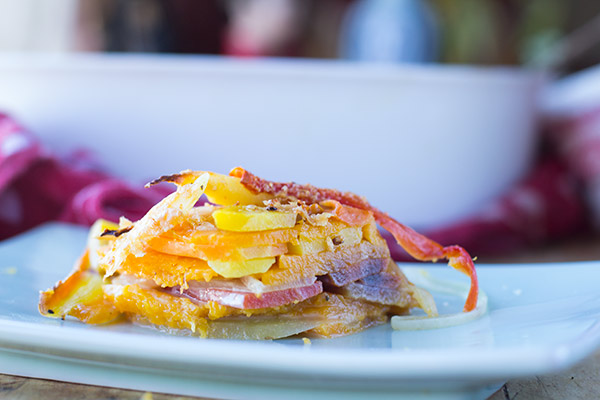 Spicy Grain Free Carrot Gratin with Gouda
I have made this gorgeous rainbow carrot gratin several times already this month. A couple of times I mixed it up with butternut squash, once, I mixed the sour cream with milk (don't do that), once I tried Greek Yogurt (also don't do that). I can say that it is one of the most comforting and lovely dishes I can imagine for the autumn and winter months and it looks beautiful on your holiday table. You don't have to use rainbow carrots, they just look pretty, but do use the best carrots you can get your hands on. Brightly colored with the tops attached- so you can tell they're fresh- carrots will give you that wild carrot feeling. And who doesn't want that?
Ingredients

3 bunches rainbow carrots, sliced lengthwise on mandoline
1 large yellow onion thinly sliced
12 oz sour cream, I use Green Valley Organic crème fraiche style sour cream
1 tablespoon cumin
1 dried chipotle, finely chopped
½ teaspoon finely ground sea salt
1 teaspoon finely ground black pepper
2 cloves of garlic, finely chopped
4 oz aged gouda
 Instructions

Preheat oven to 375º
Mix sour cream, cumin, ¾ of the chipotle, sea salt, and black pepper in a bowl and whisk well to combine.
Layer 1/3 of carrots and onions in a large gratin dish. Spoon ¼ of the sour cream mix over the top. Create another layer of carrots and onions and top with ¼ of the sour cream mix. Repeat once more and top with the last of the sour cream. Top with garlic, gouda, and the remaining chipotle.
Bake for 50-60 minutes.  Remove from oven and allow to cool for 10 minutes before serving.
Carrot Recipes, I'm Wild For
Caramelized Onion & Carrot Soup 
Vanilla Rosemary Carrots from The Wannabe Chef
Moroccan"ish" Carrot Salad from Crumb Blog
Carrot Cake with Dates and Pecans from The Pretty Blog