I cannot recall a family gathering where smoked salmon on cocktail rye was not served. As a kid, I was gaga for these things and always had to be reminded that dinner was coming and I should only eat one or two pieces. Nothing has changed, the flavors of smoked salmon, cream cheese, dill, onion, and rye bread are at the top of my list. Even as I type, my mouth waters.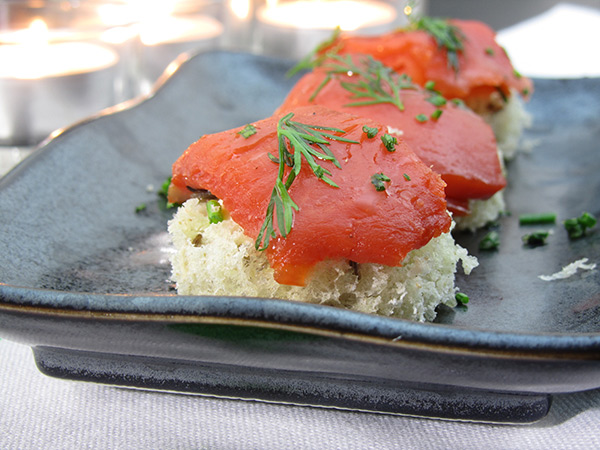 A couple of years ago, I decided that most people did not want to have raw red onion on their breath at a party, so I changed things up a bit. I also have a preference for a certain type of rye bread which is unmatched by any cocktail rye I've ever found which can sometimes be dry and hard.  I use a small ring mold to cut the bread into tiny rounds. Here's the updated recipe:
INGREDIENTS
1 lb wild smoked salmon, I love the smoked sockeye from Trader Joe's
1 loaf good quality rye bread
1 package of good deli cream cheese (Gina Marie, Sierra Nevada, and Dianna Supreme are a few brands)
2 bunch of chives
1 bunch of dill
1 teaspoon of peppercorns
½ to 1 cup of olive oil
½ lemon-thinly sliced
INSTRUCTIONS
Soak separated salmon slices in olive oil overnight with peppercorns, ½ of dill, ½ of chives, and the lemon slices. You can skip this step, but if you have time, it's a nice touch.
On the day of serving,, bring cream cheese to room temperature
Cut bread into rounds using a 1 inch ring mold.
Top each round of bread with a little bit of cream cheese, a slice of salmon, and a sprig of dill
Finally sprinkle the entire plate with fresh chopped chives.
You might also enjoy these simple appetizers: