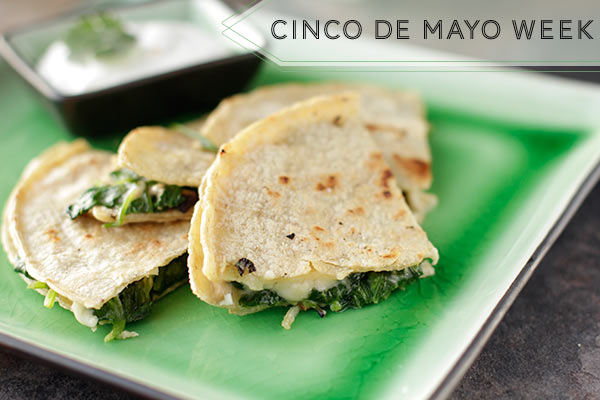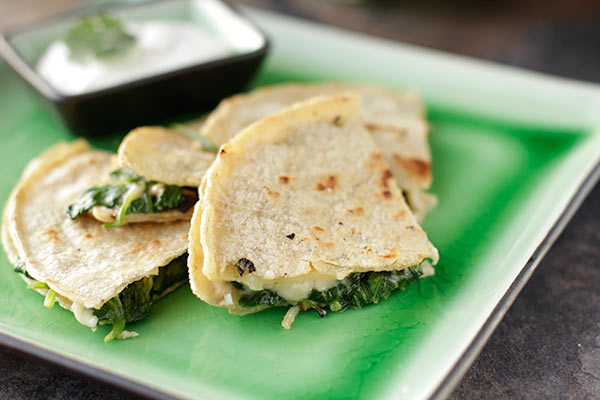 Last weekend, was one of the most joy-filled, sweet, beautiful, energetic, weekends I've had in a good long while. Thanks in no small part to Miss Maggy Keet of Three Many Cooks who organized a trip to Redwood Hill Farm with friends old and new. I'm feeling full of life (and goat cheese). I won't talk too much, just yet, about my trip to the farm or the ADORABLE baby goats because, well, it's day three of  Cinco De Mayo Week and we have recipes to get to, right?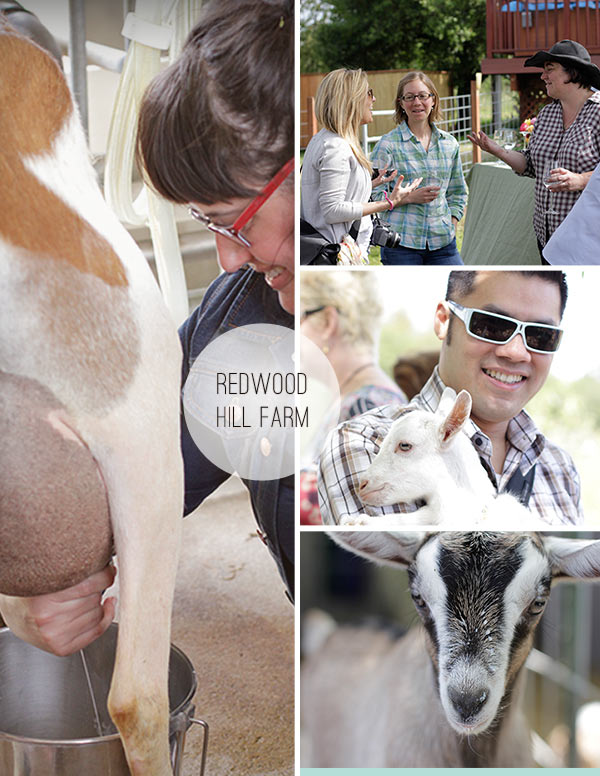 So far, we've had Strawberry Rhubarb Salsa which was (of course) gluten free, vegan, and lactose free. Yesterday, we did DIY homemade lox with a Latin kick. I'm not exaggerating when I say they are the best lox ever and I'm never buying lox again unless it's a lox emergency. I've been known to have those.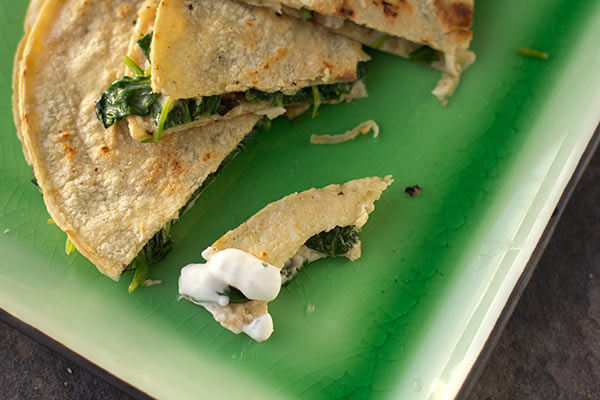 Today's recipe is inspired by my weekend; it's a smoked goat cheddar quesadilla with shitake mushrooms and wilted spinach with green garlic and cilantro crema. Here's where the inspiration comes in: I fell in love with Redwood Hill Farm's smoked goat cheddar. I have rarely loved a smoked cheese this much- I often find them unpleasantly chewy. Also I was inspired by my people, this is a dish that is vegetarian, gluten free, and lactose free, I also didn't add any salt after a conversation with my new friend Jess of Sodium Girl (the cutest ever) about how spinach can be salty.  Shauna of Gluten Free Girl and Lisa of With Style and Grace can eat it! And all of my veggie friends and those, like Irvin of Eat The Love, who try to steer clear of too much lactose can avoid it too . I feel like a culinary diplomat! A delicious diplomat!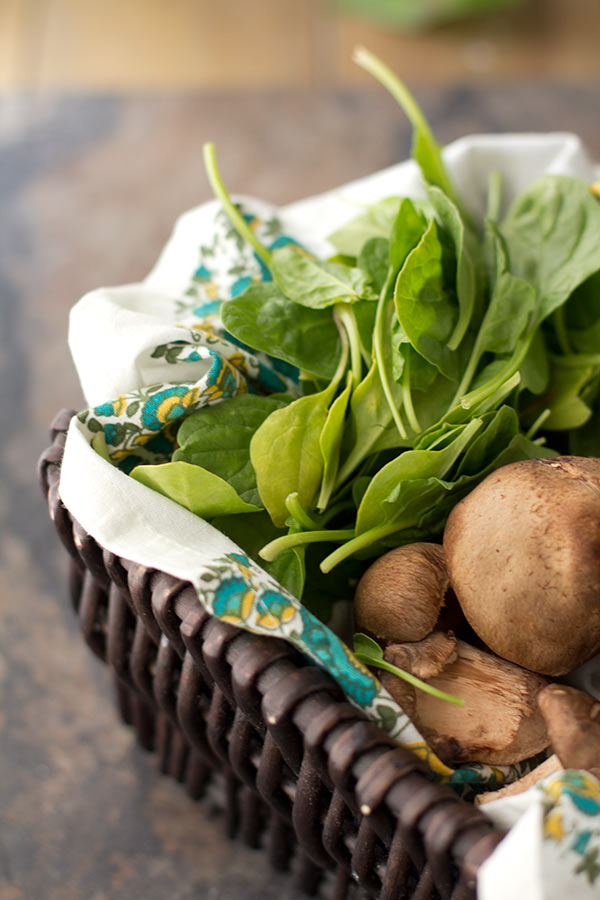 So, here's another dish to make on Cinco De Mayo or on any day. I actually ate this with an egg for dinner the other night. So simple and delicious- it's totally irresistible.
INGREDIENTS SMOKED GOAT CHEDDAR QUESADILLAS

8 fresh corn tortillas (I use Primavera brand)
4 oz smoked goat cheddar cheese (I used Redwood Hill Farms) Shredded.
¼ lb shitake mushrooms, cleaned and chopped into ¼ inch pieces
2 cups baby spinach leaves
3 tablespoons onion finely chopped
½ teaspoon smoked paprika
½ teaspoon grapeseed oil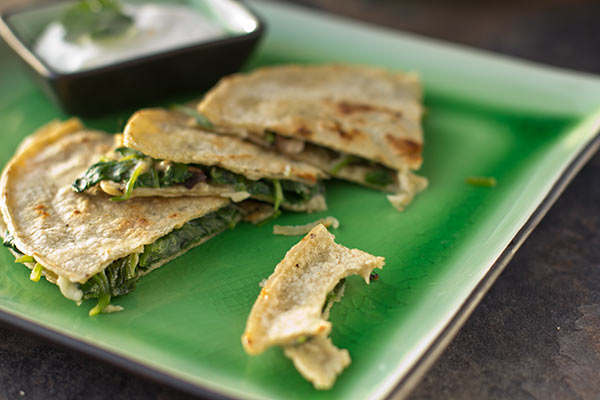 INSTRUCTIONS SMOKED GOAT CHEDDAR QUESADILLAS

Heat oil in a medium skillet over medium high heat. Add add  onions and mushrooms. Sauté until mushrooms soften a bit and onions become translucent- about 5 minutes. Add spinach leaves and smoked paprika and cook for another minute or two until spinach is just wilted.  Transfer veggies to a plate.
Wipe pan clean and add a little oil to coat pan. Place two tortillas in the skillet with ½ oz of cheese on each. Fry open face until cheese begins to melt. Once cheese is melting add ¼ of veggie mix to one tortilla then top with the other tortilla and finish cooking together for another minute or so.
Serve with green garlic and & cilantro crema (recipe follows)
GREEN GARLIC AND CILANTRO CREMA

½ cup lactose free sour cream (I use Green Valley Organics *)
2 tablespoons finely chopped green garlic
¼ teaspoon smoked black pepper
Stir together all ingredients and serve with quesadillas
* A note, since January when I first tried Green Valley Organics Lactose Free Sour Cream, I have not bought any other sour cream. I am not lactose intolerant. This is simply the best sour cream I have ever eaten; it is almost like crème fraiche. The dairy is also certified humane YAY! PS, this is not a paid statement and even though Redwood Hill Farms and Green Valley Organics are both owned by the Bice family, I started buying their products long before I visited their farm. I totally love the Bice family even though I just met them. If they would adopt me and let me milk goats all the time, I would. I would gladly accept goat cheese, fresh peas, orange blossoms, goat snuggles, and lactose free sour cream as payment.