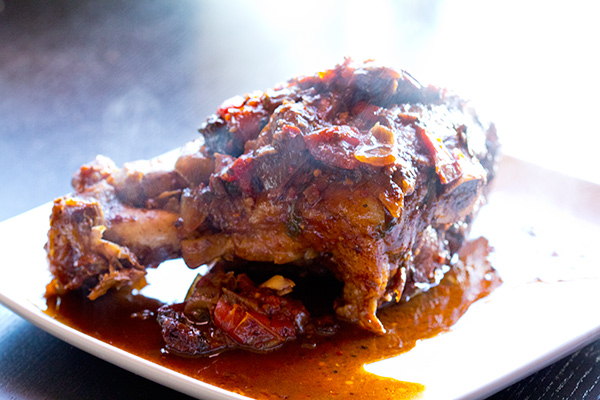 The pork shank is an incredibly overlooked cut of meat. Inexpensive and a bit unwieldy, its homely looks belie its gorgeous, succulent nature. This recipe for slow cooker pork shanks with Mexican spices is simple to prepare and yields incredible results. Pick up a pastured pork shank and fire up your crock pot, today! 
October: while many people's thoughts are turning to orange leaves, crisp mornings, and what to wear for Halloween, this October holds new meaning for me. My friend, Andrew, from Eating Rules put the call out to take a pledge to go #unprocessed for the month of October. Everything about Andrew's invitation spoke to me, so when he needed help designing a logo, I was glad to jump in.  I was even more pleased when Andrew invited me to contribute the first guest post for October #unprocessed 2011.
October #unprocessed couldn't have come at a better time for me. The last two months have been unbelievably hectic. Between our move, the chocolate party, SF Chefs, house guests, a death in my family, and crazy work weeks, I was starting to feel run down, exhausted, disconnected, and really tired of take out. Joshua and I decided to start October #unprocessed during the last week of September. (read more about it, and take the pledge here)
This recipe came about for two reasons. Firstly, I had just made a HUGE jar of homemade salsa de molcajete (recipe here) and secondly, the butcher at Avedano's had recommended this gorgeous cut of meat. One nice thing about buying something like a shank is that it's not a fancy cut, so it's not terribly expensive.  This means, I get to buy really nice quality meat—pastured, organic, humanely raised meat, and it's affordable. The other nice thing about a shank, is… well, it's about the tastiest piece of pork I've ever had. The way the collagen breaks down to create a sauce. The way the tendon is melty and chewy at the same time, it is the perfect slow cooker cut.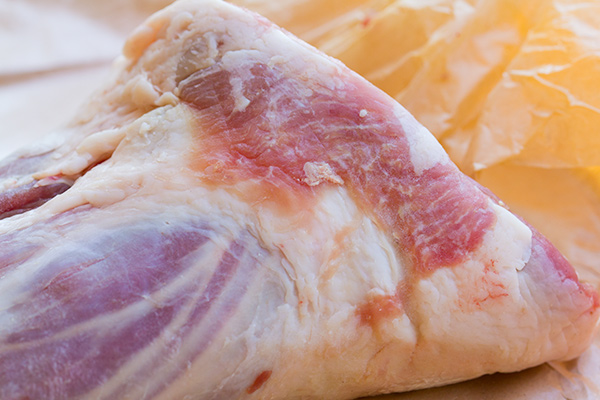 So, I knew I wanted a Latin inspired pork dish that I could do in the slow cooker. I also knew I wanted to do a gluten-free dish that still had flour to thicken the sauce. I'd been wanting to play with the flavors of mole for awhile but also wanting to grind my own achiote paste.What happened next, was a mix of  the two. You absolutely do not have to grind your own achiote. You can simply omit the cumin and achiote, and substitute an equal amount of chili powder. Either way, the resulting dish will be both smokey and bright with a deep rich spicy sauce- so real and and totally #unprocessed.
INGREDIENTS SLOW COOKER PORK SHANK
2 lb bone-in, skin on, pork shank
3 tablespoons plantain flour (sweet potato flour or brown rice flour would work well here too)
1 tablespoon cocoa powder (not dutch process, I used raw)
1 tablespoon achiote seeds
1 tablespoon cumin seeds
the zest of ½ of one lemon
4 tomatoes roughly chopped
8 cloves of garlic
2 onions roughly chopped
4 dried chipotle chilies (more or less according to your taste)
8 oz chicken stock
4 oz anejo tequila
sea salt
pepper
1 tablespoon high heat cooking oil (I used avocado oil)
INSTRUCTIONS SLOW COOKER PORK SHANK
In a spice mill or with a mortar and pestle, combine achiote seeds, cumin, cocoa powder, lemon zest, ½ teaspoon sea salt, and 1 teaspoon pepper
Coat the pork shank in the plantain flour and rub with salt and pepper.
Heat oil in a skillet on medium high, brown pork shank on all sides including the meaty end with no skin. This should take about 3-5 minutes per side.
Coat browned pork shank with achiote paste and allow to rest for about 10 minutes.
Turn your slow cooker on low and add the chicken broth, tequila, garlic, onions, tomatoes, chilies, and a heavy pinch of sea salt. Cover while pork is resting.
Add pork and set timer to 7.5 hours, turning every hour and basting with the cooking liquid.
When pork is done, it should easily shred right off the bone. Serve with rice, beans, and salsa de molcajete.
If you like you can reduce the cooking liquid on the stove for a few minutes before spooning over the top of the pork—don't forget the veggies, but watch out for those chipotles. They're hot!