Well, life is starting to have a little semblance of order again. We are settling into the little yellow house on the hill, nicely. I promise I'll have some more photos soon. The kitchen is set up pretty nicely, and I've even cooked a few meals here and there.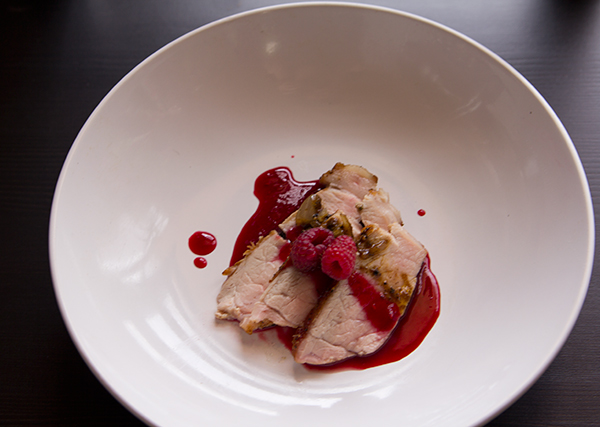 Joshua bought me a portable dishwasher for my birthday. Life is funny; I remember, when I was a girl, thinking that my mother was mad for loving a gift of new pots and pans. Even ten years ago, I suggested, gently to my husband (then boyfriend) "Never buy me anything utilitarian as a gift, it might make me cry. Girls love frivolous things, things that sparkle, and catch the light" Now, I'm cooing over my dishwasher; it feels like such a luxury.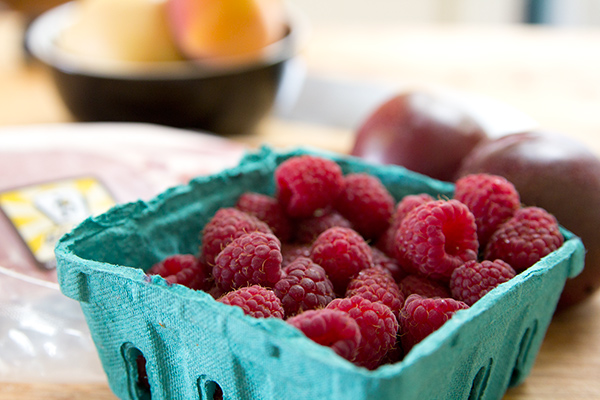 Life has also been incredibly busy. Our move definitely took a lot of time and energy; since Joshua and I work opposite hours during the week and only have one car, it seemed like our one month of prep time was compressed into a couple of days. Coupled with all of that, I abandoned him more than once. I was busy with SF Chefs events, and went to an amazing preview dinner for La Cocina's SF Street Food Fest. Recaps of both events are coming, soon.
I think we are happy here, and both of us see so much potential in every room, every bit of moulding, every square inch of weed covered soil. Joshua is thrilled to have his workbench all set up, and I am a happy little bee doing laundry in my very own basement.
Ruby dog is happy too, she loves her backyard, and the other day, I was nearly moved to tears when I caught her chewing on a pork femur I'd given her days prior. Before her, a tiny hole where she'd buried it. My little girl who had spent her life in hotel rooms, and on the street before we had her, was acting like a real dog.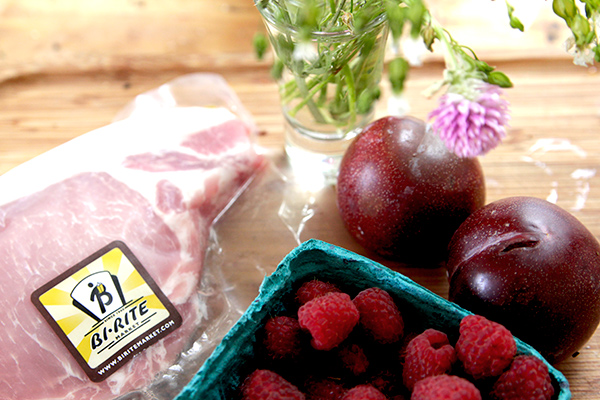 This is the first weekend we've spent doing nothing in particular, just setting up house, decorating, cooking, building my closet/dressing room, and giving the dog a bath. Today is also our sixth wedding anniversary as well as the 12th anniversary of the night we met. I think we're actually staying in; it seems like such a rare treat these days, and tomorrow, I have to leave for Palm Springs to visit my grandfather who is very ill. An anniversary night at home is looking better and better.
On Thursday, I worked from home, and Joshua and I had the rare opportunity to savor a nice lunch together. I'd dropped by Bi-Rite and picked up a heritage pork chop and the most glorious, sweet, red raspberries. I immediately thought that a red summer fruit gastrique would be perfect with my pretty pretty pork chop- which I would sear roast, of course.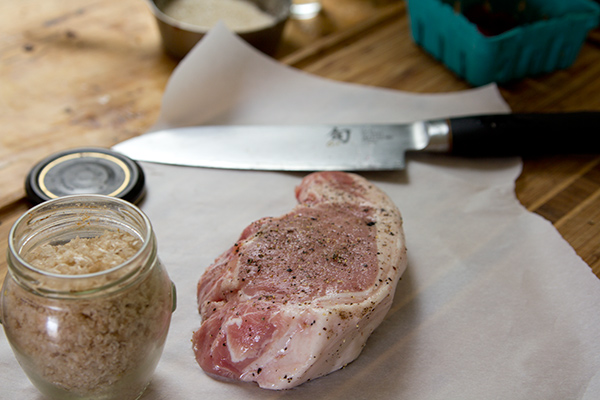 When Joshua walked in the door, he called out "Smells good" instead of his usual "Hey babydoll" and came upstairs to give me a kiss. His timing was perfect. The pretty plate was already shot, and I prepared a larger serving for him then tossed up a big salad with frissee lettuce, French prunes, and aged goat cheese. We sat in our kitchen window and ate our lovely lunch- perfection.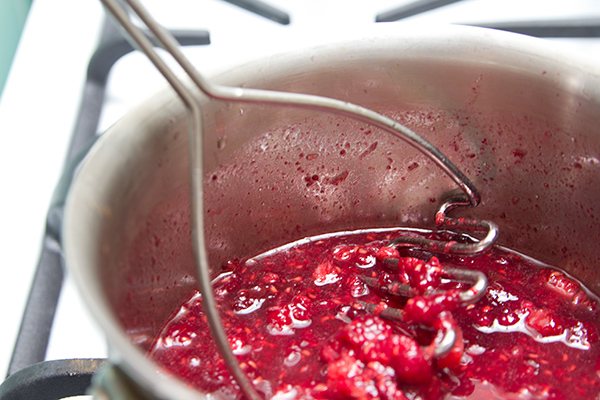 Ingredients Plum & Raspberry Gastrique

1 cup ripe raspberries
2 large very rip red plums pitted and quartered
½ cup red wine vinegar (I used Zinfandel vinegar)
3 tablespoons coconut sugar or 2 tablespoons honey
Sea salt to taste
Instructions for Gastrique

Add all ingredients on a heavy bottomed saucepan and cook over medium flame. Mash everything with a potato masher or the back of a spoon.Bring to a bare simmer, stirring very often and lower heat to medium low. Cook until the mixture becomes very thick an syrupy about 10-15 minutes.
Pour through a fine mesh sieve into a non-reactive bowl, then return to saucepan and add a bit of salt to taste.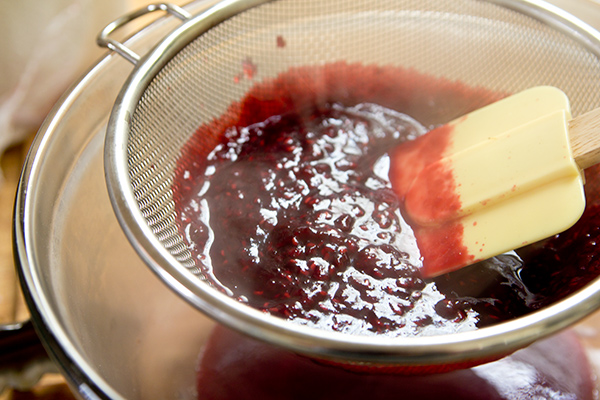 Ingredients For Pork

1 large pork chop
½ tablespoon butter
pinch of dry mustard
sprinkling of salt and pepper
1 cup chicken broth
1 shallot
1 teaspoon fresh thyme
Instructions for Pork

leave the pork to room temperature for about an hour
preheat oven to 400º for at least 15 minutes
sprinkle both sides of chop with salt, pepper, and mustard
in a heavy bottom, oven proof skillet (preferably cast iron) melt butter, then immediately add pork. Sear on one side for about 2 minutes, check for nice crusty brownness. If pork sticks or is not brown, leave it for another minute, otherwise, flip and cook on the other side for two minutes, then pop into the hot oven.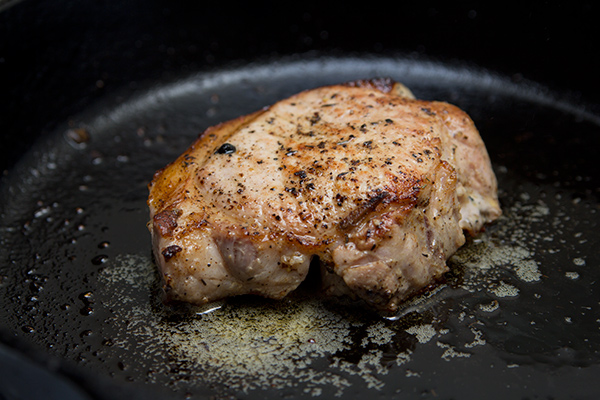 Cook for only 5-8 minutes depending on the thickness of your pork chop. It should be just firm to the touch. I took mine out at 6 minutes, and it was perfect. Pork needs to be cooked to 145º, but you can take it out at 137-140º and let it rest for ten minutes to let it come to temperature especially brined, heritage pork like the chop I was using.
While the pork is resting, pour most of the fat from the pan, add chicken broth, shallots, and thyme, and whisk together a quick pan sauce from the drippings and fond (fond is the good browned bits at the bottom of the pan, you want to scrape it up gently and incorporate it into the sauce)
To plate… Pour some of the gastrique on the bottom of a plate, top with sliced pork, top pork with a drizzle of the gastrique and a drizzle of the pan sauce and shallots, and top that with a couple of fresh raspberries. Enjoy with a glass of fruit-forward red and the one you love.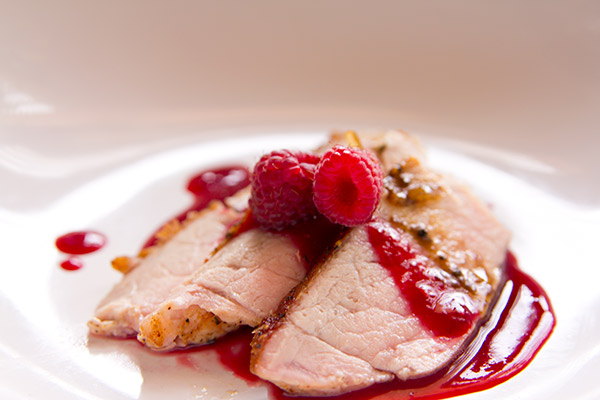 Happy anniversary to my one and only; I love you more every day.