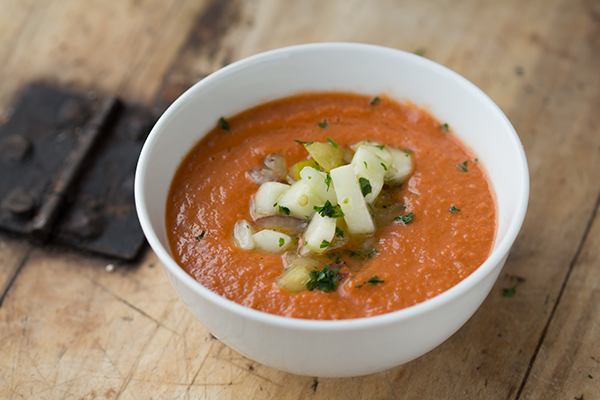 Roasted Tomato Gazpacho with Plum Salsa
There are two kinds of people: those who are excited by soup and those who are not. I neatly fall into the first camp. To be fair, it's easy to be excited by anything when your earliest memories came from a kitchen like my grandmother's.
I remember beautiful and rustic potages, aromatic and creamy leek and potato, cold cucumber soup in the summer with a dollop of cream on top.  I remember a bouillabaisse in the South of France when I was a little girl- I had a mussel I knew was bad, but I just threw the mussel to the side and kept eating because I'd never tasted a broth so good.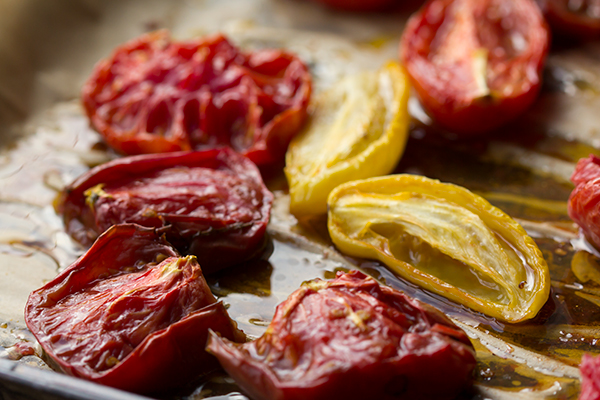 My father loved soup too, I remember the way he'd say "Passe le beurre, si vous plais" in his comically bad French accent. He'd joyously drop a pat of butter into his potage, swirling it around with the sour cream and fresh herbs.  Soup wasn't just a seasonal thing in our family. Vicchysoise and cucumber soup made appearances, but more common in the summer months was soup au pistou, and something that could almost be called a ratatouille soup (tojours sans aubergine!).
Though parts of my family lived just 45 minutes from the Spanish border, gazpacho never made an appearance on my childhood table. Here's how my first encounter with gazpacho went down.
"What's it called?" I asked. Skeptical of the uncooked tomatoes, and a name that sounded entirely made up. So skeptical, in fact, I almost didn't try that soup. It was the 80s and my mom and dad were obsessed with their new Vitamix. My mom was usually a pretty fantastic cook, but these blended creations were far from her best work. This gazpacho was not looking too promising.
"It's Spanish," my mother assured me. "You probably even ate it when you were there."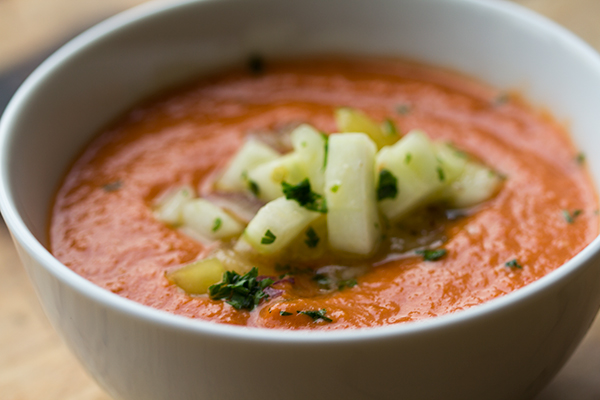 Of course, my mom knew the magic words. I had loved Spain- everything about it, and if I'd "probably" had gazpacho, it would stand to reason that I'd loved it too.  Funny thing is, I don't particularly remember my mom's gazpacho other than thinking it tasted sort of like salsa.  I also don't remember her ever making it again.
I do remember being very into gazpacho and Spanish food in general after that. I ordered gazpacho each time I saw it on a menu, and began to suggest Spanish restaurants when we went out to dinner. Eventually, I found a place in North Beach that I would fall in love with. The food was so-so, but the gazpacho was cold and fresh, the sangria was a revelation, and the flamenco was sublime. Plus they passed the bota bag early and often- never thinking to check if I was 21. Incidentally I did celebrate my 21st birthday there. By then, my flauxmenco  dancing (see how I did that faux + flamenco) was only half dreadful. A typical evening involved me in a steamy embrace with the flamenco dancer, being dragged across the floor, with a rose in my teeth. Salut!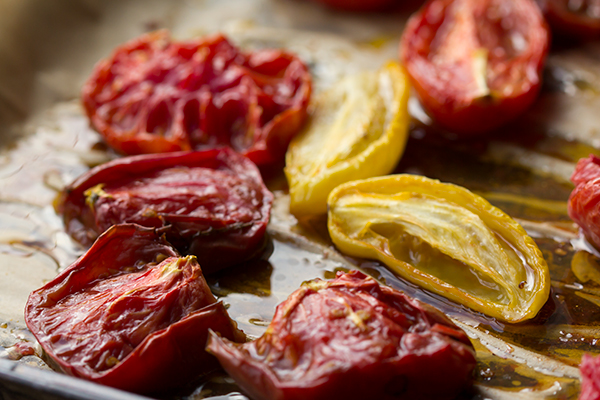 Now where were we? Roasted Tomato Gazpacho!  Each summer, I make gazpacho at least a half dozen times. Each time, I'm sure I've found my favorite recipe.   This one is stunningly good. I start by roasting heirloom tomatoes low and slow just like I learned from Molly Weizenberg's beautiful memoir
. The soup is smoky and thick and topped with a salsa of yellow tomatoes, cucumbers, and yellow plums. It's good, really, really good. Sexy good. So good you might want to put on some Spanish guitar and stomp around your kitchen flauxmenco style, just don't forget to remove the thorns from your rose before you put it between your teeth.
INGREDIENTS ROASTED TOMATO GAZPACHO

2.5 lbs mixed heirloom tomatoes slow roasted ala Mollie Wizenberg of Orangette (sans coriander)
1 cucumber seeded and sliced into 2 inch thick rounds
¼ inch slice of red onion
½  to 1 jalapeño seeds removed if you're not into heat
¼ cup olive oil
2 tablespoons white wine vinegar
¾ teaspoon hot smoked paprika
¼ teaspoon sea salt (I used smoked sea salt)
INGREDIENTS YELLOW PLUM SALSA

1/2 of cucumber, seeded and chopped into ¼ inch pieces
2 yellow tomatoes seeded and chopped into 1/8 inch pieces
2 yellow plums chopped into ¼ inch pieces
1 tablespoon finely chopped red onion
1 teaspoon very finely chopped jalapeño
1 tablespoon extra virgin olive oil
1 teaspooon white wine vinegar
sea salt
finely ground black pepper
finely chopped fresh parsley (about 1 tablespoon)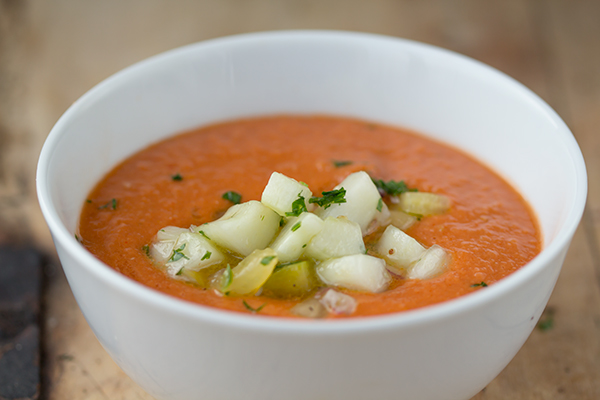 INSTRUCTION ROASTED TOMATO GAZPACHO
1. Allow your roasted tomatoes to cool to room temperature then add them to the jar of your blender with cucumber slices, onion, and jalapeño and give a good whirl until well combined.
2. Add the rest of the ingredients and blend until smooth and creamy looking. Taste and adjust seasonings if need be. Chill the soup while making the salsa.
INSTRUCTIONSYELLOW PLUM SALSA
1. Add cucumber, tomatoes, plums, onions, and jalapeño to a large bowl.
2. In a smaller bowl, mix olive oil, vinegar, sea salt, and pepper and combine well.
3. Pour olive oil mixture over cucumber mixture and toss to coat. Taste and adjust seasoning. Then add parsley and allow to rest in fridge while flavors get cozy with one another for 30 or so minutes.
Serve nice cold soup with a big spoonful of yellow plum salsa on top.