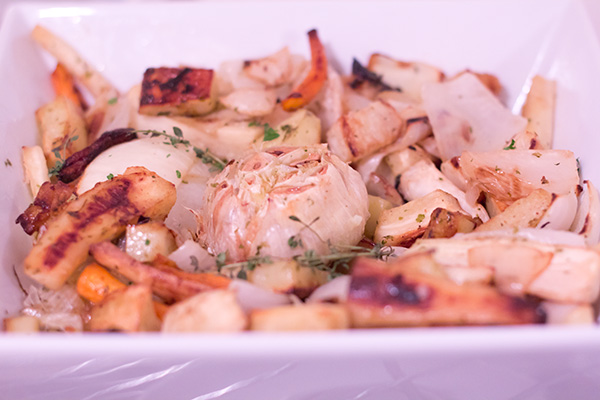 While some folks are rushing out of the gates into 2012 with guns blazing, I must admit, I'm sauntering in rather slowly. Perhaps it's due to the fact that I've been down with a flu bug since the 31st. No champagne or glitter for this glamour puss on New Year's Eve, just a sofa, a blanket, a Ruby dog, and a big box of tissues.
Chances are, it's not just the sniffles and the cough. January, if you ask me, it's an amblin' month. Why, I was just going a mile a minute during the holidays, and now this new year expects me to rise and shine and greet it with boundless energy? No, I think January feels like a good time to rest a little, to recoup, and to set intentions for the upcoming year.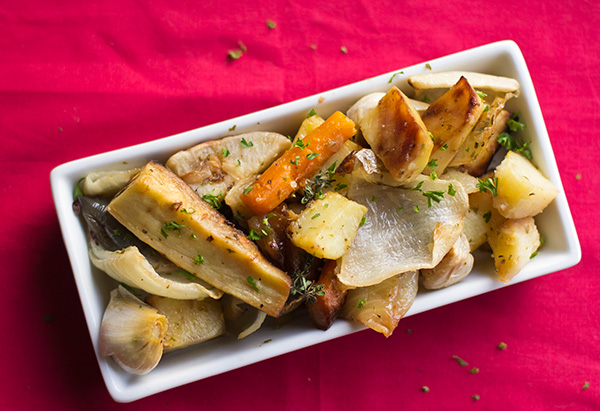 I realize though, that resting, recouping, and intention-setting, can't take complete precedence in life; a girl (and her hubby) must eat. This week has been filled with simple-to-prepare, comfort foods. The simplest among them are these roasted root veggies with herb oil and super-secret dipping sauce. Which, I suppose will not be a secret for very long.
You can use any root veggies you like, I used a combination of carrots, parsnips, potatoes, turnips, onions, and a whole head of garlic. Virtually any veggies will work. The key here is to cut them relatively uniformly, and do not crowd them in the pan. I spread mine out over four pans; you want to brown and caramelize your veggies, not steam them.
Also, this recipe calls for lots of veggies because we use them throughout the week in other dishes or by themselves- try adding some into your green salad for a lovely hearty kick!
FOR THE ROASTED VEGGIES
4 lbs of mixed root vegetables cut into relatively uniform chunks
1 large onion, cut into eighths
1 head of garlic the top removed- to expose some of the clove
1 large handful of parsley (mostly leaves)
1 sprig of thyme leaves removed from stem
1 sprig of savory
1 teaspoon sea salt
1 teaspoon dried mustard
¼ cup grapeseed oil
¼ cup olive oil
FOR SUPER SECRET DIPPING SAUCE
½ cup hummus
2/3 cup plain yogurt (use soy yogurt for vegan version)
1 clove minced garlic
1 tablespoon stone ground mustard
salt & pepper to taste
INSTRUCTIONS
Preheat oven to 425º and line three to four baking sheets with parchment paper
In small food processor mix herbs, mustard, and salt until very finely ground
Add in grapeseed and olive oil and pulse a few times
Toss herb oil with veggies in a large bowl, and divide between baking sheets
Bake for 30-45 minutes turning veggies, and rotating baking sheets once or twice during that time. Baking time varies depending on how caramelized you like your veggies and which vegetables you're using.
INSTRUCTIONS SUPER SECRET DIPPING SAUCE
Mix hummus, yogurt, garlic, and mustard until well-combined. Add salt and pepper to taste.