Last winter, I ate so much cauliflower soup, that my family and friends had to stage an intervention. It's true that I tend towards a soup addiction anyway, but this cauliflower soup problem reached terrible levels. I think I made four or five batches in a row before they finally stepped in. Oh sure, it was fun at first, everyone was joining in and enjoying it with me, but soon, I was doing cauliflower soup all by myself– breakfast, lunch, dinner- even once or twice in-between-meals. People were getting sick and tired of cauliflower soup.
"But it's so healthy!" I would say. "It's so easy." I pleaded. You see, the cauliflower soup I was making back then only had five ingredients: cauliflower, water, salt, pepper & milk. You boiled the cauliflower with salt and pepper then blended it with some of the water, some milk, and salt and pepper. It was really simple and so delicious. How could I bring myself to stop?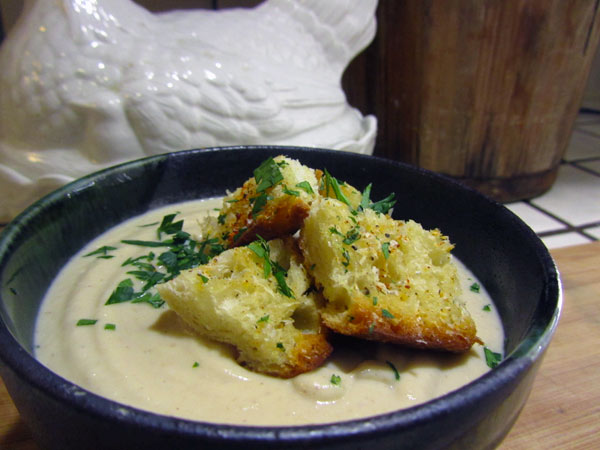 But, eventually, I did stop, although before going cold turkey I did try to hide my soup use with "curried cauliflower soup" or "garlicky cauliflower soup". Finally, I knew enough was enough. Sure, I still had a bowl here or there when it was a special occasion and I saw it on a menu, but for the last year, I've kept cauliflower soup out of my house. UNTIL LAST NIGHT…
My girlfriend, Miss Jackson, came over for dinner, and I decided to do some bistro fare. It's cold, wet, and rainy, right now in San Francisco. As I was walking to the market to get ingredients for our bistro dinner, it dawned on me, I'd make roasted cauliflower soup. I'd roast cauliflower and garlic and make some baked Parmigiano-Reggiano croutons. It was so good, that last night, no one complained when I fell off the wagon.
INGREDIENTS FOR THE SOUP
2 heads cauliflower chopped into florets
4 cloves garlic roughly chopped
3 cups chicken stock
¼ cup cream
1 tbsp butter
sea salt
olive oil
flat leaf parsley roughly chopped
INGREDIENTS FOR THE CROUTONS
¼ of a loaf of sour dough sliced length-wise lightly
small chunk of parmesan
black pepper
1 tsp butter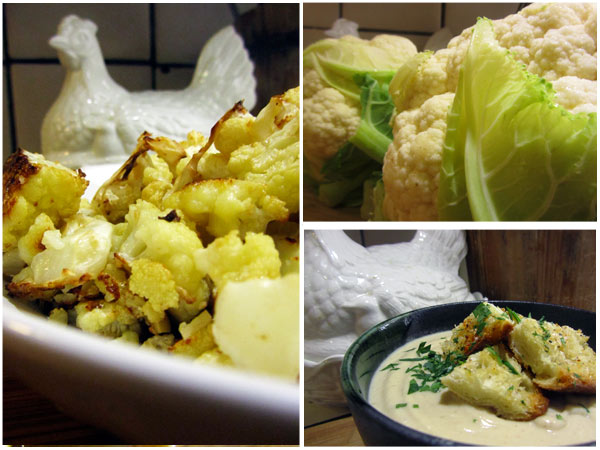 INSTRUCTIONS FOR SOUP
Preheat oven to 425º
Coat cauliflower and garlic in olive oil and roast on a baking sheet for about 20 minutes or until a nice golden brown. Turn once or twice to avoid burning
Add cauliflower mixture to a pot with chicken stock (or low sodium chicken/vegetable broth if using store bought) and butter and cook for another 20 minutes until very soft.
In a blender, puree cauliflower and some of cauliflower water and cream in batches until very smooth. You can adjust the amount of water to get your desired thickness.
When you are through, keep soup warm, while you make the croutons.
INSTRUCTIONS FOR CROUTONS
Butter bread, add fresh Parmigiano-Reggiano and pepper and add to the 425º oven
Bake until golden brown and crispy at the edges. About 7 minutes.
Cut into bite sized chunks
Serve soup with croutons and fresh parsley on top