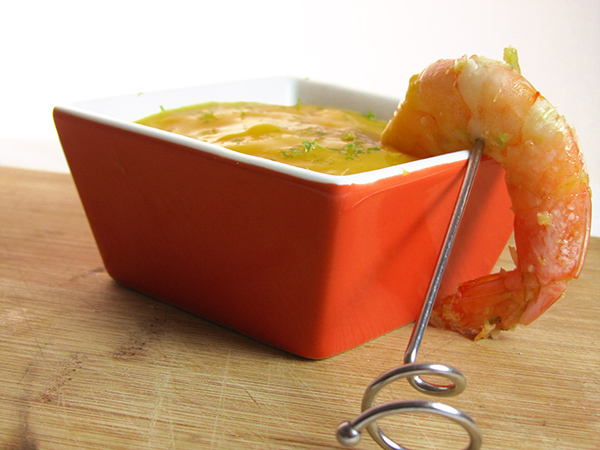 SPICY THAI PRAWNS WITH MANGO DIPPING SAUCE
I have just returned from Atlanta where I was a speaker at Blogher Food. I am not quite ready to give you the full wrap up, there's just too much to say. I will say that I had a fantastic time with friends both old and new and I learned some valuable things both inside and out of the sessions at the conference.
I also ate a lot of heavy rich food while away- which can happen when you're eating out for every meal. Even the veg-food tended to be fried or doused in lots of fat. These Thai prawns with mango dipping sauce are a light and summery dish. The prawns are coated in a spicy marinade- steeped in the scents of Thailand- Kaffir lime leaves, lemon grass, and ginger and garlic. They are served with a silky mango dipping sauce.
I had a fantastic time in Atlanta, and I will write more in the coming days, until then, enjoy this recipe for Spicy Thai Prawns with Mango Dipping Sauce.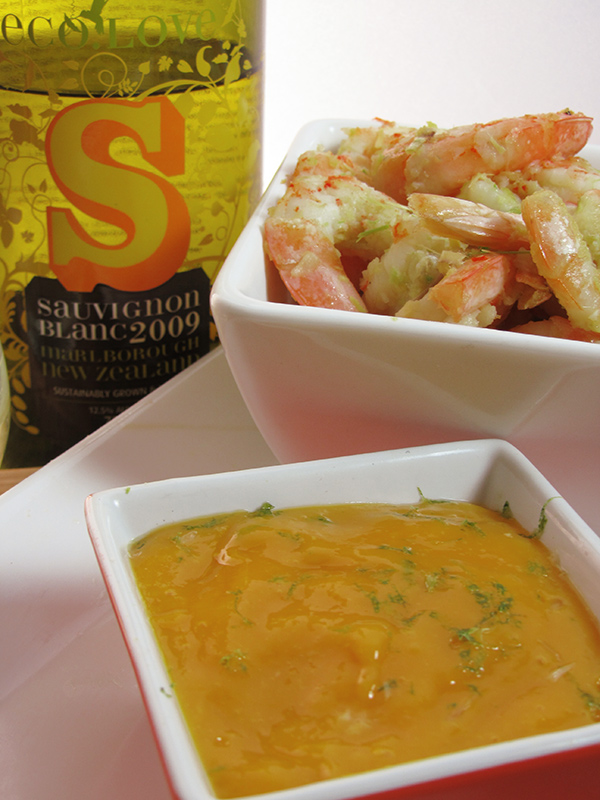 INGREDIENTS FOR SPICY THAI PRAWNS
1 lb prawns, peeled, deveined, tails left in tact
1 thumb sized knob of ginger
4 kaffir lime leaves
1 cup of sauvingnon blanc
2 stalks of lemon grass chopped into one inch pieces
2 cloves of garlic
2 serrano chiles (seeded if you want to remove the heat)
INSTRUCTIONS FOR SPICY THAI PRAWNS
Puree ginger, kaffir lime leaves, lemon grass, ginger, ½ cup of the wine, and salt in a food processor until everything is in very small pieces, almost to a paste-like consitency. Pour the mixture into a bowl, add the prawns, and cover with the rest of the wine. Toss well to coat with all of the spices. Cover and marinate in the refrigerator for at least one hour or up to 3 hours.
Remove prawns from fridge and bring to room temp (about a half hour). Drain prawns and pat off some of the excess marinade. Melt coconut oil in a preheated heavy bottom skillet , add prawns and cook over medium heat. cook for about 2 minutes on the first side and one minute on the second. Work in batches to avoid overcrowding.
Serve with mango coconut dipping sauce.
INGREDIENTS FOR MANGO DIPPING SAUCE
4 Manilla mangoes
2 tablespoons coconut extract (optional)
zest of 1 lime
pinch of sea salt
INSTRUCTIONS FOR MANGO DIPPING SAUCE
While prawns are coming to room temp, peel and seed mango and add to the bowl of your food processor, add coconut extract and purée until silky smooth. Spoon into a pretty serving dish and top with lime zest.
*Spot gulf prawns from British Columbia are sustainable and taste just the way you want fresh prawns to taste.