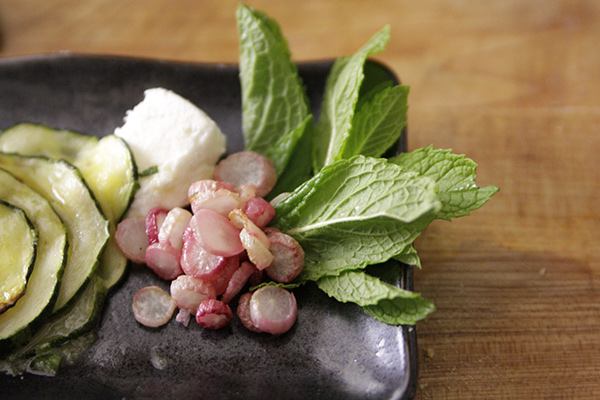 When I was a kid, I remember loving the way radishes looked. What was not to love about the way the prettiest of roots appeared, all round and pinkish red on the outside and crisp white, almost translucent on the inside? The problem, however, was that my love stopped there. Every time I ate one, the first taste on my palette was good slightly sweet, with a hint of cruciferous funk, but then the scorching heat and bitterness hit. I swear it would have caused a less precocious child to spit.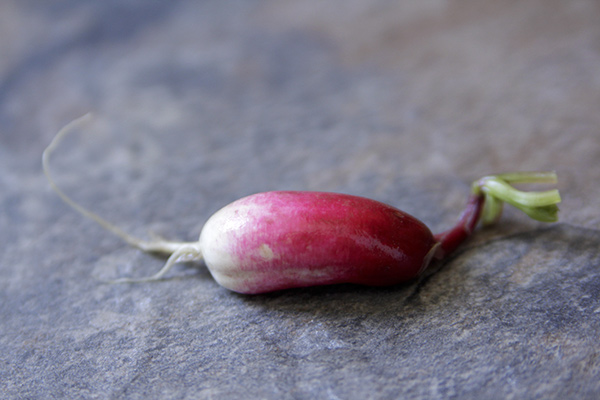 Radishes, however, were pervasive in my life. They were pink-ringed dots in gorgeous green salads, bright spots on long wooden tables, and buttered lovelies at breakfast in France. Being rather like a bird, attracted to pretty shiny things, I kept trying radishes, but it was not until I pulled one from the ground at my Auntie Gilda's house in Napa that I loved a radish.
For years after that, I always ate my radishes uncooked and rather plain- maybe with sea salt or in salads or with a bit of butter and more sea salt if I was feeling decadent. There was a week in New York at my friend Joey's where I lived on mostly olives and radishes and it felt like heaven on earth. Then, about a year ago, I learned about roasting radishes and a whole new world opened up.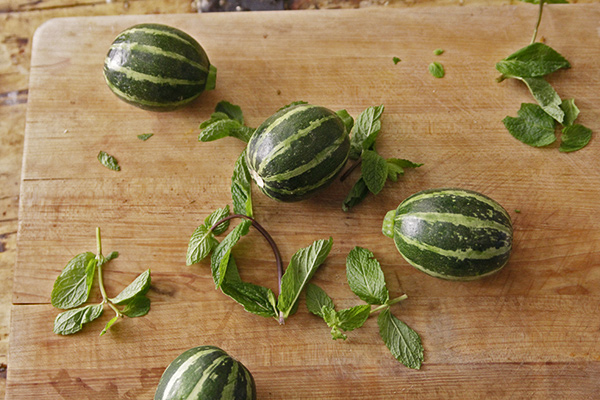 This roasted zucchini and radish salad is served warm with mint and chive vinaigrette and finished with goat cheese from Andante Dairy in Petaluma, CA. It is a perfect compliment to burgers or steaks on Memorial day, or enjoy it along side a piece of simple sear roasted fish or even be a little radish piggie like me and eat it as your main dish.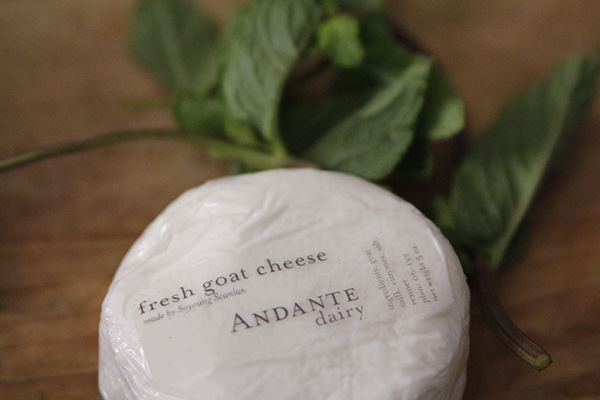 INGREDIENTS FOR ROASTED ZUCCHINI & RADISHES
4 small zucchini or 8 ball squashes
12 French breakfast radishes- thinly sliced into rounds
3 tablespoons olive oil + more for brushing veggies
4 oz fresh goat cheese
1 tablespoon sherry vinegar
2 tablespoons chopped fresh garlic chives *
2 tablespoons chopped fresh mint + whole mint sprigs for garnish
1.5 teaspoons dry mustard
sea salt
pepper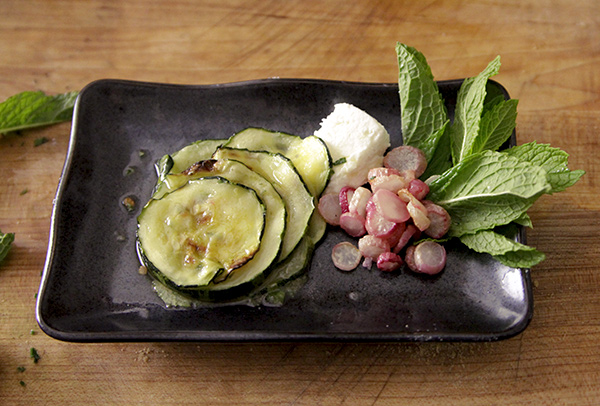 INSTRUCTIONS FOR ROASTED ZUCCHINI & RADISHES
Preheat oven to 400º & line two baking sheets with parchment paper
Thinly slice zucchini/squash into rounds and sprinkle with sea salt on both sides. Rest on paper towel for about 10 minutes on each side. Allowing to release some of the water.
Pat zucchini dry, lay veggies out on the baking sheets in a single layer. Brush zucchini and radishes with olive oil and sprinkle radishes with sea salt.
Roast in the oven for 12-15 minutes flipping once at the 6 minute mark. You may finish under the broiler if they are not brown enough.
While veggies are roasting, make the dressing. Whisk vinegar, a pinch of salt, and mustard together, add in olive oil pepper and fresh herbs. Finish seasoning to taste.

*If you cannot find garlic chives at your local farmers market, you can substitute chives and a half a clove of garlic or green garlic instead.