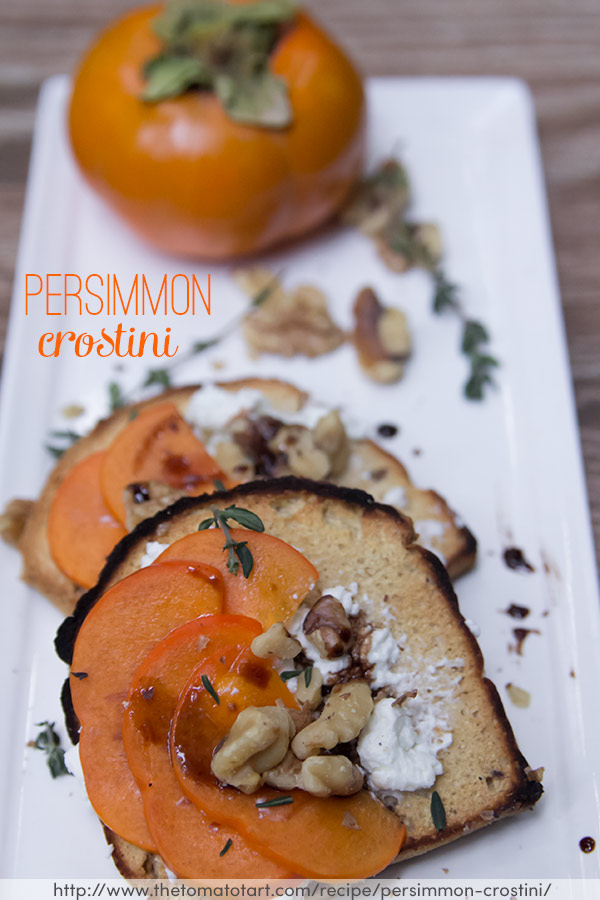 Goat Cheese Crostini with Persimmons and Walnuts
I work from home. Most days, I'm wearing yoga pants, a French braid, and no makeup. Actually we'll call that a good day. Forget heels, most of the time, I'm not even wearing shoes. It's amazing how quickly I went feral after moving to Sonoma County, some folks call it the Sonoma Coma, and I've definitely got it.
Since, I don't get to dress up and be all fancy very often, I like to add a bit of glamour to my daily life in other ways. A few years ago, I started buying myself flowers each week. I place them around the house in places I can appreciate them.
I also love the concept of tea time. In the afternoons, I like to take a break for a simple and elegant snack and a cup of tea or a nice cold glass of water with lemon.
One of my fall favorites is this simple persimmon crostini with goat cheese. I use grain free bread (recipe coming soon), local persimmons, chevre, balsamic, thyme and a bit of chopped walnut. It only takes a few minutes to make and a few minutes to enjoy, but it breaks up the afternoon in the best possible way.
Daily Gratitude: November 6, 2013
Food for Humans (my local natural foods store)
Warm Autumn Afternoons
My Day Job
French Films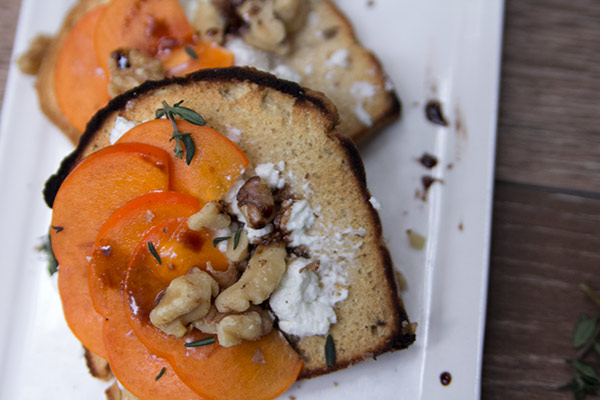 Ingredients Goat Cheese Crostini with Persimmons and Walnuts

2 slices of bread (I used grain free bread)
2 tablespoons chevre
1 persimmon, thinly sliced
1 tablespoon of coarsely chopped walnuts
a few leaves from a sprig of thyme
drizzle of aged balsamic
Instructions

toast your bread until lightly golden
spread 1 tablespoon of chevre on each piece of toast
lay persimmons atop bread in a pretty pattern
sprinkle walnuts and thyme
and add a drizzle of balsamic vinegar