When I was a little girl, our local grocery store was Petrini's.  Frank Petrini was the owner of the chain of stores that opened in San Francisco in the 30's, and I wonder if people like Sam Mogannam of Bi-Rite know just how much Frank paved the way. I remember being able to get a several kinds of pâté at the deli and oh, the salumi! There were fresh baguettes, and the butchers cut your steaks. Frank is said to have selected the cows for all of his beef, himself.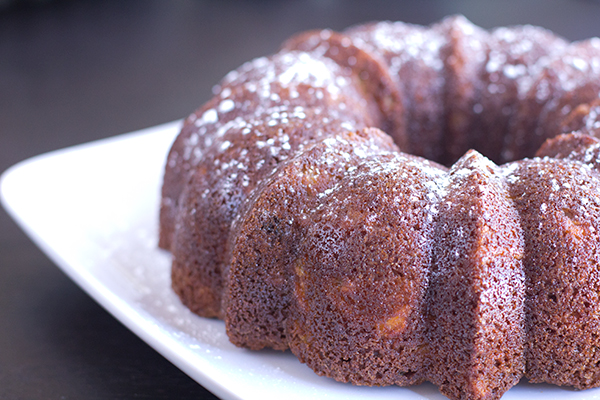 One of the things I remember most about Petrini's is the zabaglione ice cream. My parents absolutely loved the stuff, and I really wanted to like it because it was ice cream AND it started with a Z, but I could only get a bite or two down. Usually, when my parents would get it, I would beg for the spumoni ice cream, which sat right next to it in the freezer.
Petrini's was owned as a family market until 1996. Now, Mollie Stones a generically upscale market sits in it's place in my home town. I can't remember the last time I had zabaglione ice cream, and I the last time I ate actual zabaglione was years ago at an Italian American joint by the ubiquitous name of Big Joe's on an awesomely cheesy date with my hubby.
Needless to say, I was thrilled to see that Christianna of Burwell General Store had selected zabaglione the recipe for our vintage recipe swap.  This is our second month working with our new book, The Second Ford Treasury of Favorite Recipes From Famous Eating Places. Be sure to check out my fellow swappers, you'll find links to their recipes at the bottom of this post.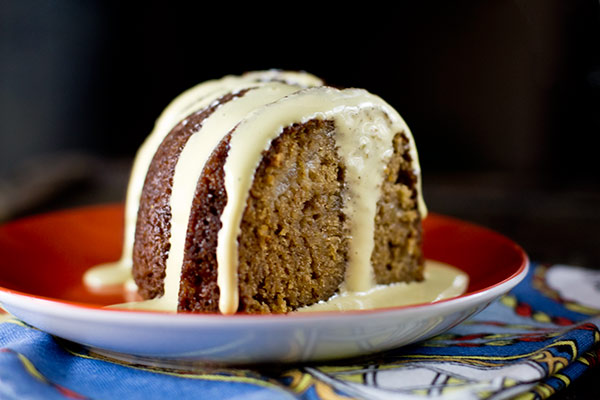 I decided I would do a sabayon, the French cousin to the Italian zabaglione. Sabayon, is often made with champagne or port, but due to my love all things bourbon, I opted for something a little boozier, and boy am I glad, because, the shots of bourbon came in handy during my fails!
When it finally did work (mostly) the bourbon sabayon became velvety sauce for my first ever bundt cake. The cake itself is all dark and luscious and full of juicy pears which is a contrast from the slightly caramelized bottom and the toothsome bite from the spelt flour.  All of the whisking and singeing of the hair on my arms was worth it.
INGREDIENTS FOR PEAR AND BOURBON BUNDT CAKE
2 cups white wheat  flour  (8 oz, 227 g)
1 cup spelt flour (3 oz, 85 g)
1 teaspoon baking soda
1/4 teaspoon baking powder
½  tablespoon ginger
1 cups sugar (7 oz, 198 g)
1 cup packed dark brown sugar (7.5 oz , 213g)
1 teaspoon salt
¼ cup whole milk powder (1 oz 28 g)
2/3 cup bourbon
3/4 cup grapeseed or light olive oil oil
3 eggs, lightly beaten
2 large pears, peeled, cored, and very thinly sliced
2 teaspoons vanilla extract
INSTRUCTIONS PEAR AND BOURBON BUNDT CAKE
In a large bowl, thoroughly mix flours, baking soda, baking powder, ginger, sugars, and salt
In a small bowl, whisk to combine bourbon and whole milk powder until completely smooth
In another bowl, lightly beat egg. Add oil, vanilla extract, bourbon and milk mixture and whisk again.
Add wet ingredients to dry ingredients and stir until just combined. Gently stir in pears.
Spray a bundt pan with cooking spray and pour the batter in. Cook for 50 minutes or until a skewer inserted in comes out clean.  Cool on a rack for 15 minutes, and then remove from pan to cool completely before cutting. Dust with sugar and serve plain or serve with bourbon sabayon sauce.
INGREDIENTS BOURBON SABAYON
6 egg yolks
½ cup bourbon
1/3 cup sugar (2.65 oz, 66 grams)
INSTRUCTIONS BOURBON SABAYON
Set a pan of water to simmer over medium high heat
In a large, heat proof bowl, lightly whisk egg yolks, add bourbon and sugar and whisk until sugar is just dissolved.
Hold the bowl about an inch or two above the pan of water and whisk like your life depends on it. Do not let the sides of the bowl or the bottom of the bowl touch the pan or the water or your eggs will scramble.
The sabayon is done when the whisk makes ribbons from the sauce when you lift it and the sauce has tripled in volume.