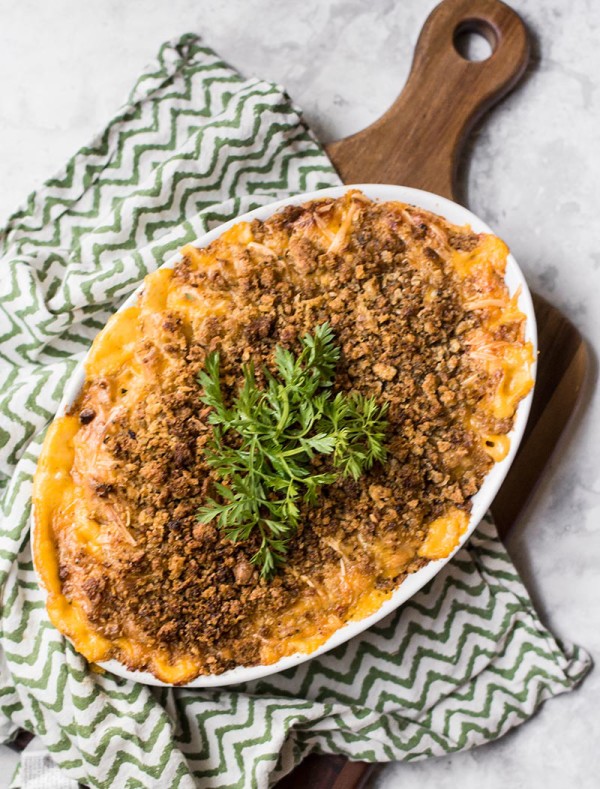 This gluten free baked mac and cheese is a family-friendly recipe that both kids and adults will love. It's gooey and cheesy and a little sweet from the addition of carrot puree. I've used good, sharp cheddar cheese and a garlicky parmesan breadcrumb topping to make this gluten free carrot mac and cheese an absolute favorite! Jump Straight to the Recipe
Gluten Free Mac and Cheese with Carrot Purée
Yesterday, I had a call to discuss an upcoming panel I'm speaking on at Blogher Food with some blogging friends including Elise Bauer of Simply Recipes, Irvin Lin of Eat the Love, Jaden Janice Hair of Steamy Kitchen, and Michael Procopio of Food For The Thoughtless. We're speaking about long-term blogger happiness. Blogging involves deeply personal, solitary work, and burnout tends to strike nearly everyone in our profession. We chatted about overcoming hurdles in blogging and discussed the things that fill us with joy, the reasons we started blogging, and how we cultivate a sense of fulfillment.
I started my blog because I really wanted to help people learn to cook- to share the happiness and creativity that I find in the kitchen. I told my co-panelists about the work I've been doing with The Sacramento Public Library– teaching people, both children and adults, how to cook some of my favorite foods and talking about rebuilding our food system.
In our libraries, October means one thing: the One Book Program. This year, the book selected was The Third Plate by Dan Barber. The book centers on food and farming. It's about changing the way we eat and think about food. It's about good stewardship and delicious food and where those two things intersect both in theory and in practice. One of the stories in the book centers around carrots grown at Chef Barber's farm, the carrot in question was a Mokum carrot with a brix (or sugar) level of 16- the industrial farmed carrots he tested were 0! That idea of a carrot tasting became the inspiration for a cooking class.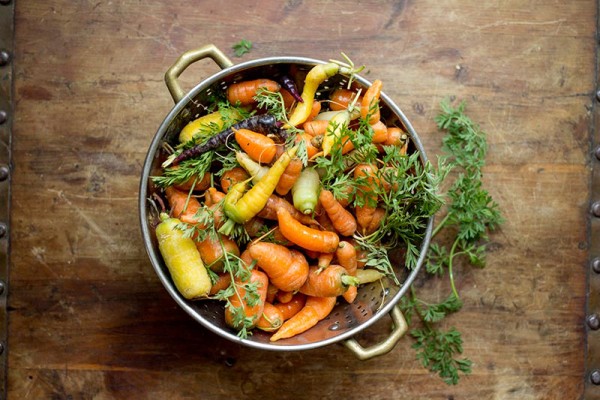 Carrots are the perfect food- they're versatile, easy to procure and prepare, and can be eaten raw, out of hand if you like. As much as I love eating raw carrots, I also find them incredibly inspiring in the kitchen. Steam them and eat them as is, and they're lovely, puree those steamed carrots and add a bit of salt, and they're silky and luxurious, add to that puree, a bit of milk or stock, and you have a beautiful carrot soup. Honestly, I could go on for days.
When I learned that one of my classes would have 50+ kids in it, I decided to focus on familiar comfort foods. The first thing that came to mind was carrot mac and cheese. My usual mac and cheese recipe calls for adding cream to the cheese sauce right before the mac and cheese goes into the oven. Why not replace the cream with some carrot puree? My first test was so CRAZY successful, I decided to double the amount of carrot puree. And holy cow it was a masterpiece of beautifully orange, slightly sweet, macaroni and cheesy goodness.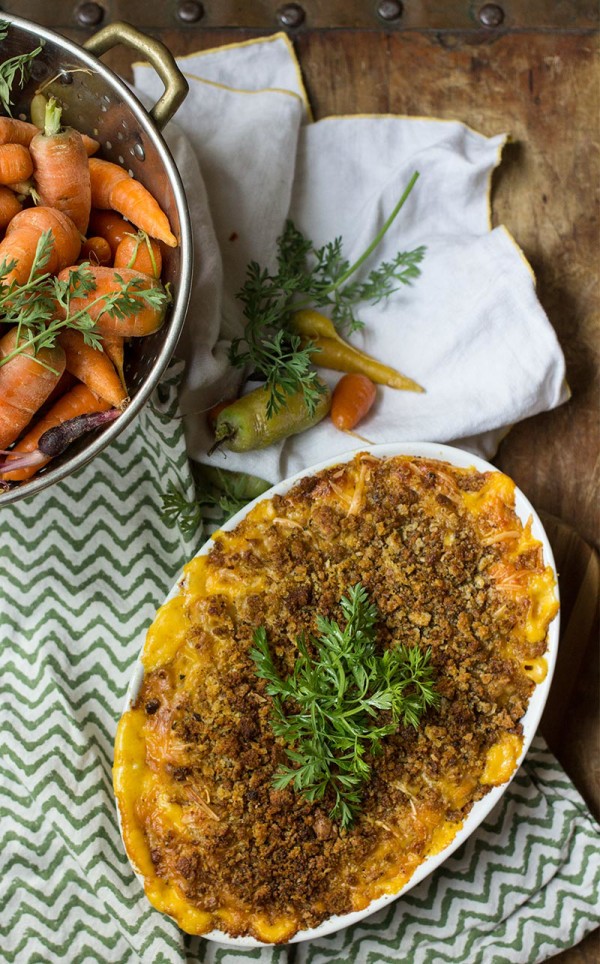 When I went to see Amber Stott of Food Literacy Center interview Chef Barber at The Sacramento Library, Barber spoke a lot on food waste. It's staggering the amount of waste in this country; fully 40% of the food we grow never makes it onto our plates. We have to be able to do better than 40%! I try to do my part by composting, saving scraps and bones for stock, and eating nose to tail, but I'm not perfect. There are times the eggshells go into the garbage or some yogurt goes bad a the back of my fridge. Barber is inspired by the unwanted bits, the rotation crops, the "waste". It was in this spirit that I decided to use the carrot tops in place of parsley in the breadcrumb topping for my mac and cheese. And wow, was it fantastic.
I love teaching. I especially loved sharing the funky "ugly" carrots with the attendees of my class. I asked my students to taste those locally and thoughtfully grown gnarled, twisted, and two legged carrots then to follow those with the mass produced organic carrots from a big box store.I watched as a lady who said she didn't really care for carrots made mmm mmm mmm sounds as she crunched on the little carrots from Patrick's Garden. I love all of the questions I peppered with, and it's comforting to know that people outside the food industry are actually starting to think about where their food comes from.
I teach my last class of the month on Wednesday at the Carmichael Library where I'll be teaching a Winter Squash class. In November, I'll take a break from teaching since I'm traveling to Chicago and also participating in National Blog Posting Month (NaBloPoMo) where I will post on this blog every day in the month of November. Phew! Can't wait to share with you some of the exciting things I've been working on for November. Until then, enjoy this scrumptious carrot-spiked gluten free mac and cheese with garlic and parmesan breadcrumb topping.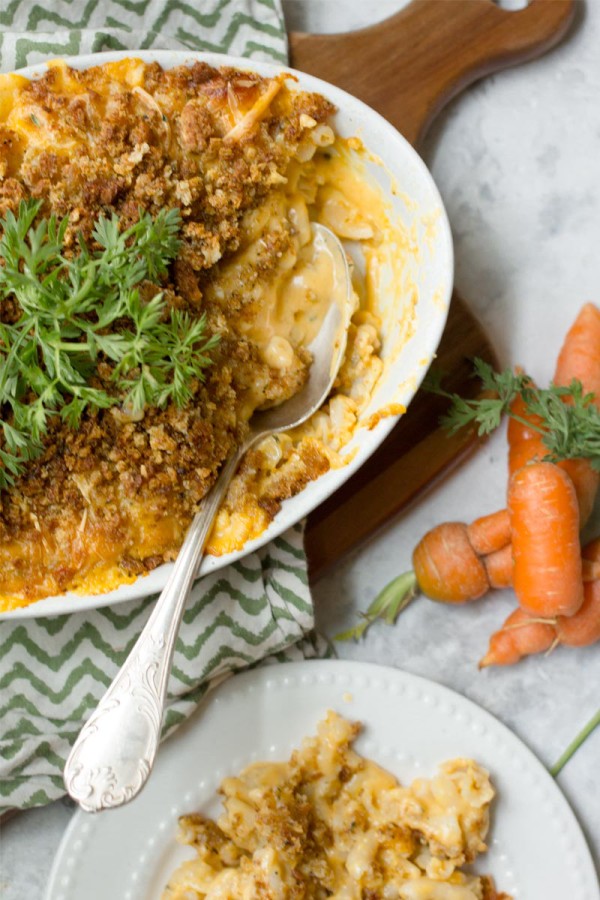 Gluten Free Carrot Mac and Cheese
This gluten free mac and cheese replaces rich heavy cream with beautiful pureed carrots. I've used Lundberg brown rice elbow noodles and they truly hold up well. You can prepare the mac and cheese ahead of time–preparing the noodles, cheese sauce, and breadcrumb topping and then refrigerating for up to two days before baking. The recipe is easily doubled, tripled or more. Last week, I made six trays of this at one time and held overnight in the fridge before baking. If you're looking for a mac and cheese recipe to feed a crowd, this one works like a charm.
It is important to use very flavorful cheese in this. I used Dubliner from Kerrygold as well as some sharp cheddar from Cabot Creamery.  You can switch up the cheeses to your taste, but keep in mind that mild cheeses like Jack or Mozzarella will get lost in the recipe. This recipe is adapted from Epicurious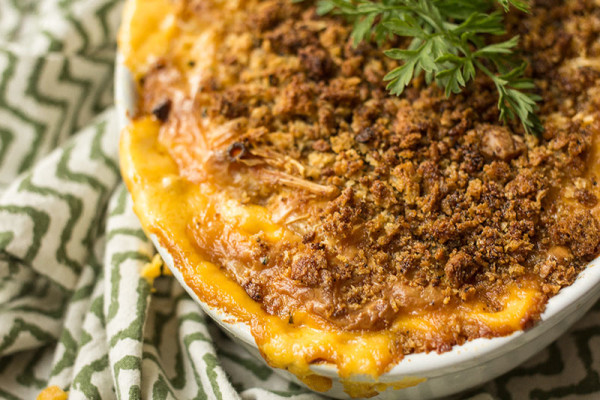 Rating 5.0 from 5 reviews
Prep time:
Cook time:
Total time: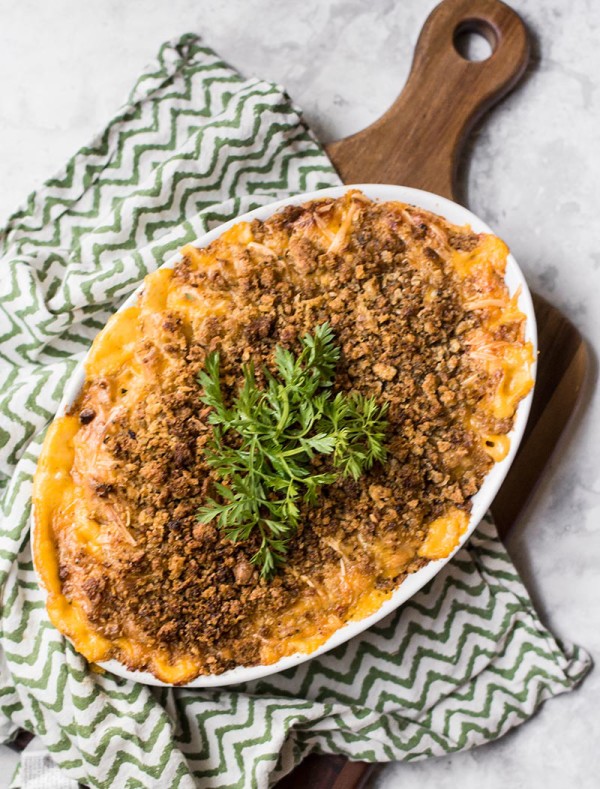 his gluten free baked mac and cheese is a family-friendly recipe that both kids and adults will love. It's gooey and cheesy and a little sweet from the addition of carrot puree. I've used good, sharp cheddar cheese and a garlicky parmesan breadcrumb topping to make this gluten free carrot mac and cheese an absolute favorite!
Ingredients
For carrot puree
2 lbs carrots, peeled sliced and steamed until very soft
small pinch of salt
For the topping:
2 cups fresh or dried gluten free breadcrumbs
3 large garlic cloves, finely minced
2 ounces finely grated Parmesan (about ½ cup)
The leafy parts of a carrot top, very finely chopped
½ teaspoon sea salt
½ teaspoon pepper
1 teaspoon sweet paprika
2 tablespoons extra-virgin olive oil
For the macaroni and sauce:
1 pound gluten free elbow macaroni
1 unsalted butter (½ cup)
½ cup gluten free all purpose flour
4 cups whole milk
16 oz grated cheddar cheese. I used Kerrygold Dubliner
1 ¼ cups carrot puree
1 ½ teaspoons sea salt
½ teaspoon black pepper
½ tablespoon sweet paprika
1 tablespoons mustard powder
Instructions
Make Topping
Stir together breadcrumbs, garlic, parmesan, carrot tops, salt, pepper, and paprika. Add olive oil and toss to coat.
Make Mac and Cheese
Preheat oven to 375°F. Grease a 9x13 baking dish and set a large, covered pot of salted water over high heat to boil.
In a food processor or high speed blender, puree the carrots until silky smooth (about 3 minutes)
Add elbow noodles to boiling salted water and cook until al dente. Drain and set aside. Heat milk in a saucepan over medium heat. Do not boil. In a separate pot, melt the butter over medium-low heat. Sprinkle flour over butter, whisking to incorporate. This is called a roux. Cook for about 6 minutes or until the roux is a light golden brown and starts to smell nutty.
Gradually pour warm milk into the roux. Stir constantly with a wooden spoon to incorporate. This makes a béchamel sauce. Turn heat up to medium high and keep stirring until sauce becomes thick enough to coat the back of your spoon. Turn heat to low and continue stirring. If you have a thermometer, the ideal temperature would be between 140º and 150º. If your béchamel is above 160º you run the chance of a gritty cheese sauce.
Stir in the salt, pepper, paprika, and mustard powder. Add the cheeses one handful at a time. Whisk after each addition until cheese is completely incorporated. Finally, stir in the carrot puree.
Add the drained macaroni to the pot with the cheese sauce and stir until it is completed coated. Transfer to the greased baking dish and cover with an even coating of the breadcrumb topping. Bake until the topping is golden brown and the cheese is bubbling, 25-30 minutes. Cool for 10 minutes before serving.