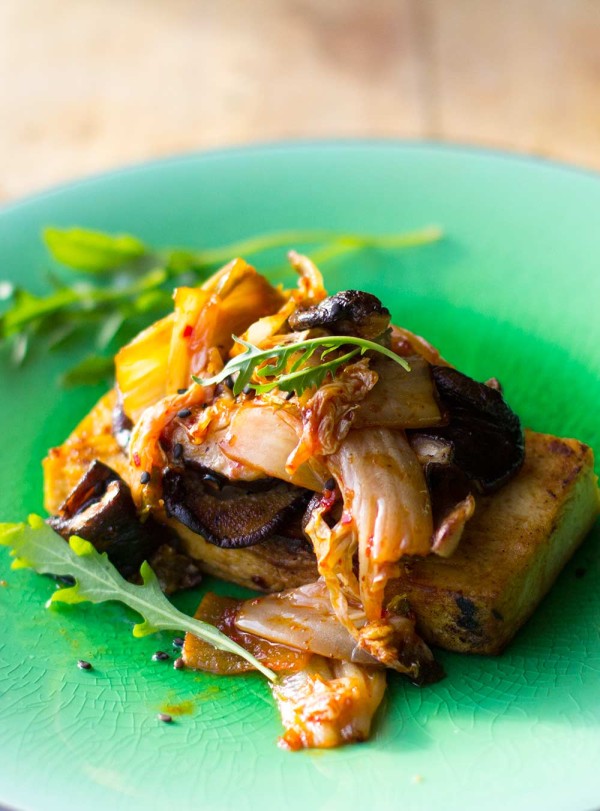 Caramelized Kimchi with Tofu and Shitakes:  Quick Vegan Dinner
Busy. We're all so busy. When I run into a friend I haven't seen in some time I ask, "How are you?" the answer is usually something like "Good. Good. Busy, but good."
How many times have you heard this? How many times have you said it? How do we work, have time for family, friends, exercise, putting dinner on the table? The "Busy, but good" you share with old friends can be "I'm overwhelmed, burnt out, tired… " in conversations with your partner/therapist/sibling/confidant/mom/.
Meeting the demands of day to day responsibilities can be difficult. I've been at the burnout stage. Though I don't have a magic cure, I will say that giving yourself a little break is so important. Here are my top five tips for getting over burnout and getting on with life.
1. Get Up
By that I mean, get up from what you're working on and take a walk for at least 15 minutes, or stretch for 10 (preferably outside), or meditate (away from your desk), or dance your butt off to 3 killer songs. Just get up and give yourself a break. Do this twice a day, and you will soon notice that things get just a little bit better.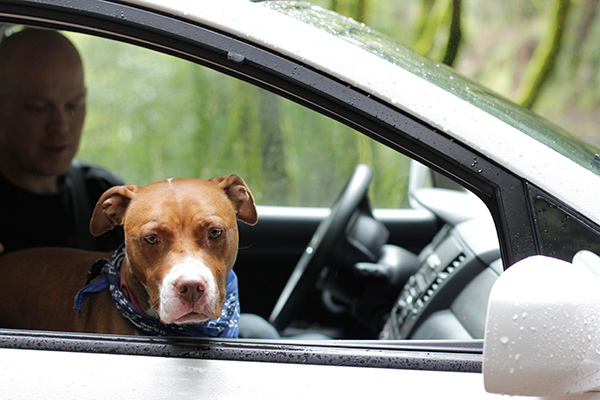 2. Get Out
Into nature. When I was having a hard time writing for this blog, I turned to the things that inspired me. I started getting out of town with the guy I love. Since we're not rich, we usually just get out of town for the day. I pack snacks and pups and tunes and we just go where the wind takes us. I know that not everyone can do this, you have soccer games, and weekend work perhaps, but there are times when a long walk in the park with the dogs has to be my escape. I treat these times as a nature walk and stop to look at the flowers, trees, birds, and insects as if I was seeing them for the first time.
3. Get Real
When I'm crazy busy, I can wind myself up into believing that there are all sorts of expectations that I have to live up to. I become convinced that timelines are immovable- set in stone. Many of them are self-imposed while others might be flexible with communication. Get the deadlines everything on a calendar and go from there. When I reached the later stages of burnout, I got to what I call the zombie phase where I was paralyzed and doing nothing yet felt incredibly busy. Getting real involves taking stock of where you are, what you can do to lighten your load, and how much of your busy-ness is self-made.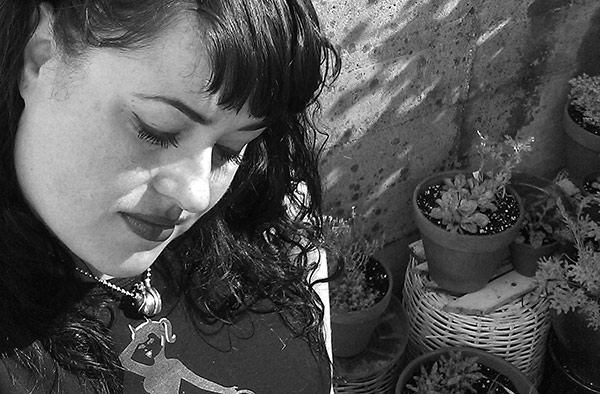 4. Get Gratitude
I cannot overstate the importance of gratitude in getting over burnout. Your life may be overwhelming, you may resent your commute, or having to take your Aunt Millie to the eye doctor, or having to go on a blind date with your neighbor's son, but what do you love? If it helps to make a daily list, do that. Every morning, when I tend to my little garden, I am virtually in awe of its capacity to give. As I snip greens for my lunch, I am grateful for both its beauty and its bounty. This morning, I actually felt gratitude for the gratitude I felt towards the garden (two for one!) Note: not all chores have brought such delight, but I'm working on finding something to appreciate in every moment- even mopping.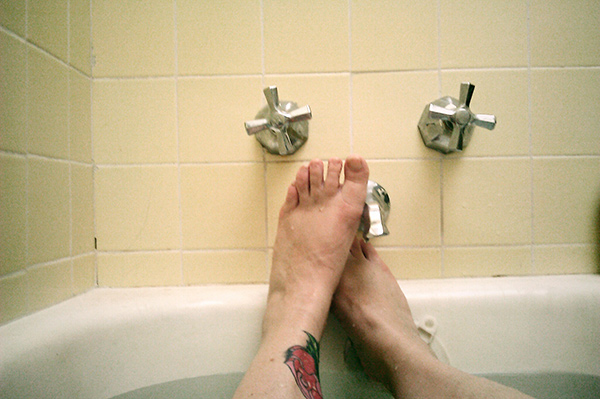 5. Get Simple
I spent so many years doing nice things for myself without actually being nice to myself. So while splurging on a designer handbag or killer stilettos sure felt great in the moment, I've traded the splurges for kindnesses. The latter lasts much longer and my credit card debt is so much smaller. These days, I try to leave time for a cup of tea and an actual bath in the morning. Other mornings I just write and skip the bath (shhh I'll take one when I get home). I check in with myself during the day and allow myself to feel whatever I'm feeling rather than trying to fix it. I cut myself slack knowing that it's okay if my hair isn't perfect, if dinner isn't a masterpiece, and if I don't get everything on my to-do list done today. And I always go back to that calendar and try to remember that I can't say yes to absolutely everything. It's okay to say no, or give yourself ample time to complete things. You probably have higher expectations of yourself than anyone else does.
I've been working on another post for about a week, and I've been feeling the pressure mounting to get it done. I'm feeling the old familiar creeping feelings of wanting it to be perfect, and thinking it "should" be up by now. When I check in with myself I realize that I'm feeling anxious. I know I need to make dinner, dedicate some time to this year's October Unprocessed logo, and play with the dogs. I decide to Get Up and go water my garden. When I come back in, my head is clear and I know that the post has no timeline except the one I've created and I'd rather it be really good and authentic than forced and stressful.
I set about the next thing I needed to do which was make dinner. It had to be simple, of course, so I checked the fridge for what was handy. From my fridge and pantry, I give you seared tofu with shitake mushrooms and caramelized kimchi.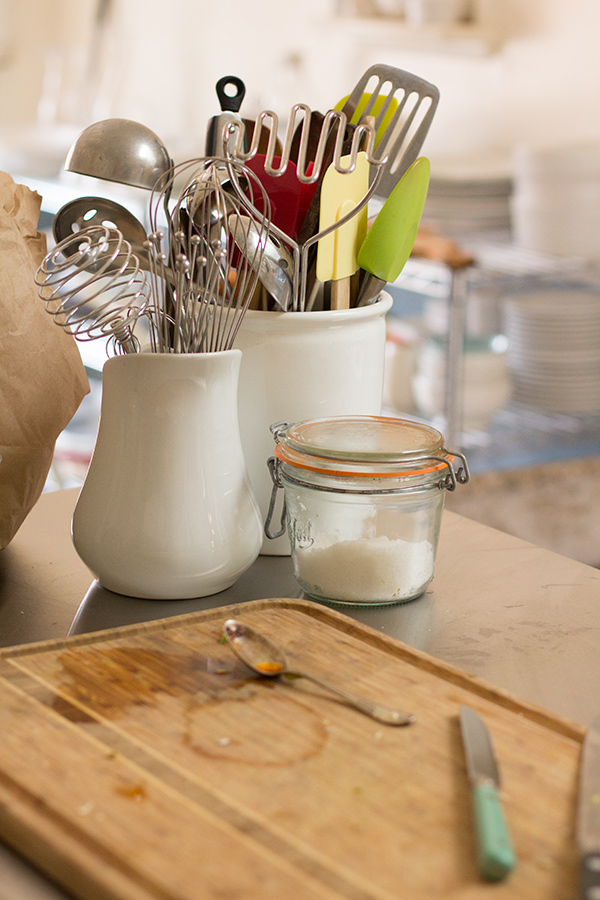 It kind of sounds fancy, right? Cooking myself a nice dinner, even if it only takes 10 or 15 minutes, gives me a sense of doing something good for myself. It's more mindful than eating hummus and pita while I pound away at my laptop. It's definitely more healthful than the two pickles and sweet potato with yogurt I ate a few nights ago, and infinitely more satisfying than the dreaded fast food stop that so many people feel forced to make nights like these.
The best part is that between cooking my dinner and spending a few minutes in the garden, I decompressed from my commute, and I realized that I had something valuable to share about being kind and compassionate and realistic with the one person you probably have a hard time being compassionate with, and that's yourself. So, whether it's cooking yourself a simple dinner, or allowing time for a walk, or just taking a moment to see what you're grateful for I ask that you are kind to yourself today.
10 Minute Quick Vegan Dinner: Seared Tofu with Kimchi and Mushrooms (Gluten Free + Vegan)

This dish is really a ten minute dish. It is gluten free and vegan if you prepare it as I have- not all kimchi is vegan, so be sure to read ingredients to check for gluten, fish, and preservatives. If you don't have gojuchan• (Korean chili paste), you can make it,  you can substitute a tablespoon of gluten free miso paste and add extra chili, or you can omit the gojuchan entirely.
This is a serving for two, as I always make enough to feed Joshua when he gets home. You can easily make this for one or scale it up for many. If you think you don't like kimchi, I'd say to give it another shot with a good brand from the refrigerated section of the grocery store and once you've had it caramelized, you might never stop eating it.
INGREDIENTS PAN SEARED TOFU WITH SHITAKES AND CARAMELIZED KIMCHI

1 tablespoon tamari
1 tablespooon sugar
1 tablespoon gluten free gojuchan• (see note above)
a couple of drops of sesame oil
1 cup kimchi
1 tablespoon grapeseed oil (or other neutral cooking oil)
1 cup shitake mushrooms cut in half
½ package baked flavored tofu (I used Tofu Yu Smoked Jalapeno) split in half horizontally AKA longways
black sesame seeds (optional)
small leafy greens (optional)
INSTRUCTIONS PAN SEARED TOFU WITH SHITAKES AND CARAMELIZED KIMCHI
In a small bowl, mix tamari, sugar, gojuchan, and sesame oil until smooth. Add kimchi and marinate while you make the rest of the food.
Heat grapeseed oil over medium high heat in a heavy skillet until shimmering in the pan, add mushrooms and cook for about three minutes. They will shrink in size during this time. Don't disturb them too much.
Lower heat to medium, add tofu, cut side down (skin side up) . Cook for two minutes Start by testing one corner, to see if it's ready to flip. If the tofu sticks and doesn't want to flip, then wait another minute or so. Flip the tofu and cook the other side.
Squeeze some he liquid out of the kimchi using your most important kitchen tool, your hands. Add it to the pan with the tofu and the mushrooms. Keep an eye on the kimchi. You'll want to move it around the pan a bit, but not too much, the balance is to keep it from burning, but to get some good crispy brown edges. This should take just about one and a half minutes.
Plate the dish by putting the tofu down. Skin side up, top with mushrooms and top those with the caramelized kimchi. If you're adding sesame seeds, sprinkle on top and if you have greens or micro greens, sprinkle away.
Eat this dish away from your computer, perhaps at a table, not standing up, maybe even pour yourself a nice cup of tea or even a glass of wine.
"You can search throughout the entire universe for someone who is more deserving of your love and affection than you are yourself, and that person is not to be found anywhere. You yourself, as much as anybody in the entire universe deserve your love and affection."
-Buddha
Here are some pieces on burnout you might enjoy:
Six Simple Ways to Avoid Burnout
Avoid Blogger Burnout 5 Tips to Save Your Sanity
Sure Cures for Blogger Burnout